7+ Radiant Lighting Ideas to Brighten Your Small Farmhouse Living Room
Affiliate Disclosure: As an Amazon Associate we earn from qualifying purchases. Hence, if you click through and make a purchase, we will get a commission at no extra cost to you. For more info, read our full disclosure.
When it comes to transforming your small farmhouse living room into a cozy and inviting space, the right lighting can make all the difference. Radiant lighting not only brightens up the room but also adds warmth and character to your décor.
In this article, we'll explore seven brilliant lighting ideas that will illuminate and elevate your small farmhouse living room, creating a charming and comfortable atmosphere you'll love spending time in.
Elegant Lighting Arrangements for a Cozy Living Room
Two pristine white table lamps grace a console table situated behind a plush gray velvet sofa in this charming cottage-inspired living space. The coffee table is adorned with a romantic display of pink and white flowers that beautifully complement the white arrangement nestled between the two lamps.
To enhance the ambiance, consider adding a collection of neutral throw pillows beneath the ornate cut-glass chandelier.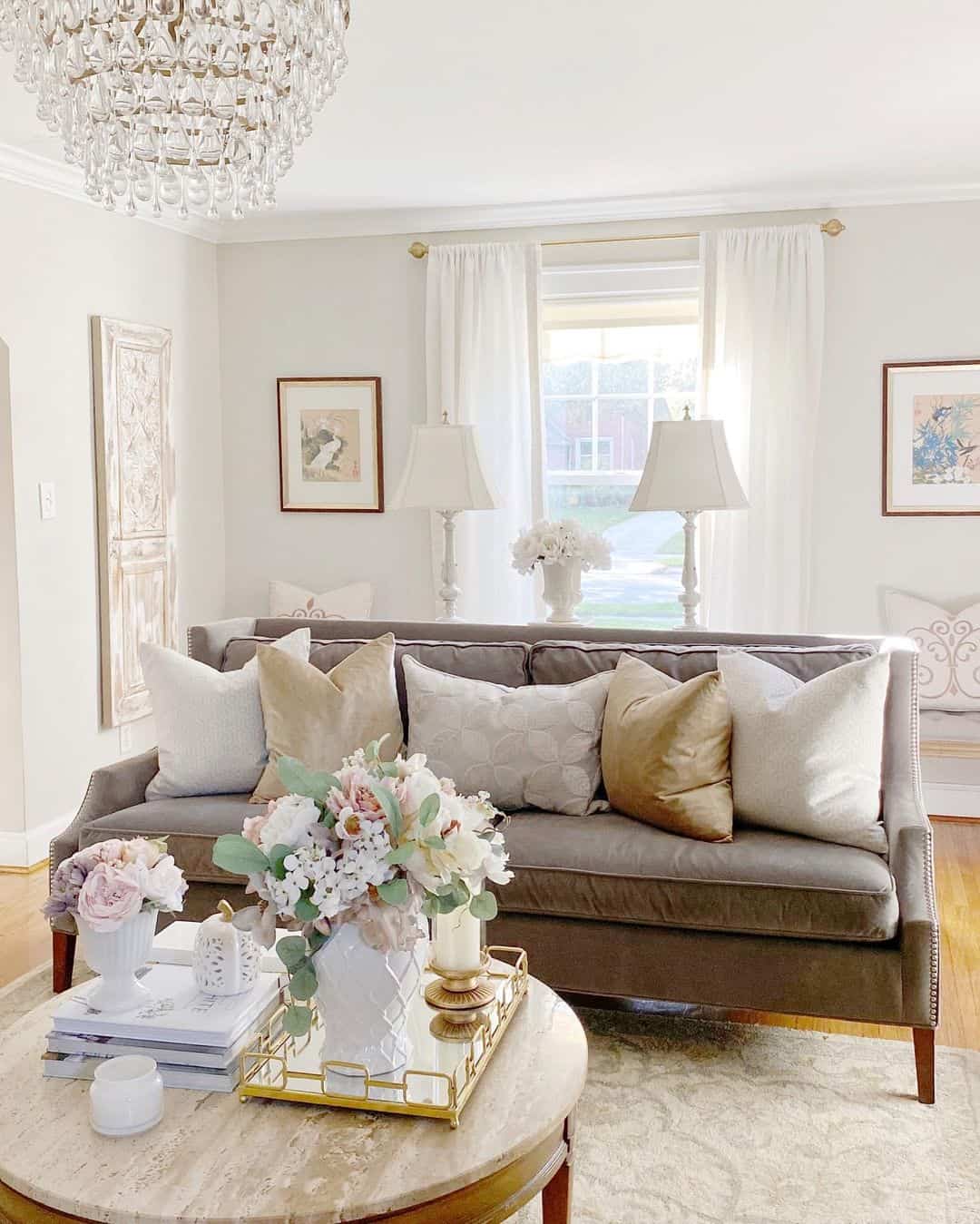 Credit: liz_seefeldt
Shop the Look
Illuminated Beauty in Shades of White
In this well-lit living room, a vintage glass orb pendant light seamlessly matches a glass table lamp perched upon a wooden end table. Inject a hint of nature by placing a small indoor plant on the end table for a refreshing touch of green, while a farmhouse-style plaid throw pillow adds a rustic charm to the overall decor.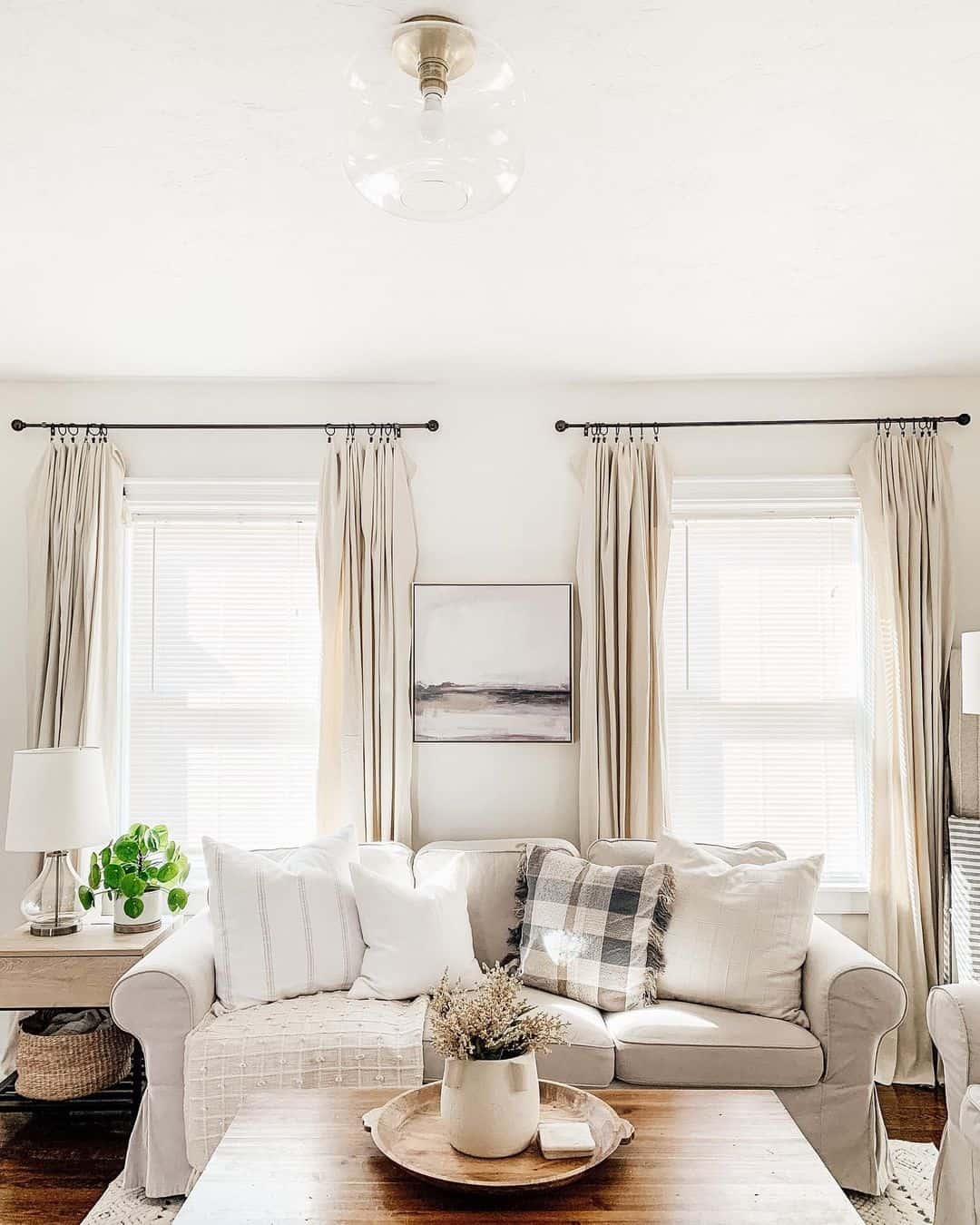 Credit: michealadianedesigns
Shop the Look
Graceful Tasseled Chandelier Above a Modern Wooden Table
A gracefully designed tassel chandelier, adorned with three tiers, takes its place above a wooden coffee table featuring modern hairpin legs in this eclectic boho farmhouse living room. For added illumination and style, consider placing a unique teal glass table lamp on the end table next to the sofa.
Complete the look with an assortment of throw pillows in various shades and patterns to accentuate the heather gray sofa.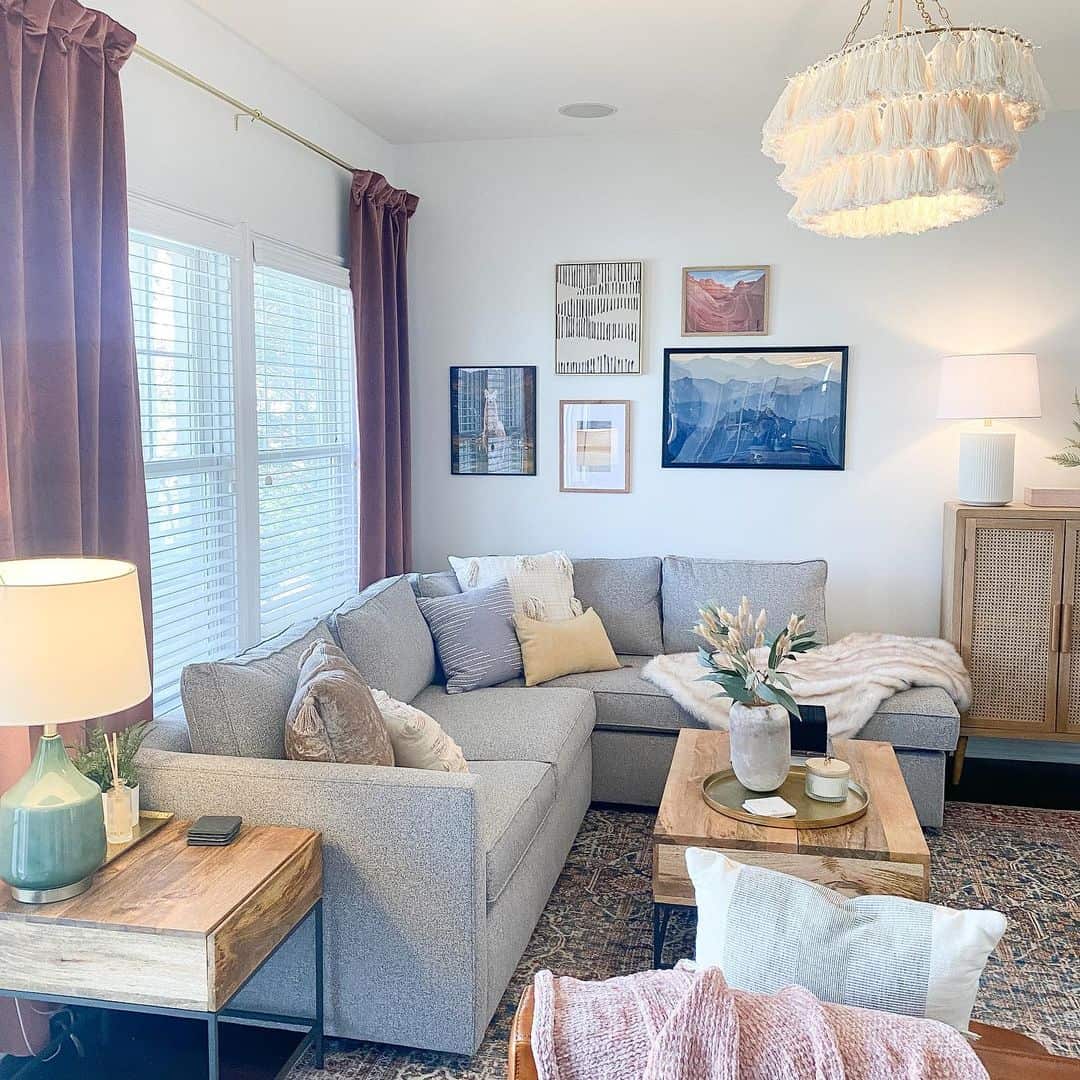 Credit: gatheredliving
Shop the Look
Tranquil Farmhouse Retreat with Neutral Tones
In a serene and compact farmhouse living room, a tall white table lamp stands tall atop a wooden end table, accompanied by white candles, a picture frame, and coasters. Optimal placement of gray upholstered living room furniture in front of a generously sized window ensures ample natural lighting during the day.
The addition of white throw pillows and coordinated decor elements throughout the room creates a soothing and neutral atmosphere.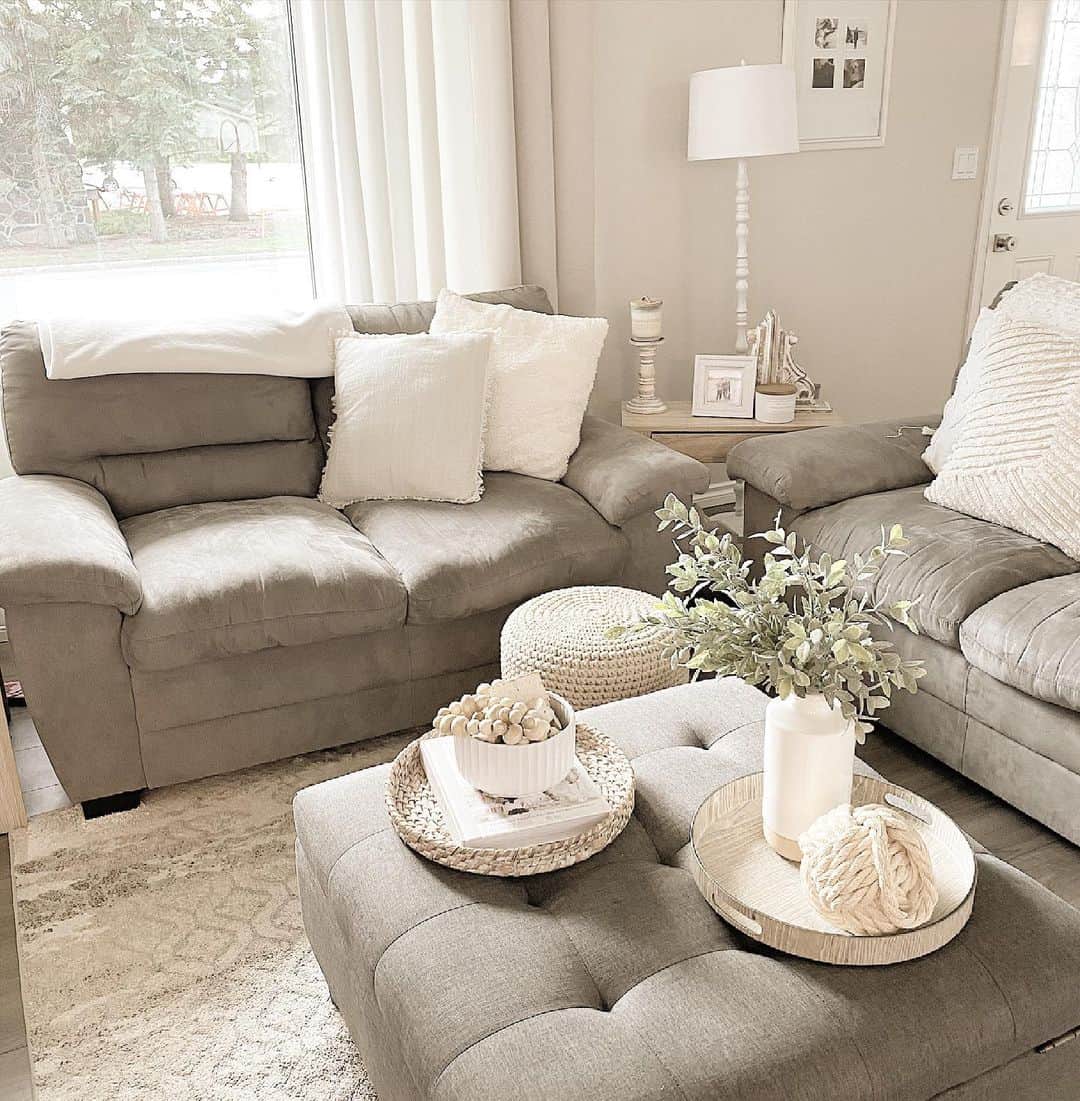 Credit: homeonwellington
Shop the Look
Tall Wooden Floor Lamp in a Modern Farmhouse Setting
Introduce a touch of farmhouse allure to your modern living room with a graceful wooden floor lamp, perfectly complementing rustic window frame wall hangings. These tastefully mounted frames elegantly frame a gray sofa adorned with plaid pillows. Add a dash of character with charming paisley curtains in shades of gray and white, framing the window to perfection.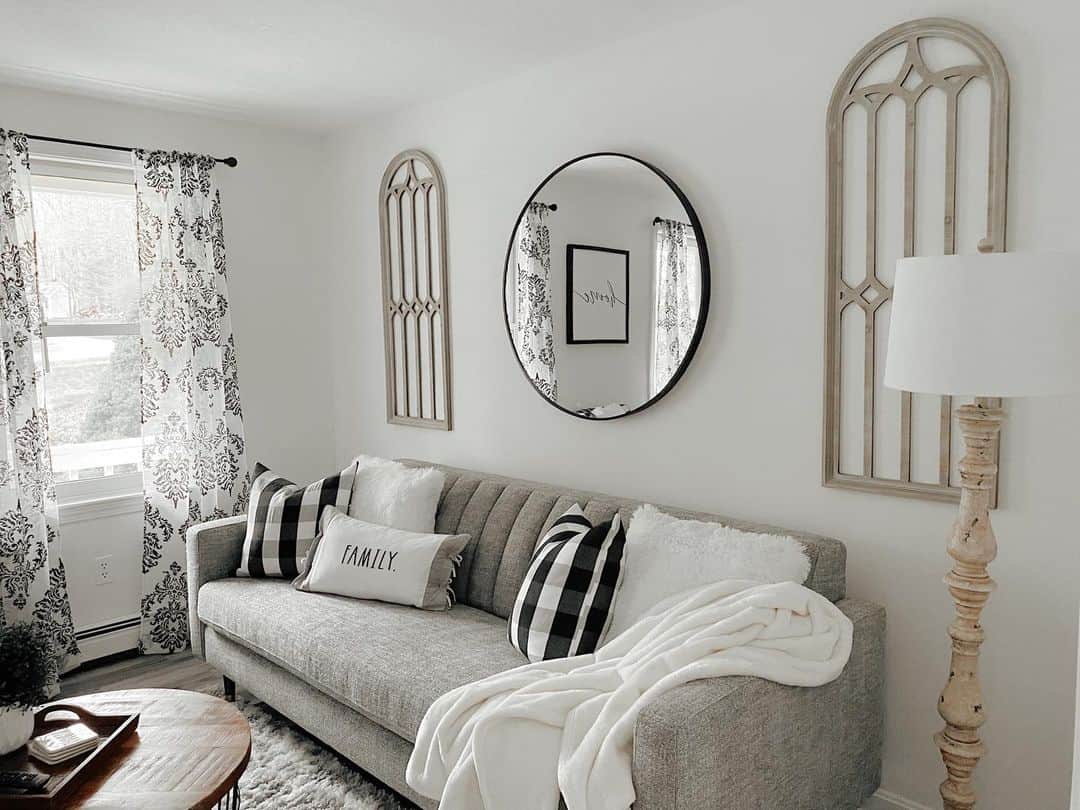 Credit: home_bycourt
Shop the Look
Elegance in the Form of Tall Picture Windows
A formal living room is elevated to grandeur with the presence of tall, rectangular picture windows, flanking built-in bookshelving. The brilliance of the bright white wall paint is further accentuated by the cascade of natural light streaming in from these floor-to-ceiling windows. Neutral farmhouse-inspired decor elements gracefully fill this inviting lounge space.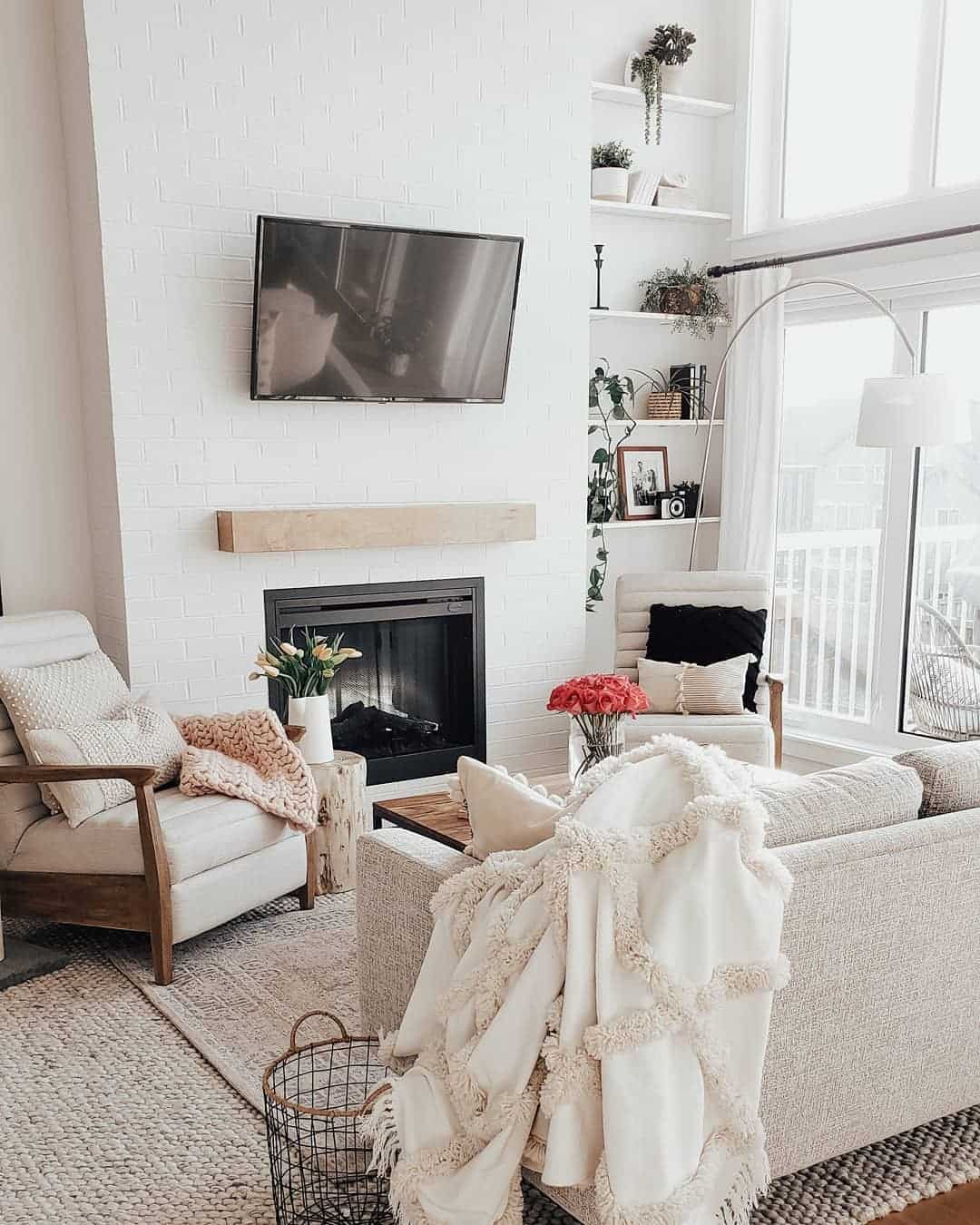 Credit: theblushhome
Shop the Look
Vintage Floor Lamps for Cozy Corners
In this inviting living room, a traditional ceiling fan is thoughtfully equipped with a light fixture, providing additional evening illumination to the room's vaulted ceiling. During daylight hours, a large bay window floods the living space with an abundance of natural light, further enhancing the brightness of the neutral furnishings. Consider introducing a selection of contrasting throw pillows to add character to the off-white sofa.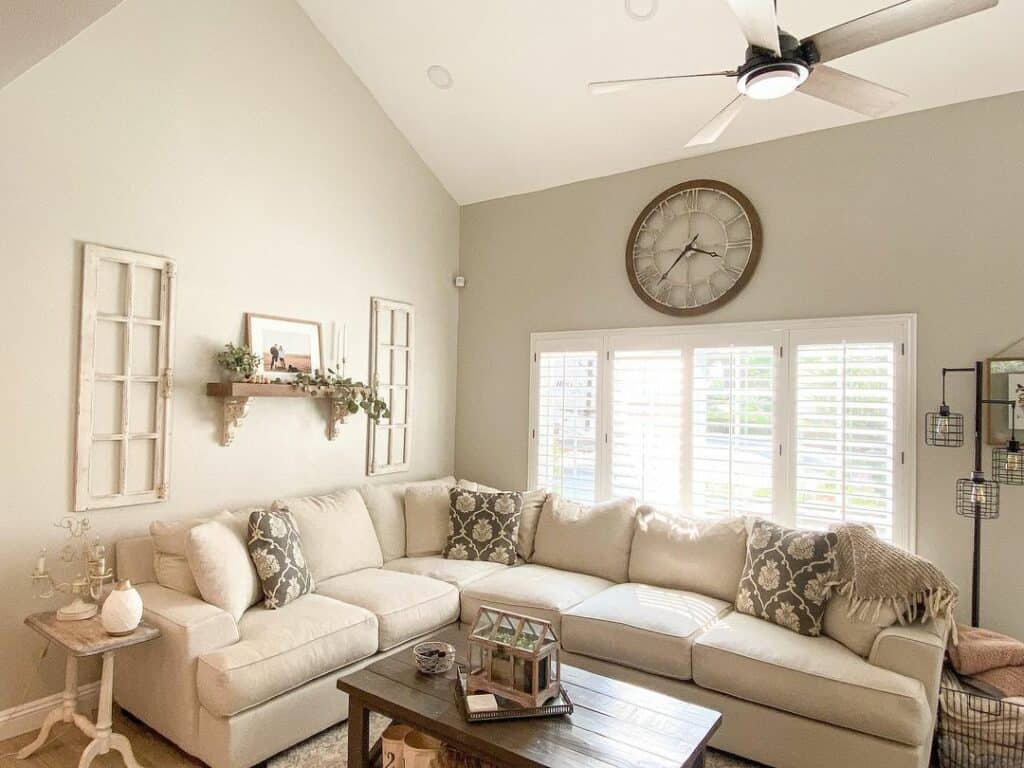 Credit: doodledream.life
Shop the Look
Industrial Chic with a Cage Pendant Light
Embrace an industrial aesthetic within your luxurious living room featuring tufted sofas, courtesy of a striking black cage pendant light. To brighten the space, layer dark wood floors with a beige woven rug, creating a harmonious contrast. Finish the look by framing the windows with crisp and luminous white curtains.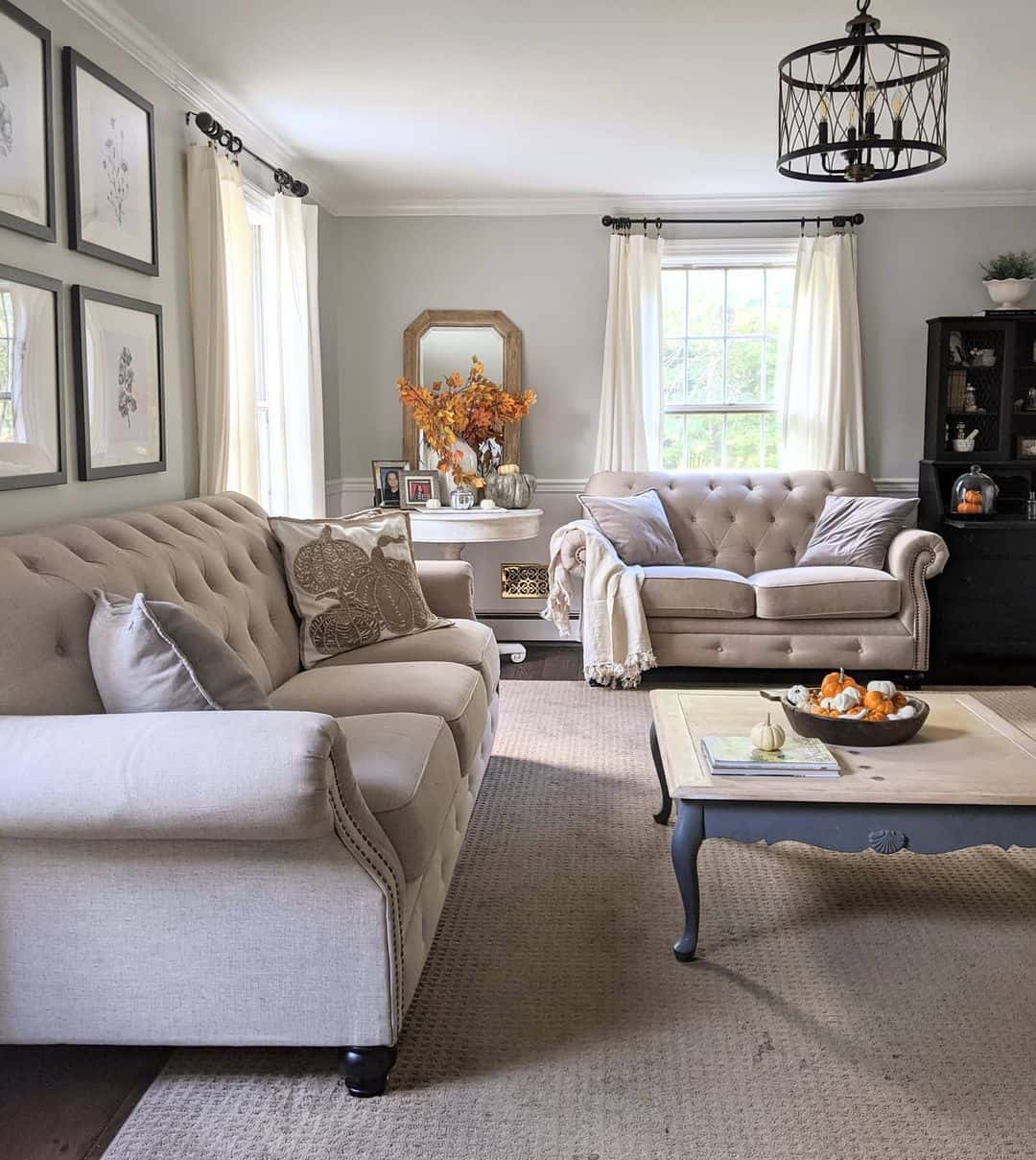 Credit: afarmahouseandababy
Shop the Look
Wrap-up
Lighting plays a pivotal role in shaping the ambiance of your small farmhouse living room. Whether you opt for vintage floor lamps, modern chandeliers, or rustic sconces, each choice can add its unique flair and personality to your space.
Don't underestimate the power of well-placed lighting to make your room feel bigger, cozier, and more inviting. So, consider these radiant lighting ideas to brighten up your farmhouse living room and let your interior design shine.