7+ Artful Wall Collage Layouts to Personalize Your Farmhouse Living Room
Affiliate Disclosure: As an Amazon Associate we earn from qualifying purchases. Hence, if you click through and make a purchase, we will get a commission at no extra cost to you. For more info, read our full disclosure.
Transforming your farmhouse living room into a personalized haven of charm and creativity is easier than you think. Wall collages are an artful way to infuse your unique style and personality into your space. In this article, we'll explore seven or more inspiring wall collage layouts that will elevate your farmhouse living room decor to a whole new level.
Vintage Wall Collages for a Charming Farmhouse Vibe
To infuse a touch of modern vintage into your living space, consider using square or rectangular frames in black or wood finishes adorned with images in neutral hues. These warm undertones in the pictures harmonize beautifully with the taupe farmhouse decor that graces your living room.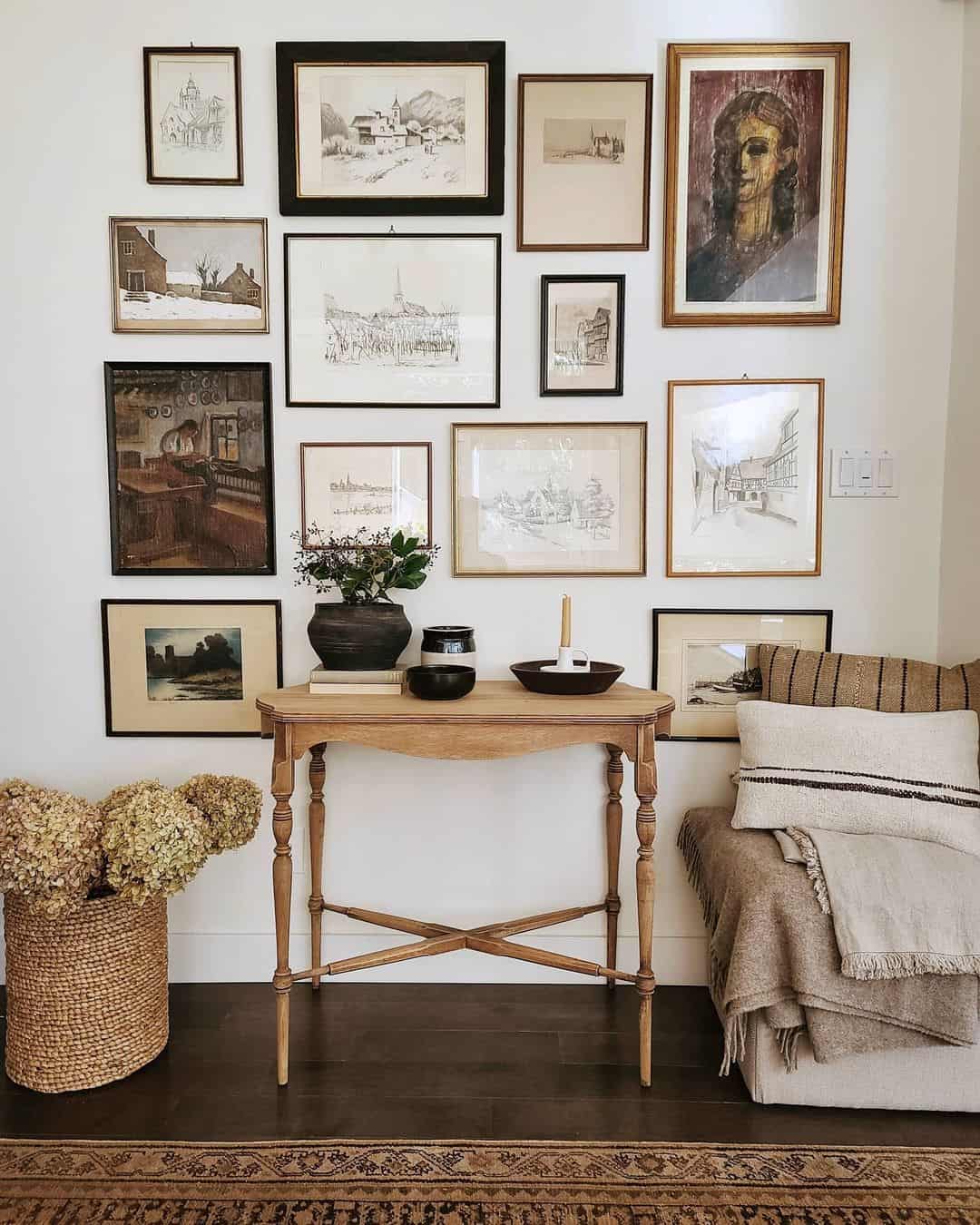 Credit: jultompa
Shop the Look
Monochrome Gallery Wall Ideas for a Stylish Living Area
In a contemporary living room featuring a sleek dark gray sofa and crisp white throw pillows and blankets, create an understated yet chic atmosphere by adorning the walls with a collage of natural wood-framed black and white portraits. Complement this monochromatic theme by incorporating white wood furnishings throughout the rest of the room.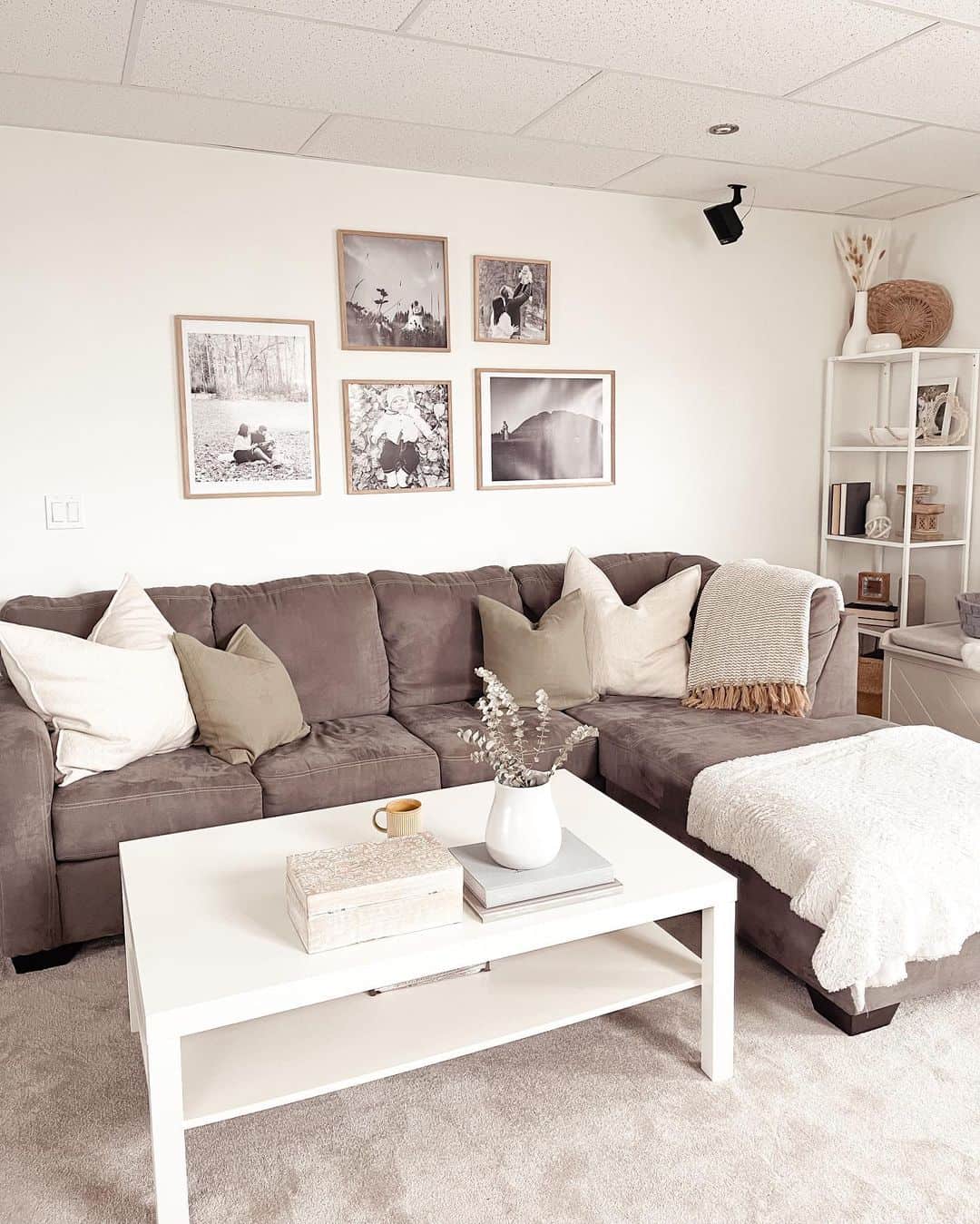 Credit: everyday_kait
Shop the Look
Vintage Chic Collage Inspiration for Your Timeless Living Space
Transform a farmhouse hallway into a cozy haven with a vintage blue velvet upholstered bench adorned with colorful throw pillows. Enhance the charm by positioning a modern gallery wall between the windows just above the bench, accompanied by a black farmhouse wall sconce. Embrace classic vintage aesthetics with a mix of black, gold, and wood frames.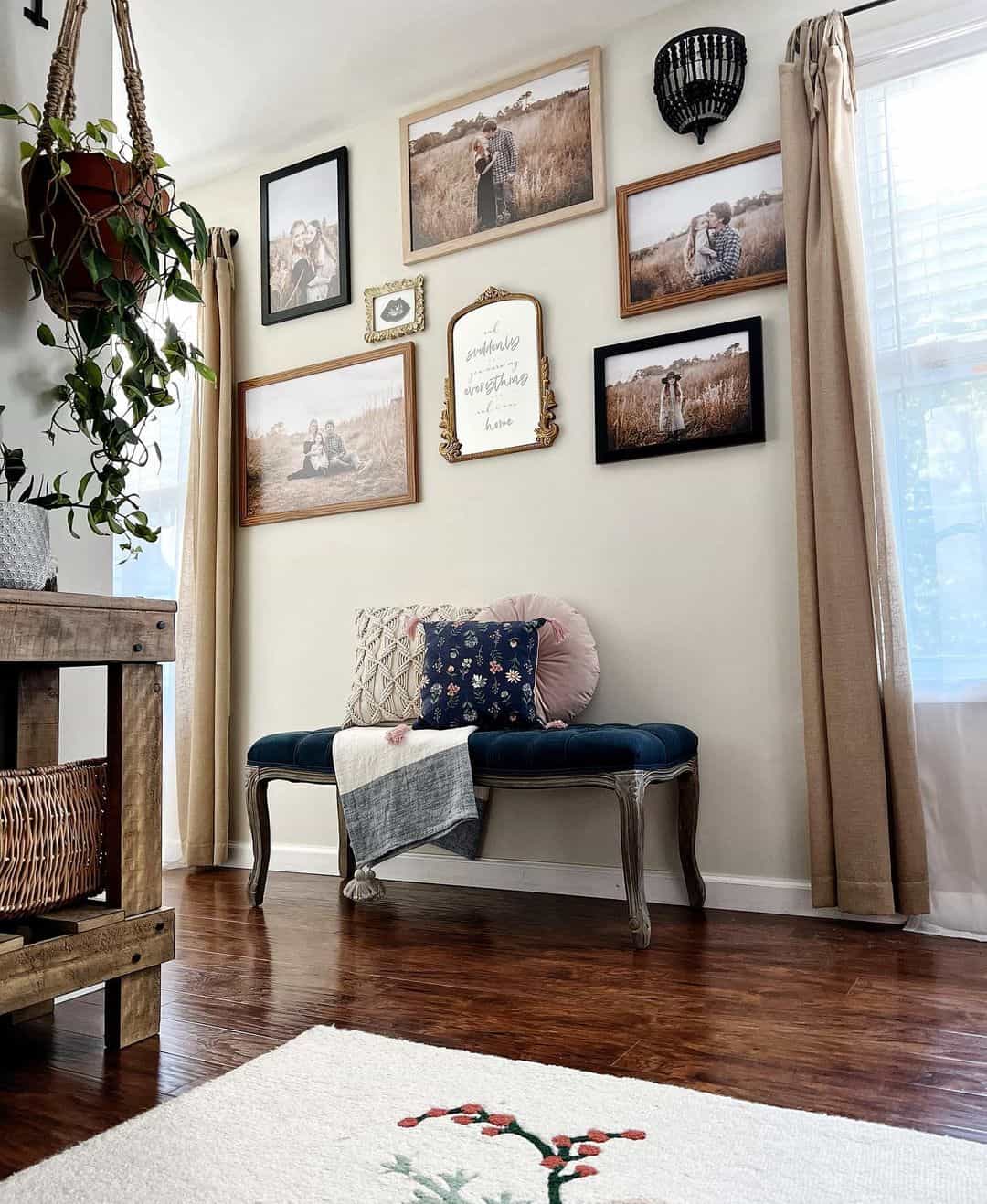 Credit: mysweetloie
Shop the Look
Farmhouse Elegance: Gallery Wall Designs for a Neutral Living Room
In a rustic living room with warm wood floors and a generous gray and white French country area rug, create a focal point with vintage farmhouse armchairs featuring gray and white striped upholstery. Above them, hang a charming farmhouse wood letter sign, flanked by an assortment of rustic frames on a gallery wall.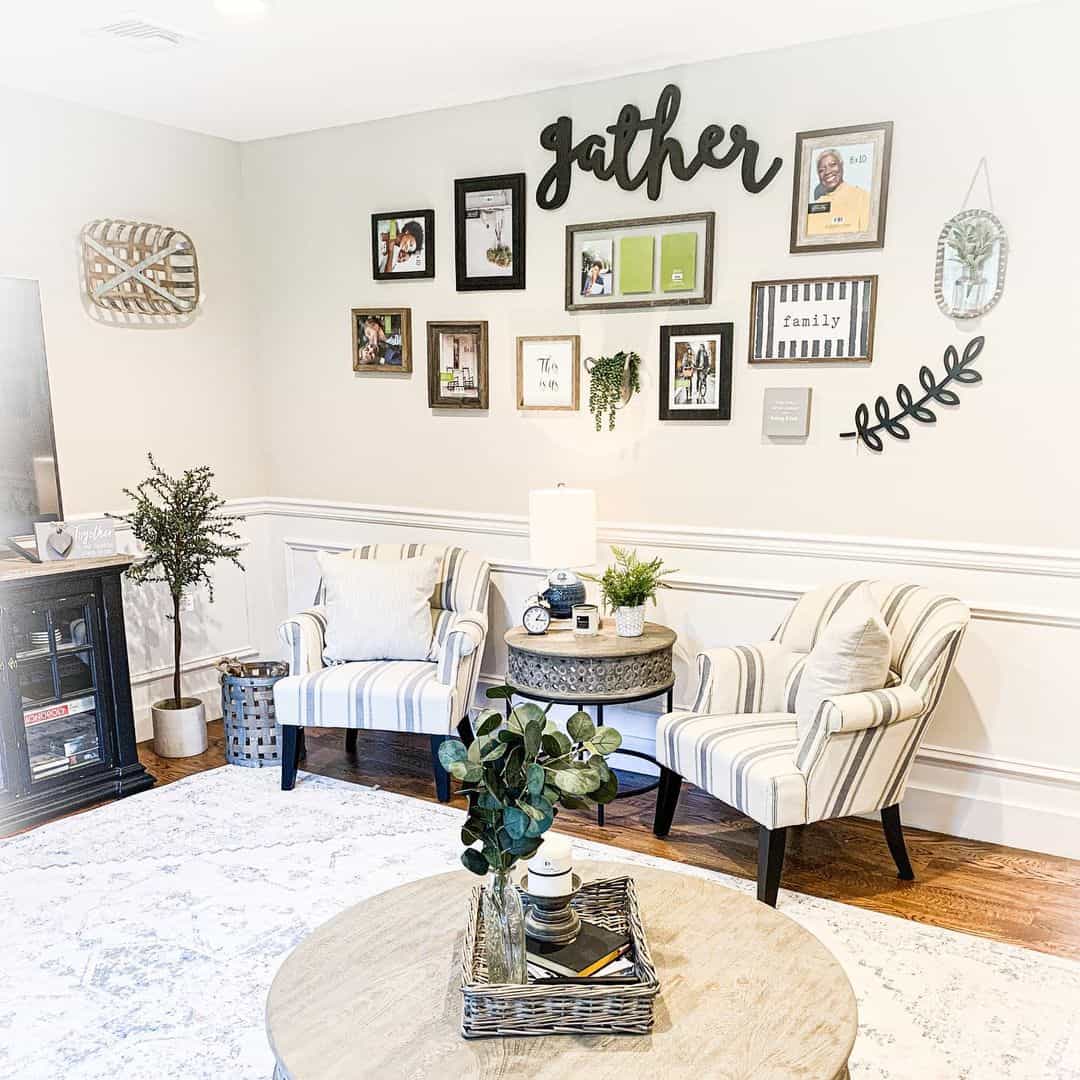 Credit: prettylittlehomesbykini
Shop the Look
Eclectic Gallery Wall in a Serene Neutral Living Room
Infuse a vintage touch into your festive loft lounge with a gallery wall showcasing cherished family photographs enclosed in antique gold and wooden frames. Complete the cozy atmosphere with rustic farmhouse holiday pillows on the gray sofa, cozy throw blankets, and a wooden Christmas song wall sign.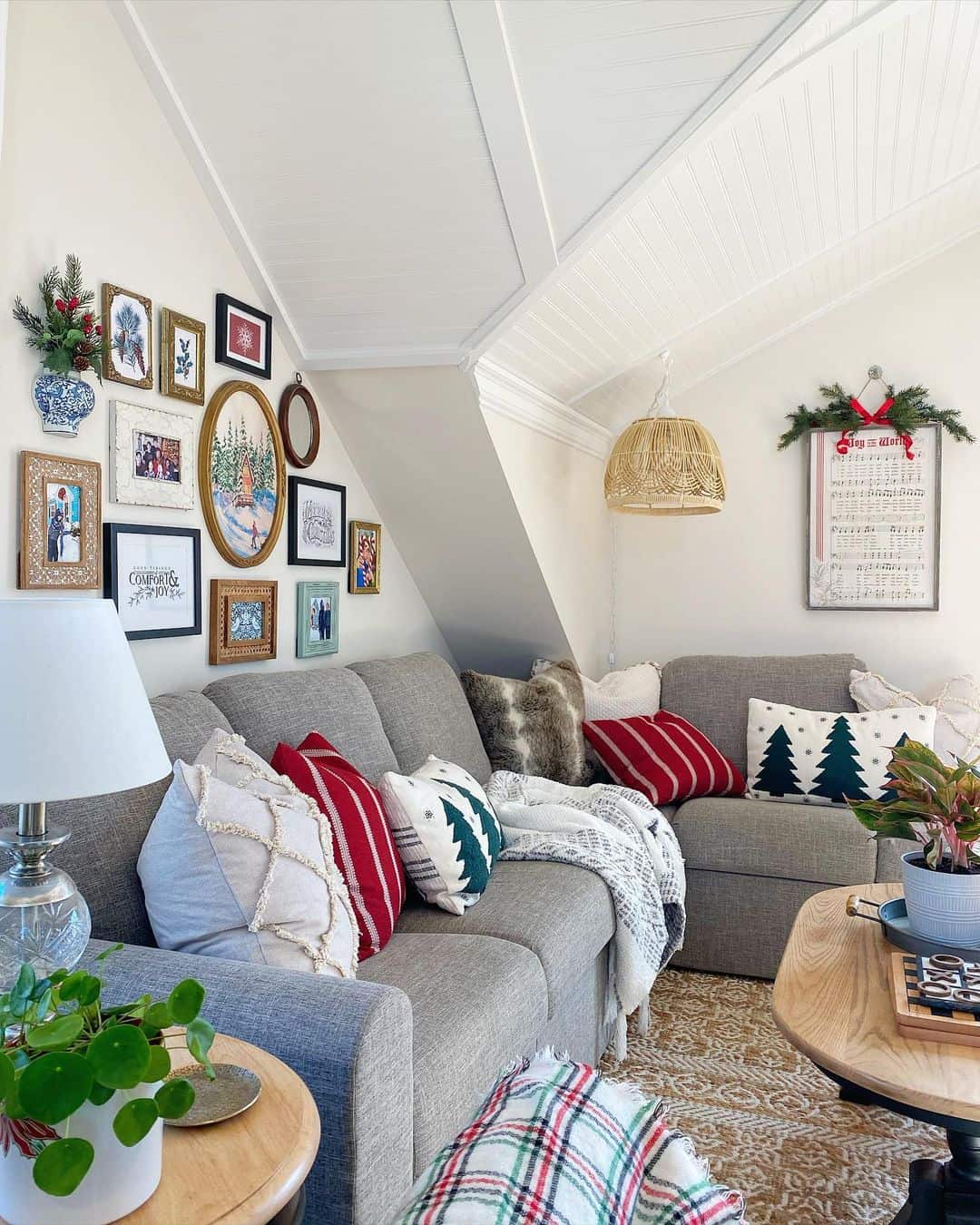 Credit: my.purposed.place_2
Shop the Look
Vintage Elegance: Gallery Wall Inspiration for Your Living Room
Transform your neutral living area into a timeless oasis with a vintage gallery wall featuring antique framing above deep grey sofas. Accompany this with a vintage wooden armchair adorned with white upholstered cushions and farmhouse-style neutral throw pillows. Add a touch of holiday charm with tall white candlesticks, cedar sprays, and pinecone potpourri on the coffee table.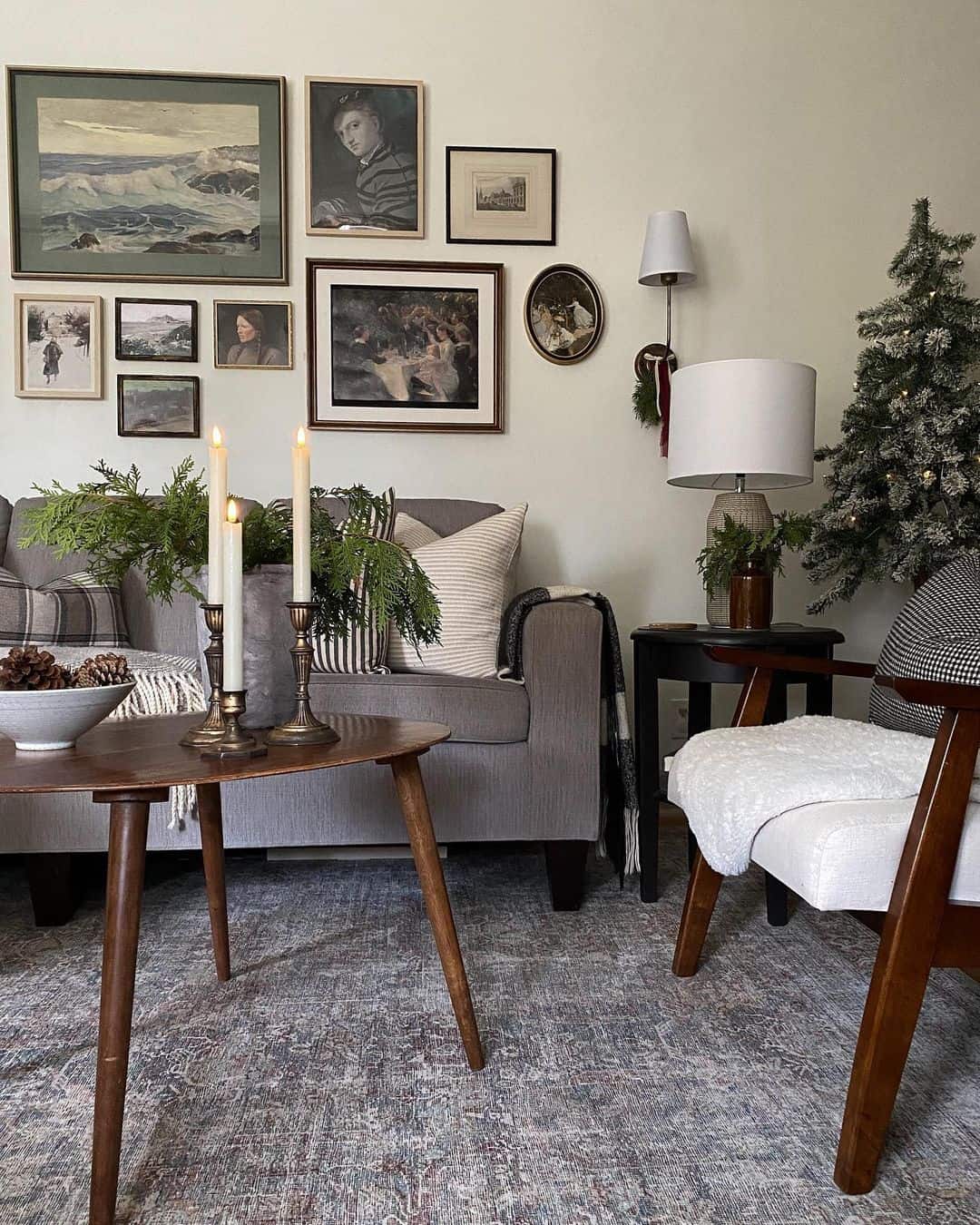 Credit: lexstyleanddesign
Shop the Look
Gallery Wall Magic Behind the Beige Sofa
Elevate your living room by crafting a captivating gallery wall composed of vintage pictures carefully arranged behind a soothing beige sofa. Illuminate the space with the soft glow of a shaded sconce and a black farmhouse chandelier. A vintage rug gracefully adorns the hardwood floor.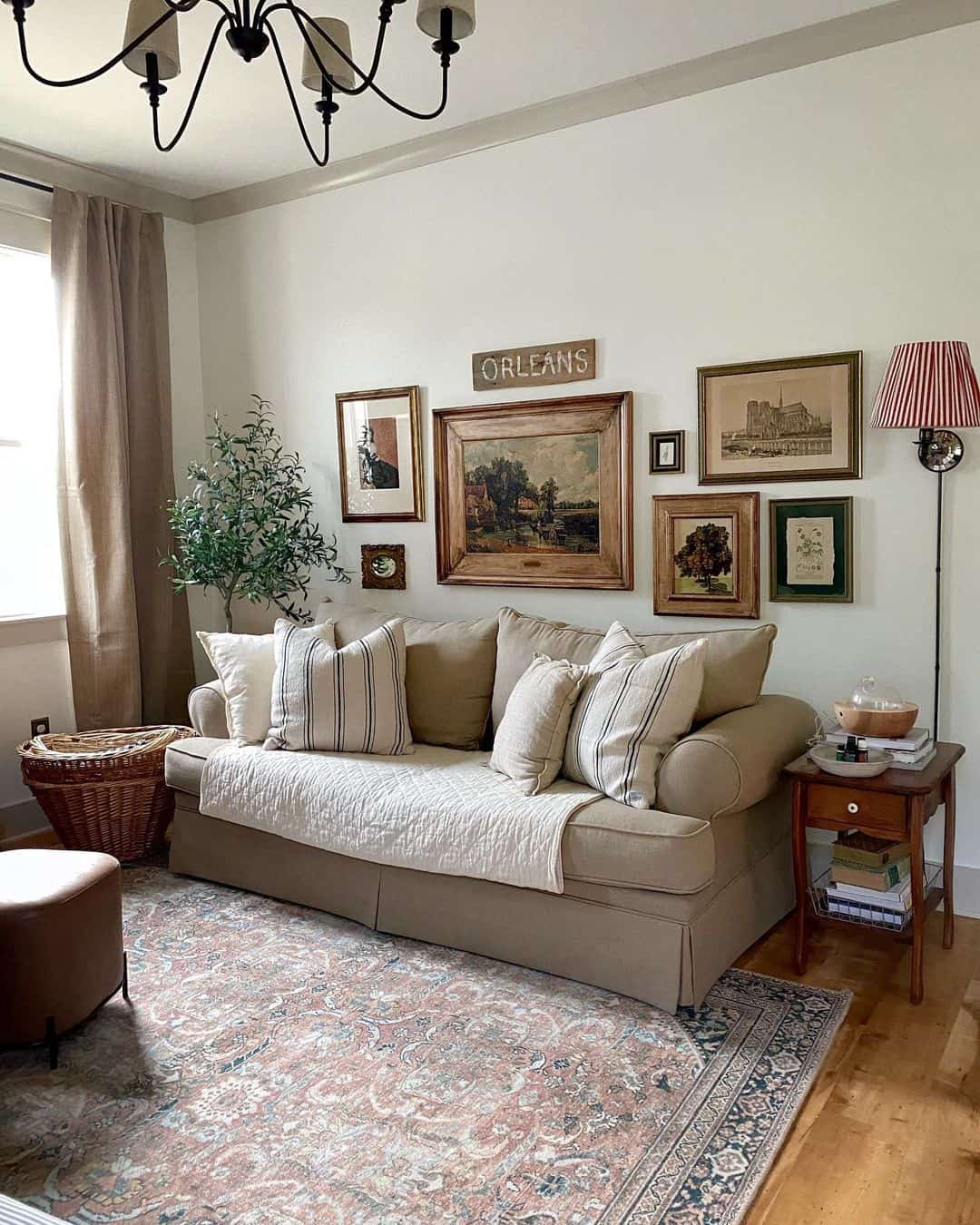 Credit: ourgrowingstorey
Shop the Look
Monochromatic Gallery Wall for a Contemporary Living Room
Make a statement in your modern living room by adorning a blank beige wall above a console table with a collection of black-framed portraits. Achieve a harmonious monochromatic look by accessorizing with a black vase filled with dark flowers, white books, candles, and a black stone table lamp atop the console table.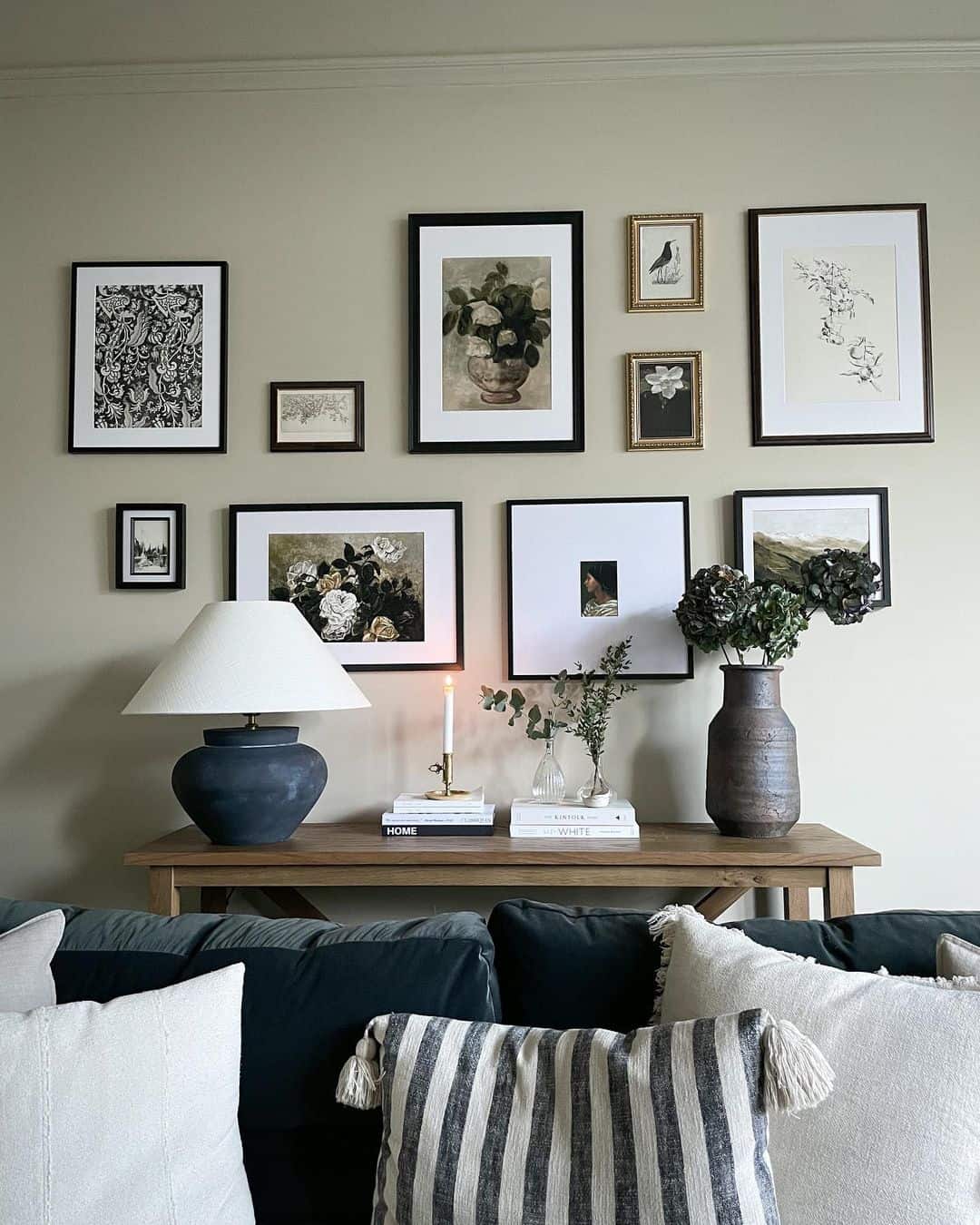 Credit: wildinthewolds
Shop the Look
Wrap-up
Your farmhouse living room is more than just a space; it's a canvas for your creativity and personal style. With these artful wall collage layouts, you can turn your living room into a true reflection of your personality and taste. Whether you opt for a vintage vibe, a modern monochrome look, or something entirely unique, these ideas will help you make your farmhouse living room a place you'll love to call home.