7+ Inspiring French Farmhouse Décor Ideas to Transport You to Provence
Affiliate Disclosure: As an Amazon Associate we earn from qualifying purchases. Hence, if you click through and make a purchase, we will get a commission at no extra cost to you. For more info, read our full disclosure.
Immerse yourself in the rustic charm of French farmhouse décor as we journey through seven inspiring ideas that will effortlessly transport you to the picturesque landscapes of Provence. From elegant interiors adorned with vintage clocks to cozy living spaces that capture the essence of rural France, this blog unveils the timeless allure of French farmhouse design.
Discover how to infuse your home with the warmth, elegance, and tranquility that define this beloved aesthetic.
Elegance in the Hallway: Showcasing a Rustic French Provincial Clock
Welcome to a space of timeless elegance as you step into this hallway. Here, a gray-toned wooden entryway table takes center stage, adorned with vintage books, vibrant sunflowers, lamps, and black-and-white checkered pillows and scarves. Against clean white walls, a grand rustic French provincial farmhouse-inspired clock adds a touch of vintage charm.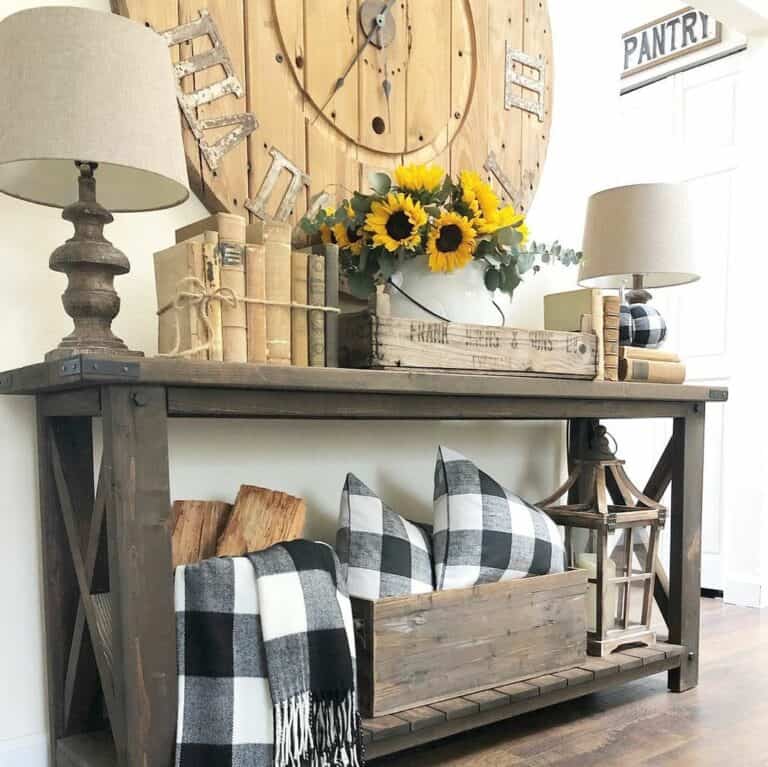 Credit: shabbyandsewmuchmor
Shop the Style
The Grand Entrance: White French Doors Define the Entryway
Experience the grandeur of an entrance defined by white French doors. This stunning entryway boasts a rustic cabinet adorned with fresh plants, lamps, and captivating candles, creating an inviting atmosphere. Garden wreaths tastefully grace wooden-framed artworks, infusing the space with natural beauty.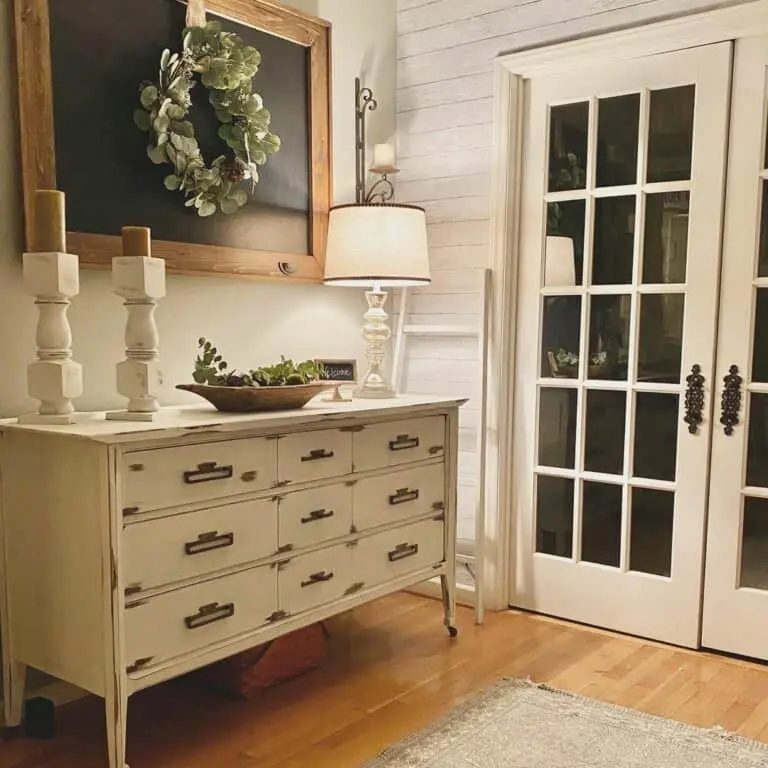 Credit: the_melton_homestead
Shop the Style
Dining Room Sophistication: Enhanced by a White Stone Fireplace
Step into a world of sophistication within this dining room. A charming wooden dining table harmonizes perfectly with farmhouse-inspired cushioned chairs. Adorned with a bouquet of white flowers, the table basks in the glow of a rustic chandelier. The presence of an eye-catching white glass cabinet and a commanding stone fireplace completes the elegant ambiance.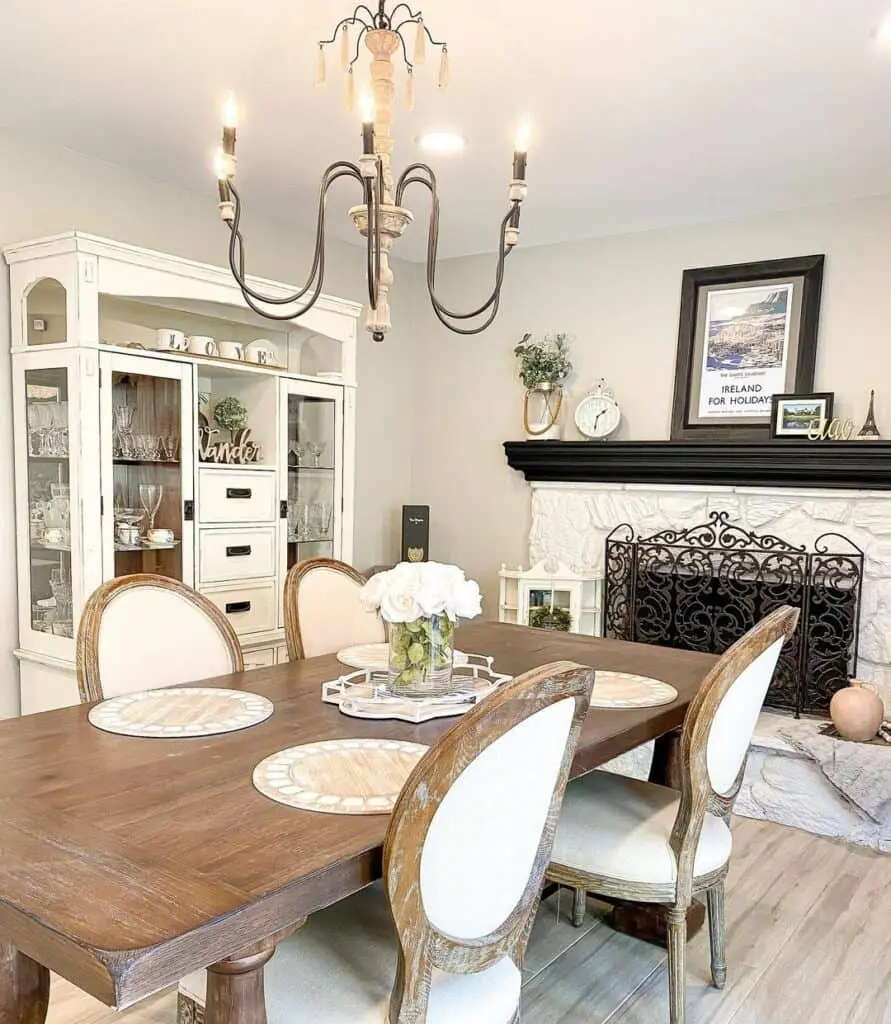 Credit: doodledream.life
Shop the Style
Serene Master Retreat: French Farmhouse Bedroom with Sitting Area
Discover tranquility in this master bedroom adorned with French farmhouse aesthetics. Above, a black and white chandelier casts an enchanting glow. It hovers gracefully over a wooden and white bed, accompanied by a beige and wood bedroom bench. Inviting gray and white armchairs encircle a two-toned white accent table, positioned before a white window adorned with graceful gray drapes.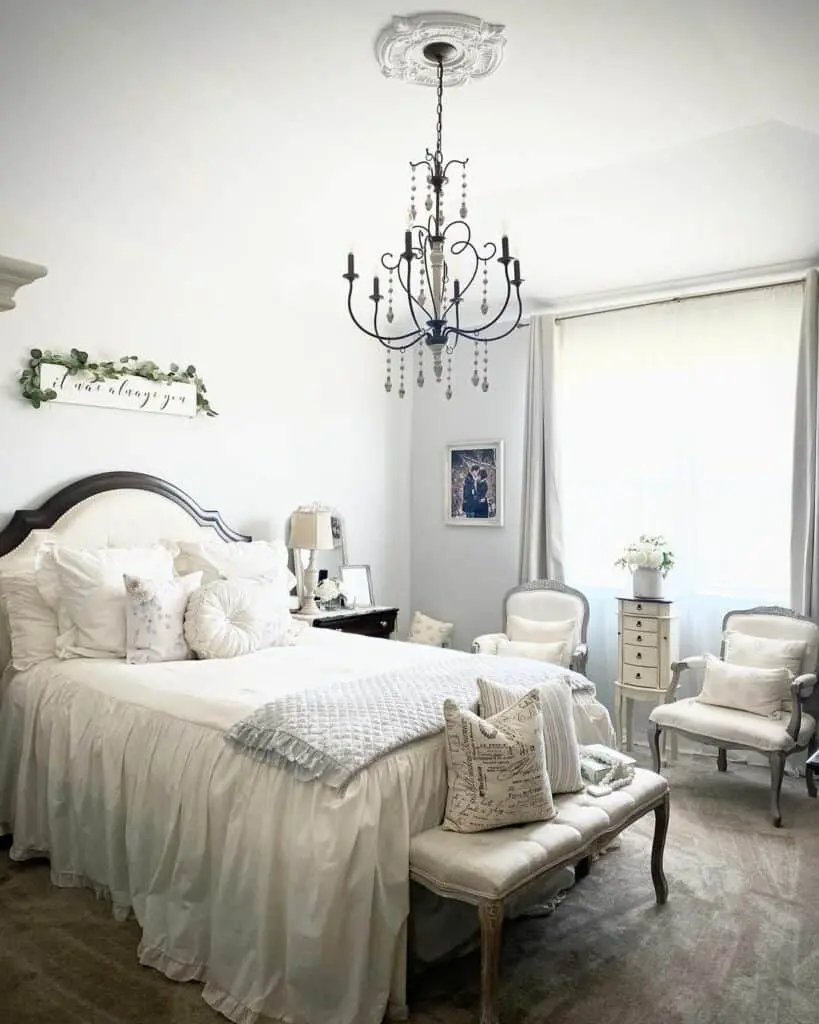 Credit: chalkpaintandpearls
Shop the Style
Inviting Entryway Charm: Double French Doors and Shiplap Welcome
The warmth of welcome is palpable as you step through natural wood double French doors, graced with glass inserts. Inside, the allure of shiplap and dark hardwood floors beckons, enhanced by a black metal chandelier suspended from above. An antique wooden bench stands adorned against the stairway wall, thoughtfully decorated with a sizable lettered sign and vintage accents.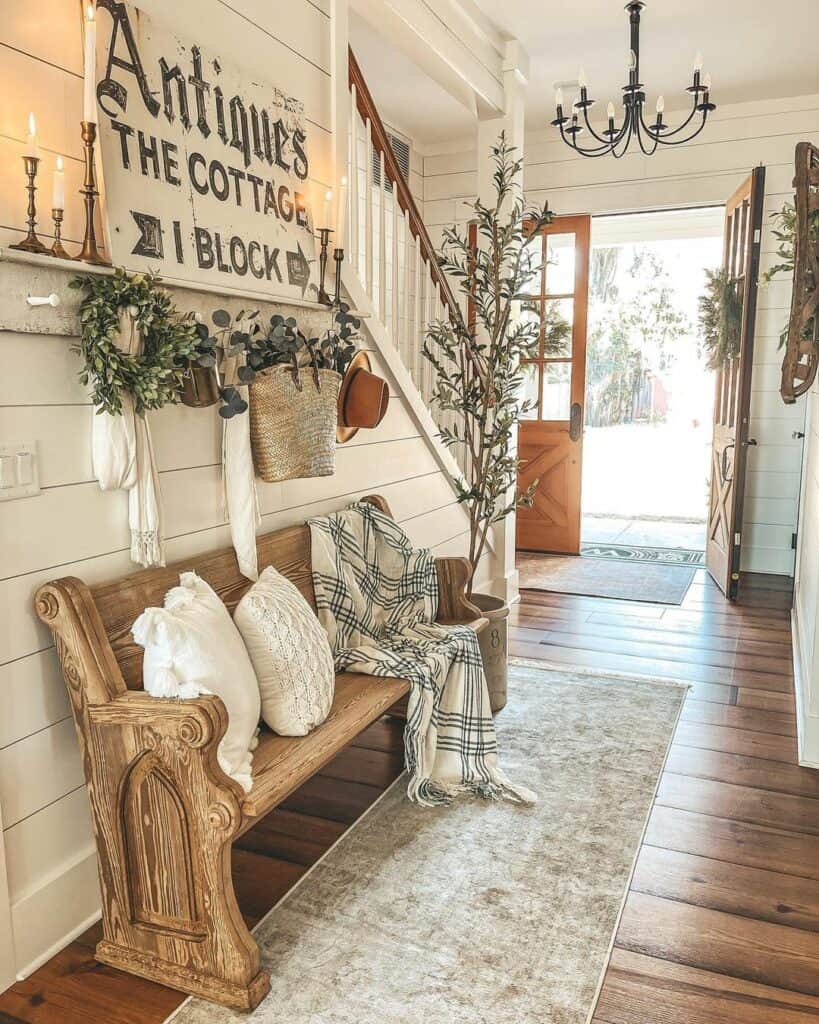 Credit: lakefrontfarmhouse
Shop the Style
Autumnal Dining Delight: White and Wood Merge in Harmony
Indulge in an autumnal dining experience where white and wood converge harmoniously. A pristine white dining table plays host to inviting farmhouse-styled chairs crafted from wood. At the center, a woven basket overflows with fall leaves, creating a stunning seasonal centerpiece. The walls come alive with fall-inspired quotes, while elegant white floating shelves showcase their artistic treasures.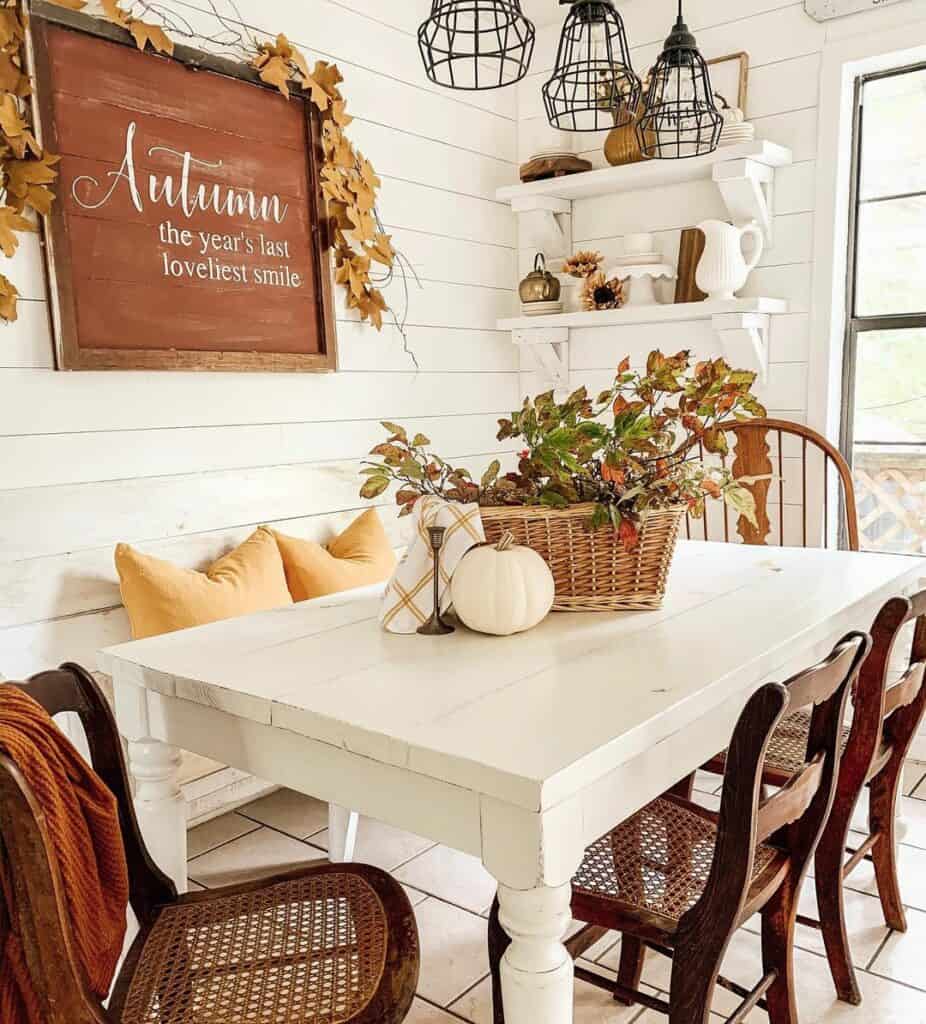 Credit: withhopeandgraceco
Shop the Style
French Farmhouse Coziness: Living Room Grace with a Grandfather Clock
Step into a living room space that radiates the cozy charm of French farmhouse aesthetics. A welcoming white armchair invites relaxation beside a rustic wooden circular coffee table. In a corner stands an antique grandfather clock, adding a touch of vintage allure. Hints of autumn, like plush pumpkins, are artfully scattered throughout the space.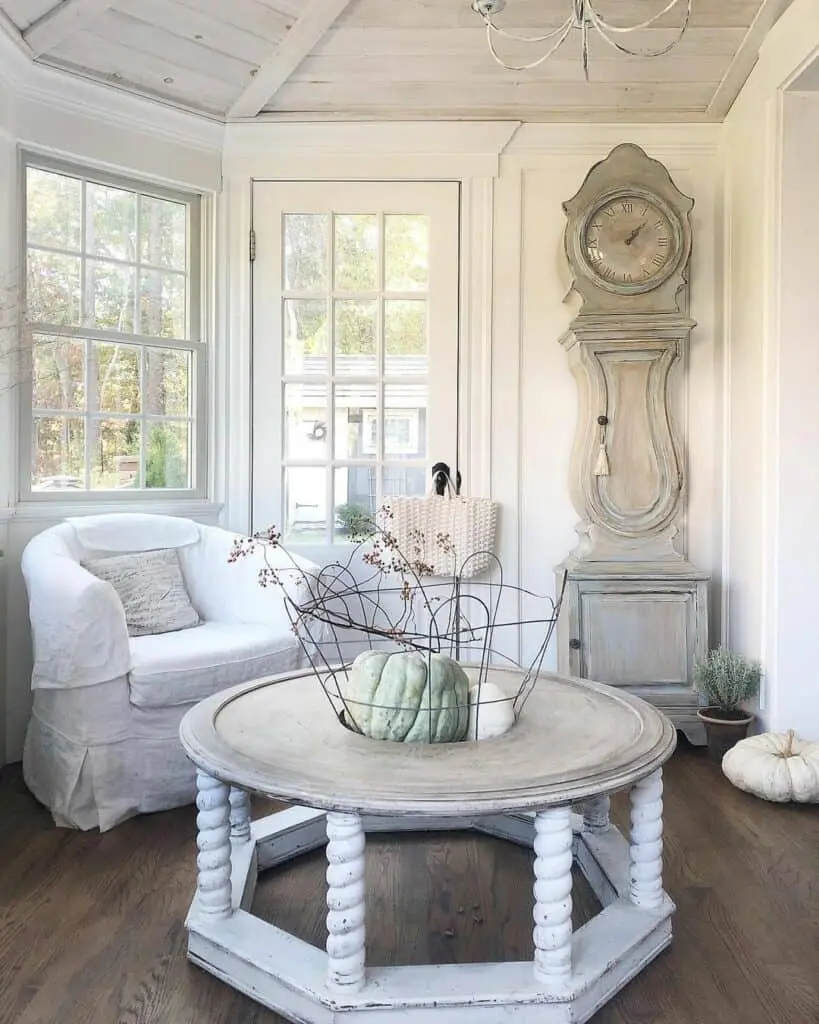 Credit: r.house__
Shop the Style
Tranquil Fireside Comfort: White Stone Fireplace Enhanced with Wooden Accents
Experience tranquility by the fireside as you nestle into this serene white stone fireplace setting. A cozy seating area invites you to unwind amidst comforting cushions and a woven basket. The fireplace mantle is graced with candles featuring wooden accents, a charming wooden horse figurine, potted plants, and an antique mirror, creating a soothing and inviting atmosphere.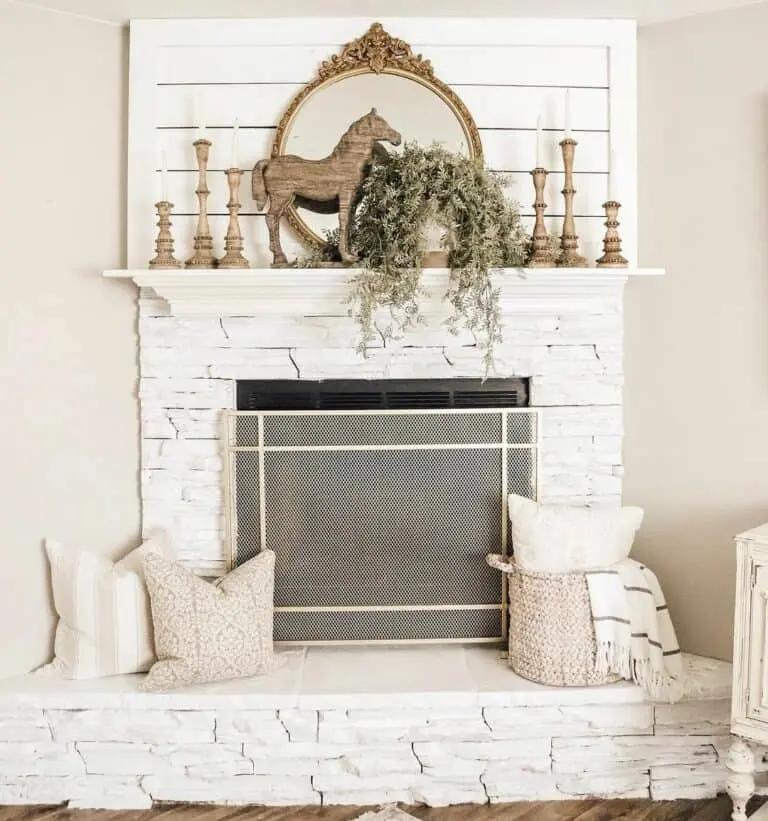 Credit: crown.and.sparrow
Shop the Style
Wrap-up
As we conclude our exploration of these enchanting French farmhouse décor ideas, it's clear that this style offers more than just interior design; it's an invitation to embrace the simplicity and elegance that Provence effortlessly exudes.
Whether you choose to incorporate vintage elements, rustic accents, or a blend of both, French farmhouse décor brings a touch of timeless beauty and comfort to any space.
Let these inspirations guide you as you create your own sanctuary that transports you to the tranquil and idyllic landscapes of Provence.