7+ Sophisticated Designer Book Décor Ideas for the Farmhouse Bibliophile
Affiliate Disclosure: As an Amazon Associate we earn from qualifying purchases. Hence, if you click through and make a purchase, we will get a commission at no extra cost to you. For more info, read our full disclosure.
For the avid readers who find solace in the pages of well-worn books and have a penchant for farmhouse aesthetics, this article presents a treasure trove of inspiration. Within these lines, we delve into a realm where sophistication meets rustic charm, catering to the tastes of the farmhouse bibliophile.
From carefully curated designer book displays to seamlessly integrated décor ideas, we invite you to explore a world where literature and interior design intertwine.
Embracing Neutrality: Gray Living Room with Subdued Elegance
Step into a world of understated elegance within this gray living room, tastefully furnished in shades of black, white, and gray. The coffee table stands adorned, showcasing a box of delicate dried lavender, books lending support to a softly flickering candle, and a stone pedestal cradling a bowl of beads alongside an elegant tassel.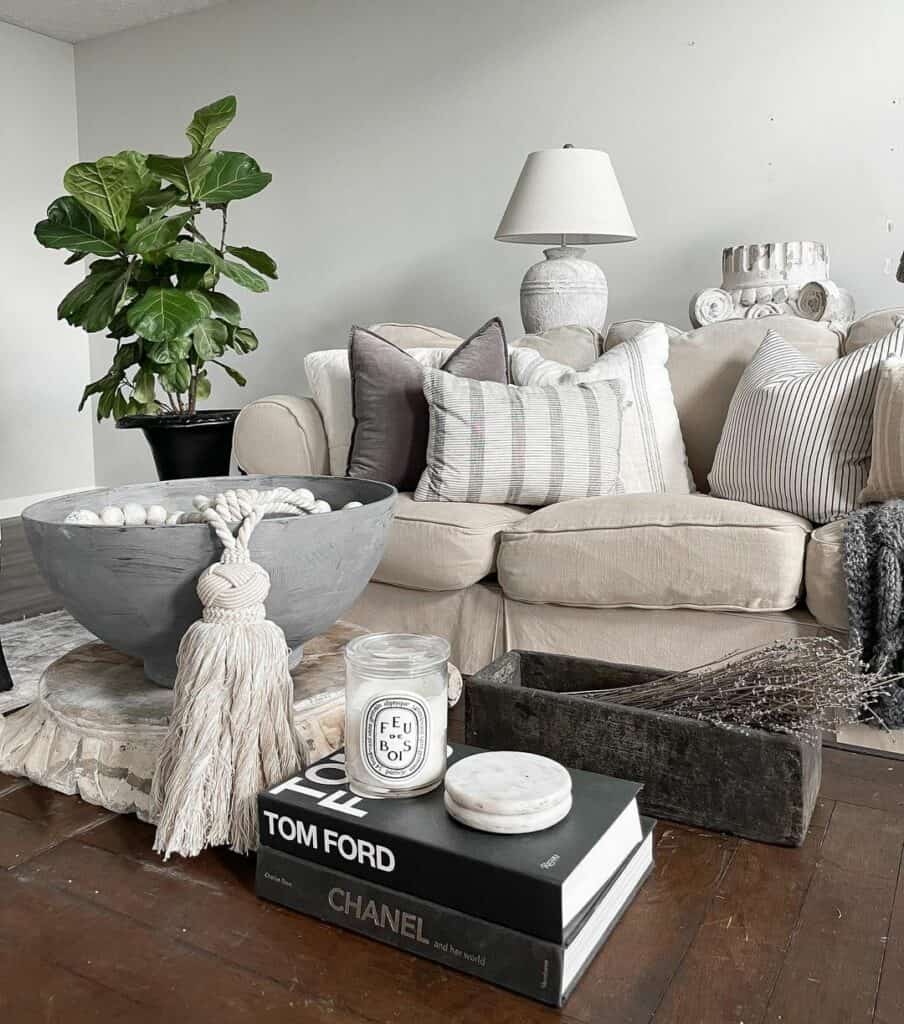 Credit: interiorjems
Shop the Style
Contemporary Fusion: Modern Living Room Graced by Framed Landscapes
Unveil the allure of modernity in this living room, where white sofas beckon with cushions adorned in earthy-toned patterns. The walls come to life with the presence of a grand, elegantly framed landscape painting. At the heart of it all, a timeless wooden coffee table finds its place, complemented by potted plants and a designer book in classic black and white.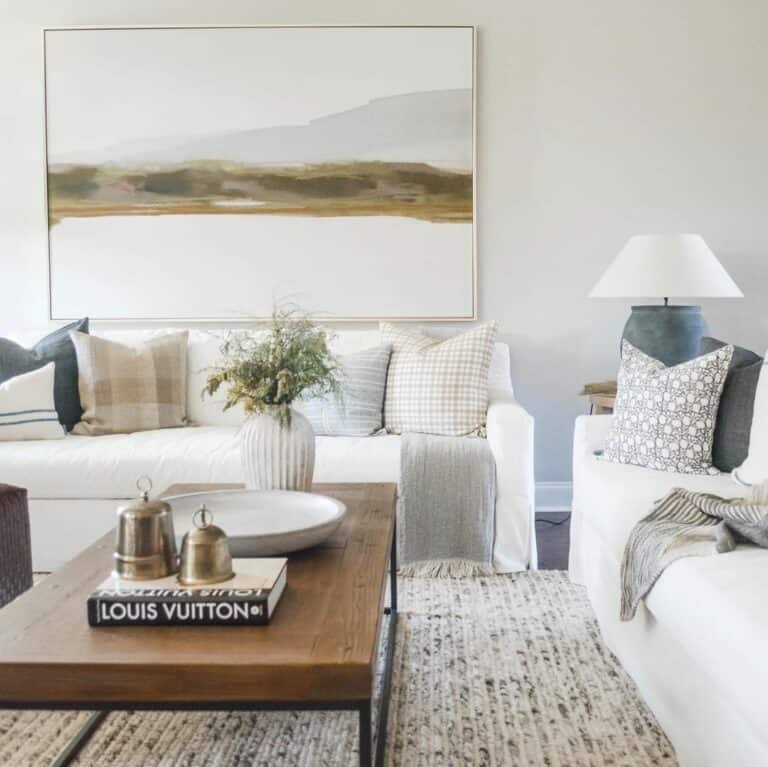 Credit: houseofwahls
Shop the Style
Serene Simplicity: Living Room with Ivory Fireplace and Beige Walls
Discover serenity within the embrace of this neutral living room, where a cozy gray sofa extends an invitation to unwind. Upon a classic wooden coffee table, fresh potted plants, a wooden tray, candles, and elegantly dainty designer books reside. Against a backdrop of soothing beige walls, a white fireplace stands, its radiance amplified by pendant lighting featuring subtle black accents.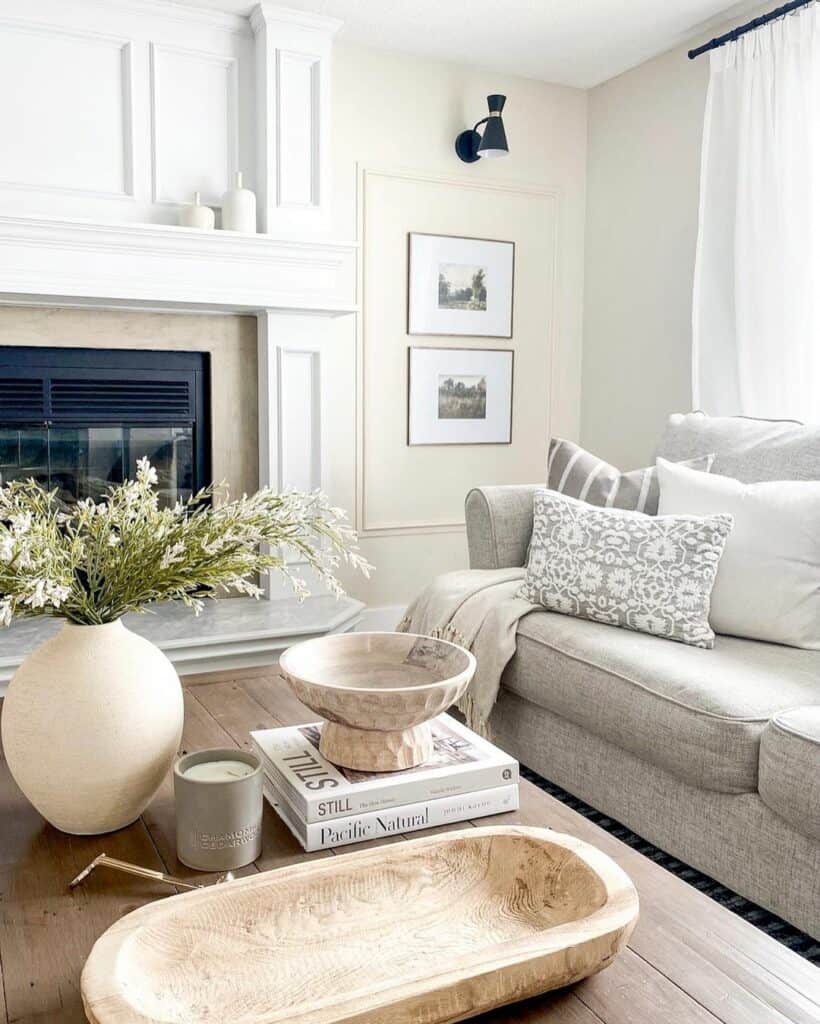 Credit: takemehomecedarroad
Shop the Style
Rustic Warmth: Inviting Living Room Adorned with Vintage Elements
Experience warmth and comfort in this living room, where a cozy white sofa beckons with its array of cheerful pillows. The centerpiece, a coffee table adorned with vibrant potted plants and carefully placed designer books, sets a rustic tone. Antique arch-framed mirrors, accompanied by framed photographs and white floating shelving, grace the walls, weaving a tapestry of nostalgia.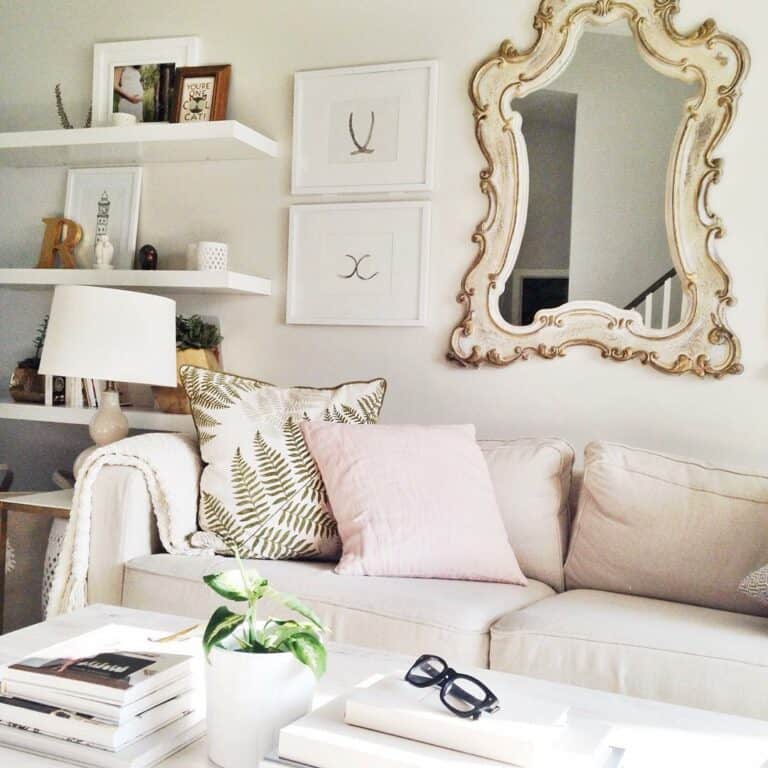 Credit: mybeautyrevival
Shop the Style
Natural Harmony: Living Room Elevated by Textured Wooden Coffee Tables
Step into a realm of natural harmony, where beige sofas rest atop an expansive oriental rug. Two captivating textured wood coffee tables command attention, adorned with fresh white flowers and a minimalist designer book. Farmhouse-inspired windows, accompanied by potted plants and woven baskets, infuse the space with an irresistible charm.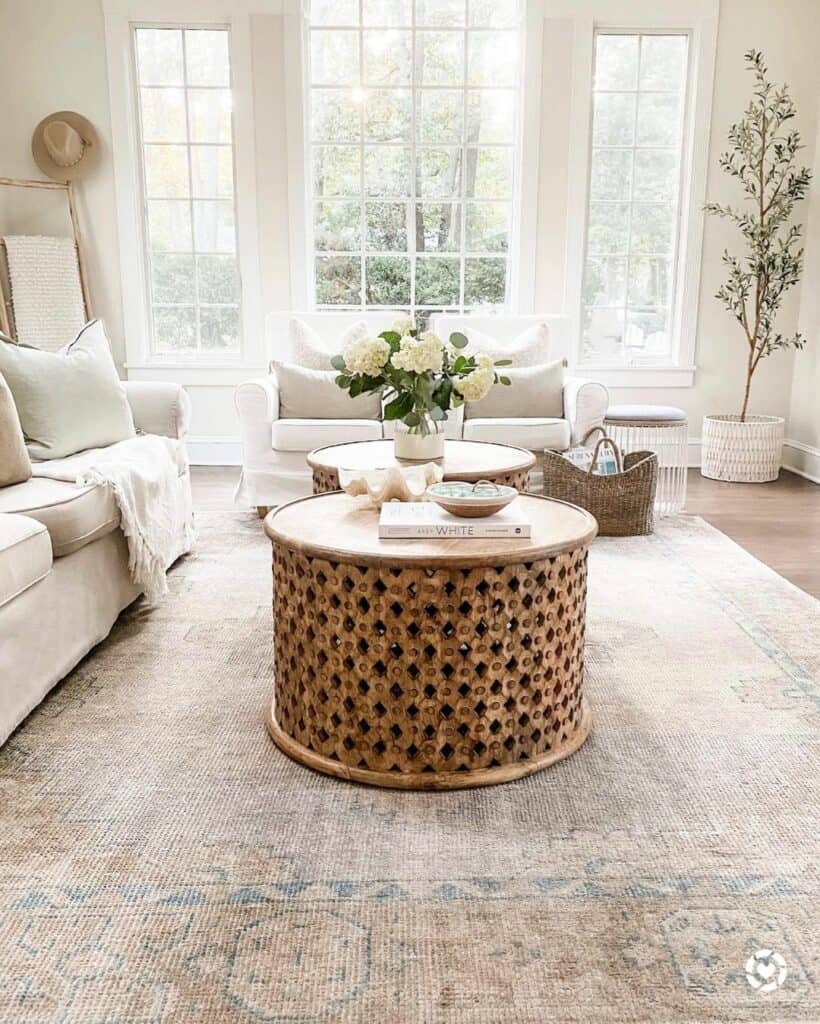 Credit: purelychichome
Shop the Style
Artistic Expression: Modern Living Room Infused with Creative Flair
Enter an artistic sanctuary where a cozy couch reclines upon a gray-and-white plaid rug. Adjacent, a wooden tall table stands adorned with a lively potted plant, a candle exuding creativity, captivating art pieces, and a distinctive black and white designer book. In a corner, a contemplative white figurine bust adds a touch of enigmatic allure.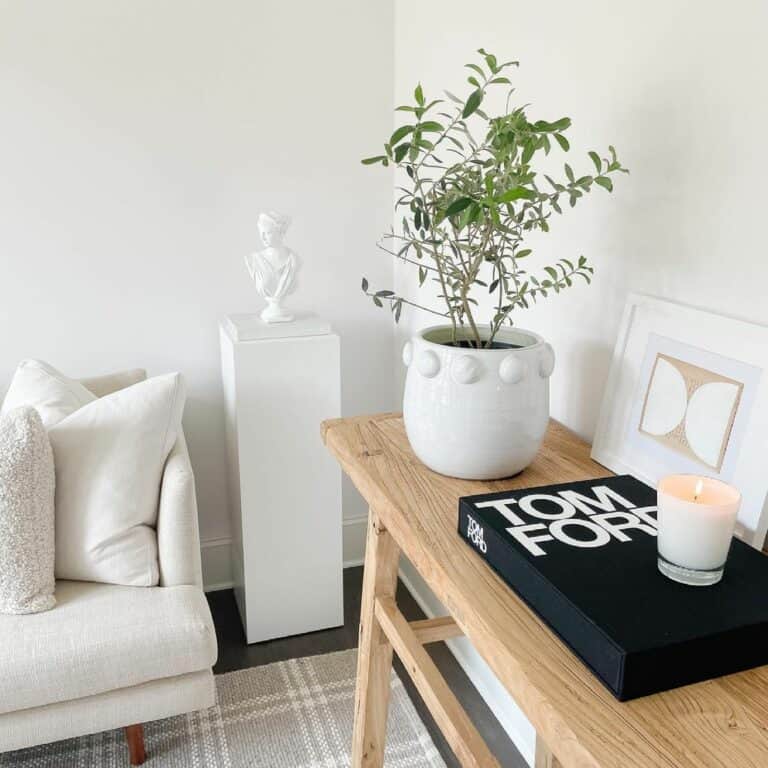 Credit: simplelifeanddesign
Shop the Style
Timeless Sophistication: Marble Coffee Table in a Chic Living Room
Step into a world of timeless sophistication within this white living room. A white sofa and a white and wood armchair create a captivating seating arrangement, encircling a modern marble coffee table supported by sleek black metal legs. The scene is completed by a vase of verdant foliage, introducing an element of organic beauty.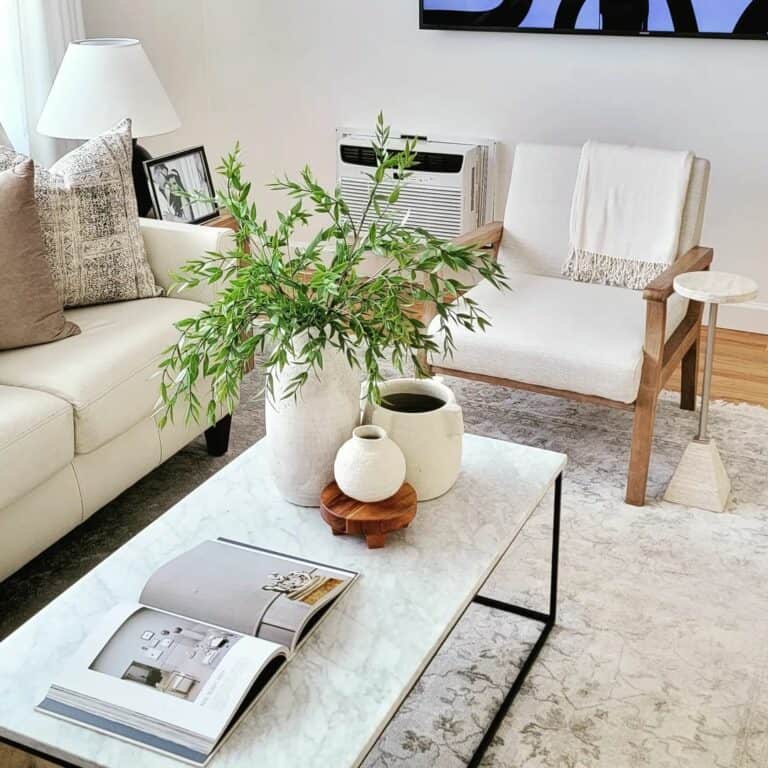 Credit: shirlenehome
Shop the Style
Rustic Elements: Living Room Adorned with Wooden Accents
Step into a rustic haven where a prominent wooden cabinet takes the spotlight, crowned by candles with captivating black accents and a television. Beside it, a wooden blanket ladder leans gracefully, accompanied by a potted plant. The wooden coffee table, adorned with a wooden tray presenting candles and well-chosen books, embodies rustic charm.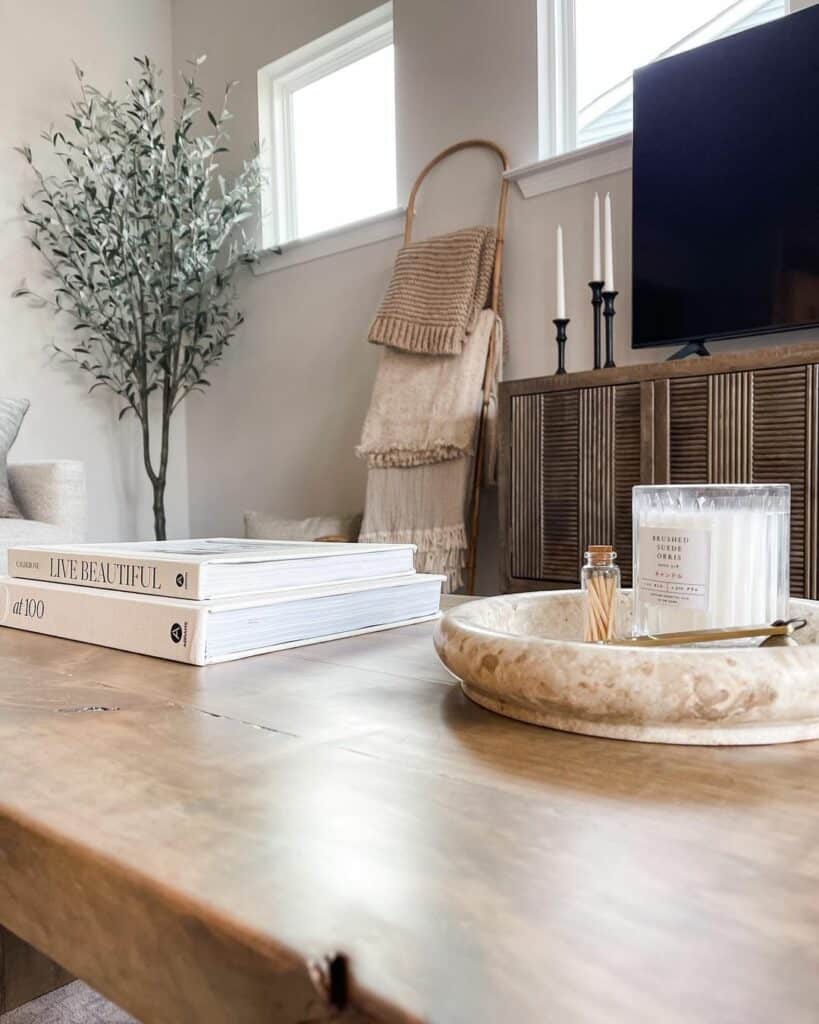 Credit: smc.living
Shop the Style
Wrap-up
In the world of interior design, merging personal passions with aesthetics can result in truly enchanting spaces. For the farmhouse bibliophile, the artful arrangement of designer books goes beyond mere ornamentation, transforming into a reflection of their literary journey.
With the ideas showcased here, we hope to have ignited your creativity and provided the tools to craft an inviting space that marries the love for reading with the warmth of farmhouse elegance.