7+ Creative TV Frame Ideas to Enhance Your Farmhouse Home Décor
Affiliate Disclosure: As an Amazon Associate we earn from qualifying purchases. Hence, if you click through and make a purchase, we will get a commission at no extra cost to you. For more info, read our full disclosure.
Elevate the charm of your farmhouse haven with ingenious TV frame concepts that blend functionality and aesthetics seamlessly. Your living space is more than just a room – it's a canvas for creativity.
From rustic allure to vintage elegance, these creative TV frame ideas not only enhance your home décor but also create a captivating focal point that complements the cozy warmth of farmhouse living. Discover a delightful assortment of inspiration that brings a unique touch to your space.
Lavish TV Frame Alongside Vintage Wall Embellishments
Immerse yourself in a traditional Christmas setting, where an electric fireplace is embraced by a lavish gilded frame, serving as the backdrop for a mounted TV. Elegantly designed vintage wall ornaments enhance the display, while a joyous tree takes its place as the centerpiece of this warm and welcoming winter scene.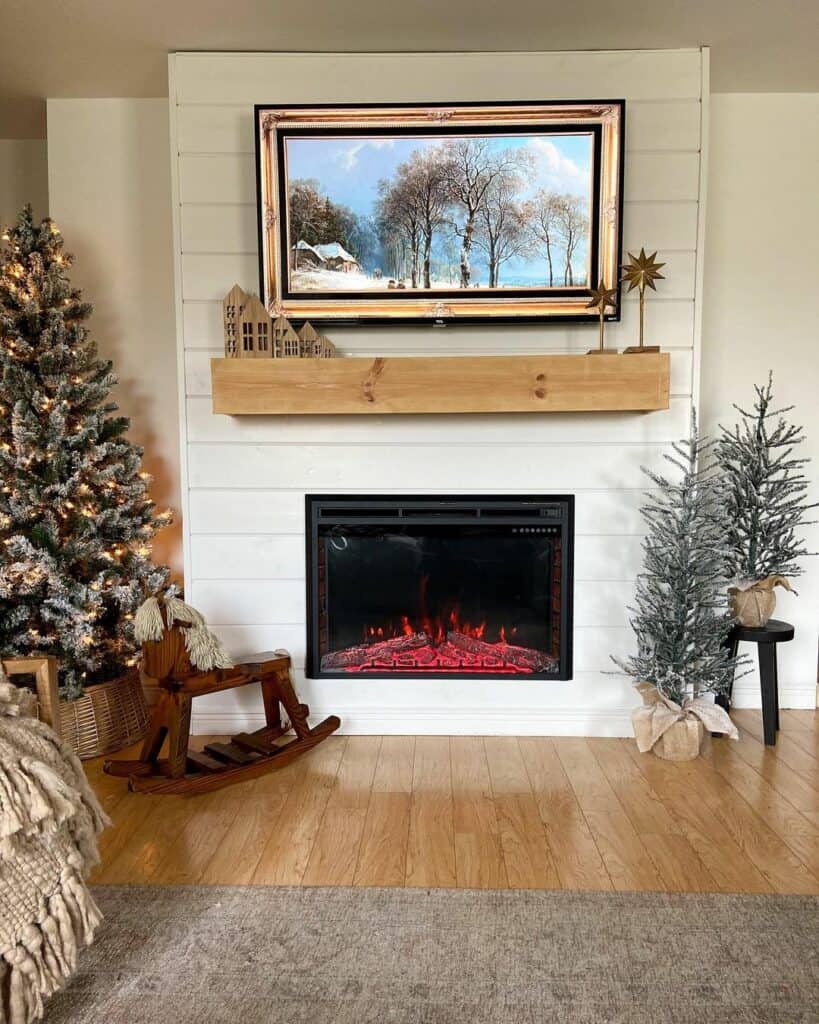 Credit: thewallshouse
Shop the Style
Rustic Television Display Enhanced by Barn Console Table
The mounted TV is enhanced by a wooden panel backdrop, adding dimension to the overall presentation and creating a captivating centerpiece. The living room resonates with a cozy, rustic allure, radiating a comforting ambiance with its assortment of leather and wooden furniture. This aesthetic is beautifully accompanied by a TV cabinet that boasts sliding barn doors.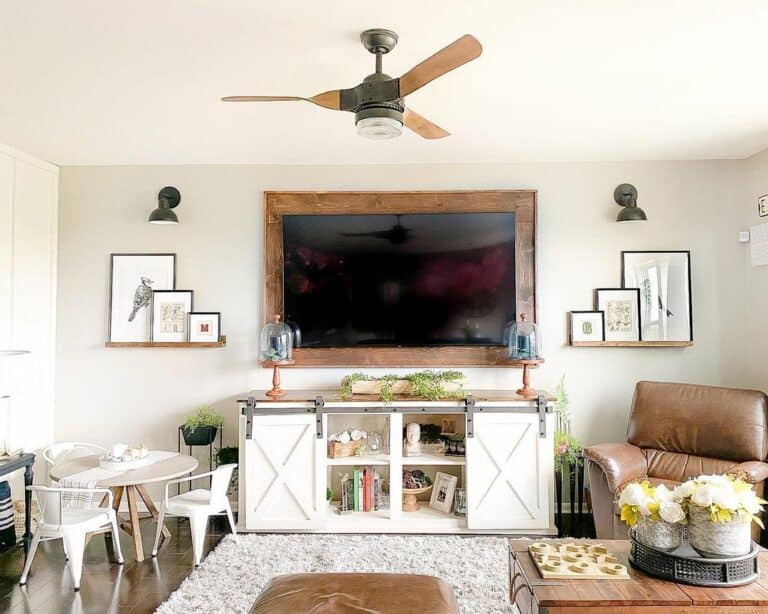 Credit: survivalofasuburbanmom
Shop the Style
Inviting Living Room Highlighting a Stone Fireplace
Indulge in the comforts of this living room, featuring inviting beige couches, leather ottomans, and a wooden coffee table set atop a neutral rug. A stone fireplace graces the space, adorned with a silver-framed TV and a floating wood mantel. Adjacent wooden floating shelves and white cabinets complete the ensemble.
Credit: pleasantlybuilt
Shop the Style
Vintage-inspired TV Wall Frames for Timeless Charm
Enter an elegantly designed living room showcasing a television framed with wood trim, accompanied by an inviting console table and a stylish sound bar. The subdued gallery wall radiates understated vintage vibes, enhanced by cozy knitted pillows for added warmth.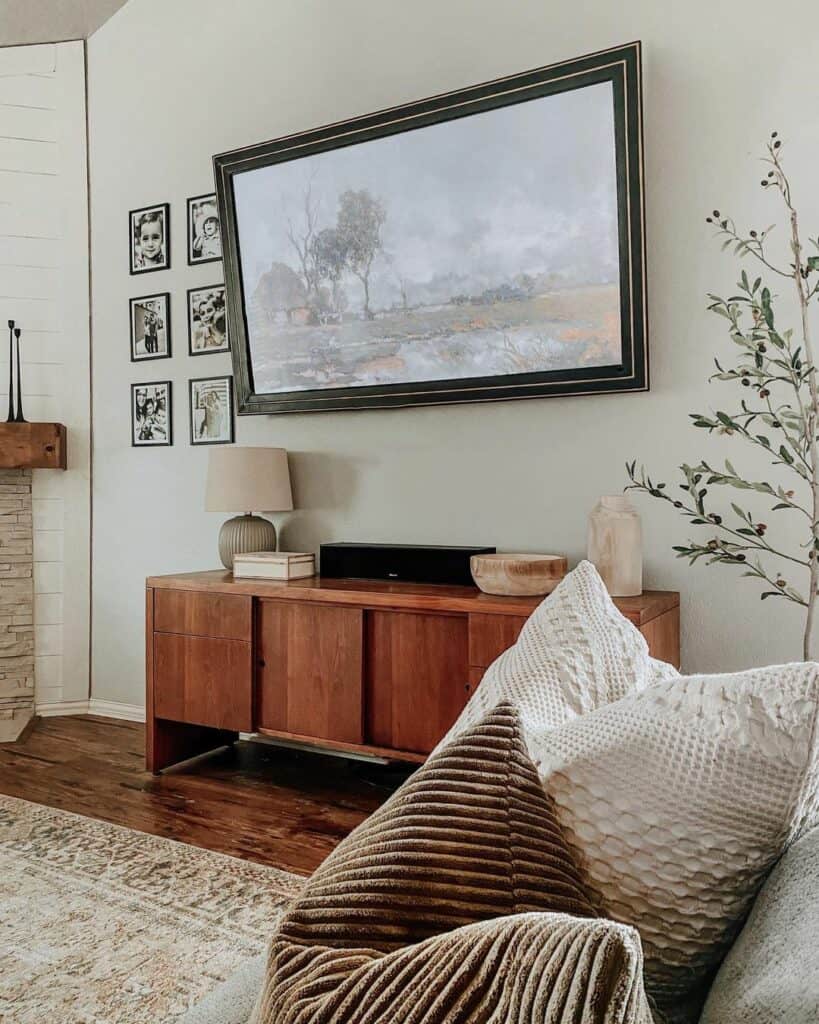 Credit: rusticrosehomestead
Shop the Style
Elegant White Fireplace Gracing the Living Space
Uncover the soul of this living room, where armchairs adorned with wooden accents find repose on a sprawling oriental rug. Commanding attention is a sophisticated white fireplace, adorned with a wall-mounted TV within a framed setting and a wooden mantelpiece. The scene is completed with the welcoming presence of a snug blanket ladder and a potted plant, adding those final charming details.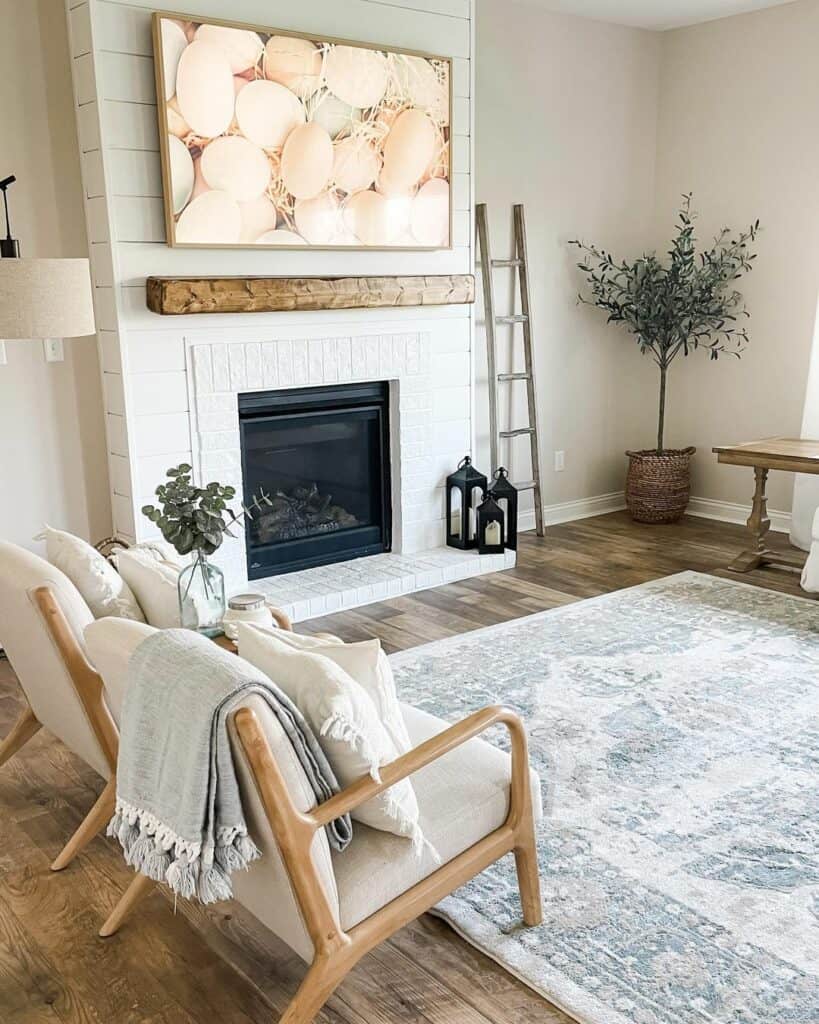 Credit: lifeonstbrendan
Shop the Style
Fusion of Black, White, and Gold in the Living Room
Explore a living room adorned with plush couches and a circular wooden coffee table atop a black oriental rug. A sleek black cabinet stands against white vertical shiplap walls, adorned with pendant lighting featuring golden accents, a framed TV, and photographs with black accents.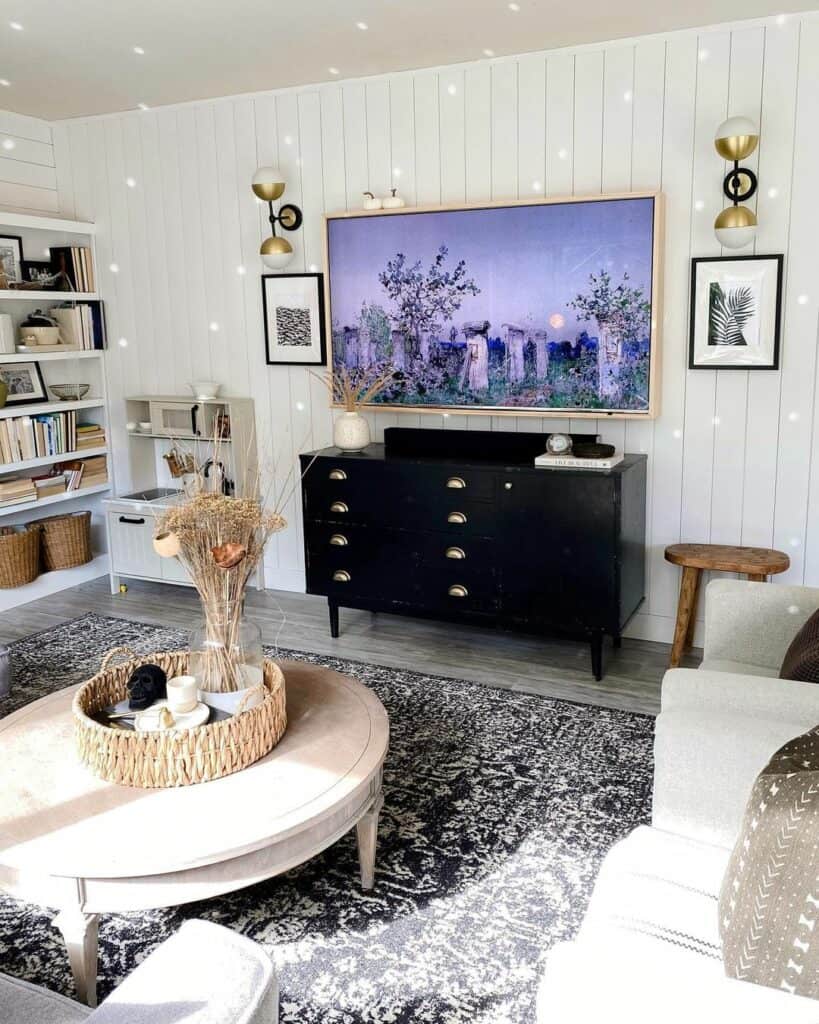 Credit: mia.interiors
Shop the Style
Vintage TV Frame Concepts Enhanced by Wall-mounted Display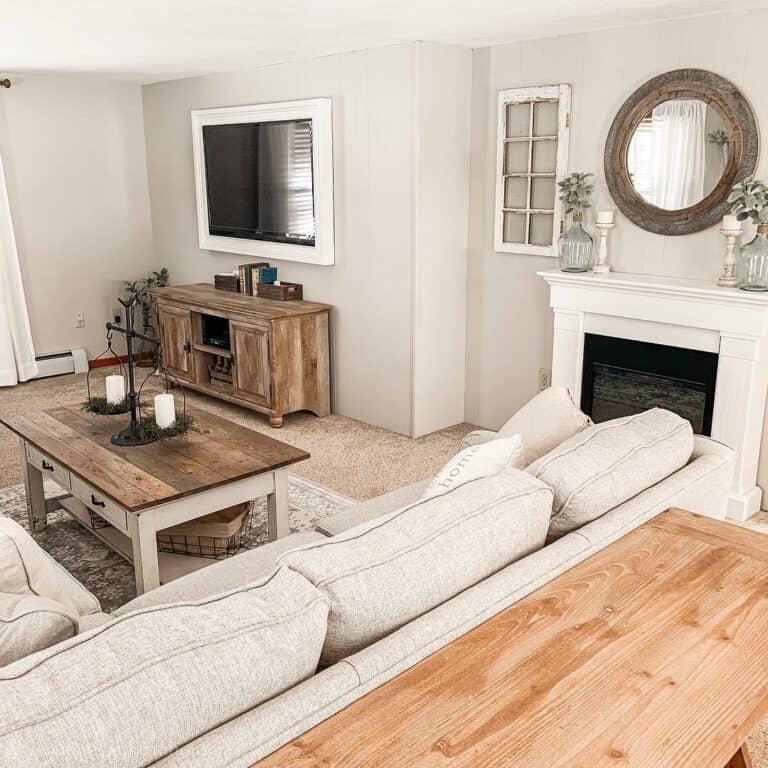 Credit: theamericanfarmhouse
Shop the Style
White Farmhouse Living Room Elevated by Fireplace TV
Enter this radiant farmhouse living room, where a shiplap accent wall showcases a wood stove crowned by a mounted TV. Atop the white mantel, a verdant pine garland, cream bottle brush trees, and white stockings create a picturesque scene. An alluring brass and glass chandelier introduces an element of fascination to the well-lit area.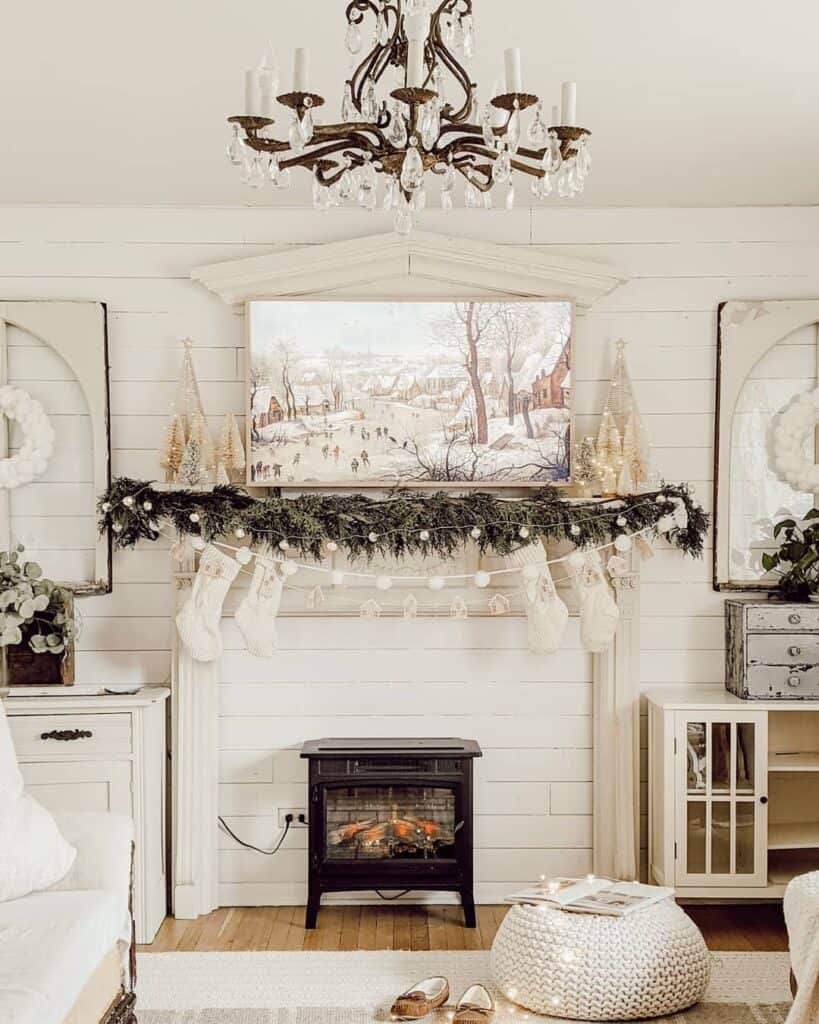 Credit: vintageandgraceliving
Shop the Style
Wrap-up
Your farmhouse home deserves a touch of creativity that goes beyond the ordinary. These seven TV frame ideas provide a harmonious blend of style and substance, turning your entertainment center into a statement piece.
By embracing these design concepts, you're not just enhancing your home décor – you're crafting an experience. So, go ahead and infuse your farmhouse living space with character, personality, and a touch of innovative charm.