7+ Creamy Dreamy Farmhouse Cabinet Ideas for a Warm Kitchen Palette
Affiliate Disclosure: As an Amazon Associate we earn from qualifying purchases. Hence, if you click through and make a purchase, we will get a commission at no extra cost to you. For more info, read our full disclosure.
Step into a world of warmth and charm with our curated collection of 7+ Creamy Dreamy Farmhouse Cabinet Ideas. Embrace the cozy essence of farmhouse aesthetics as we unveil kitchen inspirations that fuse cream hues with dreamy design concepts.
Elevate your culinary haven with these ideas that promise to bring a touch of rustic elegance to your home.
Glass-Paneled Elegance in Cabinetry
Upgrade your kitchen's allure by selecting cabinet doors adorned with sophisticated glass panes. Give your exquisite dishware the attention it deserves, allowing it to shine. This farmhouse kitchen, equipped with stainless steel appliances, achieves a delightful balance with the addition of subway tiles and genuine hardwood floors.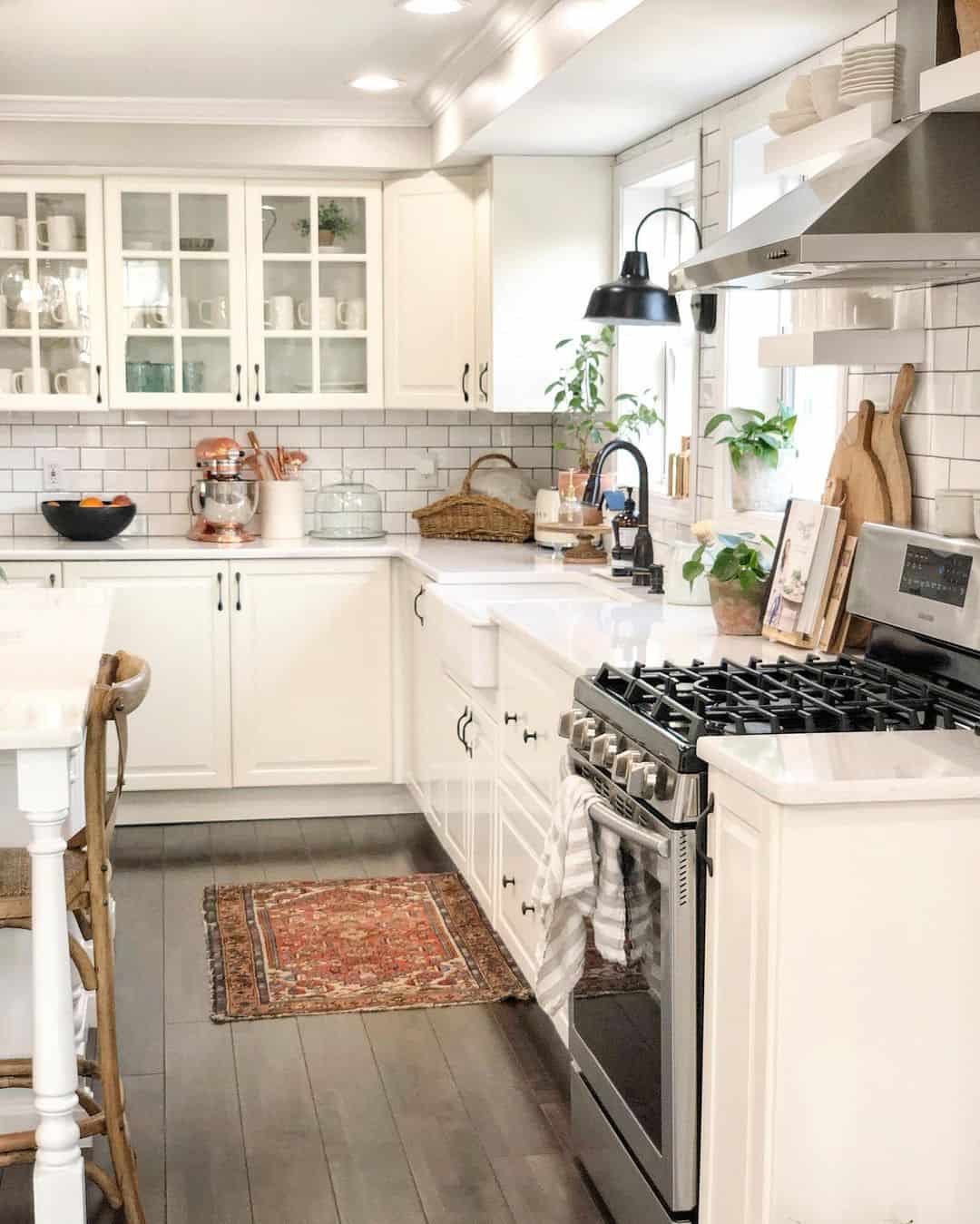 Credit: decoratingwith_leila
Shop the Look
Artful Shelving Above the Stove
Transform your kitchen into a culinary masterpiece with cream cabinets and a striking black range. The hood above the cooking range introduces an artistic touch, featuring a long cream shelf seamlessly blending into the cabinetry. Delicate farmhouse elements, such as a straw heart, a box of wildflowers, and a metal lamp, grace the shelf with finesse.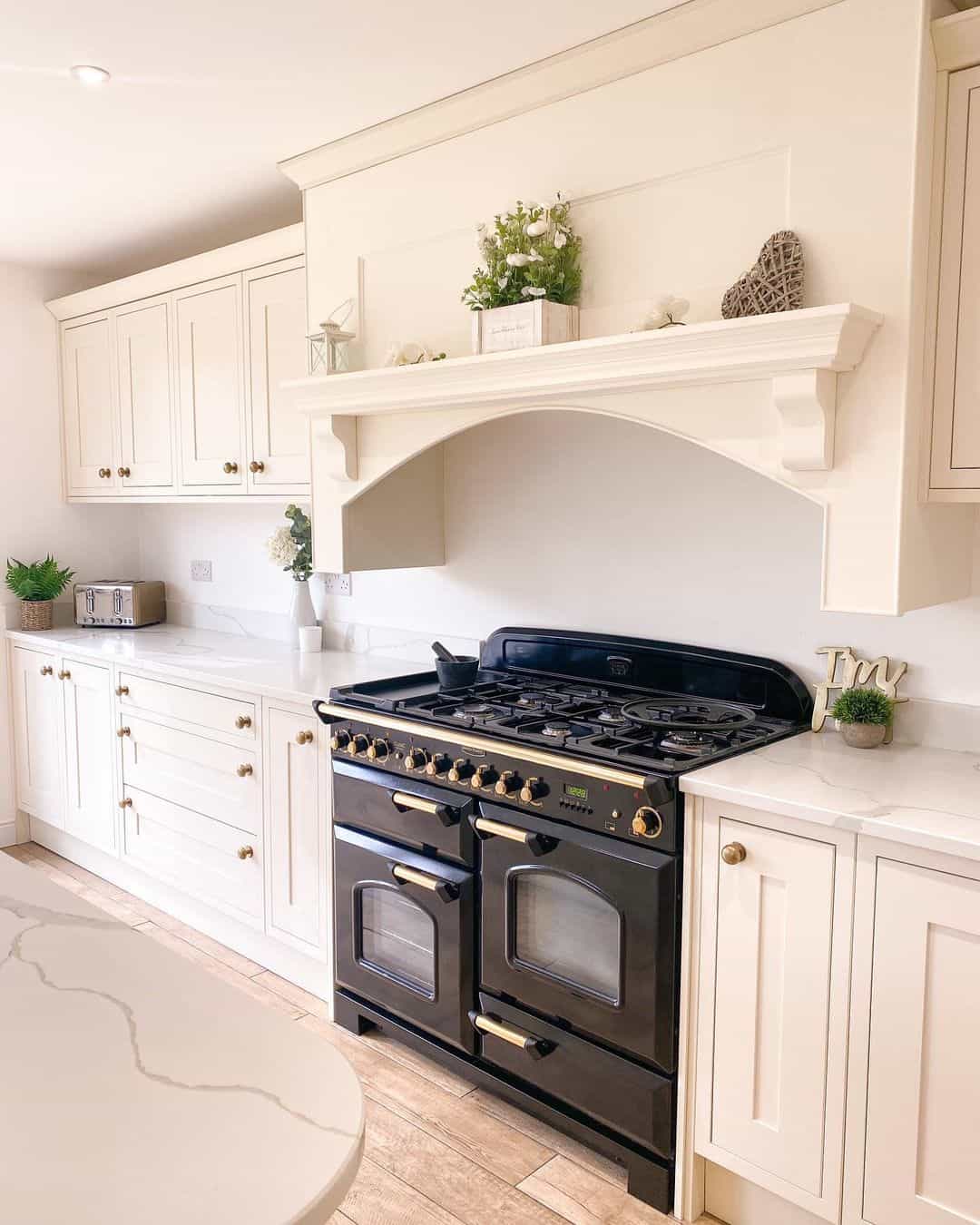 Credit: ourchaletbungalow
Shop the Look
Creamy Backdrop for Christmas Magic
Infuse a festive atmosphere into your kitchen, using cream cabinets as a charming backdrop for vibrant red and green Christmas decor. Make use of the cabinet tops to proudly display your favorite holiday trinkets. Two brown shelves add a touch of warmth, coordinating effortlessly with the delicate gray hardware on the cabinetry.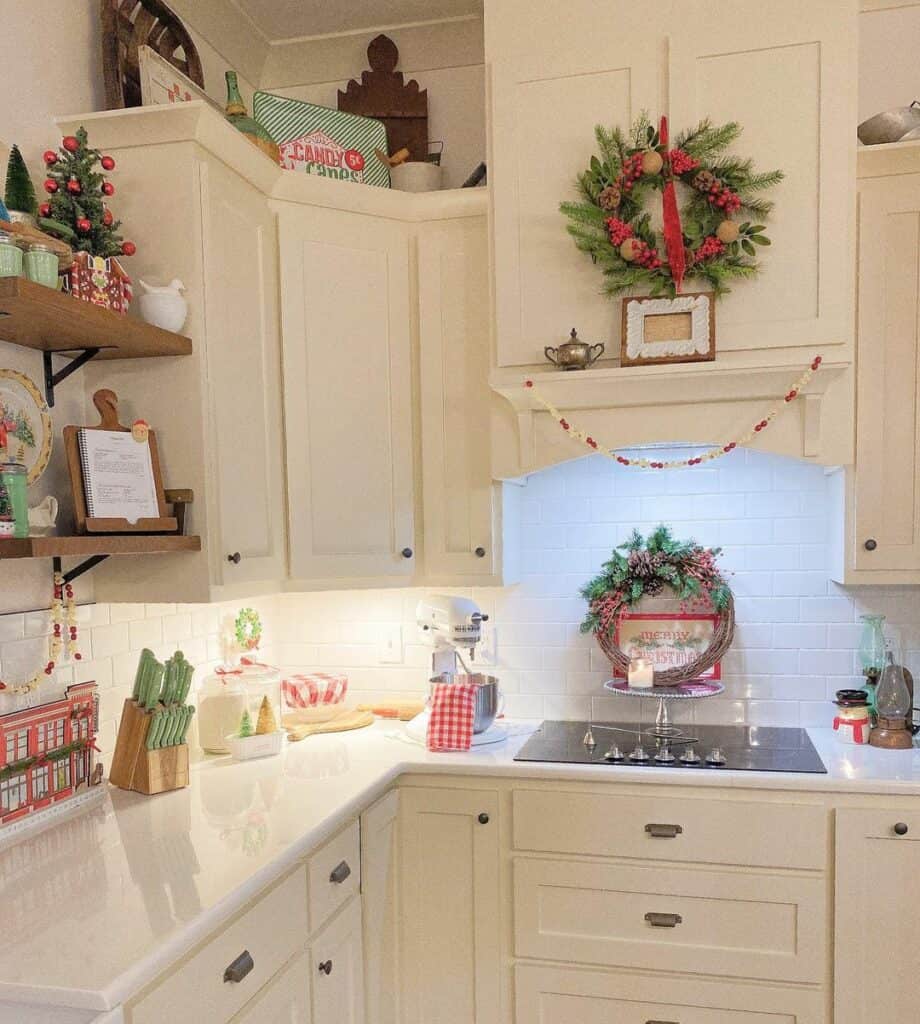 Credit: centerpointfarmhouse
Shop the Look
Brown Accents and Black Hardware
Bring a touch of depth to your farmhouse kitchen by infusing rich, deep brown tones. Embrace the warmth exuded by hardwood floors and the sophistication of wood crown molding. The light cream cabinets, embellished with square black hardware, seamlessly meld with the kitchen shelving. Experience the flawless union of black and brown, meticulously orchestrated in this well-coordinated kitchen.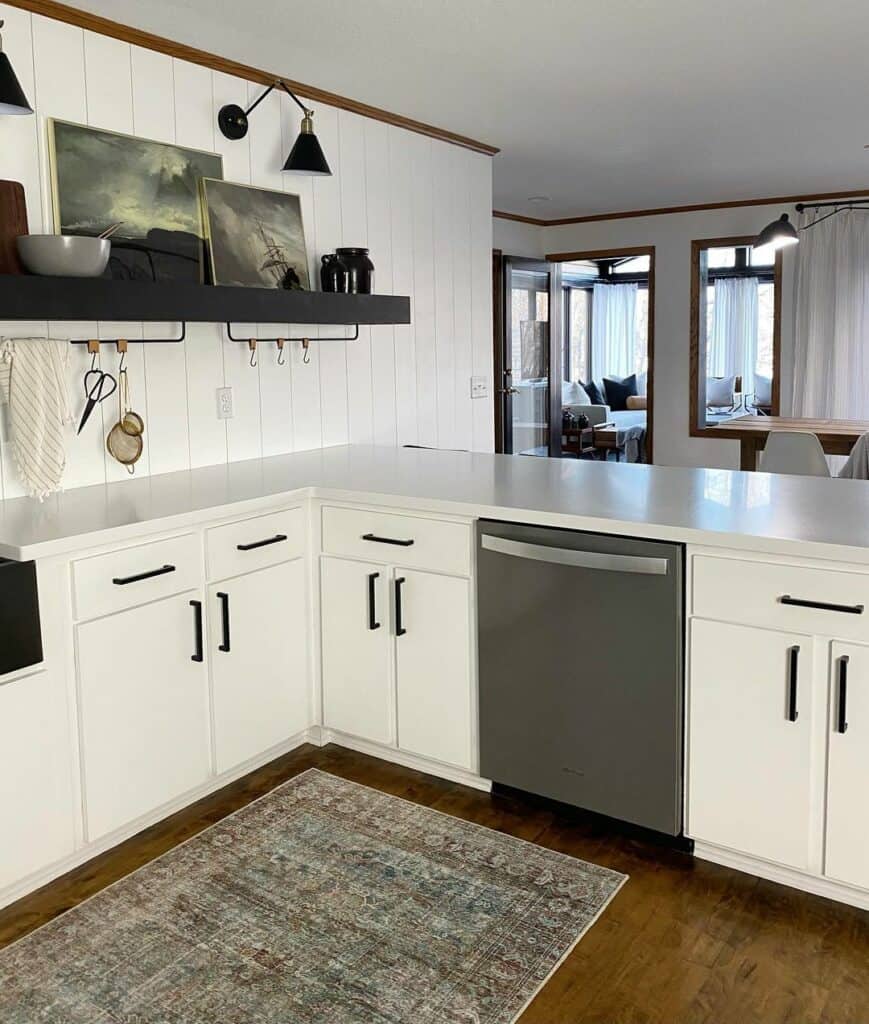 Credit: katechipinski
Shop the Look
Creamy Cabinets Meet Teal Elegance
In this kitchen adorned in creamy white and brown tones, a burst of lively teal paint graces not only the wall above the cabinetry but also the ceiling, evoking a dreamy ambiance. Feel bold and explore a spectrum of colorful hues to spark your personal interest.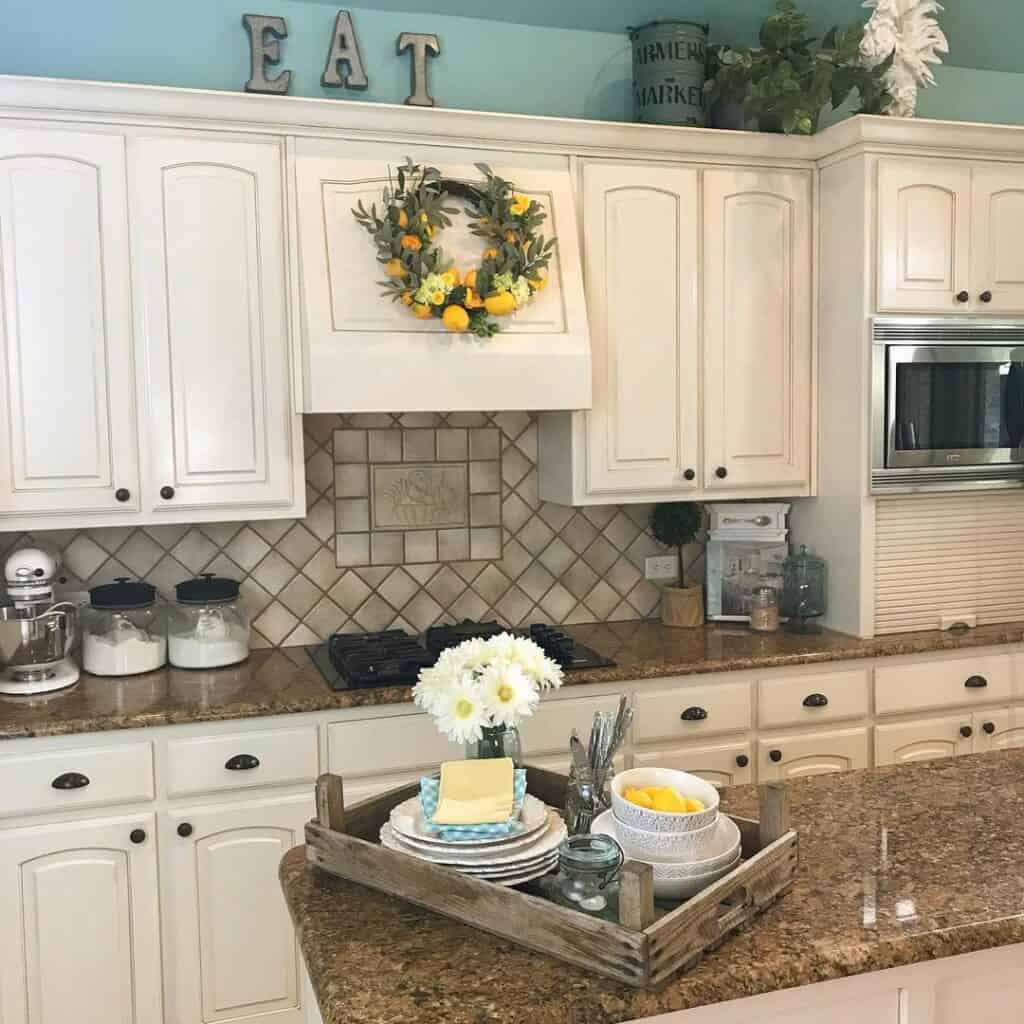 Credit: cindy.countyroad407
Shop the Look
Blue Island and Radiant Gold Accents
The muted elegance of cream kitchen cabinets creates a canvas craving a touch of brilliance. Glossy, textured subway tiles play with light, elevating the overall beauty of the kitchen. A profound navy blue island, coupled with a brushed gold faucet that seamlessly matches the cabinet pulls, introduces a burst of opulent color. The result is a chic and purposeful aesthetic, adding sophistication to the culinary space.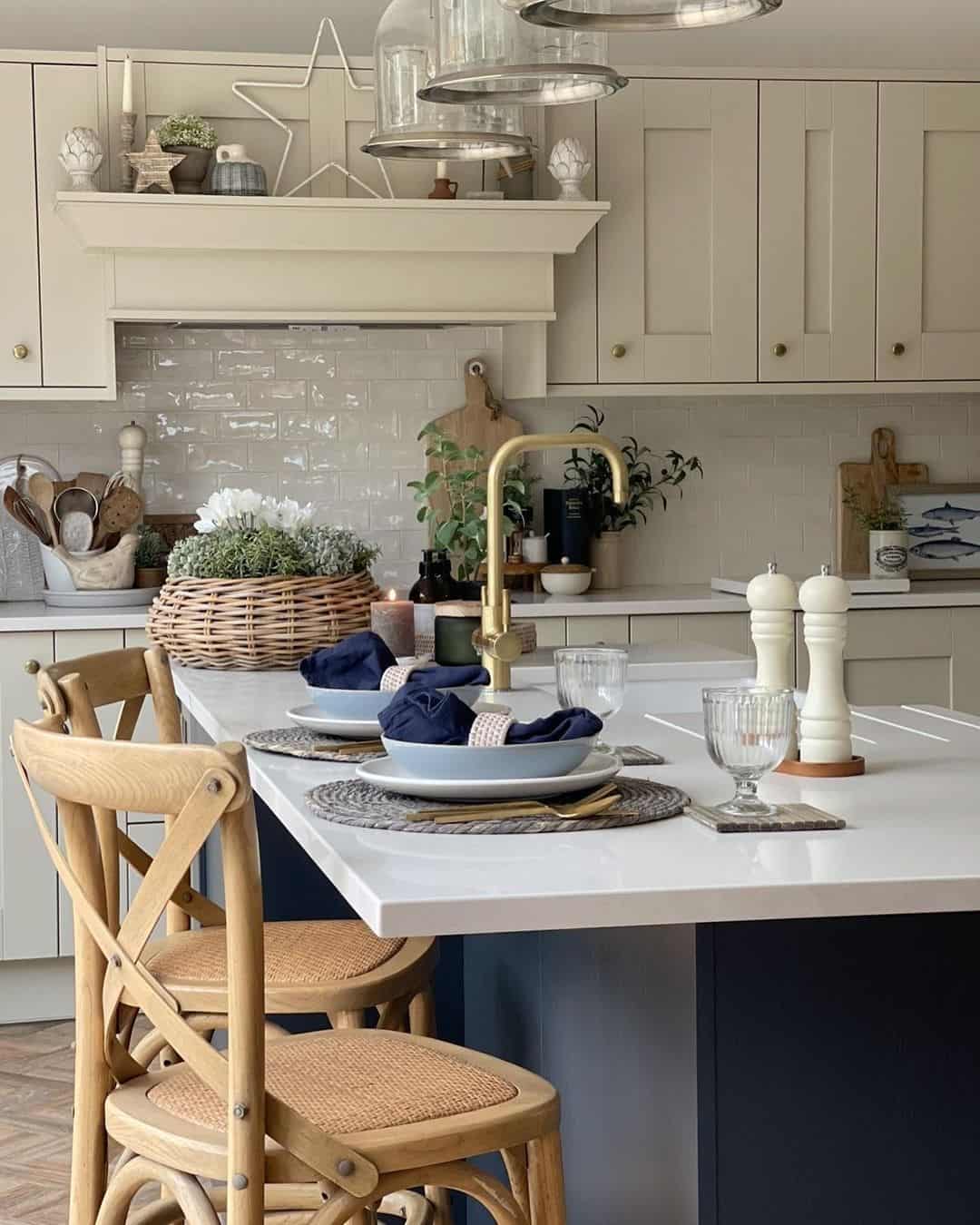 Credit: featheringournest
Shop the Look
Striking Contrast with a Gray Island
Embrace a popular kitchen trend by painting the island in a contrasting color to traditional cream cabinets. Black hardware complements the dark gray island, featuring distinct countertops. Notice the difference not only in paint color but also in countertops—a dark slate top for the cabinets and a bright cream-colored stone for the gray island.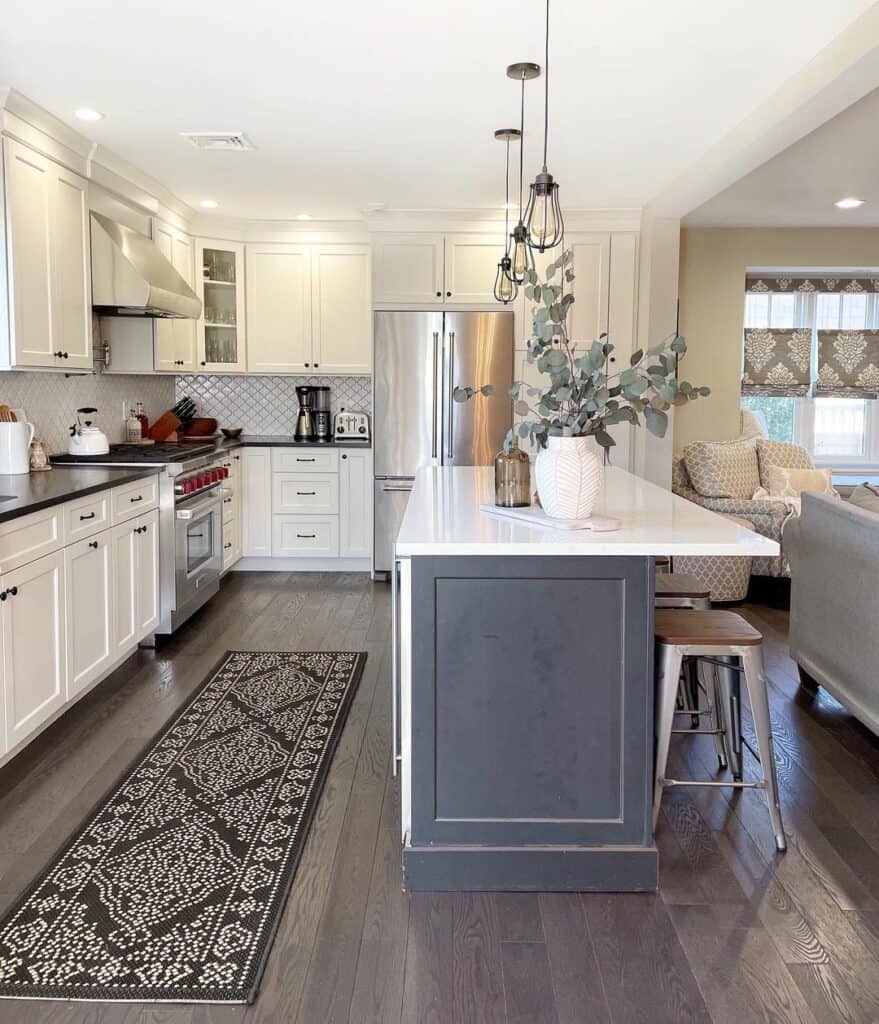 Credit: myhomecharm
Shop the Look
Elegant Black Glazing on Cream Cabinetry
Elevate your kitchen's visual appeal with the timeless art of glazing cream cabinets, adding intricate details while maintaining a neutral charm. The fine black lines within the cabinet grooves, accentuated by matte black hardware, create a sophisticated look. Dark grout, replacing the conventional white option, enhances the allure of popular subway tiles.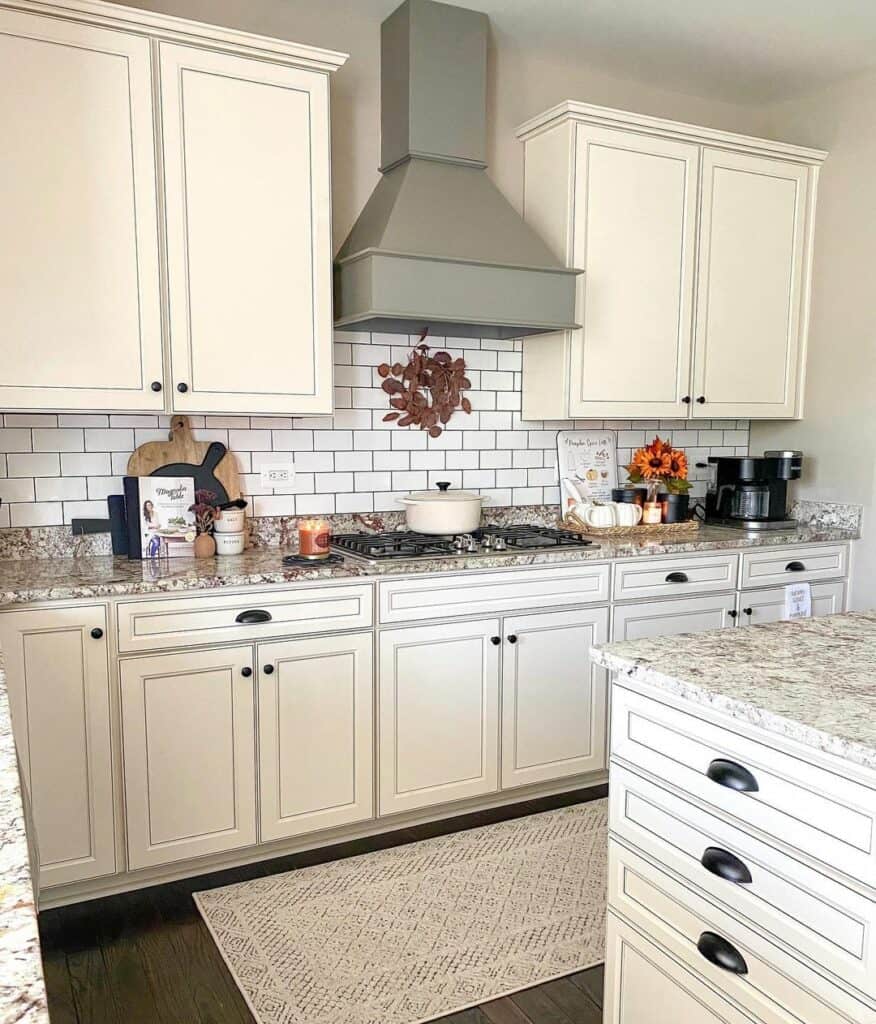 Credit: letsstayhometogether
Shop the Look
Wrap-up
Incorporating cream tones into your farmhouse kitchen doesn't just create a warm palette; it crafts a comforting ambiance. From subtle elegance to bold statements, these cabinet ideas offer a spectrum of choices to suit every taste. Transform your kitchen into a dreamy, inviting space that harmonizes modern comforts with timeless farmhouse allure.