7+ Inviting Farmhouse Eat-In Kitchen  Ideas to Amplify Your Dining Experience
Affiliate Disclosure: As an Amazon Associate we earn from qualifying purchases. Hence, if you click through and make a purchase, we will get a commission at no extra cost to you. For more info, read our full disclosure.
Welcome to our curated collection of 7+ inviting farmhouse eat-in kitchen ideas designed to elevate your dining experience. The farmhouse style is all about warmth, comfort, and family gatherings, making it the perfect choice for your kitchen.
These ideas will inspire you to create a cozy and inviting space where delicious meals and cherished memories come together.
Rustic Farmhouse Signs against White Subway Tile Backdrop
Within this kitchen, rustic charm takes center stage as farmhouse signs adorn the pristine white subway tile walls. A lush green garland gracefully drapes over a white-framed window, situated beside open wooden shelves. Adding a vibrant touch, a bouquet featuring red, white, and green flowers graces the brown counter of a rustic white island. Complementing the scene, black and wooden barstools are thoughtfully arranged on the dark wood floor.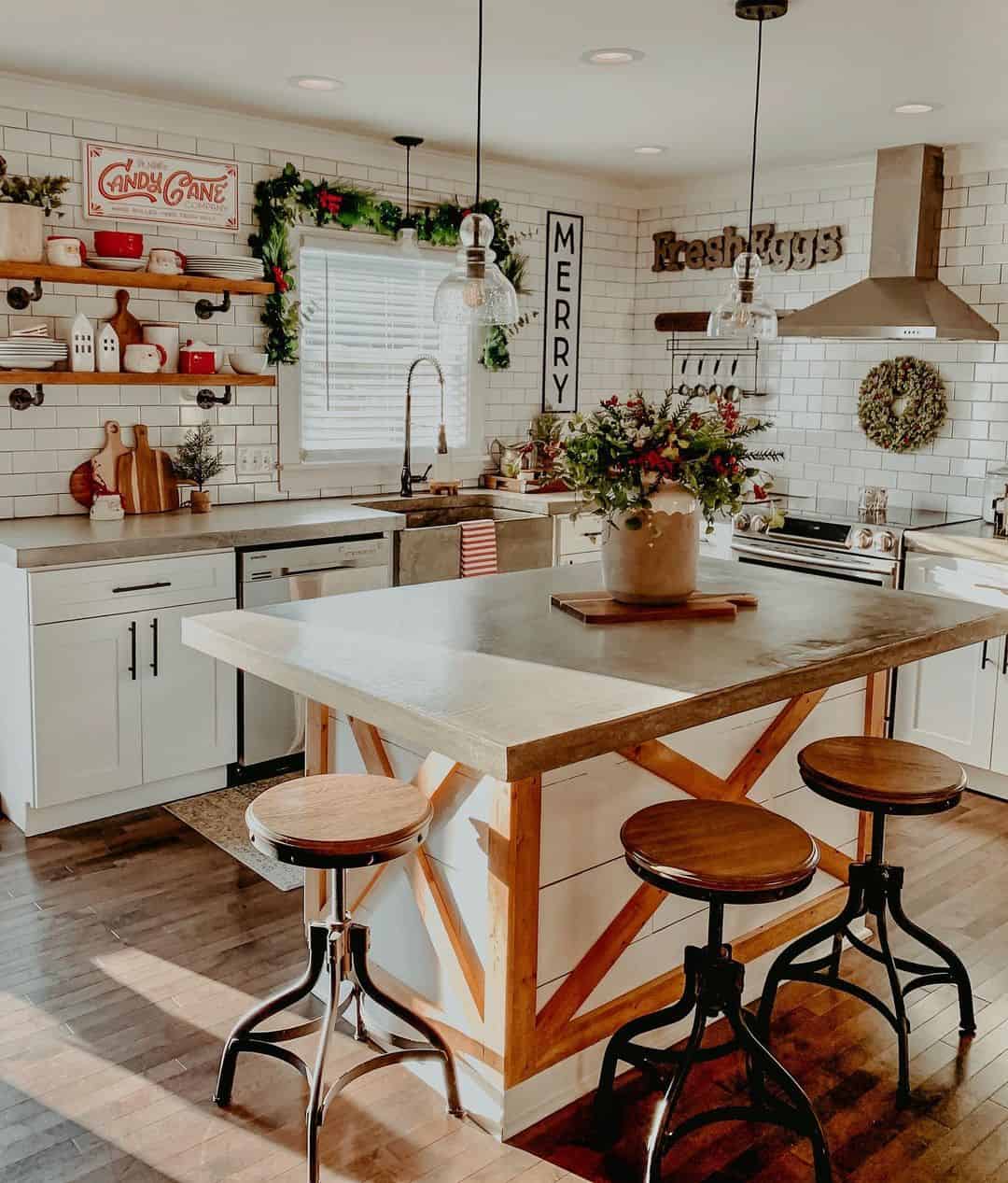 Credit: weepingwillow.farmhouse
Shop the Look
A White Beadboard Island Accompanied by Sleek Gray Dining Chairs
Step into this inviting kitchen where white cabinets harmoniously coexist with sleek gray and black granite countertops. Elegant black metal pendant lights illuminate the white beadboard island. At the far end of the island, a cozy eat-in nook is thoughtfully designed, featuring comfortable gray upholstered bar stools.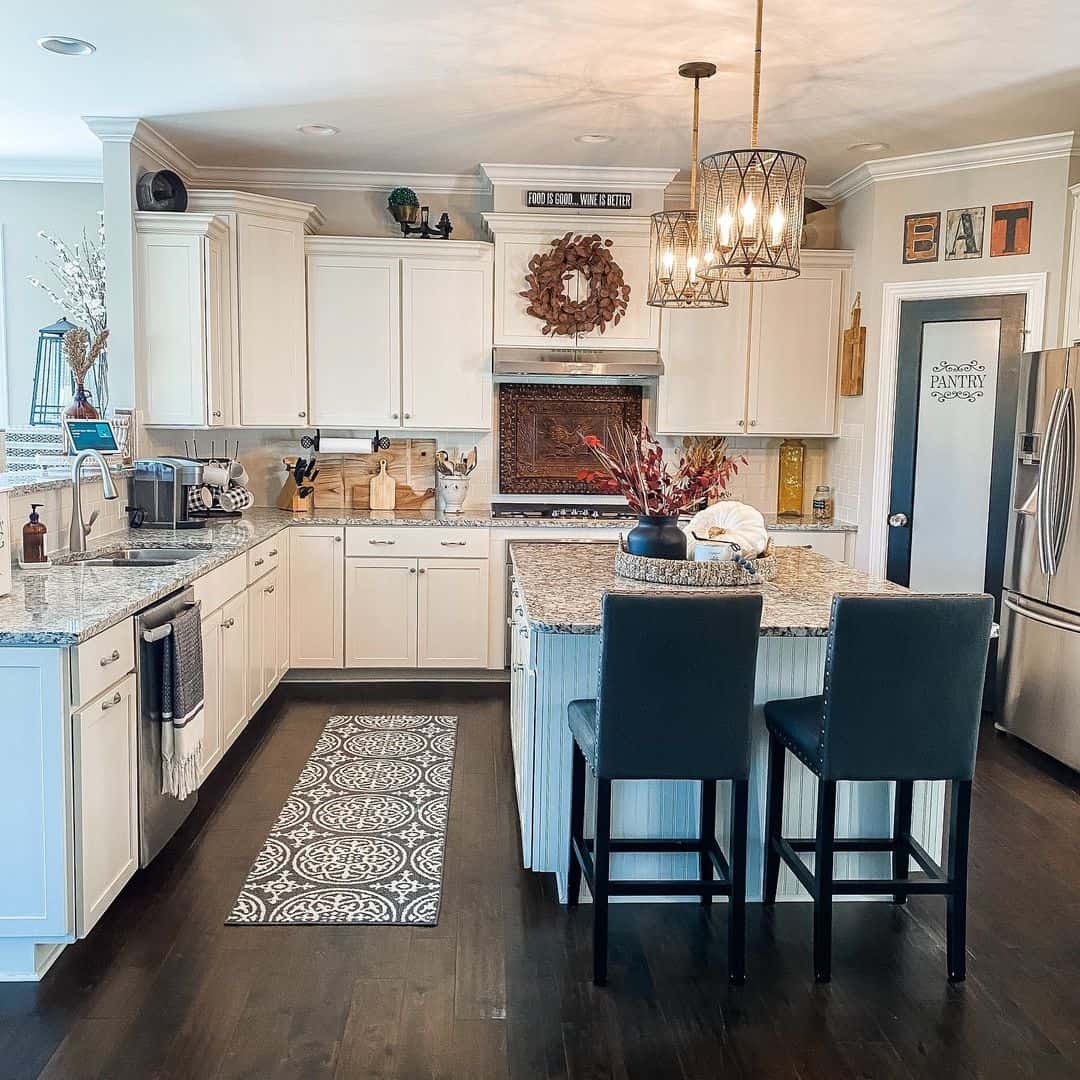 Credit: sweetfarmhousechic
Shop the Look
White Kitchen Island with Ample Seating
Within this kitchen, an attention-grabbing two-toned stained wood island with an integrated dining table steals the spotlight. White and gray antique dining chairs provide the perfect setting for family meals, while the island takes its place before white cabinets, elegantly paired with a wood range hood.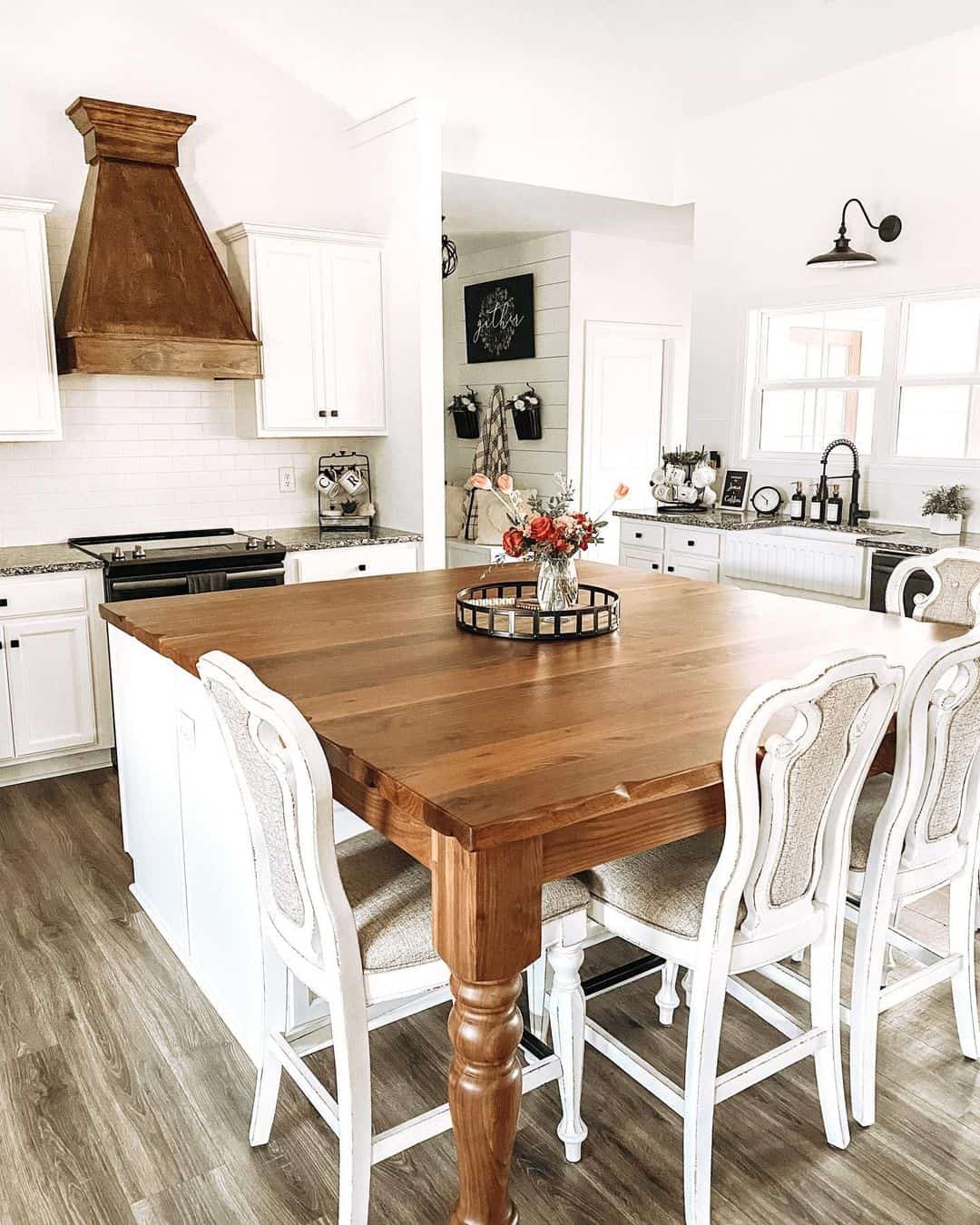 Credit: modernfarmfam
Shop the Look
White Kitchen Peninsula Complemented by Brown Leather Stools
Tucked beneath a white kitchen peninsula, you'll find chic brown leather and black metal bar stools. The peninsula boasts a gleaming white countertop, hosting a stainless steel sink with a nickel pull-down faucet.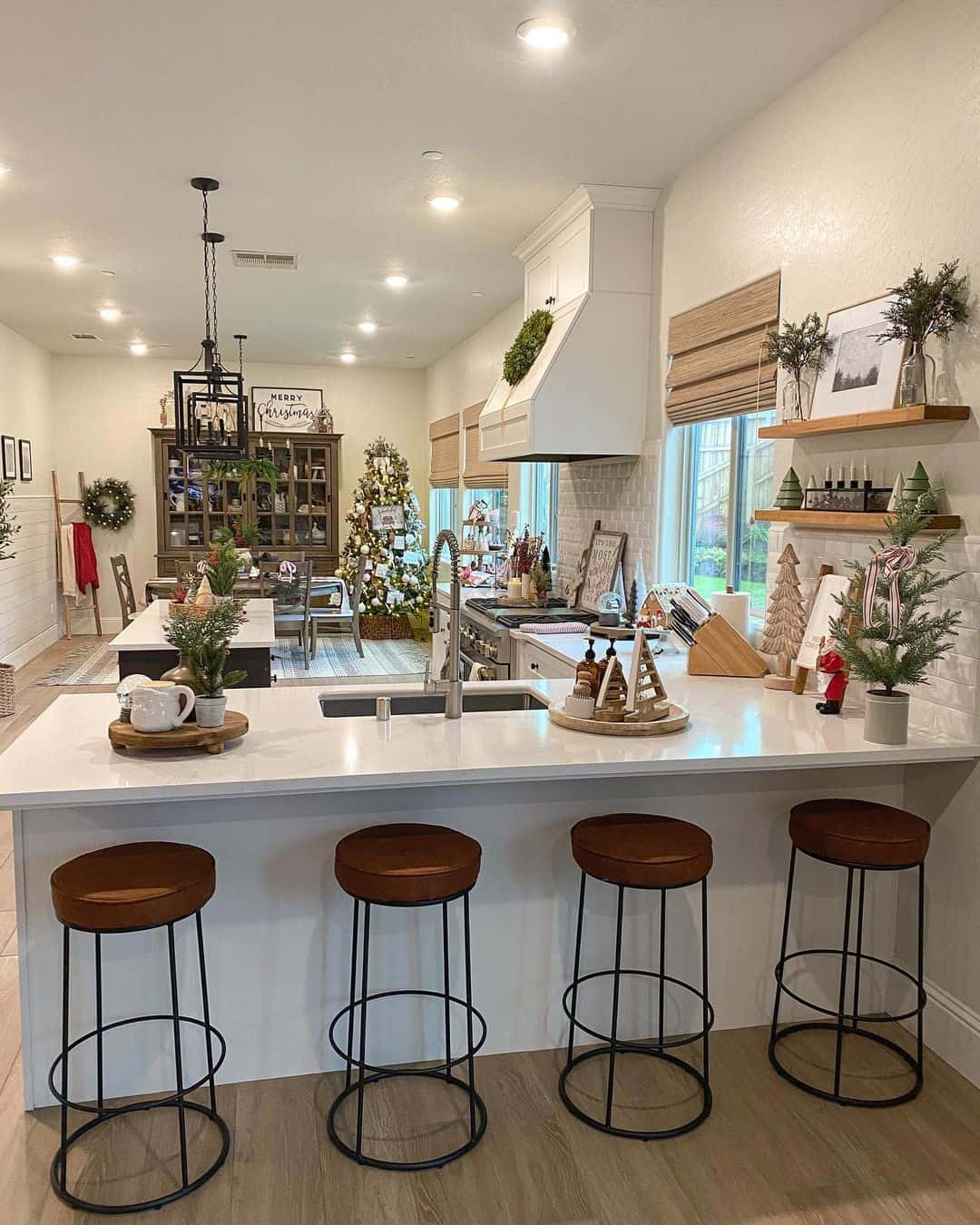 Credit: our.pretzer.home
Shop the Look
Chic Gray Kitchen Island with Matching Metal Bar Chairs
In this delightful eat-in kitchen, sophisticated gray metal bar chairs surround a light gray kitchen island. The island features an eye-catching beige and black countertop, beautifully illuminated by glass pendant lights. These chairs face rustic stained wood kitchen cabinets.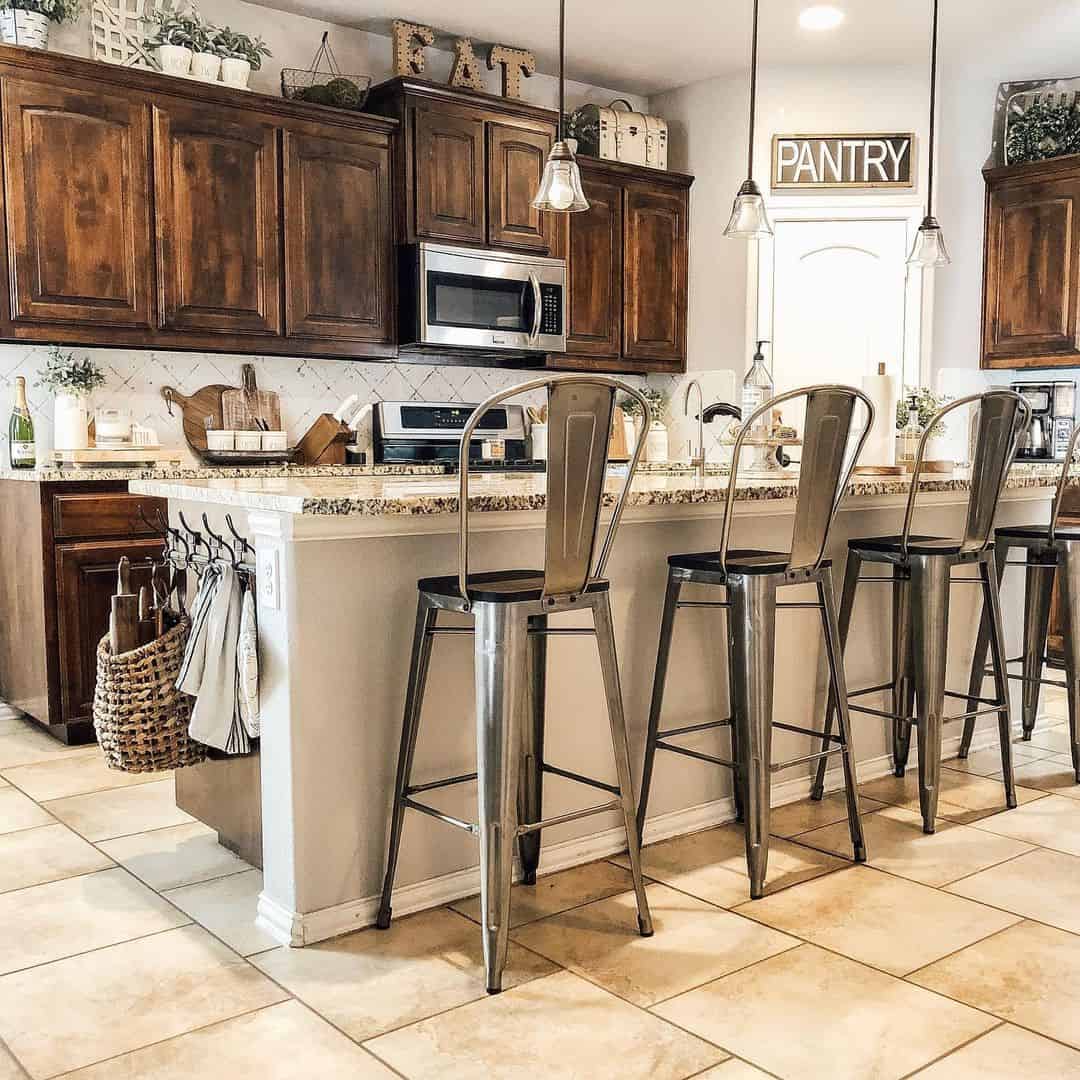 Credit: rusticrosehomestead
Shop the Look
Warm and Welcoming Breakfast Nook with a Wooden Bench
A bright and welcoming country-style breakfast nook accommodates four white farmhouse chairs and a comfortable oak bench adorned with soft pillows. Above, a rustic chandelier adds a touch of charm, while a large abstract clock graces the wall above the bench. A light jute rug ties the space together.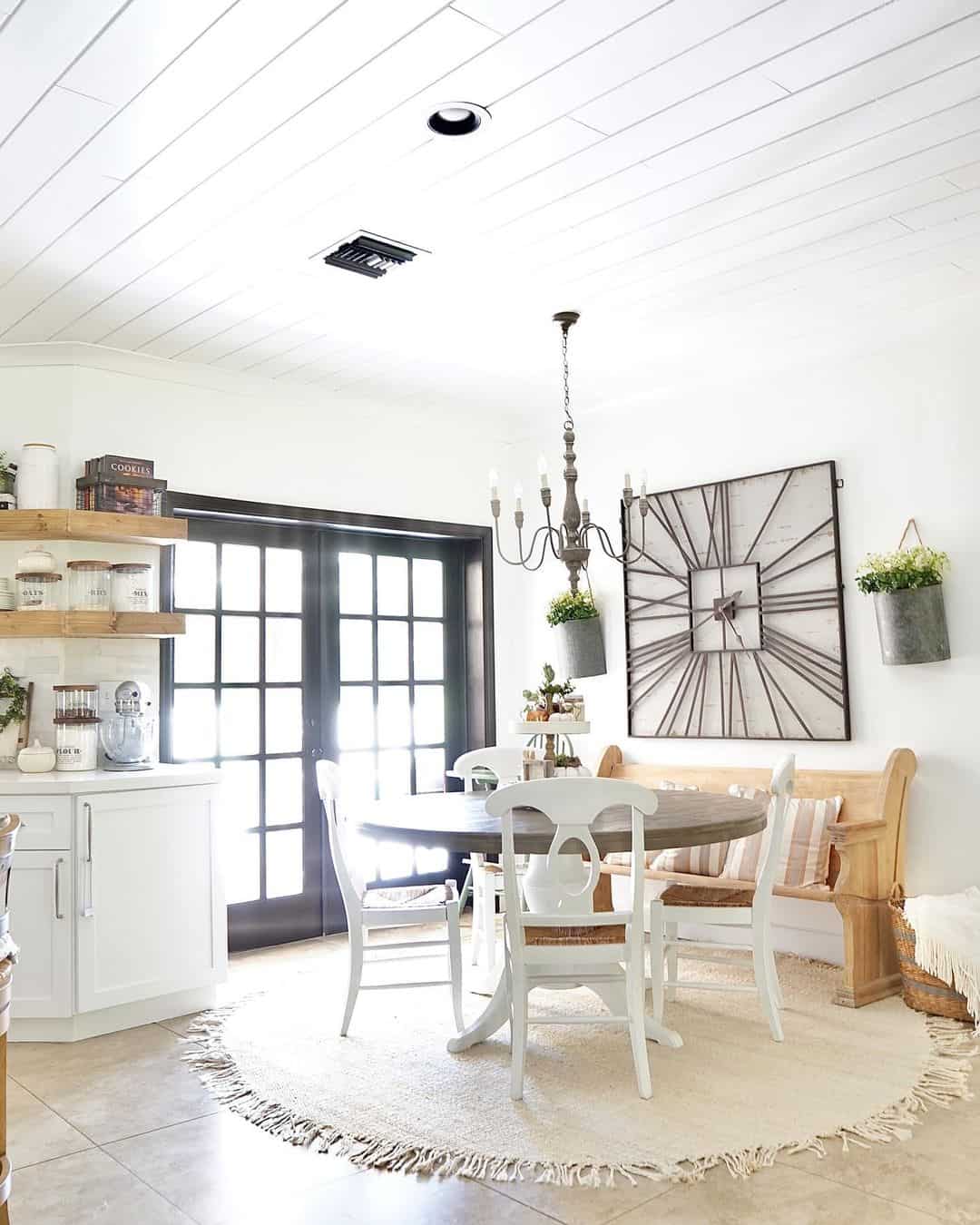 Credit: redesignedspace
Shop the Look
White Farmhouse Kitchen and Dining Room with Timeless Elegance
Elegance is the name of the game in this space, featuring a white lace farmhouse table runner with a delicate floral pattern and scalloped edges. The scene is tastefully accentuated by branches of delicate white flowers arranged in a tall glass vase, creating a timeless and simply elegant ambiance.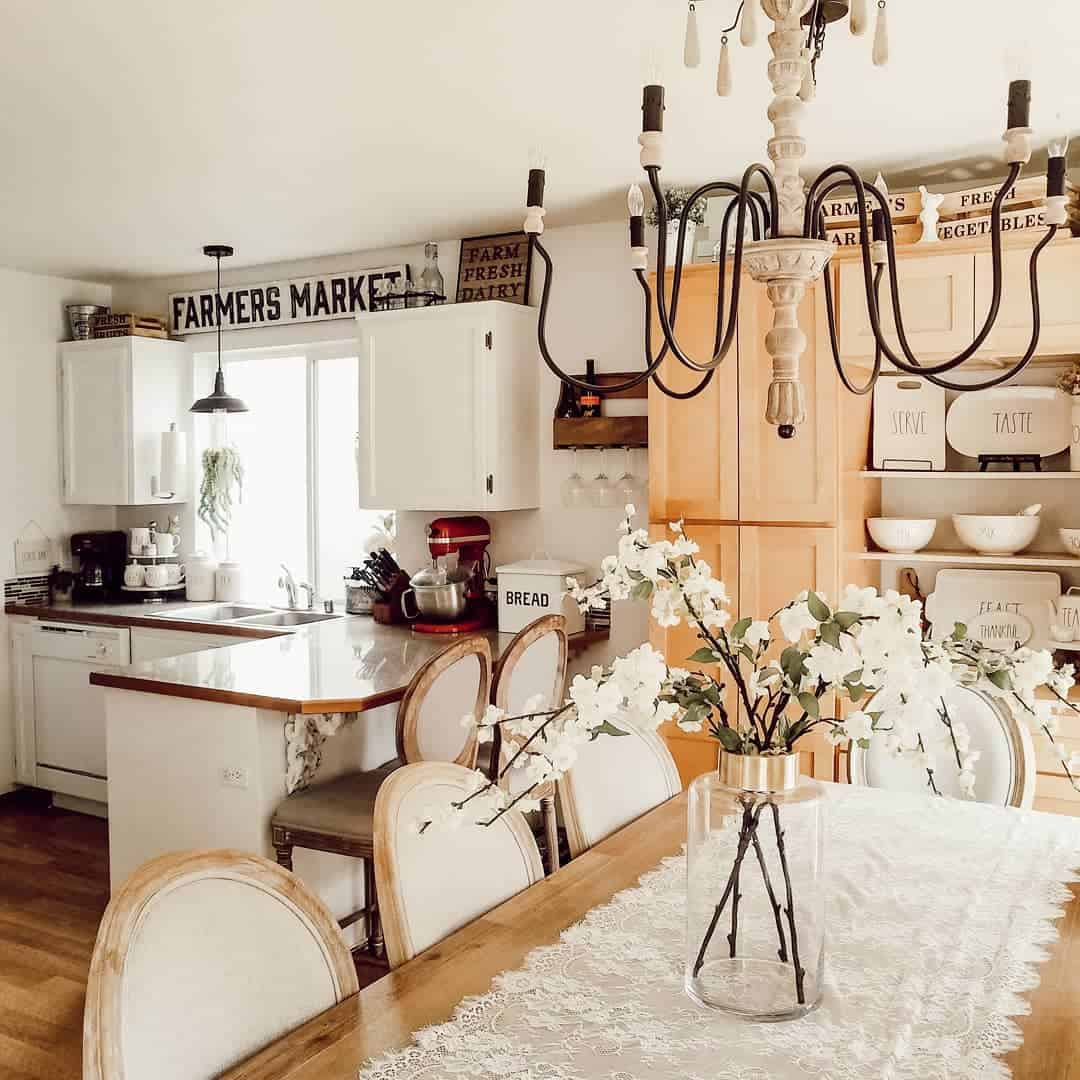 Credit: heedingtheheart
Shop the Look
Stylish Gray Metal Chairs Elevate White Kitchen Peninsula
Incorporating a chic design, this white peninsula transforms into a stylish eat-in kitchen area, complemented by a set of sleek gray metal bar chairs. The peninsula is crowned with a sleek black countertop that harmonizes beautifully with pristine white cabinets, all paired seamlessly with sleek black appliances.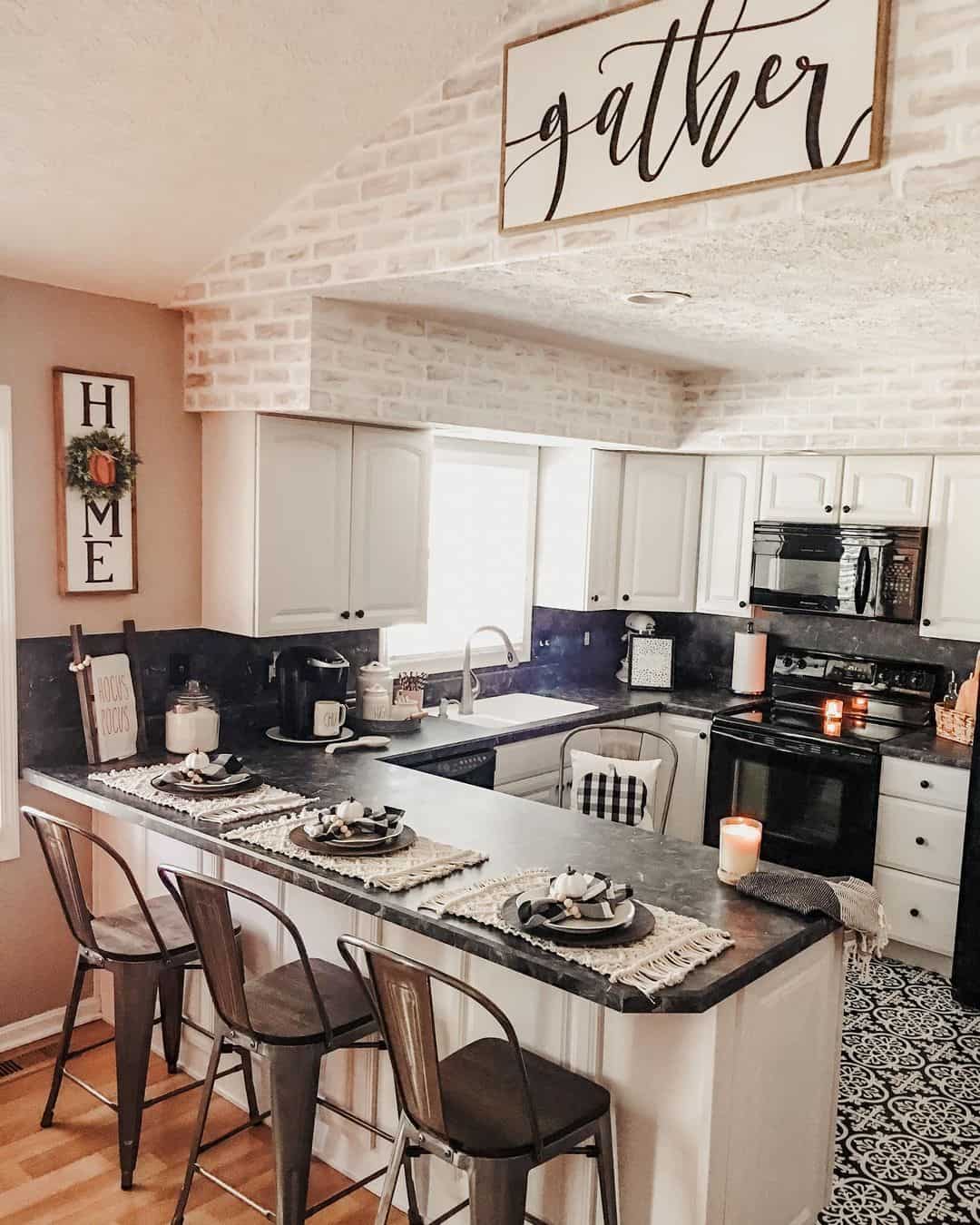 Credit: themerrymorriscottage
Shop the Look
Wrap-up
In conclusion, farmhouse-style eat-in kitchens provide a perfect blend of functionality and charm. Whether you're envisioning a rustic breakfast nook, a farmhouse table, or a combination of both, these concepts can be tailored to suit your unique space and preferences. Embrace the rustic charm and timeless appeal of farmhouse design to transform your kitchen into a heartwarming hub for dining and making lasting memories.