7+ Luminous Lighting Ideas for Farmhouse-style Homes with Low Ceilings
Affiliate Disclosure: As an Amazon Associate we earn from qualifying purchases. Hence, if you click through and make a purchase, we will get a commission at no extra cost to you. For more info, read our full disclosure.
When it comes to lighting solutions for your cozy farmhouse-style home with lower ceilings, you don't have to sacrifice style for functionality. In this blog, we'll explore seven brilliant lighting ideas that will not only illuminate your space but also add a touch of rustic charm to your decor.
These solutions are tailored to suit homes with lower ceilings, ensuring your farmhouse ambiance remains cozy and inviting. Let's shed some light on these luminous options!
Rustic Wooden Ceiling Fan and Cozy Wood Ceiling Beam
Discover the charm of a living room with pristine white walls where an aesthetic wooden ceiling fan gently stirs the air. It shares the spotlight with a warm wood ceiling beam, enhancing the room's natural appeal. Behind a dark wood coffee table on a white rug, a white sectional sofa invites relaxation, while a white end table adds the perfect finishing touch to the light wood floor.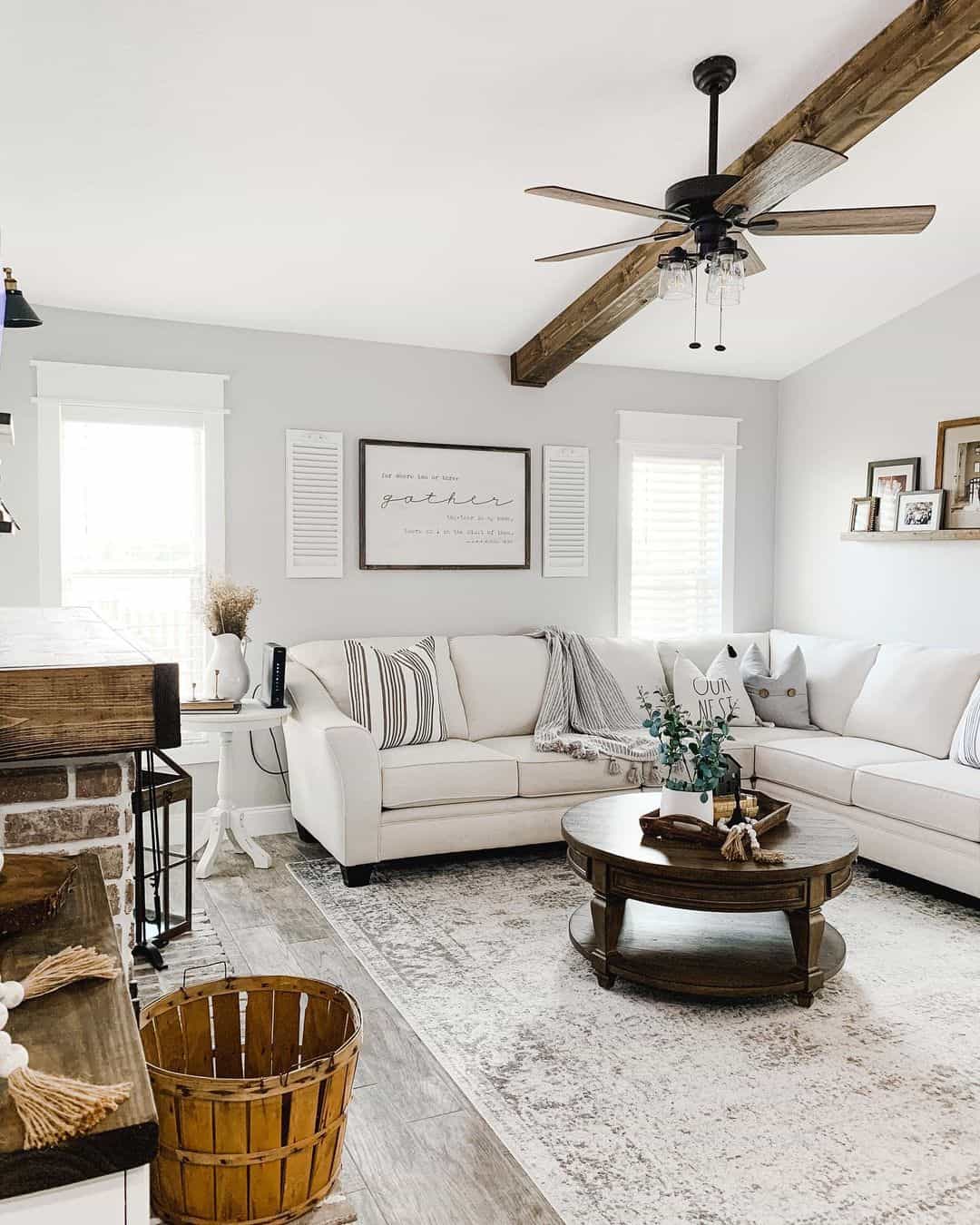 Credit: the.crafted.woodshop
Shop the Look
Contemporary Round Black Pendant Light and Stylish Black Bench
This inviting bedroom is graced with light gray walls as the backdrop to a white four-poster bed and a warm wood floor. Suspended from above, a contemporary round black pendant light creates a captivating focal point over the gray coverlet. A black bench, adorned with a brown pillow, rests elegantly on the white rug.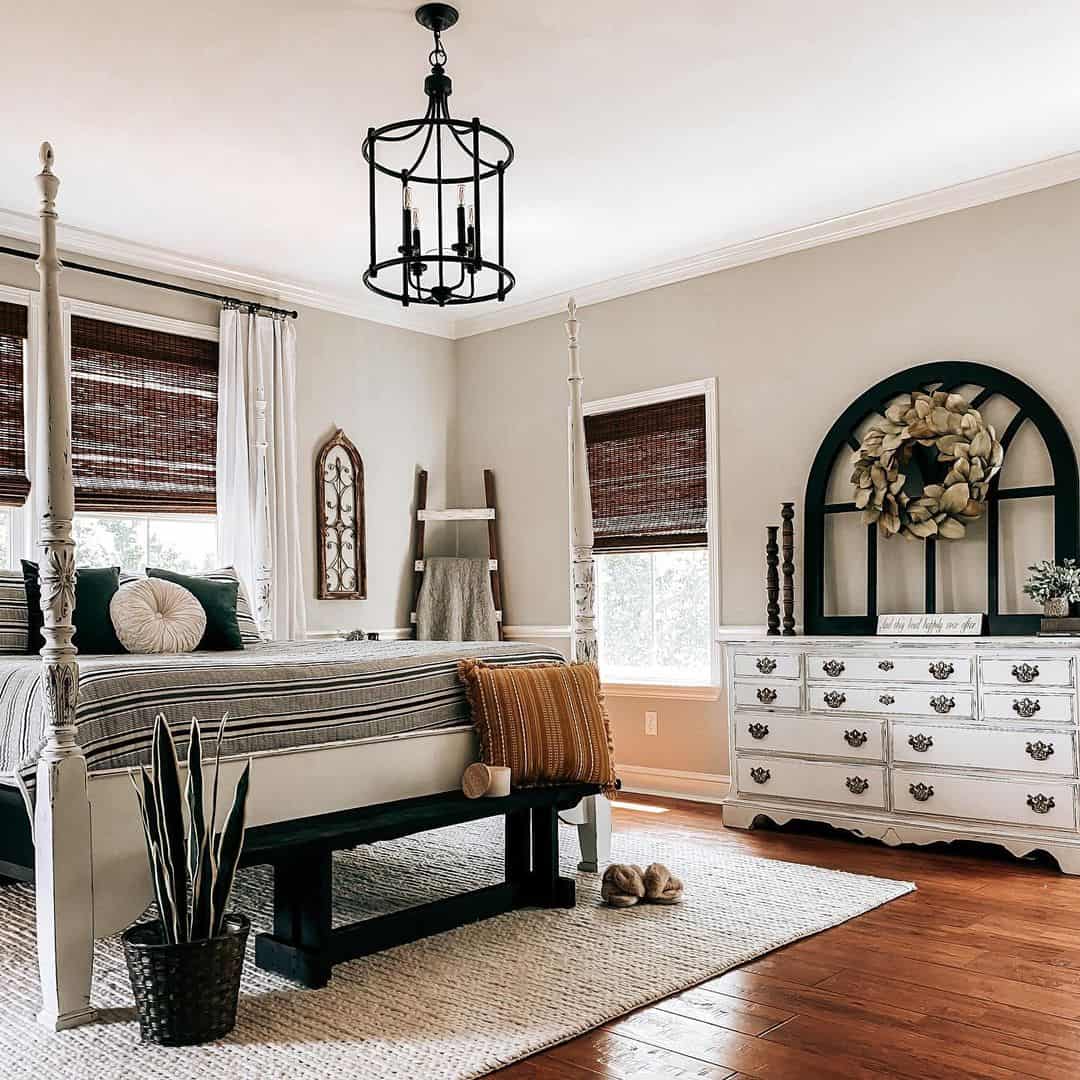 Credit: theyellowrosefarmhouse
Shop the Look
Grand Bronze Pendant Light Above Rustic Dining Table
In a dining room with pristine white walls, a grand bronze pendant light steals the show. Adorning the dining room table, you'll find a small branch delicately placed within a petite bronze vase, set against a backdrop of white tablecloth. Wooden chairs surround the table, adding a rustic touch to the light wood floor.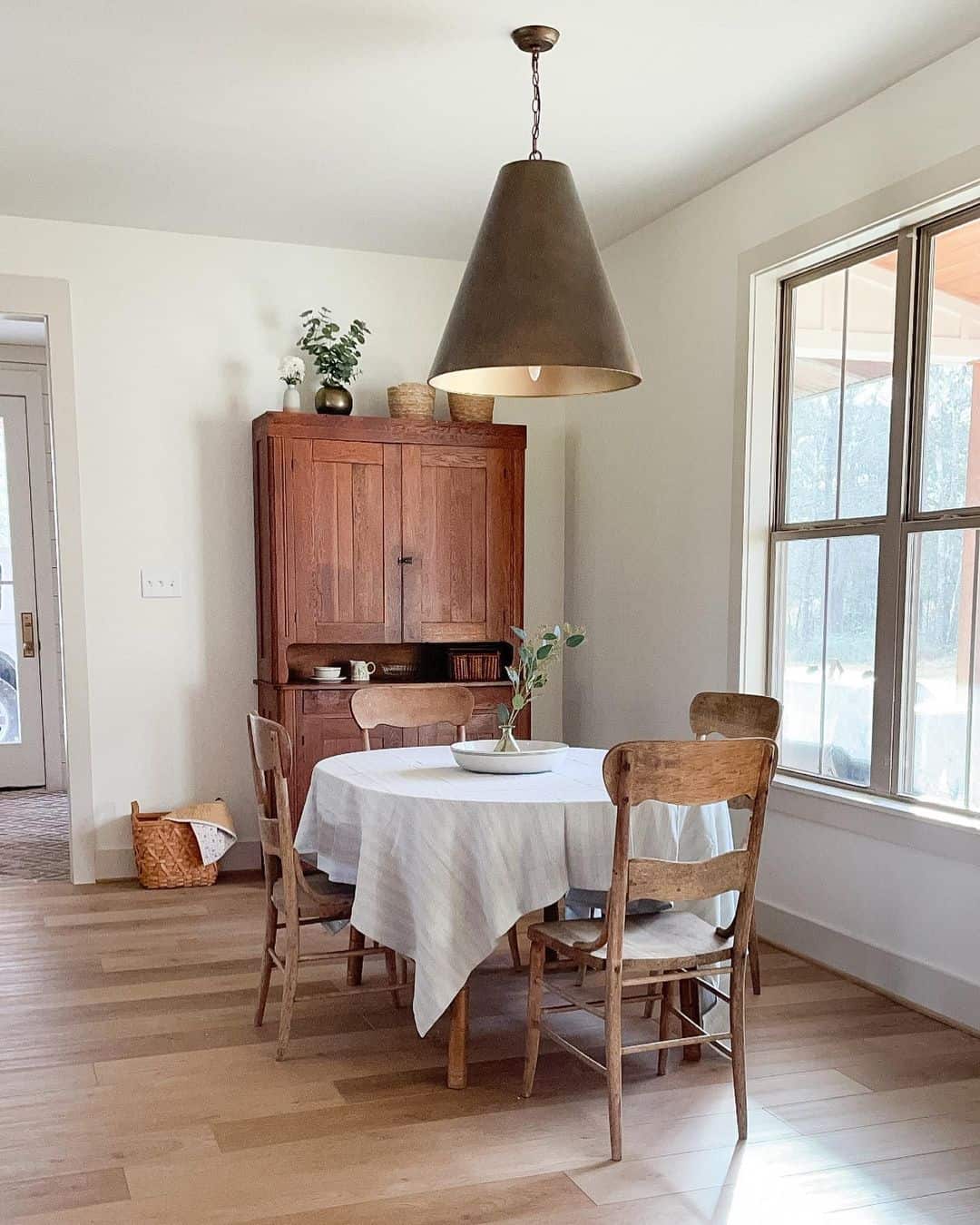 Credit: thompsoncountry
Shop the Look
Kitchen Adorned with Neutral Wooden Decor
The chic farmhouse kitchen features inviting warm, neutral wooden floors, complemented by pristine white walls and cabinetry. A wooden console table, artfully adorned with a wicker basket and antique lanterns housing candles, graces the expansive black and white kitchen island. The heart of the kitchen is illuminated by elegant neutral basket pendant lights, with a touch of nature provided by a delightful bouquet of branches and fresh greens in a modern ceramic vase.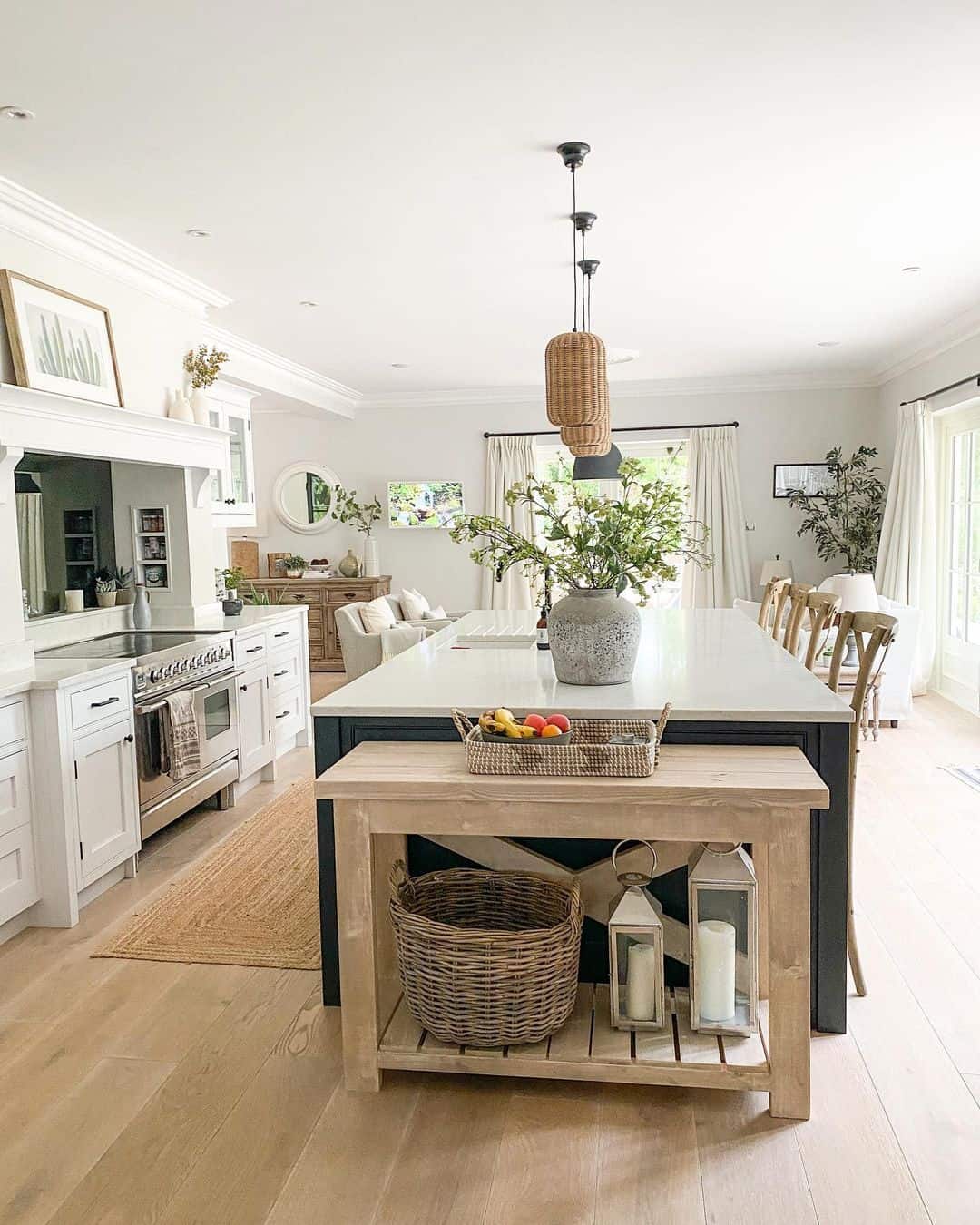 Credit: wellswoodhomes
Shop the Look
Chandelier Above White Dining Table
In this elegant setting, a brown beaded chandelier illuminates a round white dining room table, creating a captivating ambiance. Adorning the white wall with white wainscoting, light wood decor adds a touch of sophistication. Rattan chairs encircle the table, resting on a round white rug atop the brown tile floor.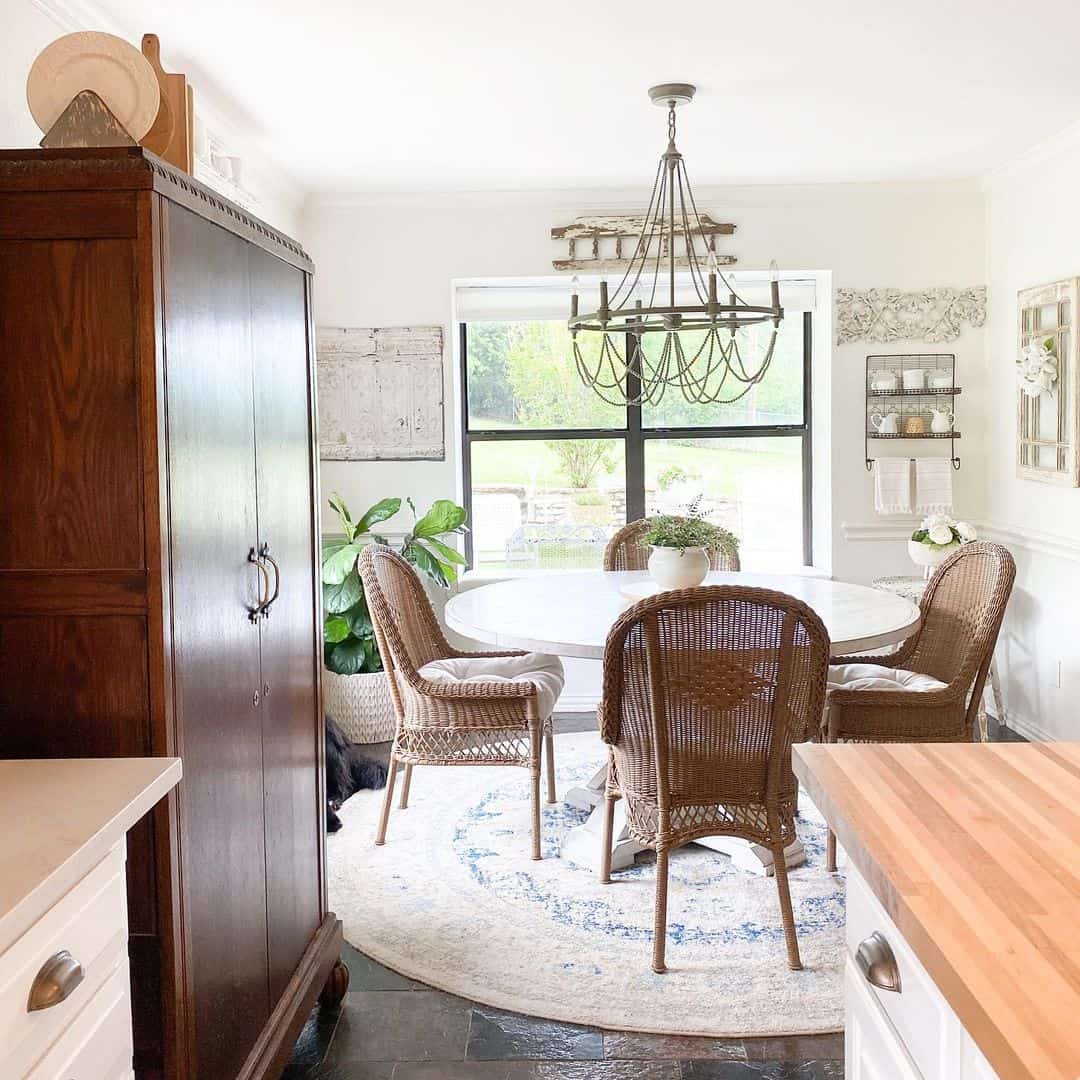 Credit: thevintageroad
Shop the Look
A White Living Room Enhanced by a Ceiling Fan
Experience the timeless charm of a classic white living room where a black ceiling fan with a light takes center stage. It gracefully hovers above a wooden coffee table on a pristine white living room rug. A white sofa, paired with two white armchairs, exudes comfort, while a black sconce adds a touch of sophistication to a nearby white wall. Classic millwork frames the fireplace along the back wall.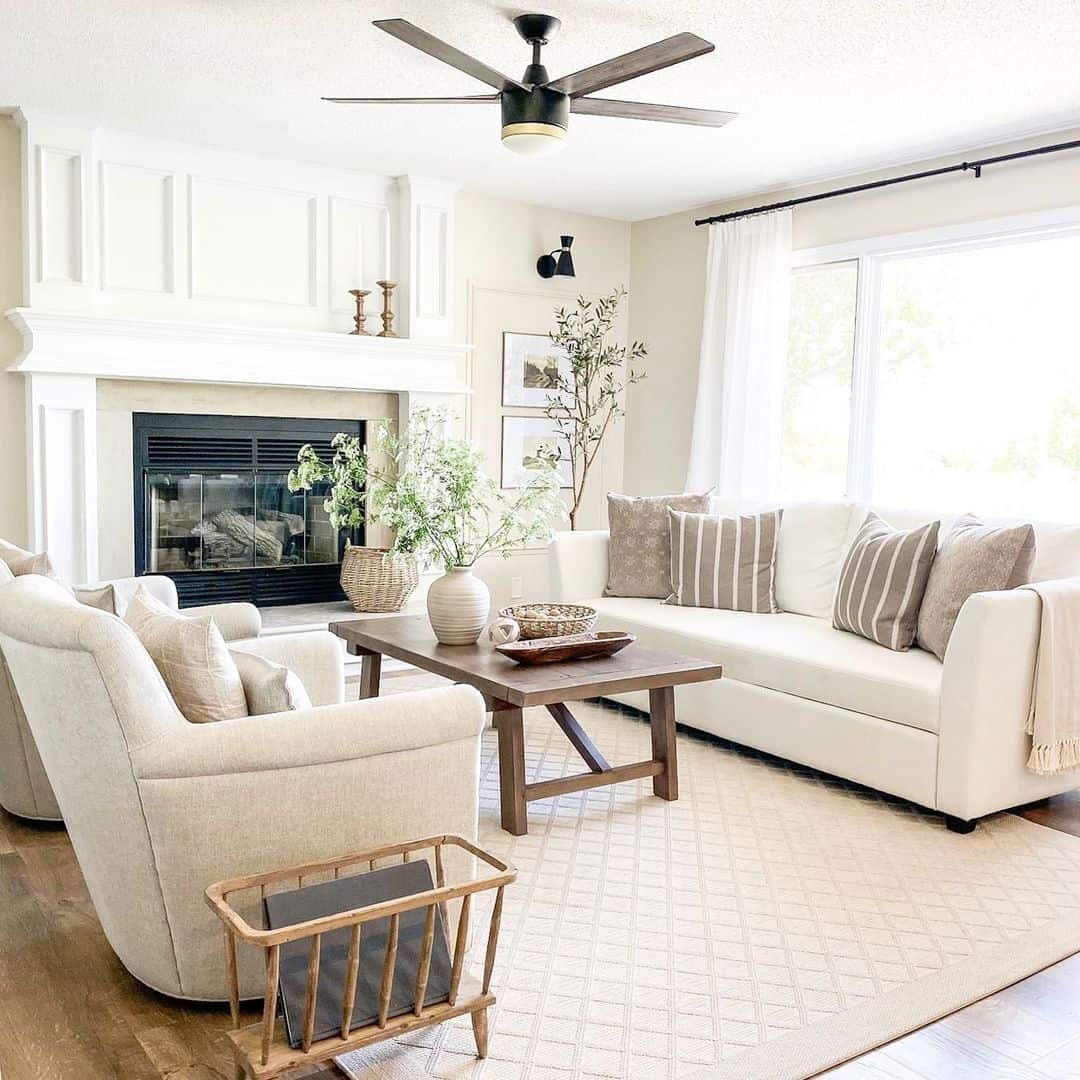 Credit: takemehomecedarroad
Shop the Look
Inviting Farmhouse-style Bedroom with Natural Accents
In the farmhouse-style bedroom, a white upholstered bed takes center stage, surrounded by a generously sized rustic beige rug. Above the bed, wooden signs adorned with plants introduce a refreshing natural element. The room is thoughtfully finished with a comfortable beige settee, beautifully accessorized with plush cushions and tasteful tasseled throws.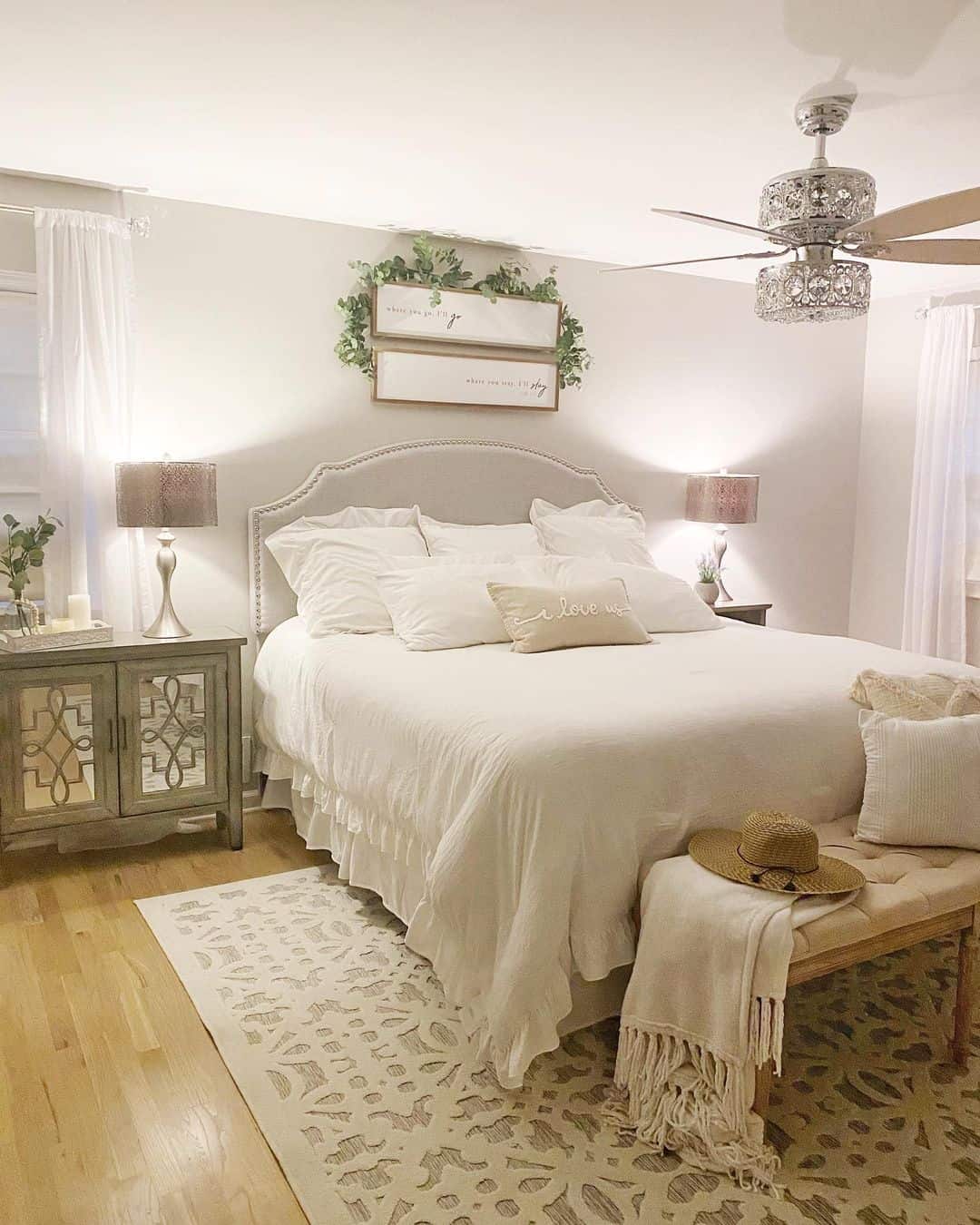 Credit: themoderncolonial
Shop the Look
Warm Glow from Bronze Pendant Light on Pink Flowers
Step into this serene living room featuring light gray walls and white trim, with a warm wood floor anchoring the space. Soft white pillows are scattered over a comfortable white sofa. Above a wooden coffee table on a white rug, a bronze pendant light dangles gracefully, casting a warm and inviting glow over an arrangement of pink flowers.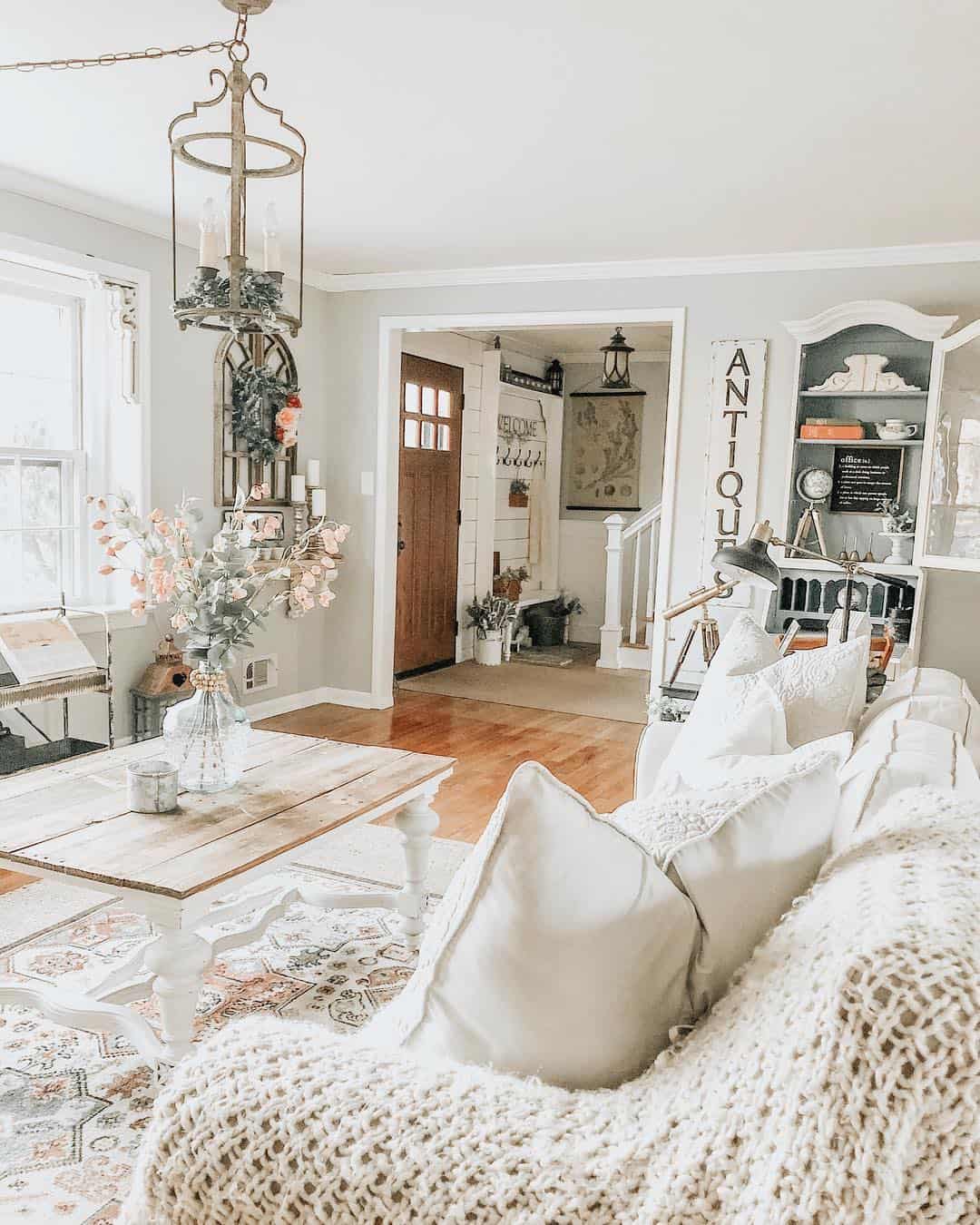 Credit: we_dabble
Shop the Look
Wrap-up
In conclusion, achieving the perfect lighting in your farmhouse-style home with lower ceilings doesn't have to be a challenge. With the right fixtures and designs, you can create an inviting and well-lit space that complements your rustic decor. From flush mounts to pendant lights and sconces, these lighting solutions offer both style and practicality. So, go ahead and brighten up your cozy abode with the warmth and character it deserves!