7+ Sophisticated Shelf Decor Ideas for a Timeless Farmhouse Kitchen
Affiliate Disclosure: As an Amazon Associate we earn from qualifying purchases. Hence, if you click through and make a purchase, we will get a commission at no extra cost to you. For more info, read our full disclosure.
The heart of the home, a farmhouse kitchen, radiates a warm and inviting ambiance. One of the key elements that can transform your kitchen into a timeless haven is sophisticated shelf decor. In this blog, we're excited to share seven creative and elegant shelf decor ideas to infuse that classic farmhouse charm into your kitchen.
From choosing the right color palette to selecting the perfect vintage items, these tips will help you create a space that's not only functional but also irresistibly charming.
Spring's Cozy Wooden Kitchen Shelf Decor
In this delightful spring kitchen setup, you'll find an array of vibrant pink carnations thoughtfully arranged on wooden shelves, complemented by the presence of tulips and peonies. The scene is further elevated by a charming copper teapot perched atop a white cake stand, accompanied by a ceramic teapot and a thriving succulent. The lower shelf is adorned with transparent coffee canisters, while the upper shelf showcases an assortment of wooden farmhouse decor pieces.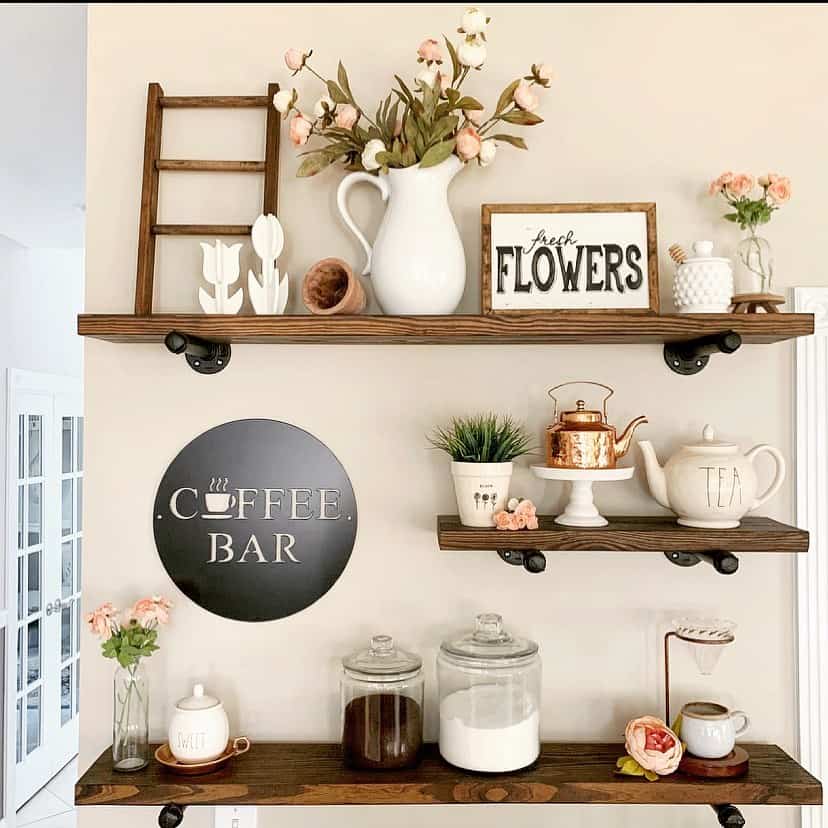 Credit: @mylifeondoecourt
Shop the Look
Creating a Cozy Coffee Bar with Kitchen Floating Shelves
Indulge in the allure of a farmhouse-themed coffee bar, nestled within this kitchen. The space is graced with white cabinetry, a sleek black countertop, shiplap walls, and a floating shelf, creating a cozy atmosphere. On the shelf, you'll find a wooden pizza board, gourds, and a wood-framed fall farmhouse sign. Surrounding this delightful coffee station are charming cow figurines, a floral wreath, and an assortment of coffee station drinkware.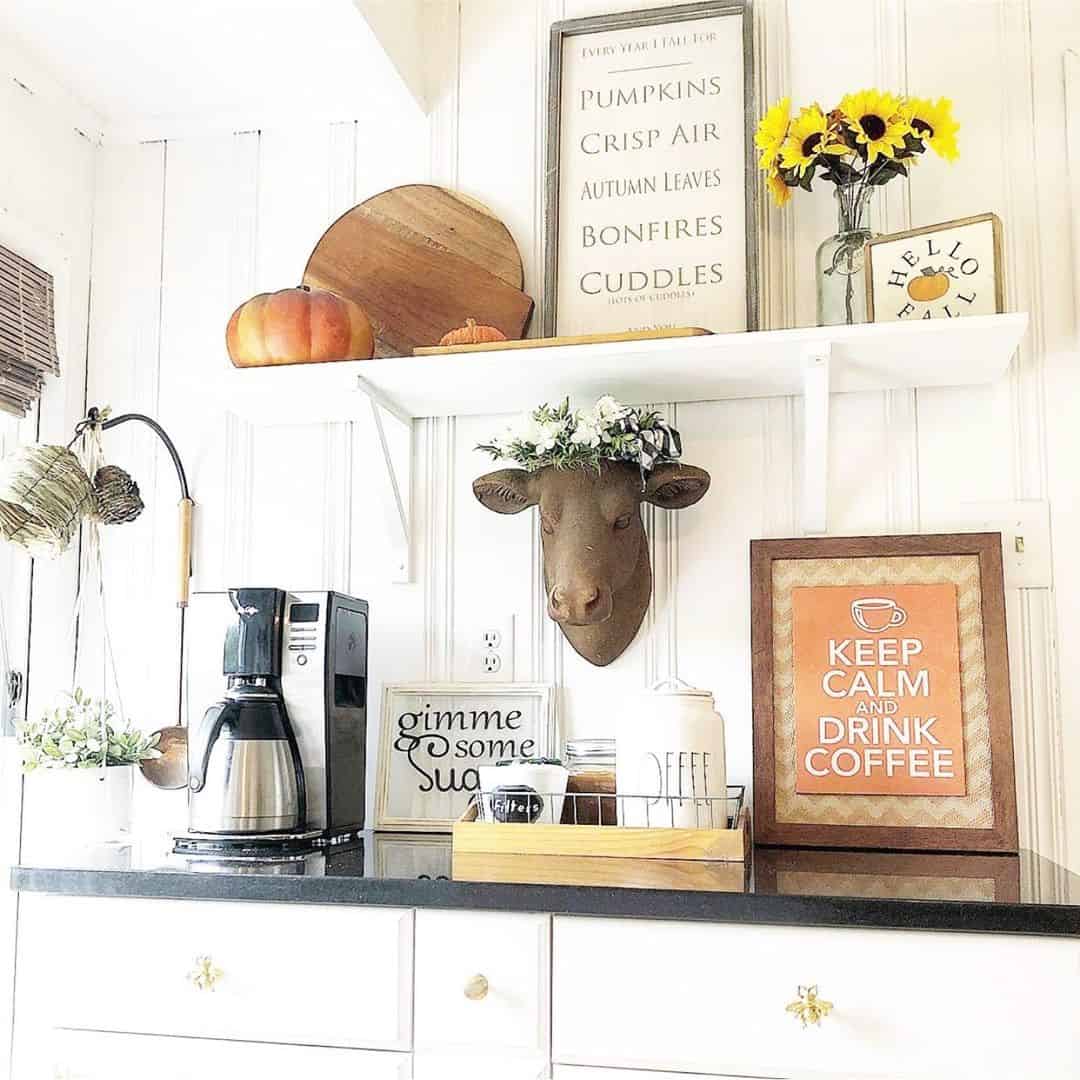 Credit: sweethoneycottage
Shop the Look
Small White Kitchen Transformed with Floating Shelves
Step into a bright white kitchen where small floating shelves find their ideal place between a sleek black range hood and pristine white overhead cabinets. An elegant black sconce light is thoughtfully positioned above, offering not only functional illumination but also highlighting the beauty of the copper serveware and glass dish set on the shelves.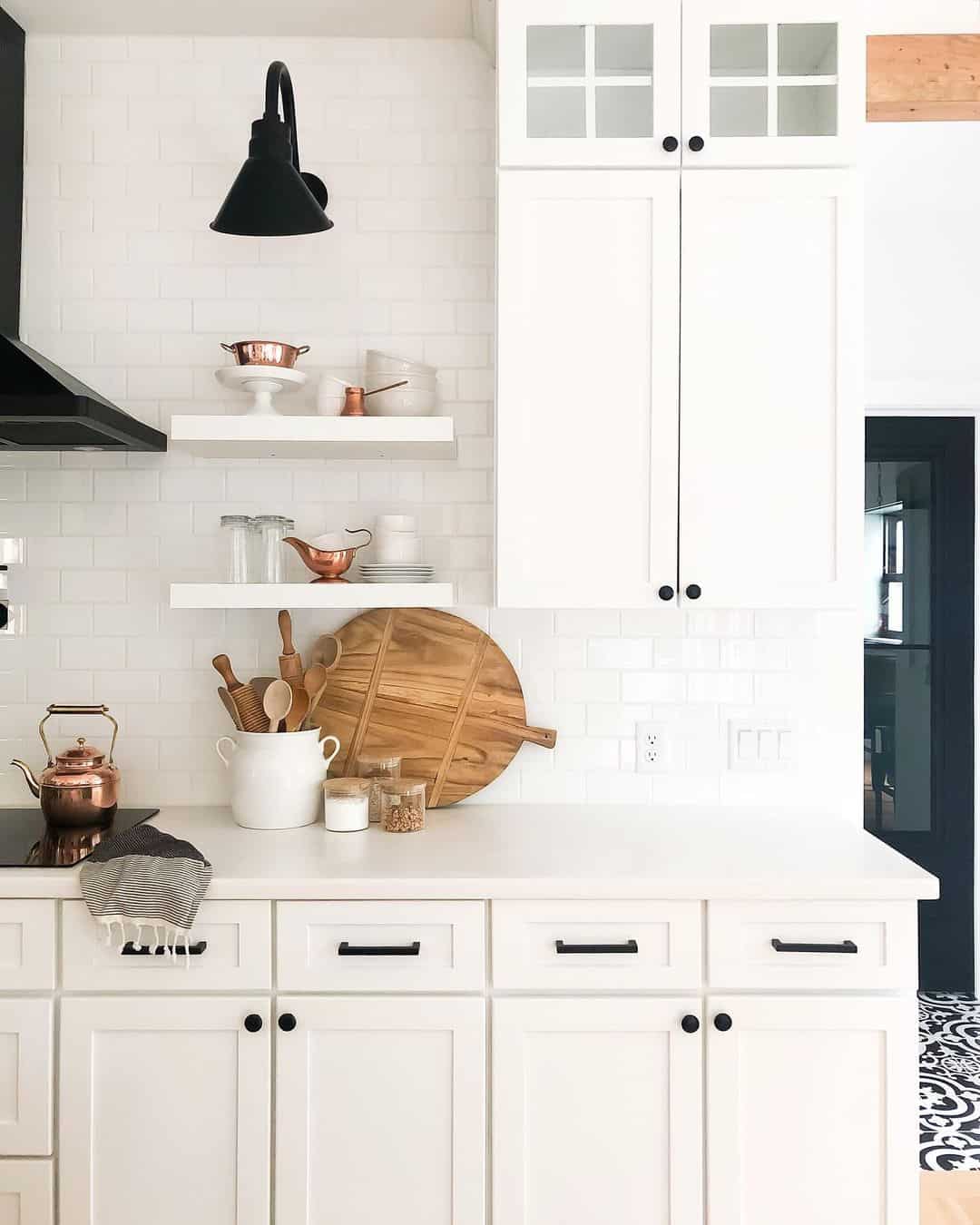 Credit: theverestplace
Shop the Look
Sage Green Kitchen Enhanced by a Wooden Nutcracker
In this charming kitchen, a floating wood shelf graces the white walls, adorned with vertical white shiplap wainscoting. On the wooden countertop of sage green kitchen cabinets, you'll find a white coffee maker and a whimsical nutcracker, adding a touch of personality to the space. To infuse a natural element, a green plant in a wicker basket sits atop a black stool, while a cozy brown rug adorns the light wood floor.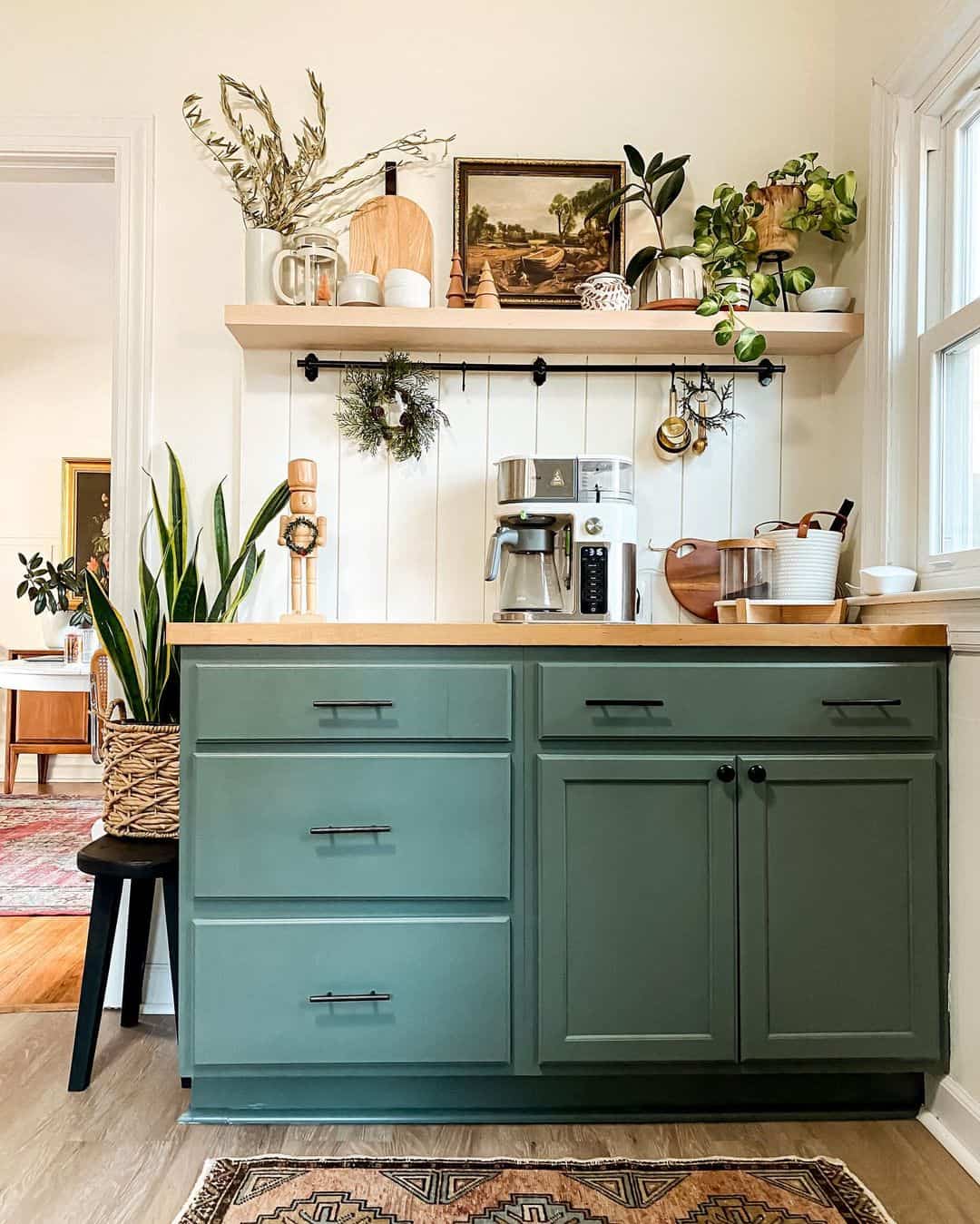 Credit: mylushabode
Shop the Look
Illuminated Elegance in a White Kitchen with Warm Wood Shelves
Experience the charm of a farmhouse-inspired kitchen with pristine white cabinetry and countertops, beautifully complemented by warm wood floating shelves. These shelves proudly display rustic farmhouse accents, with a brass wall sconce positioned above, adding a touch of allure while illuminating the space.
A white lamp, accompanied by fresh lavender greenery arranged in a white ceramic vase atop a black storage cabinet, casts a warm and inviting glow, creating a delightful contrast against the white walls and warm wood flooring.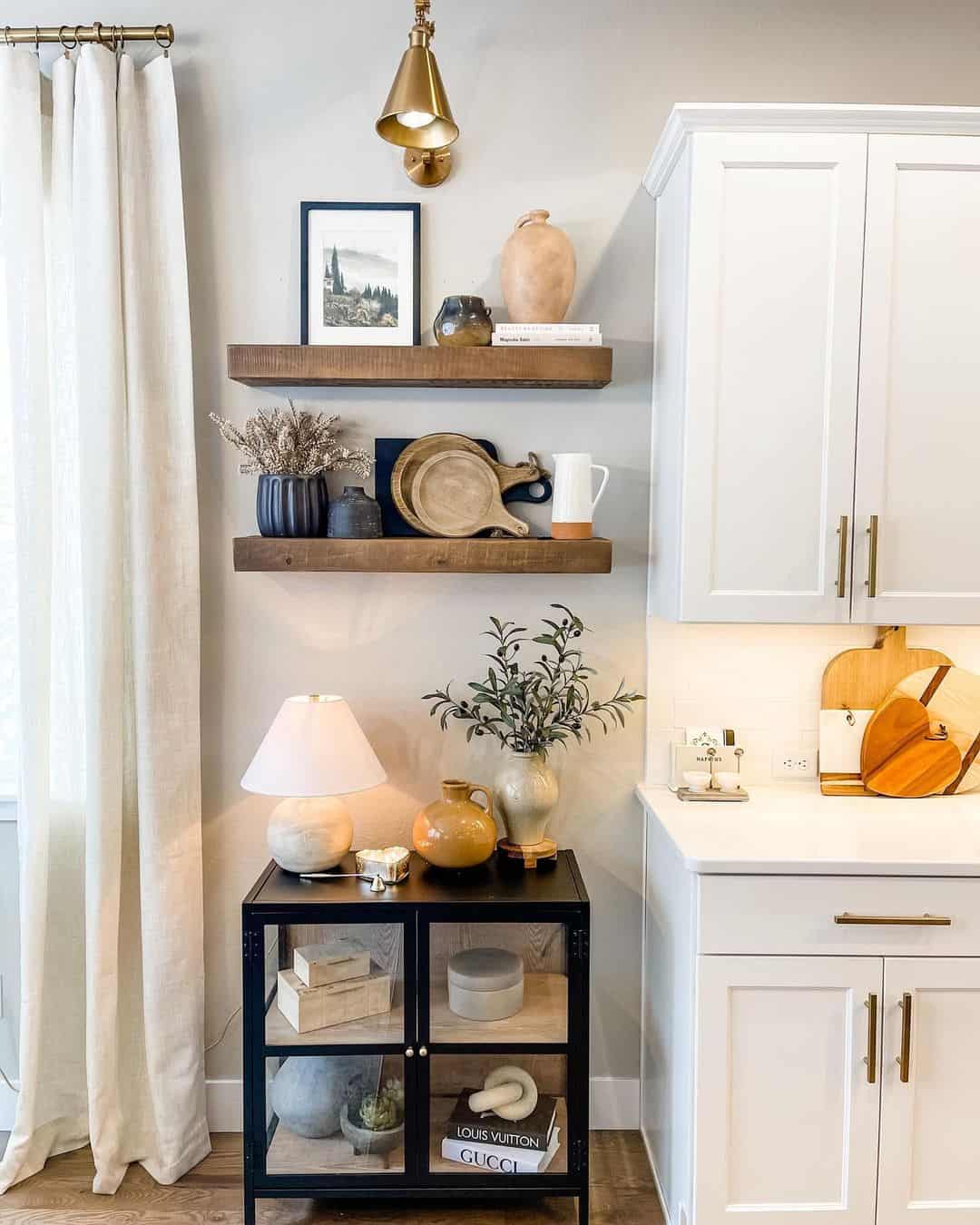 Credit: ourcoloradomountainhome
Shop the Look
Cottage-Style Kitchen Shelf Decor for a Charming Space
Elevate your kitchen's ambiance with wooden floating shelves, thoughtfully mounted against a white shiplap wall adorned with vertical paneling. These shelves are elegantly decorated with soft peach and white glass dinnerware and serveware sets, while deep green potted fern stems and a weeping succulent introduce natural splashes of green to the bright and inviting space.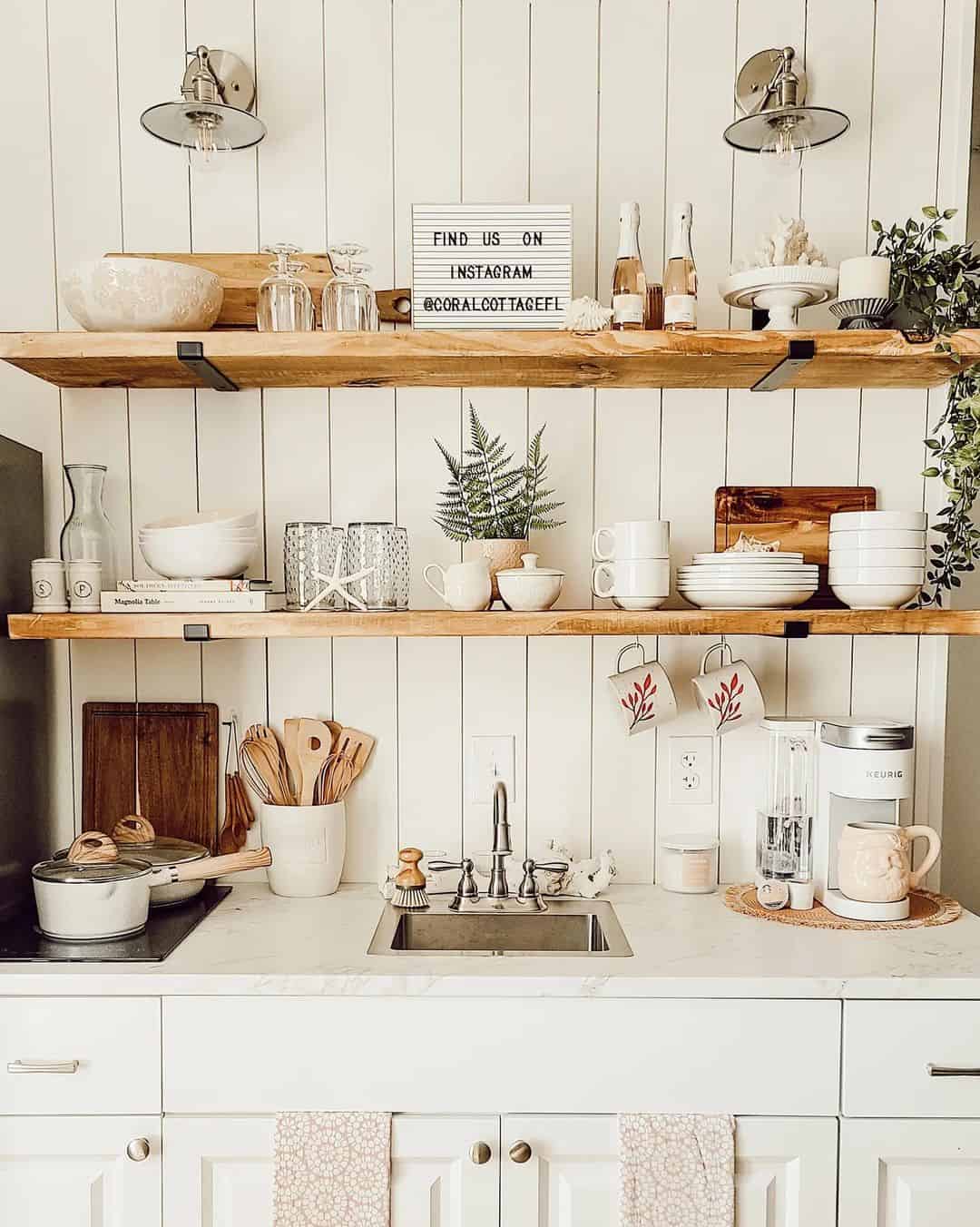 Credit: thetedescofarm
Shop the Look
Adding a Touch of Fall to Open Kitchen Shelving
Beneath wooden floating shelves, an iron towel rod holds a set of charming copper measuring cups, creating a delightful beverage station. Alongside these shelves, you'll find glass canisters, white dishes, and glass milk jars, carefully arranged beside a collection of cookbooks and a wooden serving tray adorned with gourds, infusing the space with a cozy and inviting fall atmosphere.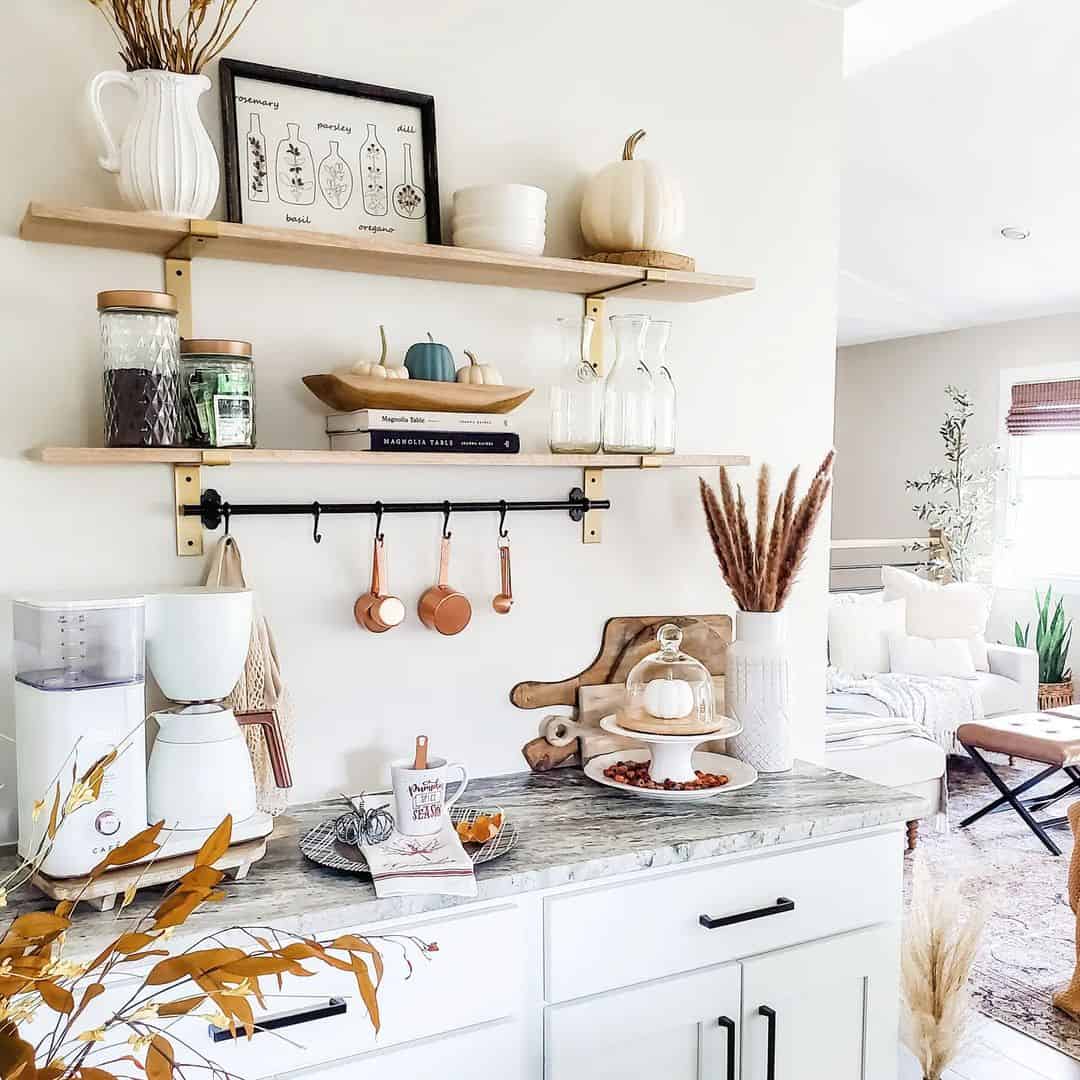 Credit: thewillowwindow
Shop the Look
A Rustic Kitchen Brimming with Personality
In this charming rustic kitchen, you'll be greeted by white stone walls and beautifully designed wooden open shelves showcasing a delightful array of dinnerware. The room is anchored by a substantial wooden kitchen table, graced with a fresh bouquet of flowers and a captivating picture thoughtfully placed next to the faucet, creating an inviting and character-filled space.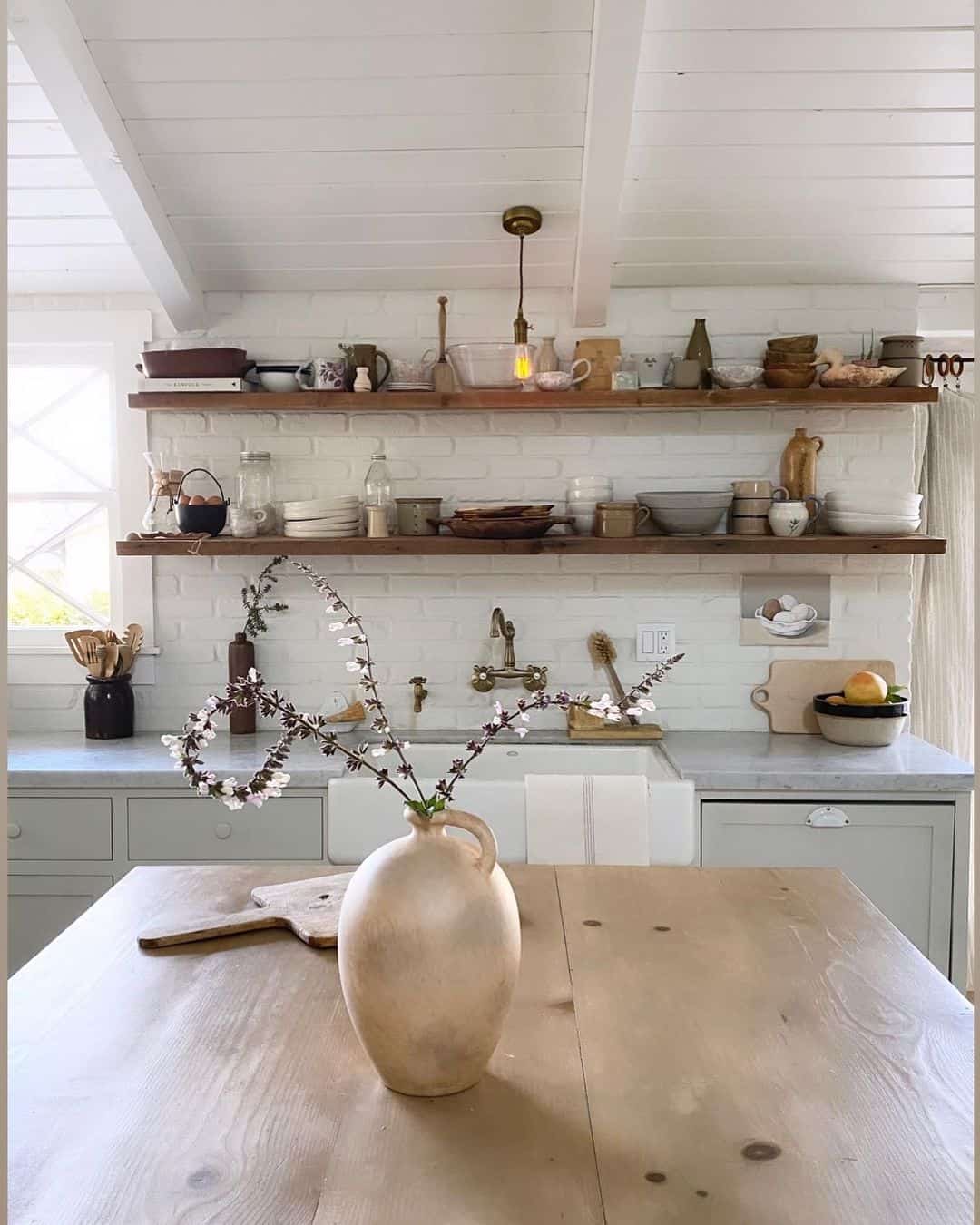 Credit: milkandhoneylife
Shop the Look
Wrap-up
As we wrap up our exploration of these seven sophisticated shelf decor ideas, it's evident that a timeless farmhouse kitchen can be achieved with thoughtful design. By incorporating elements like open shelving, antique finds, and a harmonious color palette, your kitchen can be transformed into a space that exudes character and warmth. These ideas will not only enhance the aesthetics of your kitchen but also make it a hub of timeless charm and functionality.