7+ Farmhouse TV Wall Design Ideas Perfect for Achieving a Balance of Old and New
Affiliate Disclosure: As an Amazon Associate we earn from qualifying purchases. Hence, if you click through and make a purchase, we will get a commission at no extra cost to you. For more info, read our full disclosure.
Immerse yourself in the rustic charm and modern sophistication of farmhouse decor with our collection of over seven TV wall designs. These thoughtfully curated styles strike a perfect balance between old-world coziness and contemporary flair.
Whether you're seeking inspiration for your new home or want to reinvent your existing space, you're bound to discover designs that seamlessly blend the past and present, reflecting the true essence of a farmhouse-inspired living space. Welcome to our showcase of farmhouse TV wall designs that bring together the best of both worlds.
White Wood TV Space Design in a Modern Farmhouse Living Room
Gently cradled by white wooden floating shelves, a large flat-screen TV perfectly graces the wooden mantel space. The stunning black farmhouse sconce lights enhance the room's atmosphere, creating a cinematic feel as their warm glow drapes over the shelves and cabinets. Further lending a traditional vibe is the rustic white brick fireplace, tying the whole design together.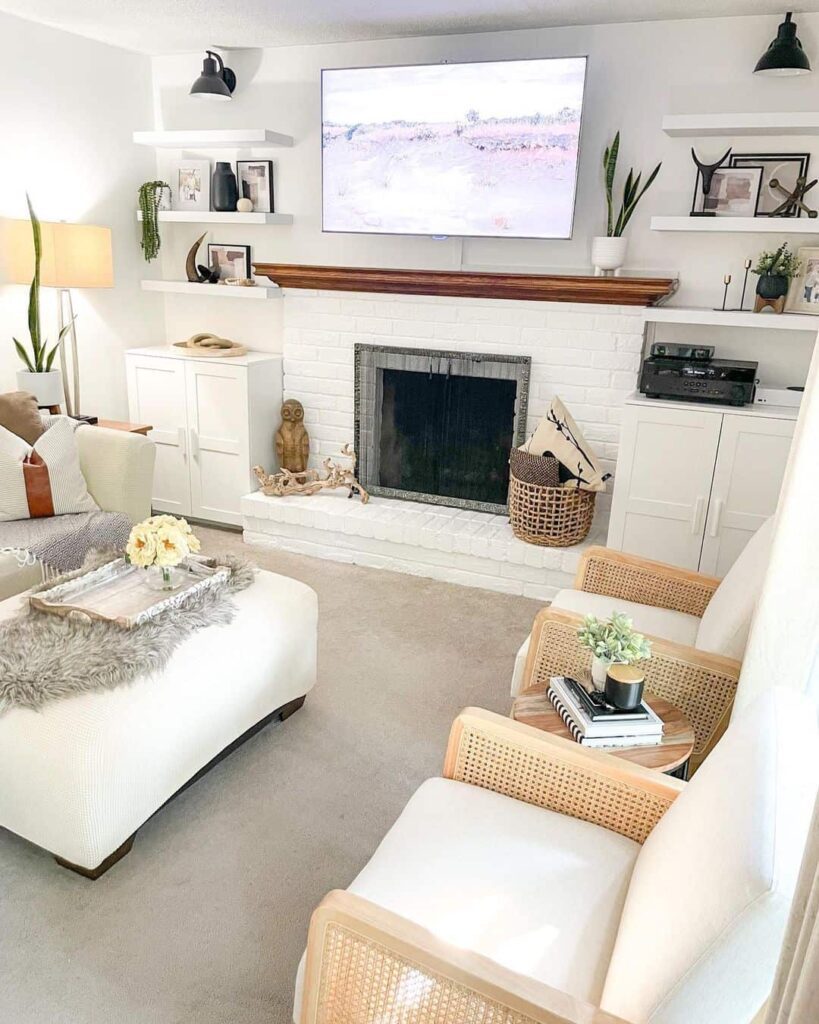 Credit: @tarynfalconerdesignstudio
Shop the Style
Chic Boho Farmhouse TV Wall Design: An Artful Touch
Featuring a floral screensaver, this mounted TV breathes life into the dark grey wall when not in use, transforming it into a mesmerizing work of art. Nestled beneath it is a boho farmhouse media stand, home to woven rattan baskets that house neutral-toned farmhouse tassel linens.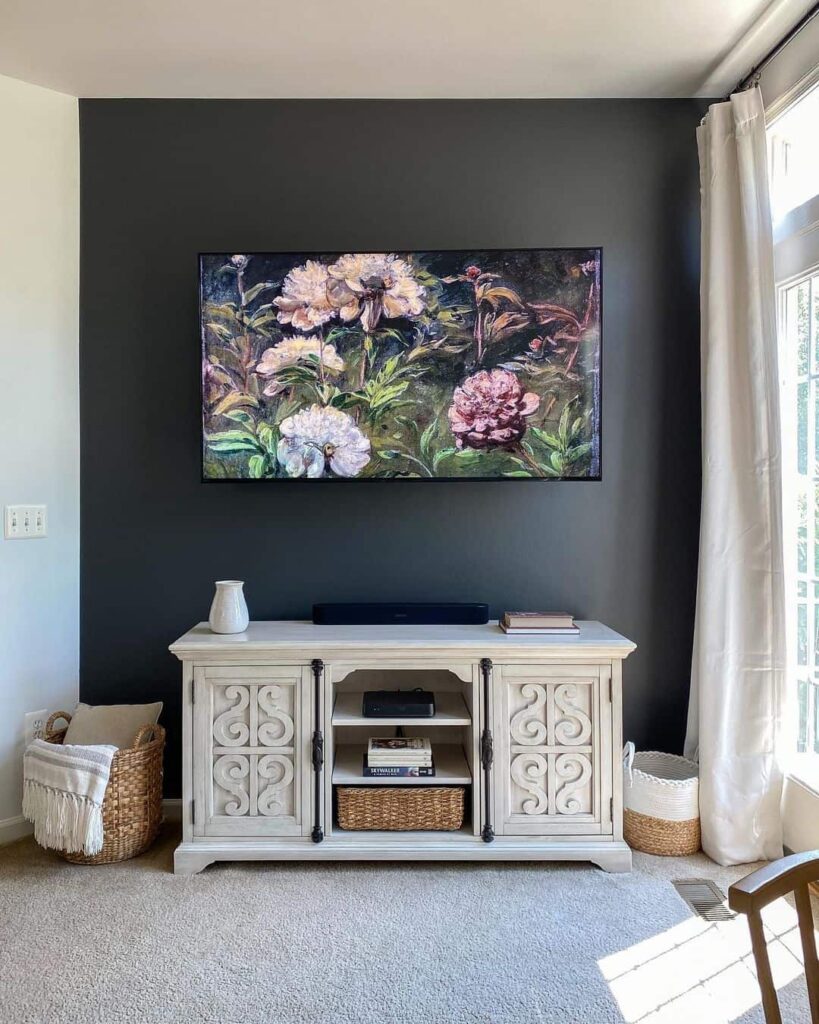 Credit: @housebyjulieann
Shop the Style
Enhancing a Media Center Through a Cozy Gallery Wall
This farmhouse living room creatively uses a gallery wall, adorned with wood frames and neutral portraits, to surround a mounted TV and a sophisticated black media hutch with glass panel doors. The meticulously selected frames contribute to a warm, cozy ambiance, blending seamlessly with the rest of the neutral decor.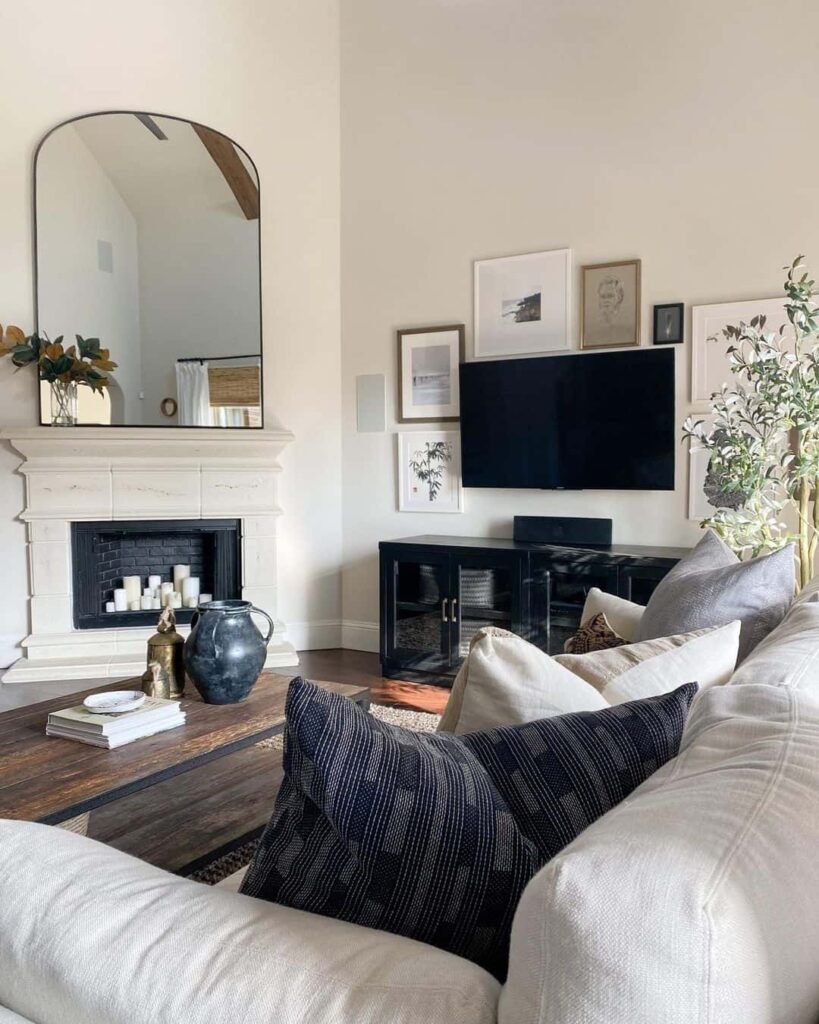 Credit: @crazywonderfulblog
Shop the Style
Stylized Modern TV Wall Design Featuring Textured Paint
A fireplace wall, boasting earthy gray paint and stucco concrete texturing, pairs perfectly with a rustic floating wood mantel. A tasteful selection of minimalist décor, including gold candlesticks, books, and a glass vase, creates an elegant environment. Nestled in the center under the TV is a gas fireplace, providing an ideal space for leisurely lounging. 
Credit: @howell.home
Shop the Style
Modern Farmhouse TV Wall With Galvanized Flower Pots
Galvanized flower pots with lush evergreen shrubs, placed symmetrically on either side of a flatscreen TV, make a bold statement. Above, a charming farmhouse sign, and below, a console table stained in a rustic grey tone beautifully coordinate with the room's bright neutral theme.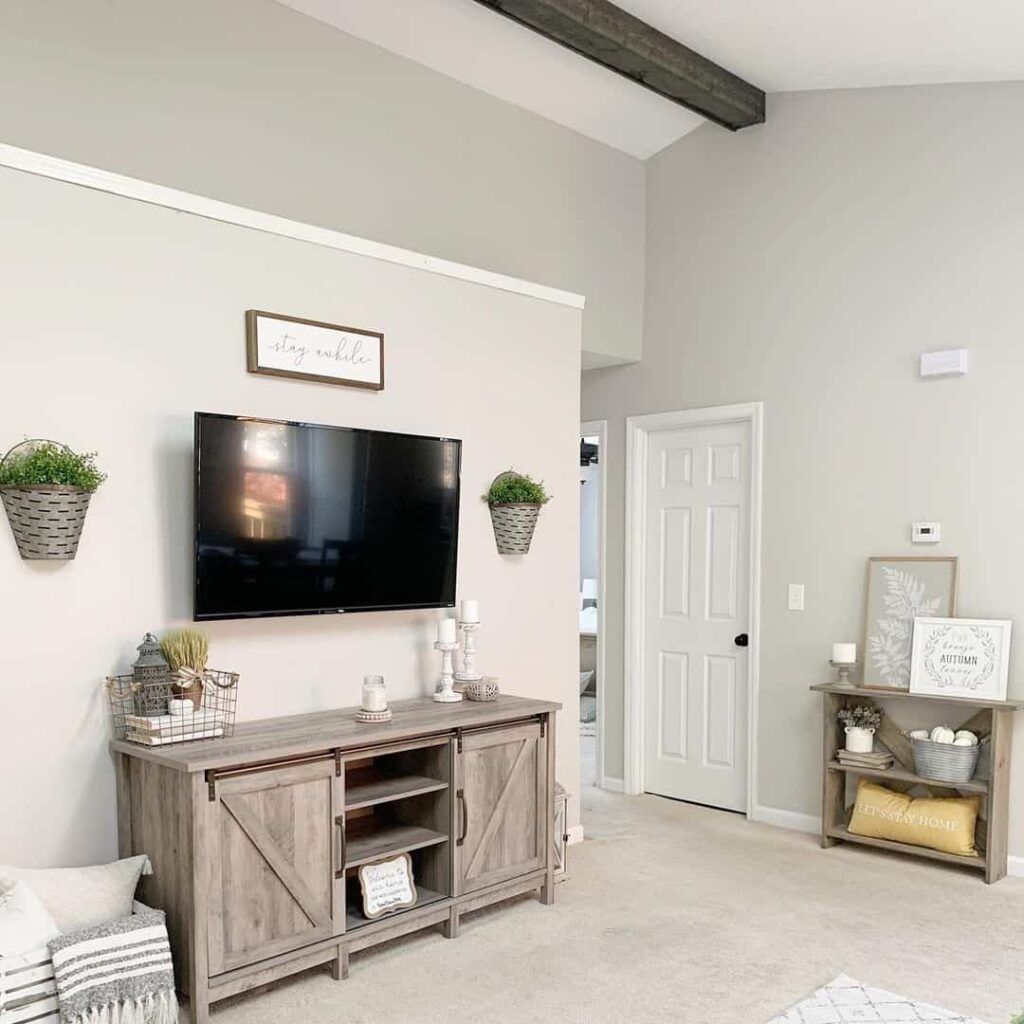 Credit: @kathrynannedesignco
Shop the Style
Striking TV Wall Setup for a Contemporary Farmhouse Living Room
This neutral farmhouse living room boasts a stormy grey wall paint that creates a serene backdrop for a sleek wood media stand adorned with geometric patterned cabinet doors. A TV, elegantly mounted above, nestles between white wooden floating shelves laden with farmhouse décor and a trio of wood-framed quotes.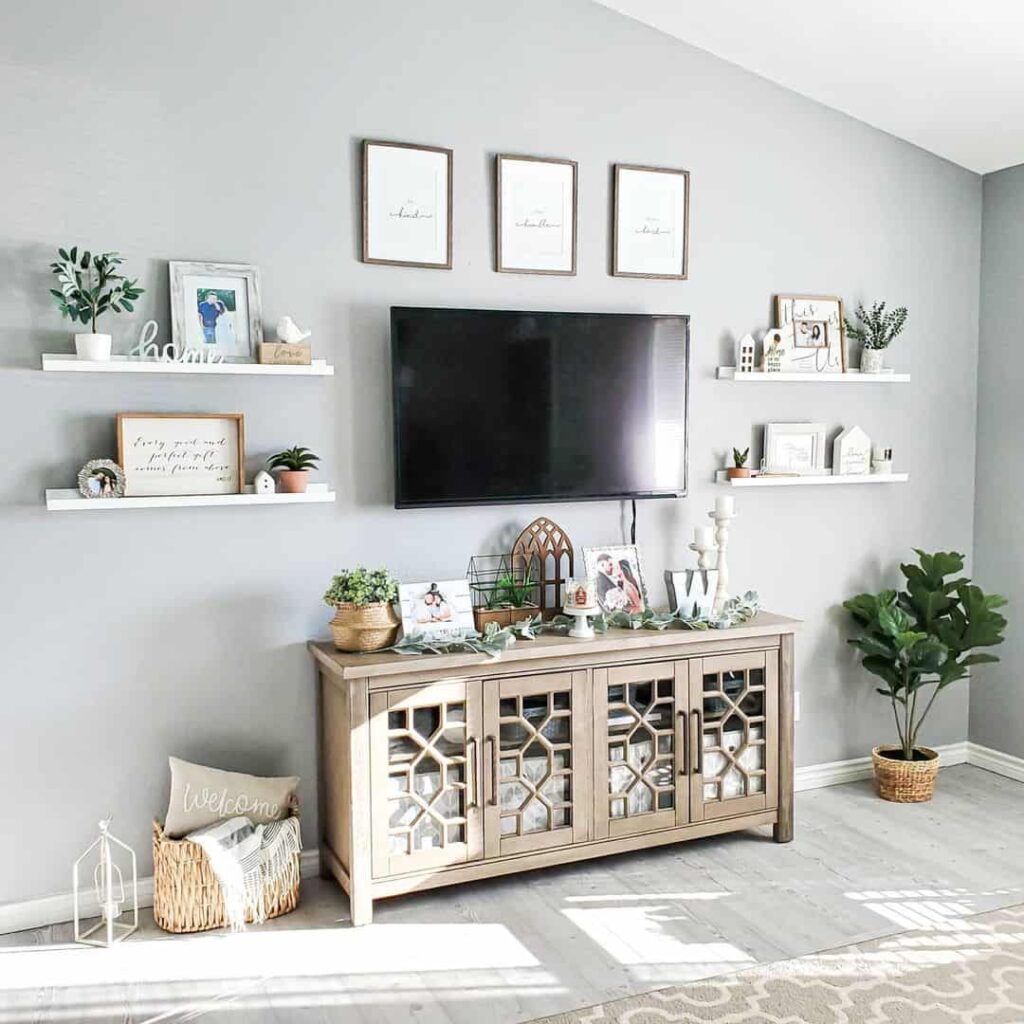 Credit: @yasminnnie
Shop the Style
Shiplap TV Wall Imbued with Buffalo Plaid Accents
Featuring a wall-mounted TV, this shiplap wall also boasts contrasting buffalo plaid accents that give it a unique charm. The surrounding furniture matches perfectly with the overall scheme, while a white textured rug elegantly covers the light wood flooring.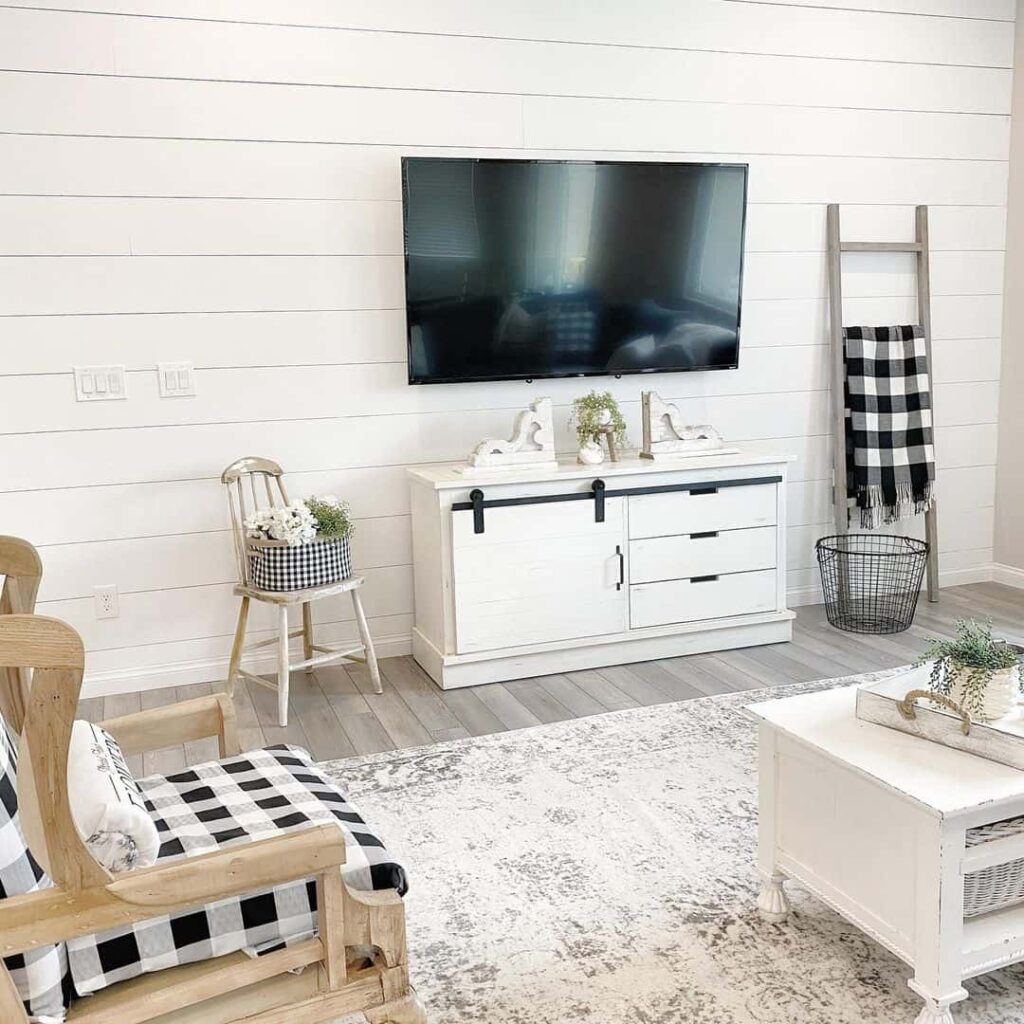 Credit: @notafarmhousentexas
Shop the Style
Fusion of Contemporary and Rustic Bedroom Accented with Wooden Elements
This room offers an enchanting blend of modern and traditional elements, from the rustic chandelier hanging between two wooden beams to the wall-mounted television above a stylish wooden dresser. The space is beautifully completed with a vase filled with bright flora situated before a wooden-framed mirror.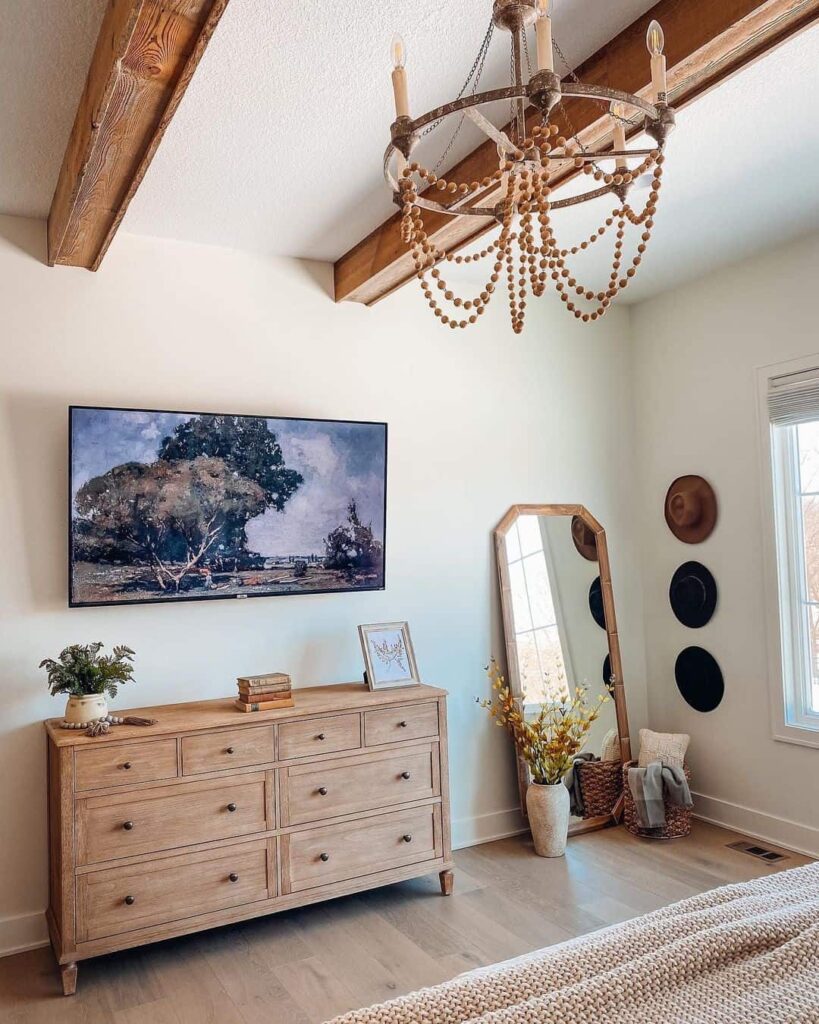 Credit: @myiowafarmhouse
Shop the Style
Final Thoughts
There you have it, design enthusiasts! A bevy of farmhouse TV wall designs that bridge old charm and modern elegance. Now go on and transform your living space into a stunning spectacle of balance, without accidentally installing the TV in the chicken coop.