7+ Rustic Farmhouse Accent Ideas to Transform Your Kitchen
Affiliate Disclosure: As an Amazon Associate we earn from qualifying purchases. Hence, if you click through and make a purchase, we will get a commission at no extra cost to you. For more info, read our full disclosure.
When it comes to creating a cozy and inviting kitchen space, few styles are as beloved as the rustic farmhouse look. With its warm, weathered textures and vintage charm, a farmhouse-inspired kitchen can transform your cooking area into a welcoming heart of the home.
In this blog, we'll explore seven rustic farmhouse accent ideas that will help you infuse character and personality into your kitchen. From distressed wood finishes to vintage-inspired accessories, these tips will guide you in achieving that quintessential farmhouse aesthetic you've always dreamed of.
Cozy Pumpkin Patch Kitchen
This inviting all-white kitchen is a true autumn paradise, adorned with rose gold hardware and oak floating shelves. The shelves are beautifully arranged with an assortment of wooden, copper, and ceramic vessels, complemented by autumnal botanicals and gourds.
Sheer white and orange plaid curtains drape in front of the window, while a fall garland of leaves adds to the cozy charm. A wooden dish rack stands beside the spacious double sink, and a white pumpkin graces the wooden stool in front of it.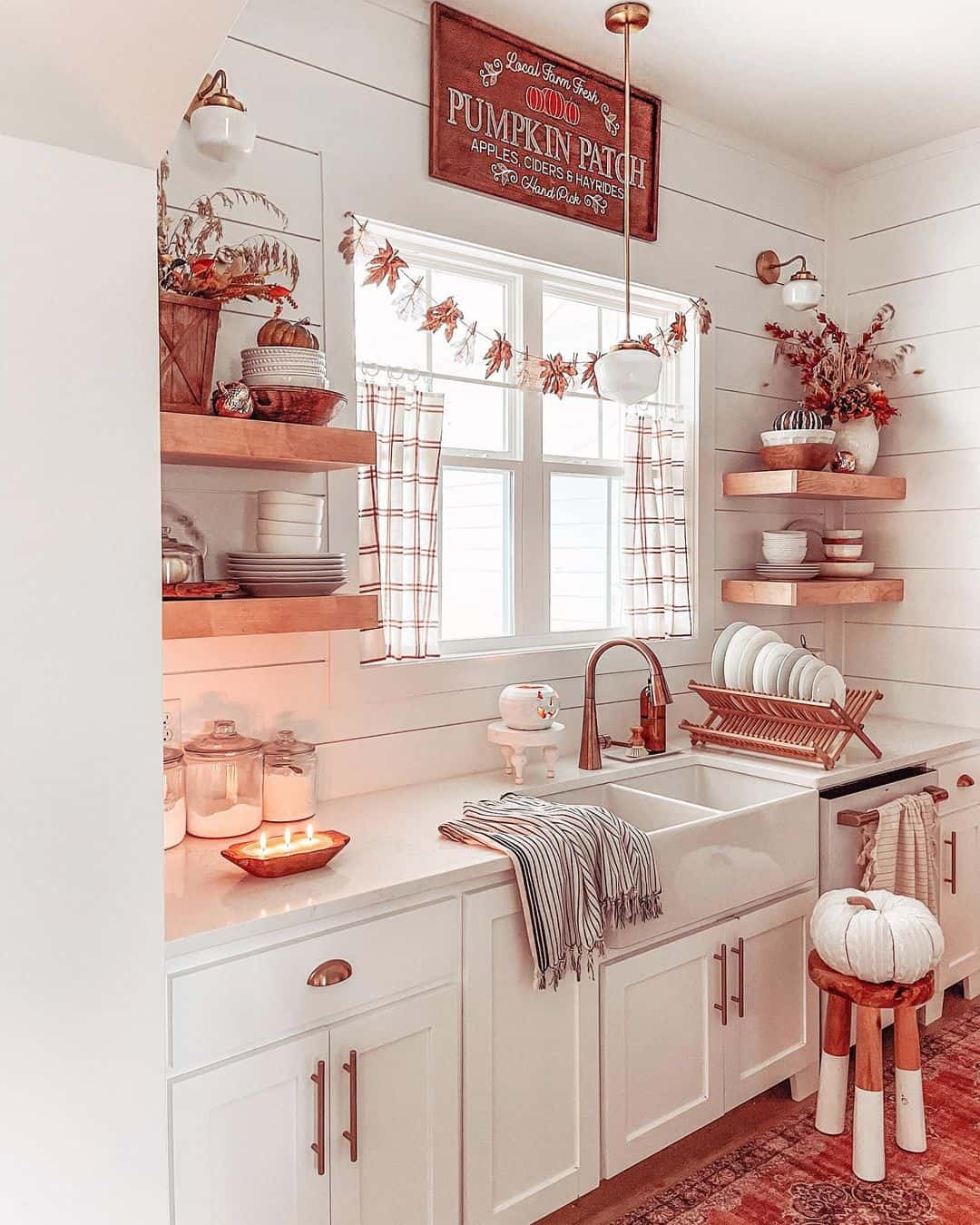 Credit: @drivewaytodreams_crystal
Shop the Look
Pretty in Pink Holiday Kitchen
This alabaster kitchen exudes a sense of holiday cheer with delightful pops of pink. A patterned rug in front of the stove and an absolutely stunning holiday wreath on the range hood, complete with a large pink silk bow, infuse the space with vibrant color. Wooden cutting boards and decorative trays add a touch of warmth to the design, while potted plants bring a natural element to this charming kitchen.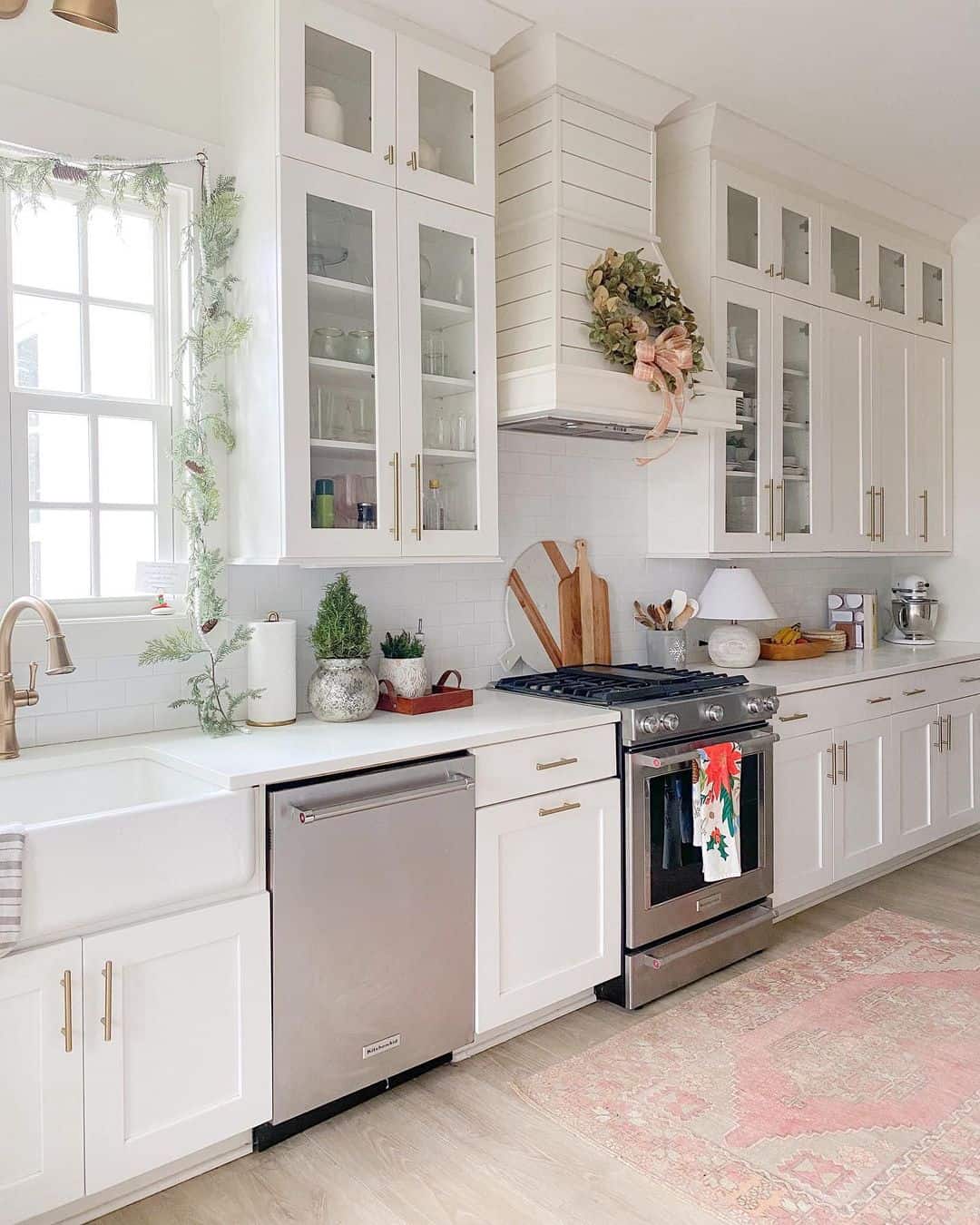 Credit: @montgofarmhouse
Shop the Look
Autumnal Harvest Kitchen
In this fall-themed kitchen, a wicker pumpkin takes pride of place atop a rattan basket. The island is beautifully adorned with fabric pumpkins, a copper dish, and dried wheat elegantly tied together with a black and white striped ribbon. Artwork depicting a cornucopia brimming with harvest goods is hung above the stovetop, complementing the presence of copper cookware.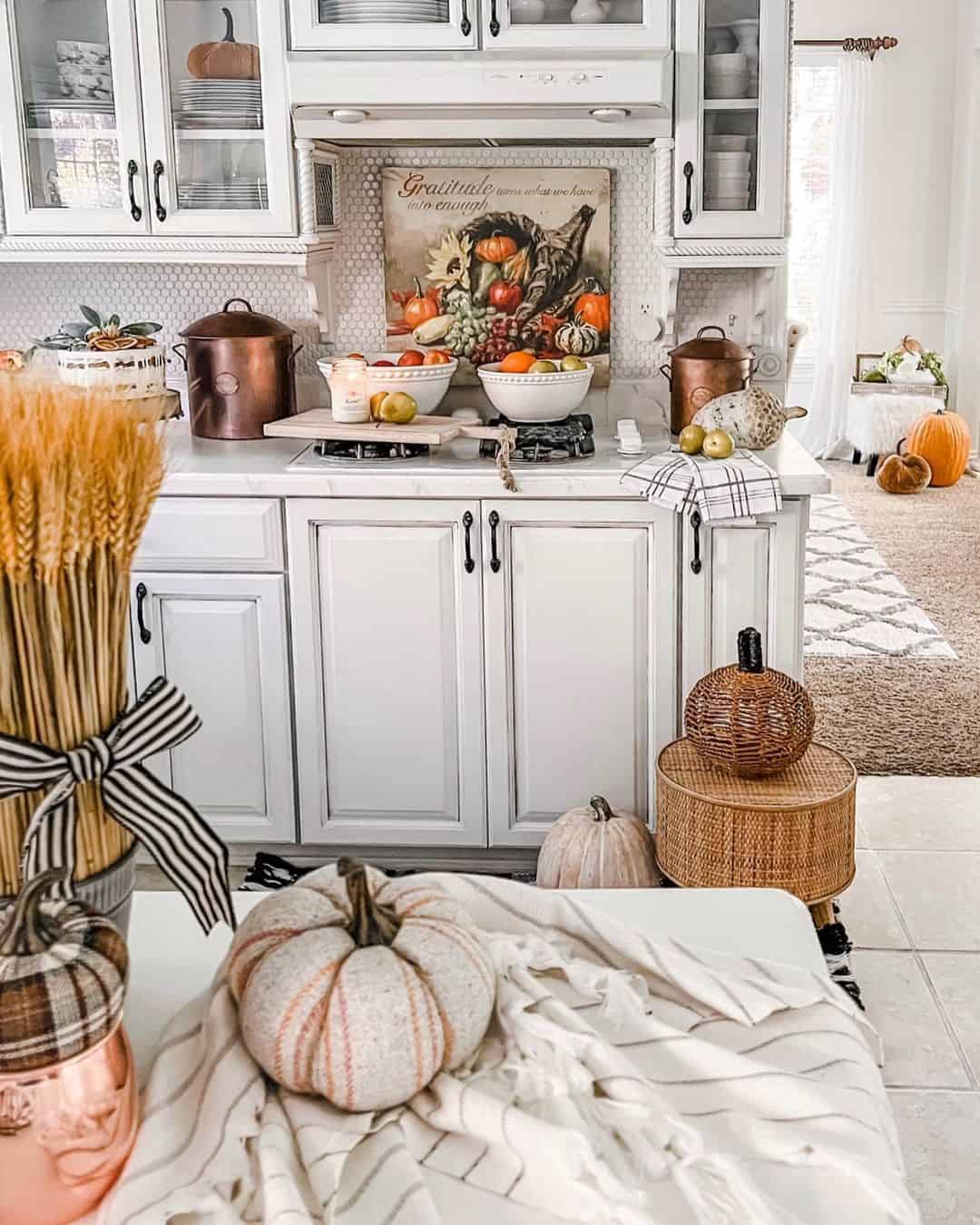 Credit: @amywilsondesigns
Shop the Look
Pumpkin Spice Infusion in the Farmhouse Kitchen
This pristine all-white kitchen welcomes autumn with open arms, featuring an array of seasonal decor. A glass pumpkin, perched upon a marble and wood cake stand, adds a touch of elegance. Another glass pumpkin graces the far countertop next to a mug holder displaying orange and white ceramic mugs.
To the left of the stove, a tray holds essential kitchen items, while orange fall botanicals adorn a jar near the sink. Neutral brown hand towels bring a cozy warmth to this farmhouse kitchen with a hint of pumpkin spice.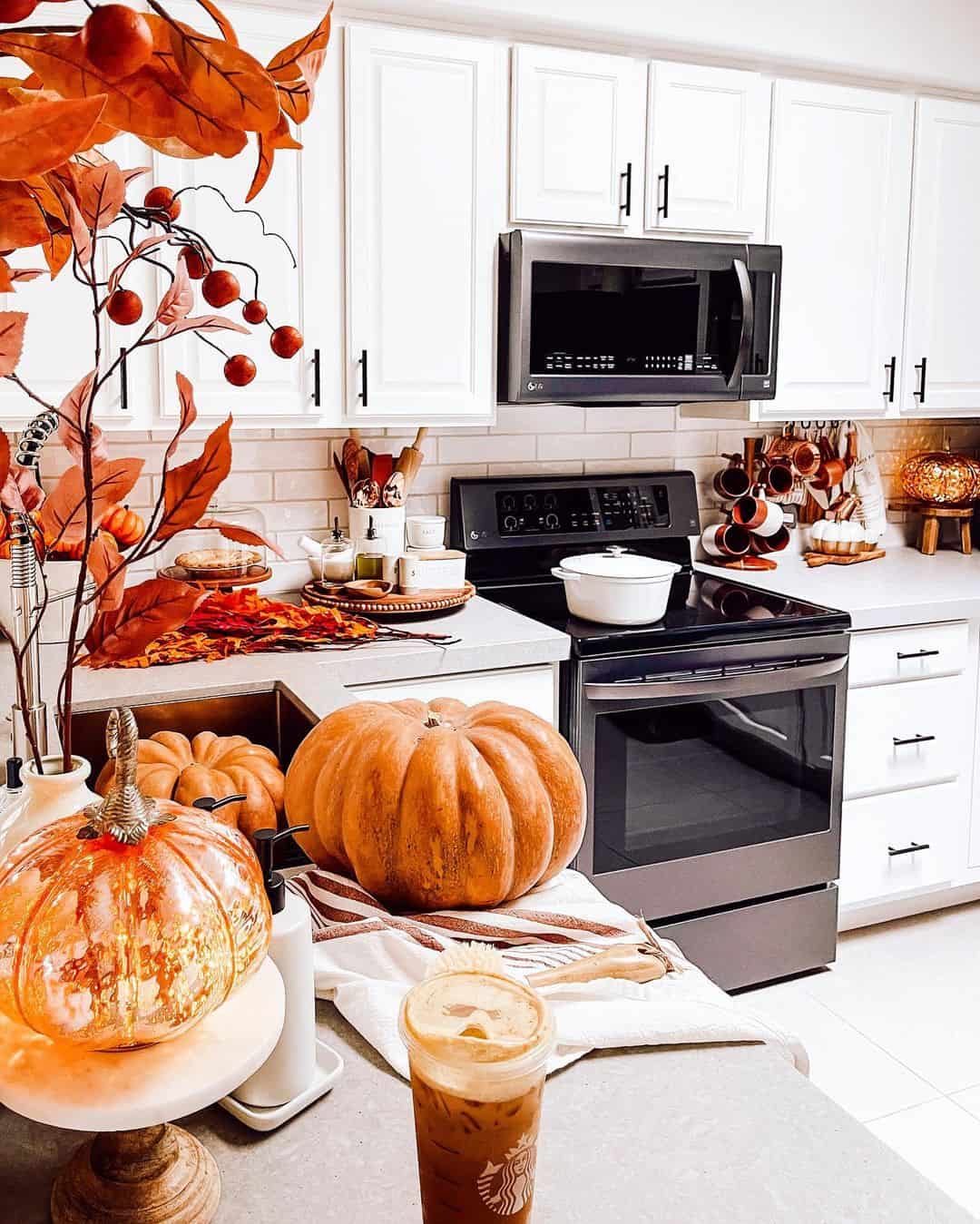 Credit: @industrialcharm
Shop the Look
Timeless Traditional Farmhouse Elegance
In this timeless farmhouse kitchen, a wooden storage unit houses an array of ceramic containers and mugs, embodying classic charm. Alongside, you'll find a set of cutting boards, a potted plant, and a traditional white ceramic scale. To the right of the storage piece, a wooden tray showcases a large metal bread bin and a pitcher filled with eucalyptus, adding a touch of elegance to the space.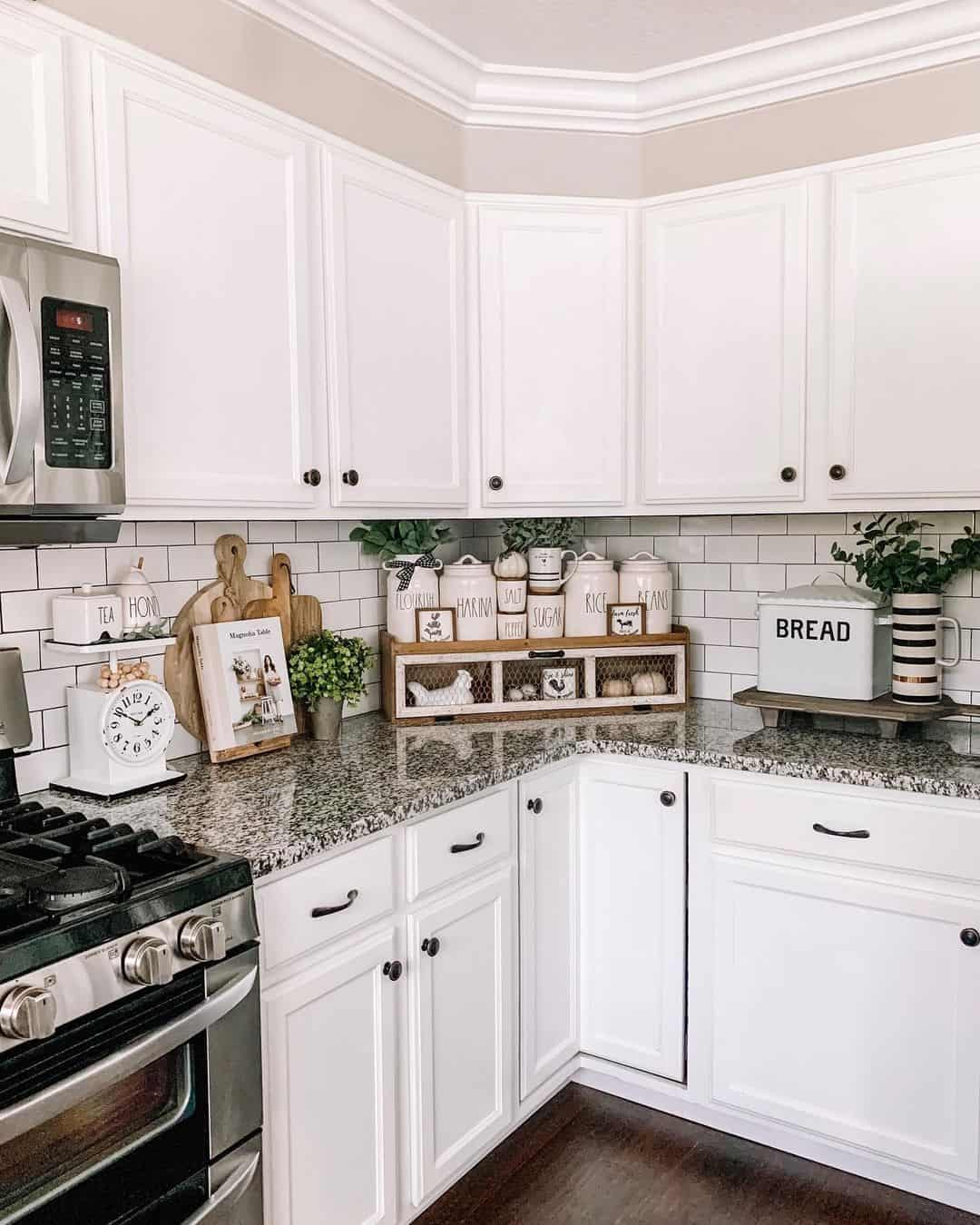 Credit: @homewith_denise
Shop the Look
A Festive Farmhouse Haven
Within this radiant white kitchen, graced with granite countertops and ethereal floating wooden shelves, the ambiance undergoes a festive transformation. Open shelves serve as canvases for a delightful assortment of petite trees, red plates, and an endearing Christmas sign. Embracing the spirit of the season, a rustic wood cutting board gracefully adorns the shiplap walls, infusing the space with a warm and festive charm.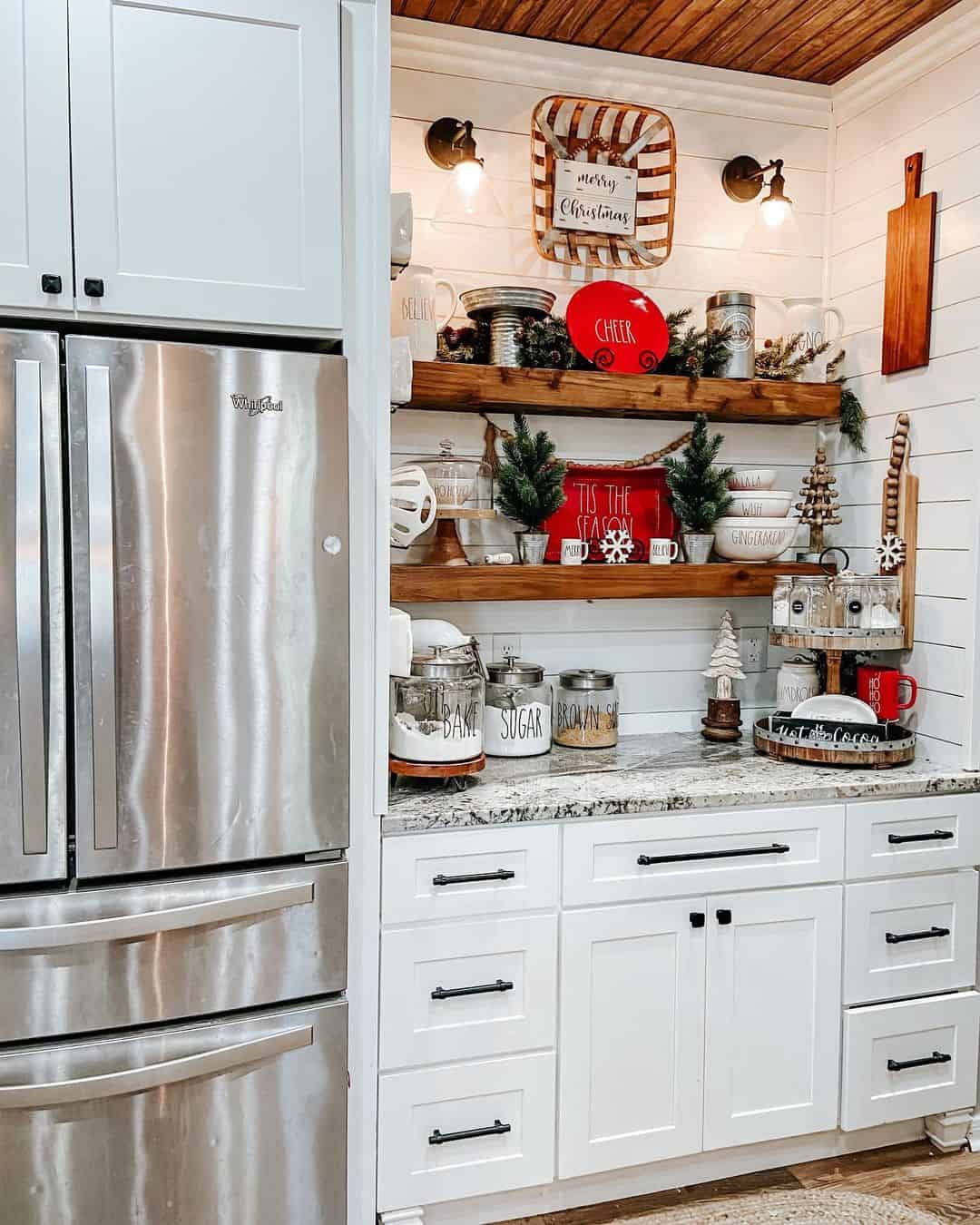 Credit: @cottagefarmhouse
Shop the Look
Time-Honored Charm with a Checkerboard Flair
In this classic kitchen, the seamless fusion of timeless and distinctive fall decor elements creates an inviting blend. Traditional orange tones take center stage with the gourds and a tasteful table runner adorning the kitchen island. To infuse a touch of excitement and visual intrigue, vibrant pops of orange beautifully intertwine with a captivating black and white checkerboard pattern gracing the plates, kettles, and even the pumpkins surrounding the stately range. This autumn, dare to embrace a dash of boldness by reinventing your traditional seasonal decor with a distinctive checkerboard twist.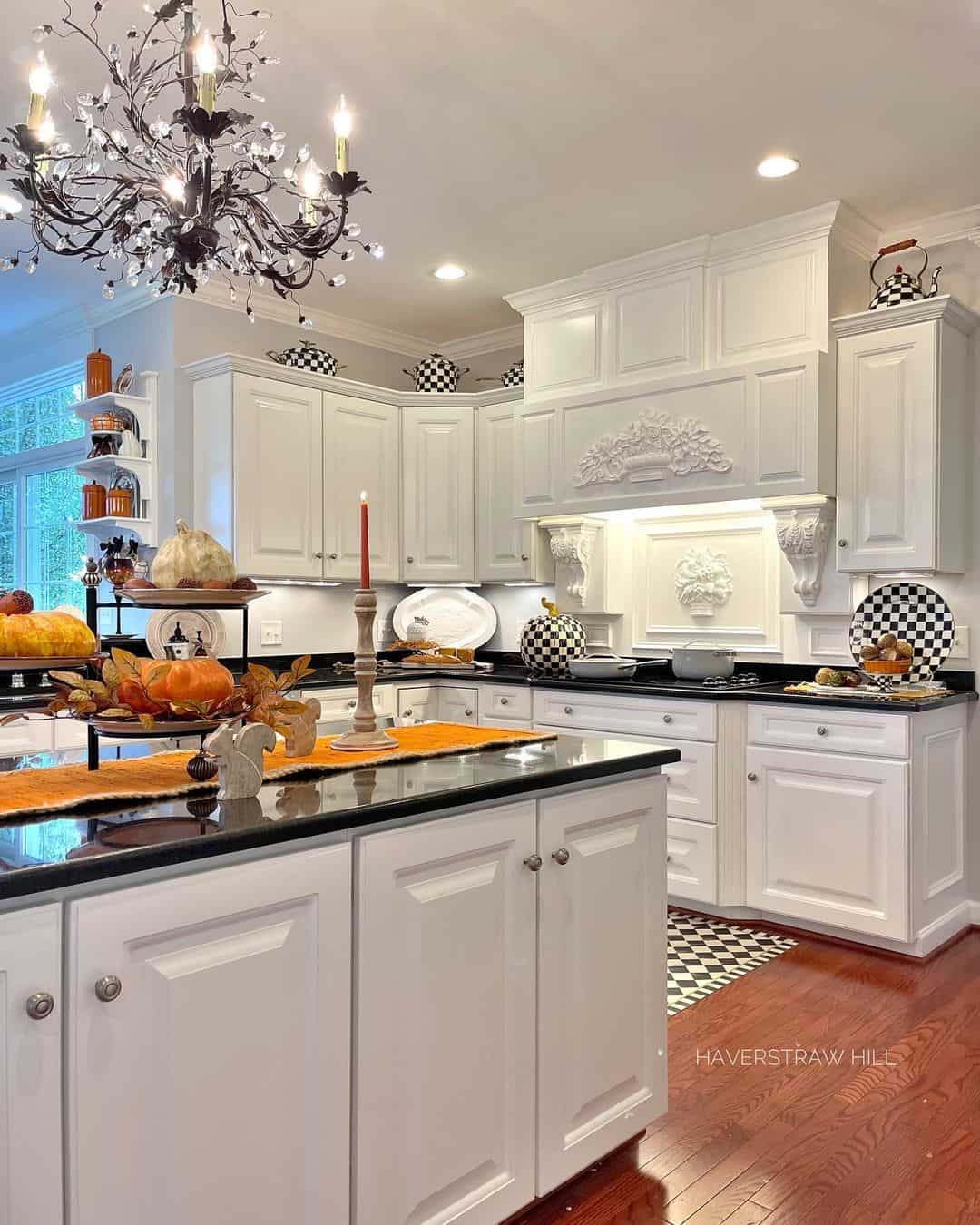 Credit: @haverstrawhill
Shop the Look
Timeless Elegance with Black and White Plaid
Within this farmhouse-style kitchen featuring richly stained wood flooring, a striking interplay of colors and textures evokes a sense of timeless elegance. The white cabinets, accentuated by sleek black pulls, form a visually captivating contrast. Crowning the cabinets, a pristine white and gray countertop stands as a canvas for tasteful black and white plaid kitchen decor, imparting a chic and sophisticated touch to the space.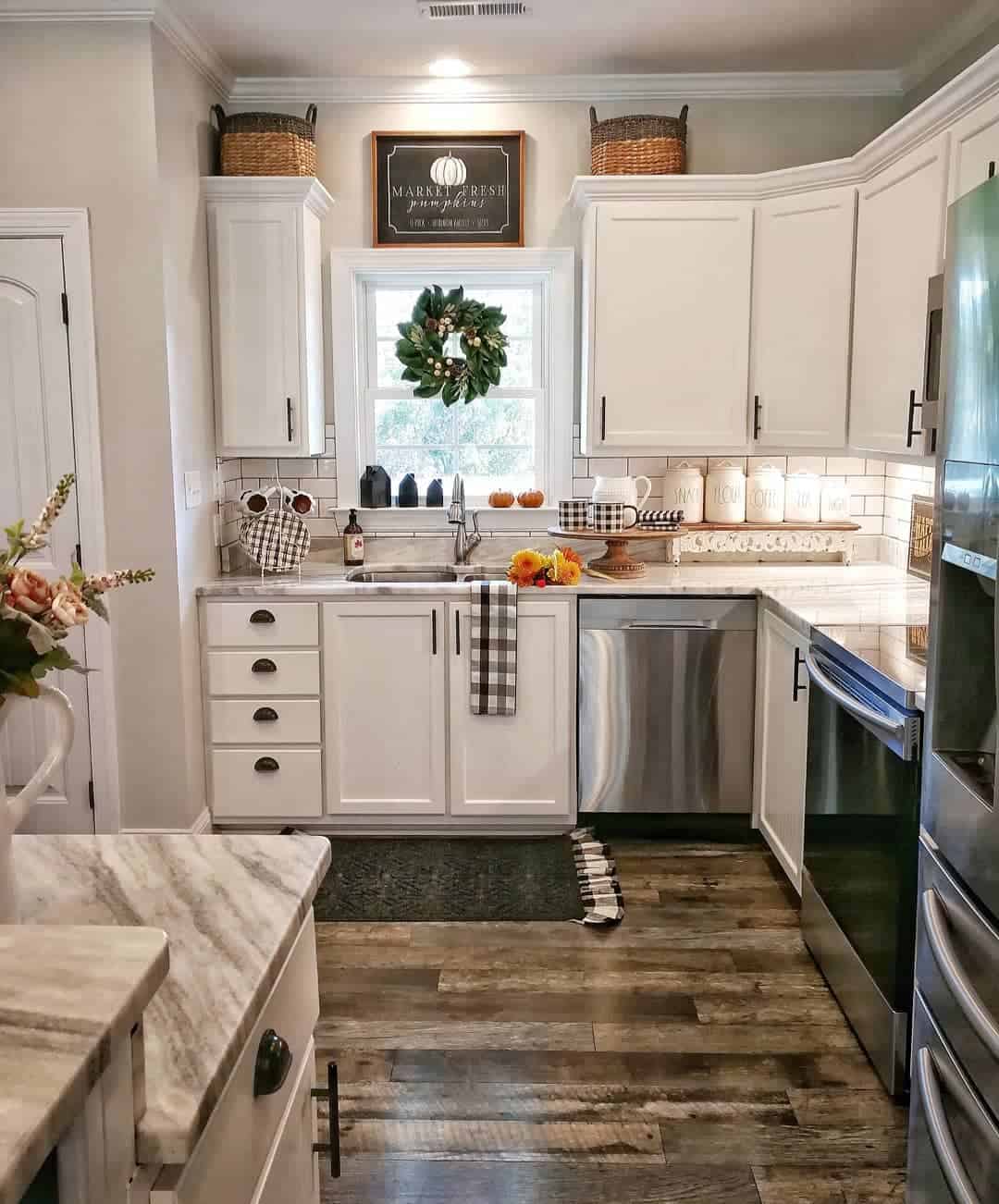 Credit: @bridgewaydesigns
Shop the Look
Wrap-up
Incorporating rustic farmhouse accents into your kitchen design is a surefire way to infuse it with warmth, character, and timeless appeal. The combination of weathered textures, vintage pieces, and natural materials creates a welcoming space that beckons family and friends to gather.
Whether you choose to add barn doors, open shelving, or a farmhouse sink, each of these rustic farmhouse accent ideas can be tailored to your unique style. By embracing these elements, you'll be well on your way to creating a kitchen that not only serves as a functional space but also as a charming and inviting focal point in your home.