7+ Exciting Ideas to Play with Pops of Color in Your Farmhouse Kitchen Backsplash
Affiliate Disclosure: As an Amazon Associate we earn from qualifying purchases. Hence, if you click through and make a purchase, we will get a commission at no extra cost to you. For more info, read our full disclosure.
When it comes to farmhouse kitchen design, the backsplash serves as a canvas for creativity and a pop of color can transform the entire space. If you're looking to breathe new life into your kitchen, we've got seven exciting ideas that will help you infuse personality and style with vibrant hues. Say goodbye to bland and hello to a farmhouse kitchen that's as lively as it is functional.
A Kitchen Tailored for Modern Living
This kitchen is meticulously designed to harmonize style with everyday functionality. It showcases a built-in modern Frigidaire microwave, a crisp white wall-mounted cupboard, and a rustic tobacco brown barstool. The sand-colored tiled backsplash introduces a touch of character, seamlessly elevating the overall sleek design.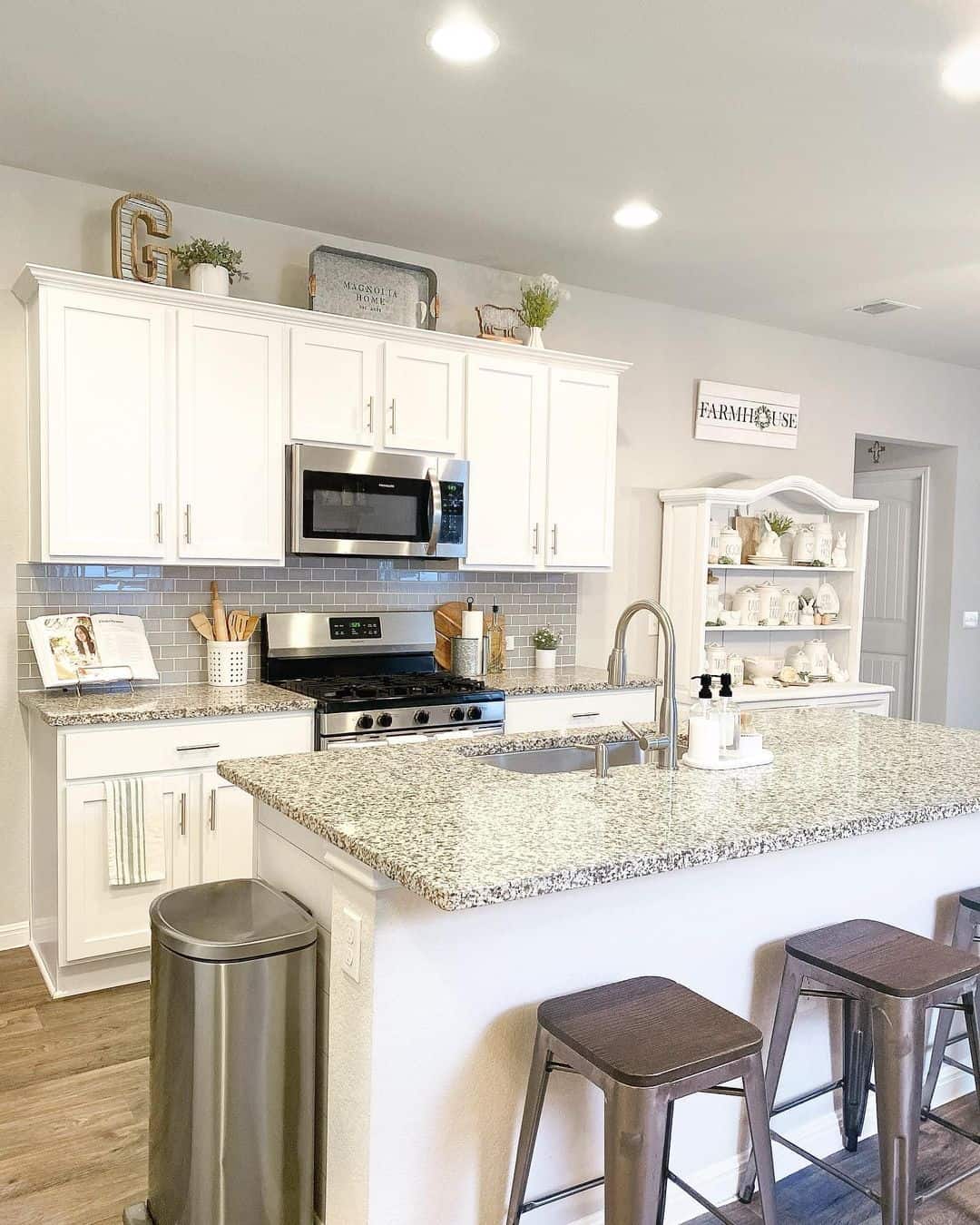 Credit: lynnaeraquelhome
Shop the Look
Dark Blue Shaker Cabinets
In this kitchen, elegance takes center stage with the inclusion of dark blue shaker cabinets adorned with crown molding and accented by silver hardware. Set against light grey walls and warm wood flooring, the cabinets are further complemented by a beige tiled backsplash, which gracefully serves as a backdrop for a pristine white counter. Two silver pendant lamps hang with poise over a dark blue island.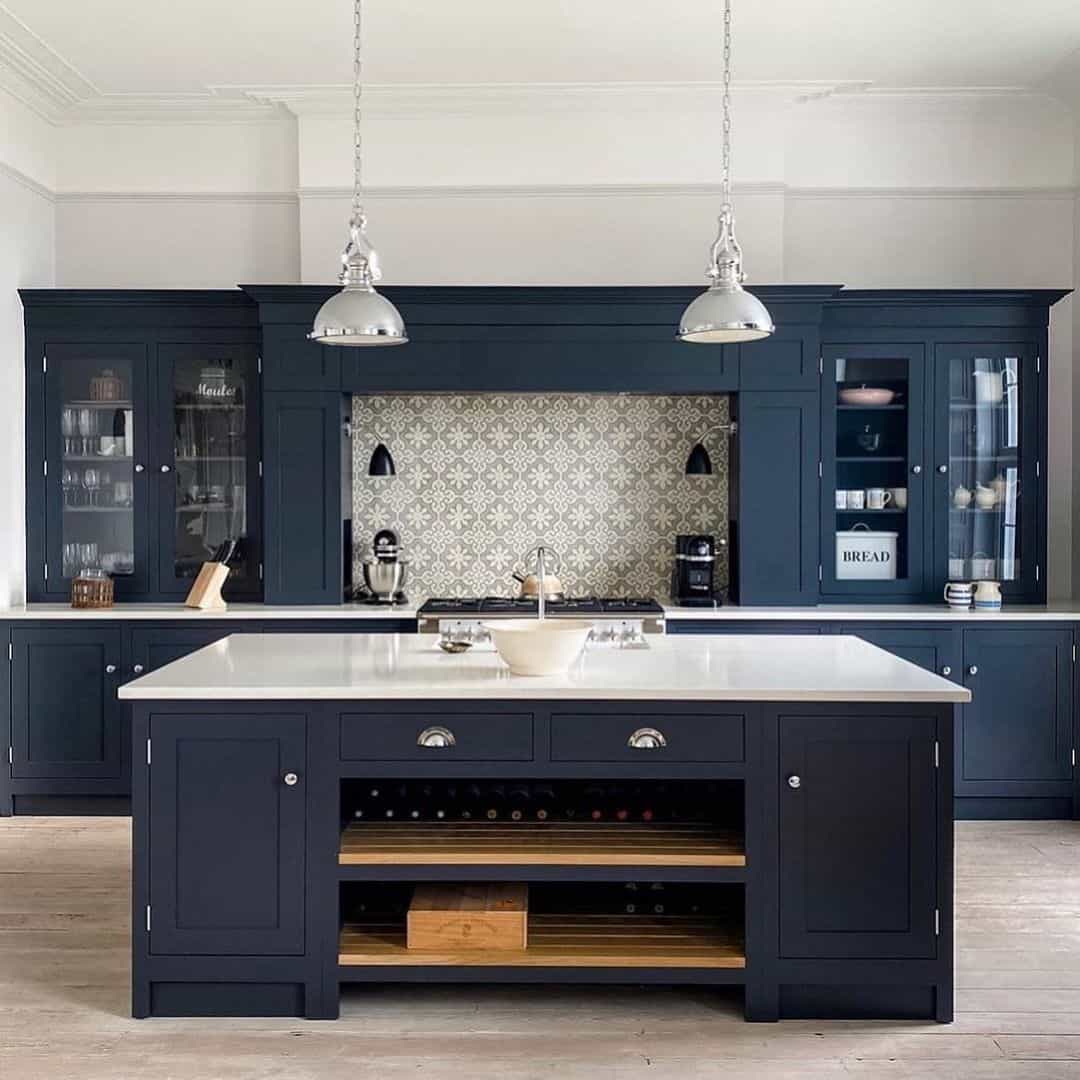 Credit: rocking_the_cotswolds
Shop the Look
A Backsplash That Chronicles Style
A stainless steel and glass range hood claims its place above a captivating gray and brown tile farmhouse backsplash, becoming the visual centerpiece of this kitchen. Positioned below the hood is a stainless gas range, seamlessly nestled between ivory cabinets and a countertop adorned in beige and black hues.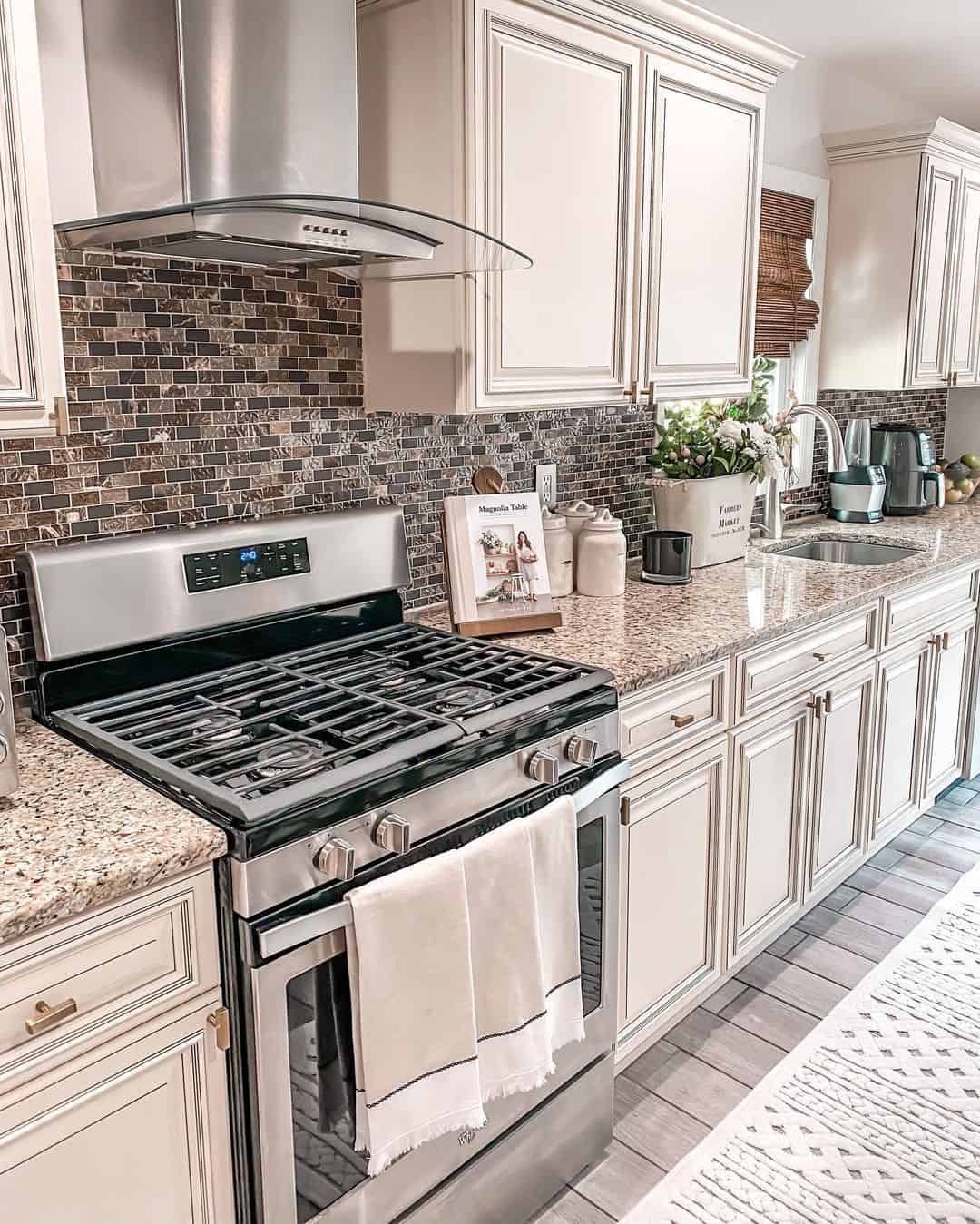 Credit: ourthankfulhome
Shop the Look
Innovative Mosaic Backsplash Creations
Dive into the world of creative design with these inventive backsplash ideas, meticulously crafted to enhance the allure of white cabinets and granite countertops through the medium of mosaic tile. A mosaic backsplash becomes a vivid canvas to infuse artistic brilliance into the world of white cabinets, and a neutral-colored mat graces gray tile flooring, offering the perfect finishing touch.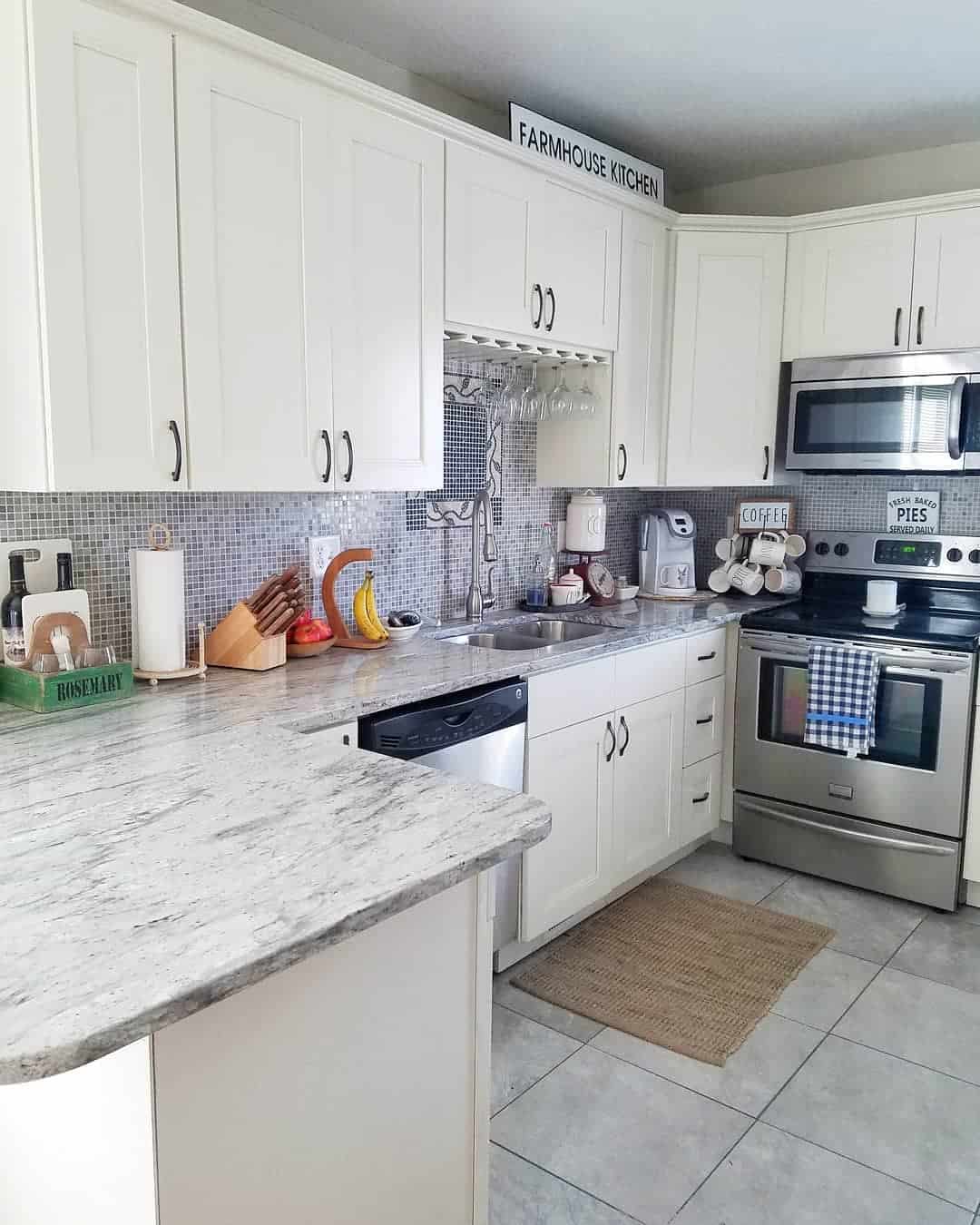 Credit: atypicalteele
Shop the Look
Winter Charm in a Stylish Kitchen
In this exquisitely designed kitchen, a captivating zigzag patterned backsplash takes center stage, artfully enhanced by the presence of fresh winter greenery gracing the carbon gray kitchen island. The modern limed ash stainless steel microwave introduces a subtle sheen that flawlessly complements the overall aesthetic.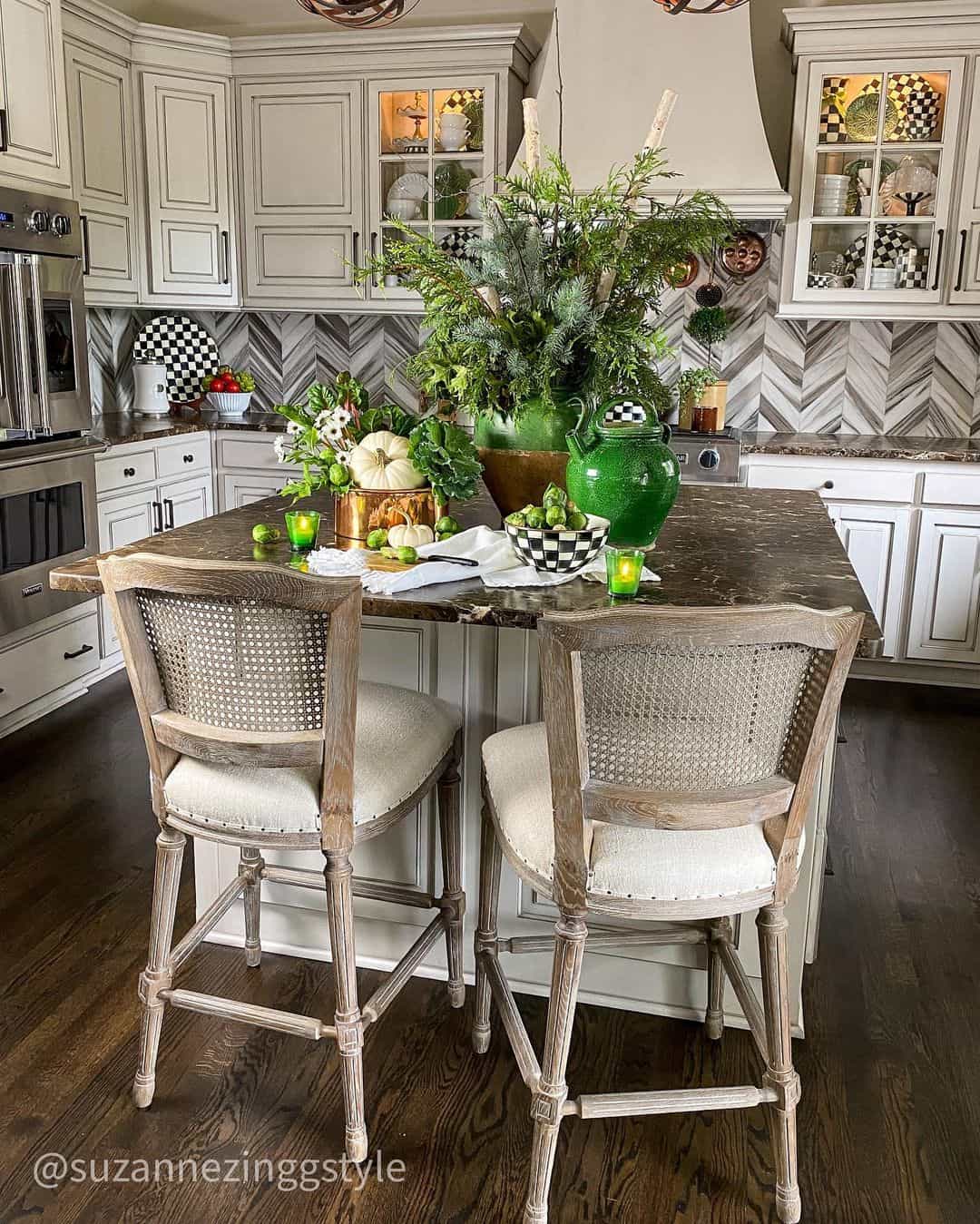 Credit: suzannezinggstyle
Shop the Look
Herringbone Patterned Backsplash
Infuse a burst of color into your kitchen and elevate its appeal! The herringbone patterned backsplash harmonizes perfectly with pristine white modern cabinets and a stunning golden farmhouse sink. As you cozy up near the window with a jar candle, you'll create a warm and inviting ambiance that's hard to resist.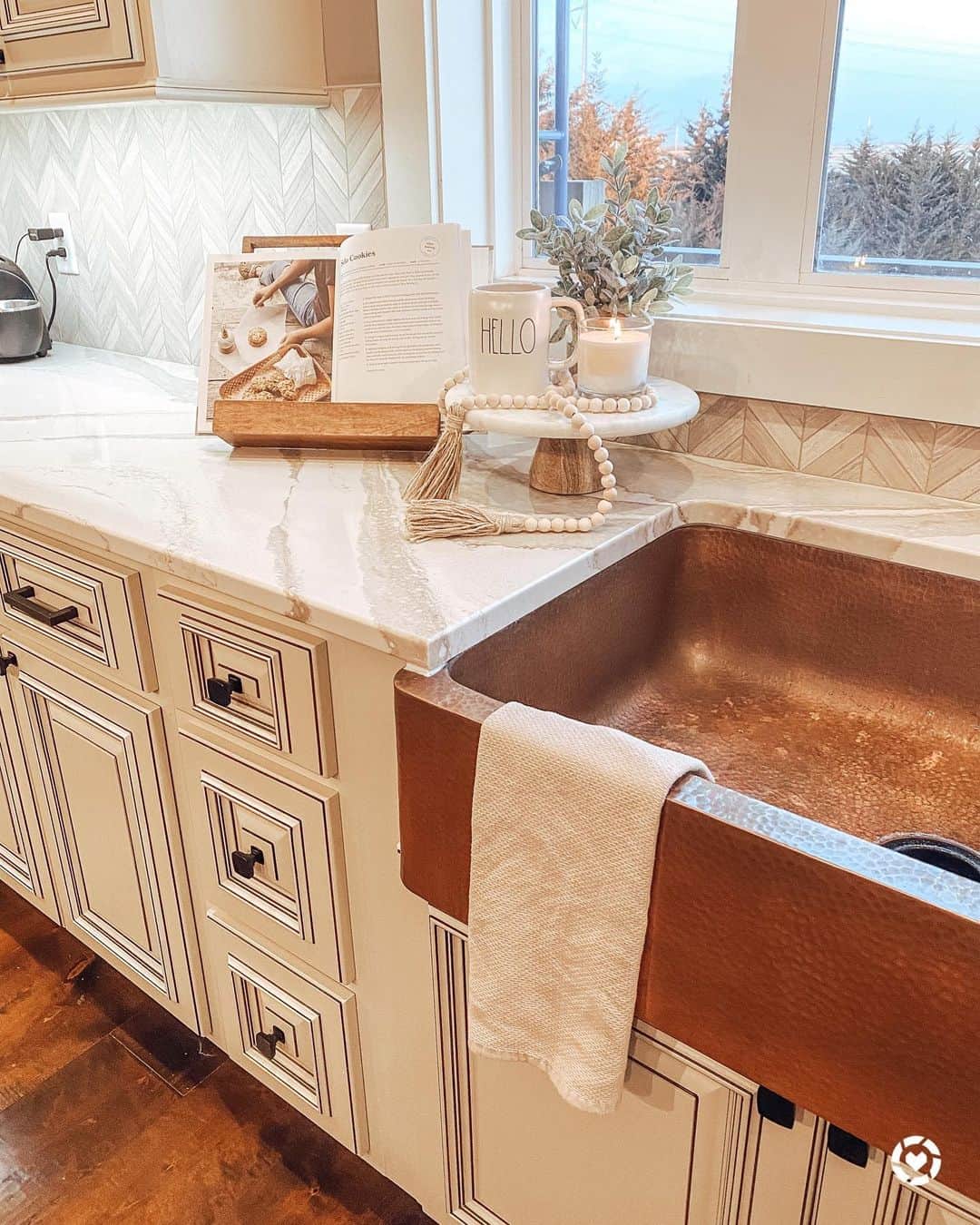 Credit: ourdeerfarmhouse
Shop the Look
Contemporary Elegance with a Cloud Blue Backsplash
Welcome to a modern kitchen that boldly stands out from the crowd. Its defining feature is the striking cloud blue backsplash, seamlessly paired with a round glass pendant light, pale aqua wall tiles, and a chic cadet blue cabinet. Completing the look is the sleek digital gas stove, making a contemporary statement.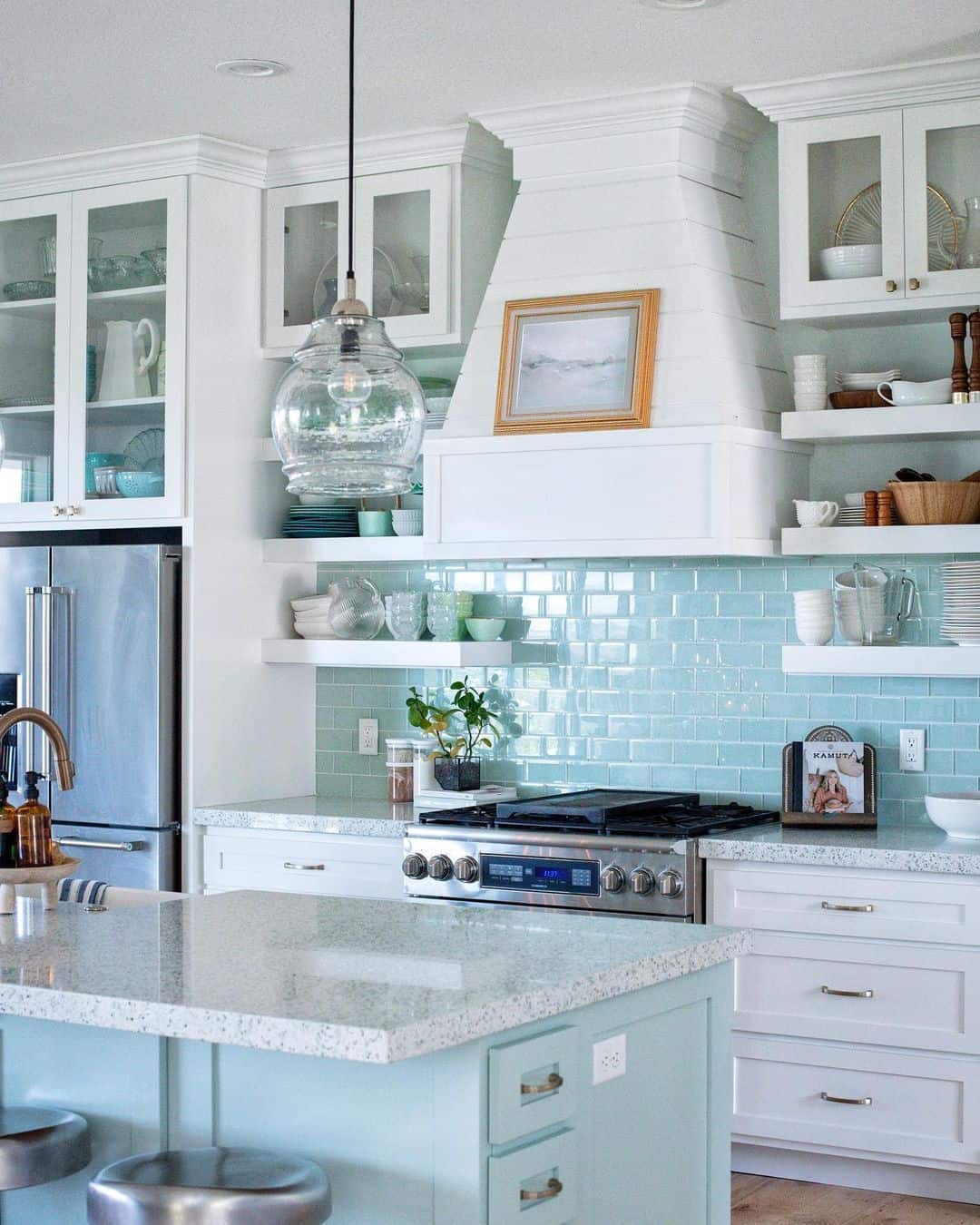 Credit: valleyviewabode
Shop the Look
Charming Kitchen Oasis with a Brown Gray Backsplash
Enter a kitchen teeming with vibrant charm, highlighted by a mesmerizing brown-gray tiled backsplash. Two ceramic vases grace the cabinets, each brimming with beautiful flowers, while a multicolored artificial wreath adds a playful touch to the modern farmhouse range hood.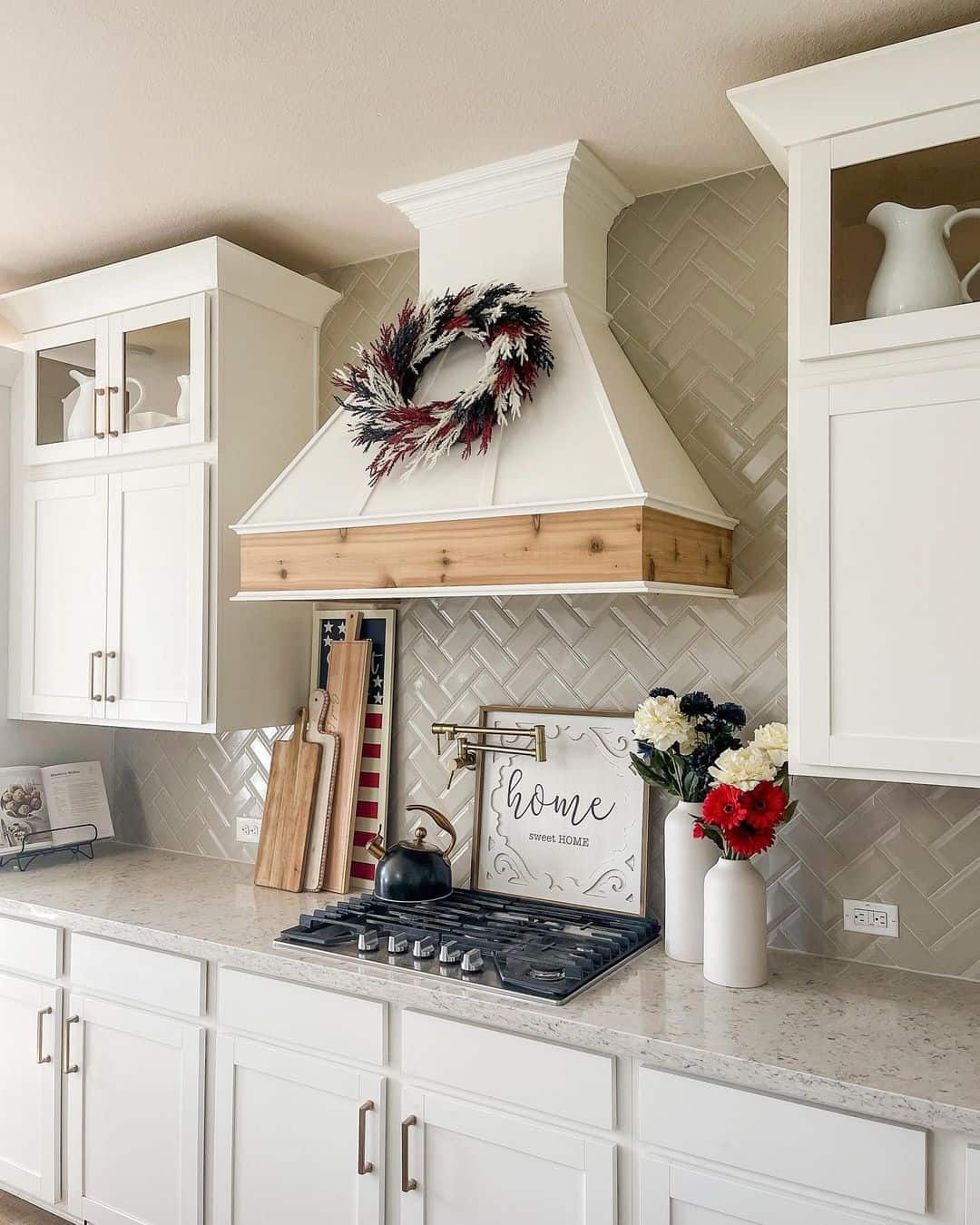 Credit: touchesofwood_lexi
Shop the Look
Wrap-up
Your farmhouse kitchen deserves a splash of color, and with these seven exciting ideas, you'll be able to turn your backsplash into a work of art. Whether you opt for bold, contrasting shades or subtle, complementary tones, your kitchen will never be the same. With the right pops of color, your farmhouse kitchen will become the heart of your home.