7+ Eye-Catching Farmhouse Kitchen Countertop Décor Ideas
Affiliate Disclosure: As an Amazon Associate we earn from qualifying purchases. Hence, if you click through and make a purchase, we will get a commission at no extra cost to you. For more info, read our full disclosure.
Elevate the heart of your home with the warm and inviting charm of farmhouse kitchen countertop decor. Whether you're a seasoned farmhouse enthusiast or simply looking to infuse some rustic allure into your kitchen, these seven eye-catching ideas are sure to inspire.
From rustic accents to fresh greenery, we've curated a collection of farmhouse-inspired countertop decor concepts that will transform your kitchen into a cozy and stylish haven.
A Stylish Gray Kitchen Island Enhanced by Gold Vase Decor
In this captivating kitchen, a chic light gray kitchen island takes center stage, crowned with a pristine white countertop and elegantly illuminated by pendant lights with a rose gold finish. The island's aesthetic is further enhanced with the addition of lush greenery, tastefully arranged in a gleaming gold vase.
Complementing this exquisite setup are wooden cross-back chairs, providing a delightful seating arrangement, all while facing the white kitchen cabinets adorned with a glazed staggered tile backsplash.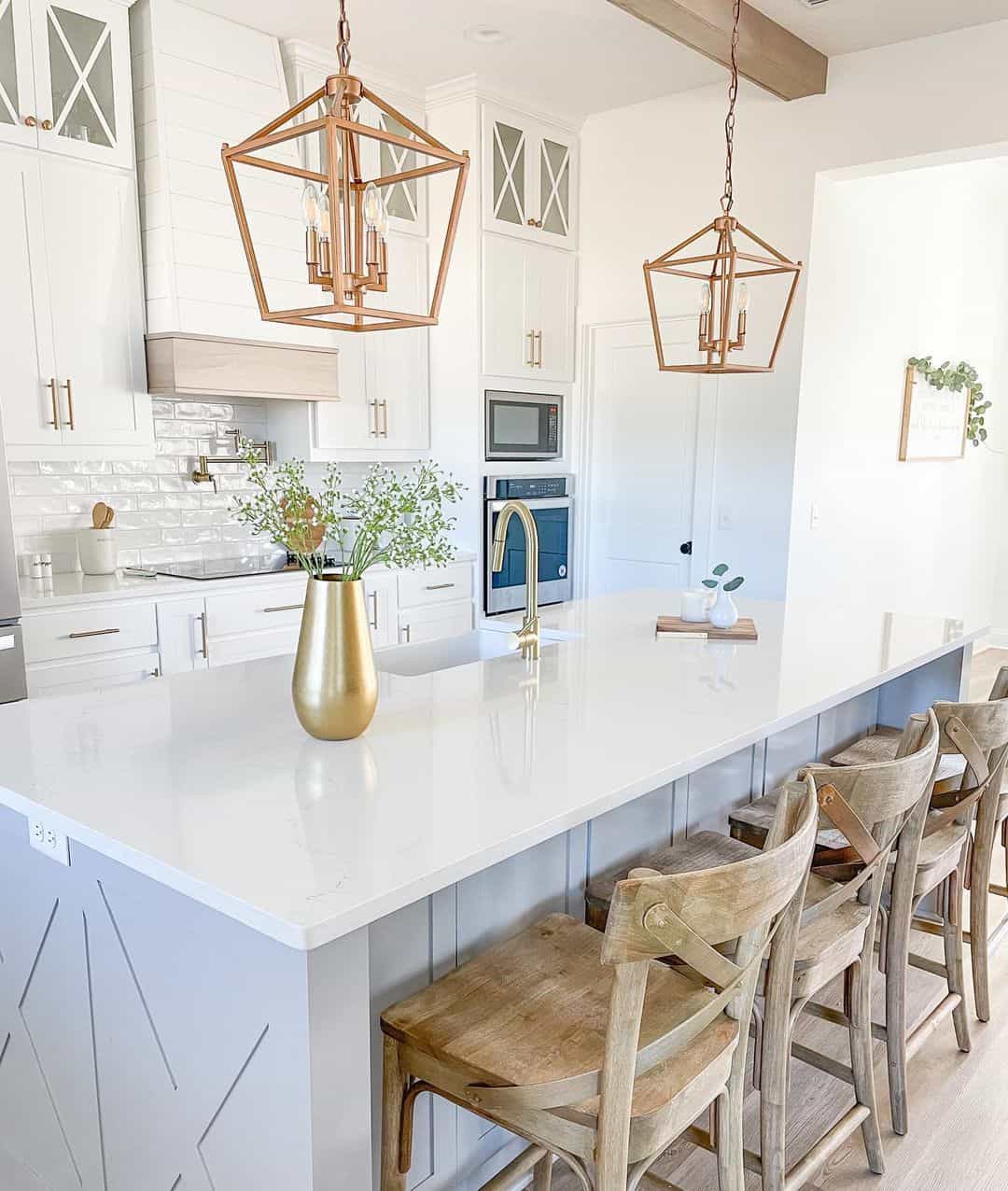 Credit: @styled_by_jadeleah
Shop the Look
Uncluttered Kitchen Countertop Adorned with Greenery and Wooden Elements
For those who appreciate a clutter-free kitchen environment, this design showcases an unassuming yet elegant countertop decor. It features a wooden tray and a wooden picture frame that perfectly complement white cabinets with a gray countertop and a pristine white subway tile backsplash. Adding a touch of nature, greenery arranged in wicker and white planters elevates the overall aesthetics of the kitchen.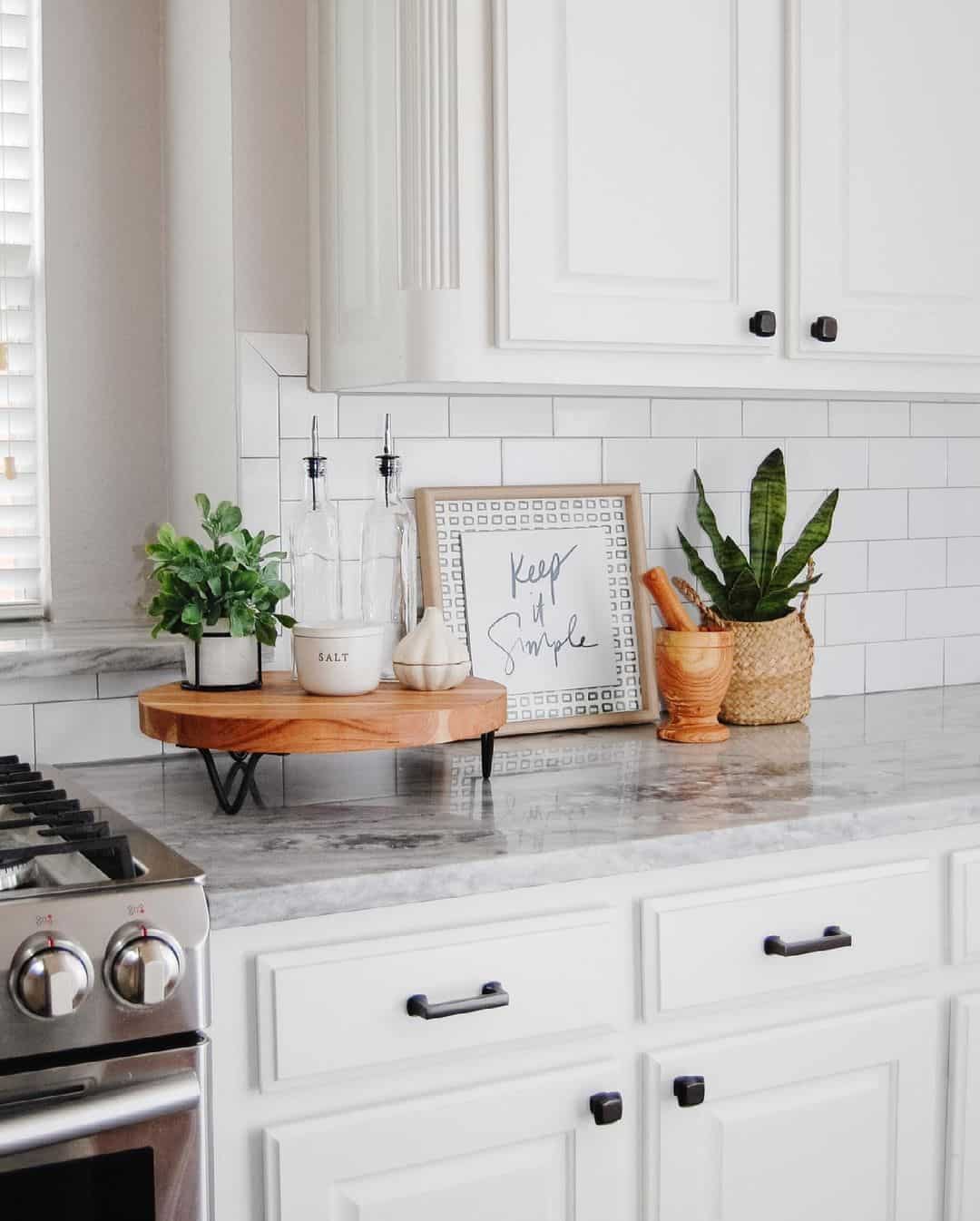 Credit: @stylewithwisdom2
Shop the Look
A Symphony of Colors and Textures
This enchanting kitchen presents a delightful white kitchen island with a butcher block countertop, exquisitely adorned with pink flowers displayed in a sophisticated gray vase. Positioned prominently in the kitchen, this island is a true showstopper.
It stands before a stained wood coffee bar, featuring a white three-tier tray and is further beautified with white and tan kitchen decor, artfully showcased on stained wood and black metal shelves mounted above the coffee bar.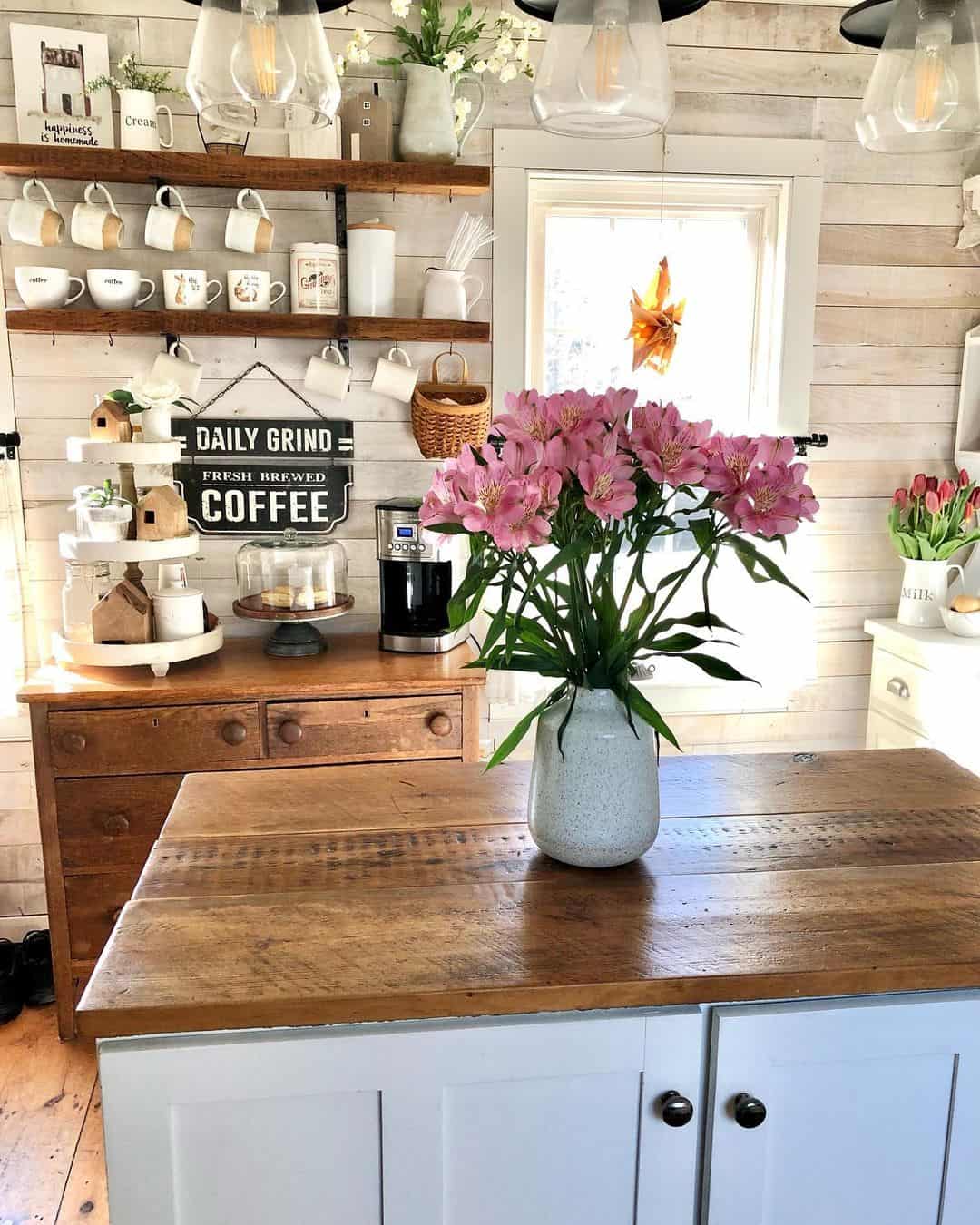 Credit: @thelongawaitedhome
Shop the Look
Farmhouse Elegance with Greenery in a Graceful Green Glass Vase
Step into a farmhouse-inspired kitchen that exudes timeless charm. The focal point of this kitchen is an off-white shaker cabinet island, elegantly complemented by a white marble countertop and accented with nickel hardware.
Gentle illumination comes from charming black lantern pendant lights that create an inviting ambiance. The scene is brought to life with a touch of freshness, as greenery in a green glass vase is thoughtfully placed next to a white butter dish atop a decorative wooden cutting board.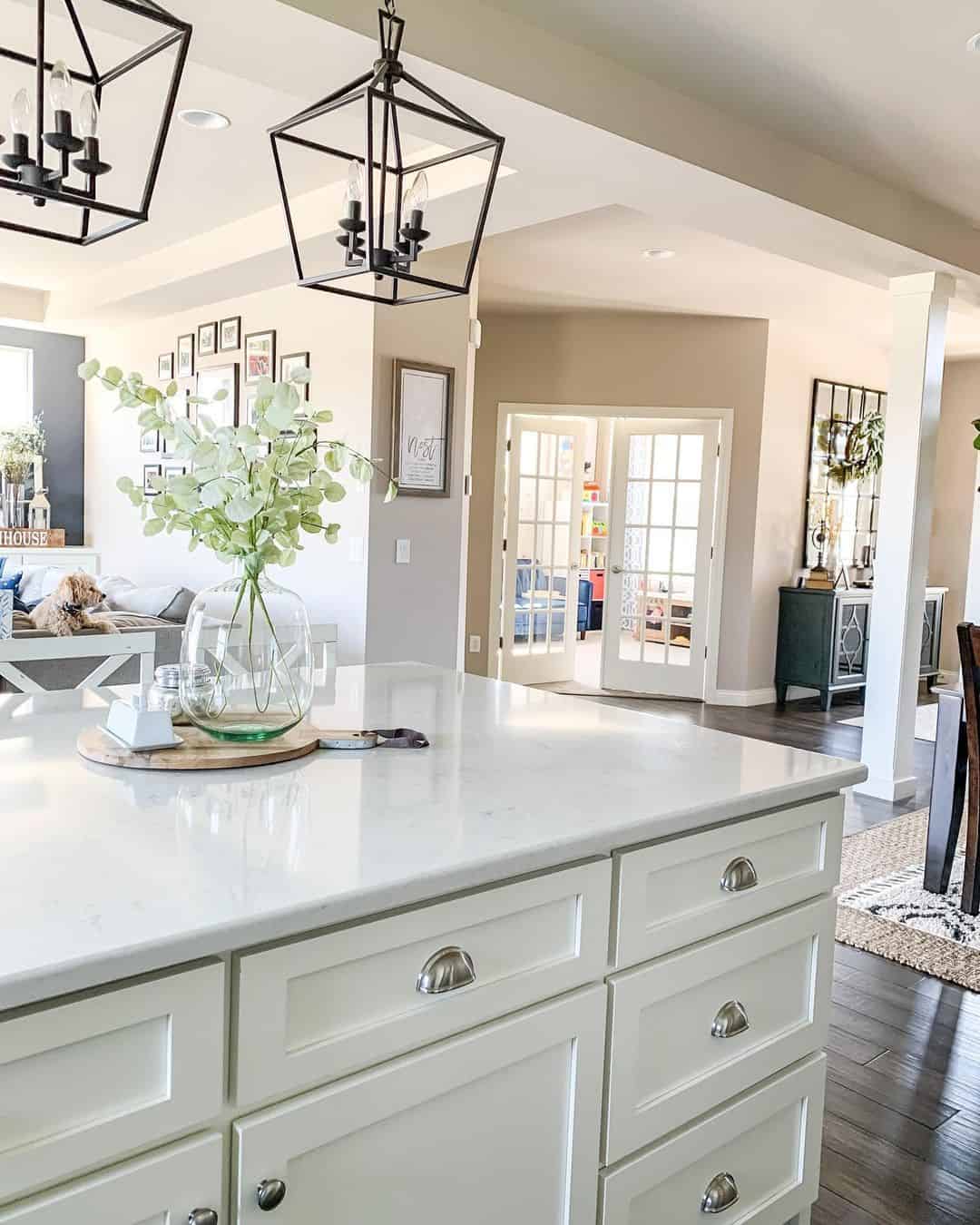 Credit: @the.westnest
Shop the Look
Grey and White Harmony
This modern kitchen emanates sophistication with its pristine white walls, white cabinets featuring sleek gold handles, and a captivating brown herringbone tile floor. A pristine white hood hovers gracefully over a ceramic stove set upon a grey and white stone counter, complemented by a matching grey and white backsplash, all in proximity to a stainless steel oven.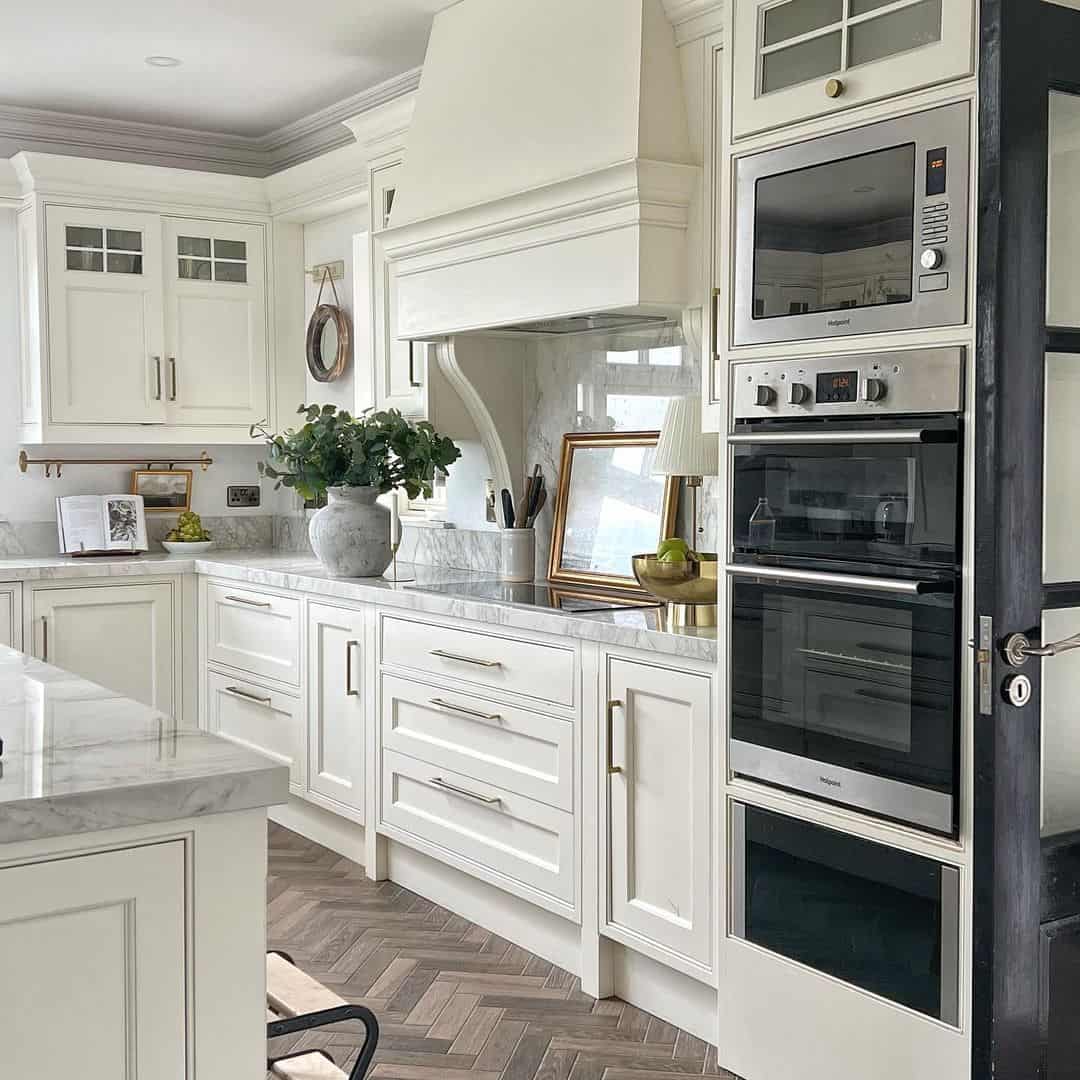 Credit: @lifeasmrsbuilder
Shop the Look
Beige Elegance with Gilded Accents
Experience the epitome of sophistication in this kitchen, where beige kitchen cabinets are elevated by the opulent touch of gilded hardware. They seamlessly meld with a pristine white countertop, forming a delightful union with a glazed white subway tile backsplash. To introduce a subtle contrast, a dark gray kitchen island takes its place, complete with a white double apron sink, perfectly harmonizing with the surrounding cabinets.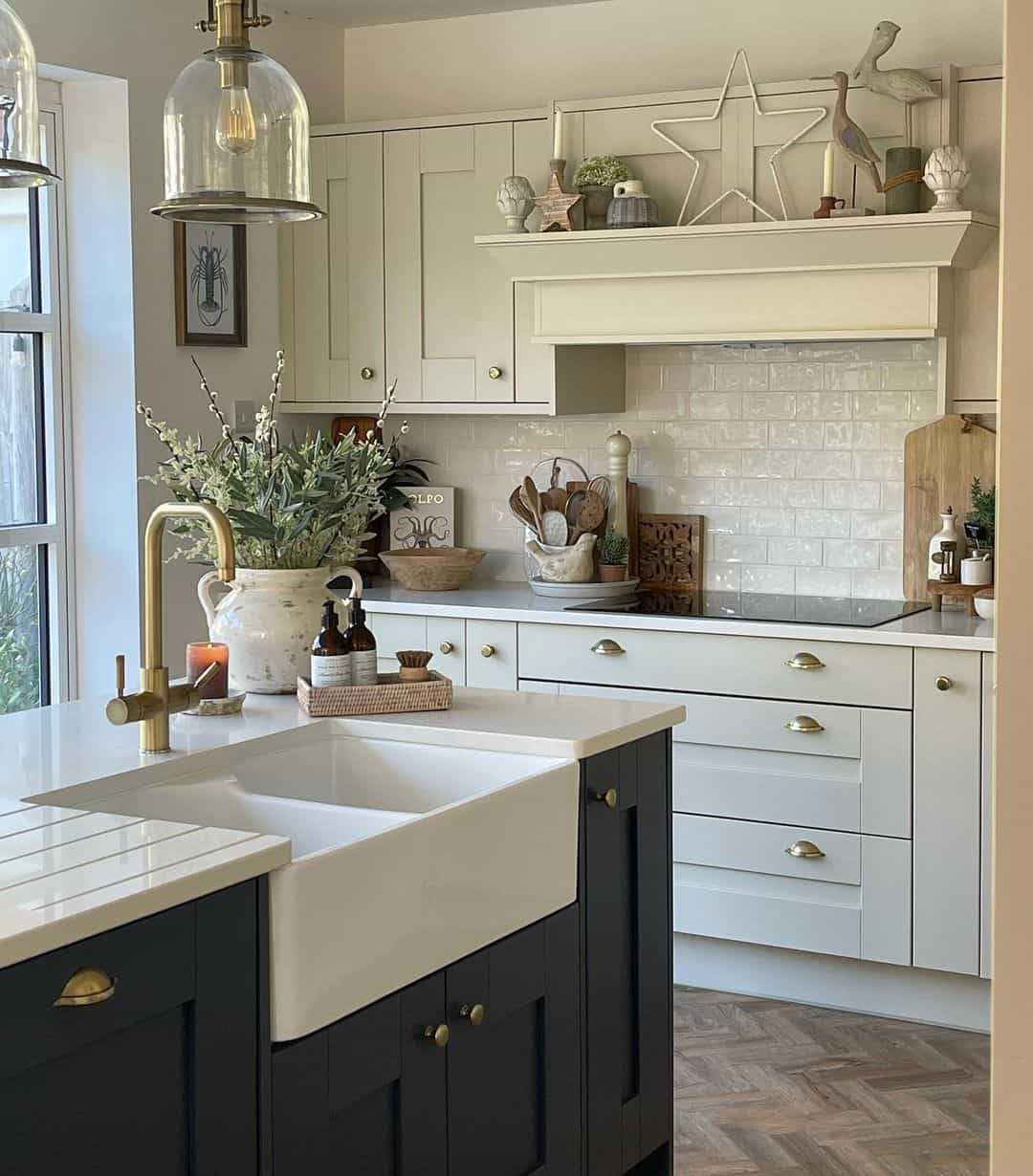 Credit: @featheringournest
Shop the Look
Adorning the Grey Kitchen Island
A splendid burst of color takes center stage in this kitchen, with a stunning purple plant displayed in an elegant gray vase, gracing a black kitchen island adorned with a gray countertop. The island stands prominently before white kitchen cabinets, complete with white appliances. Black, white, and tan kitchen countertop decor artfully decorates the scene, all set against a backdrop of a white herringbone tile backsplash.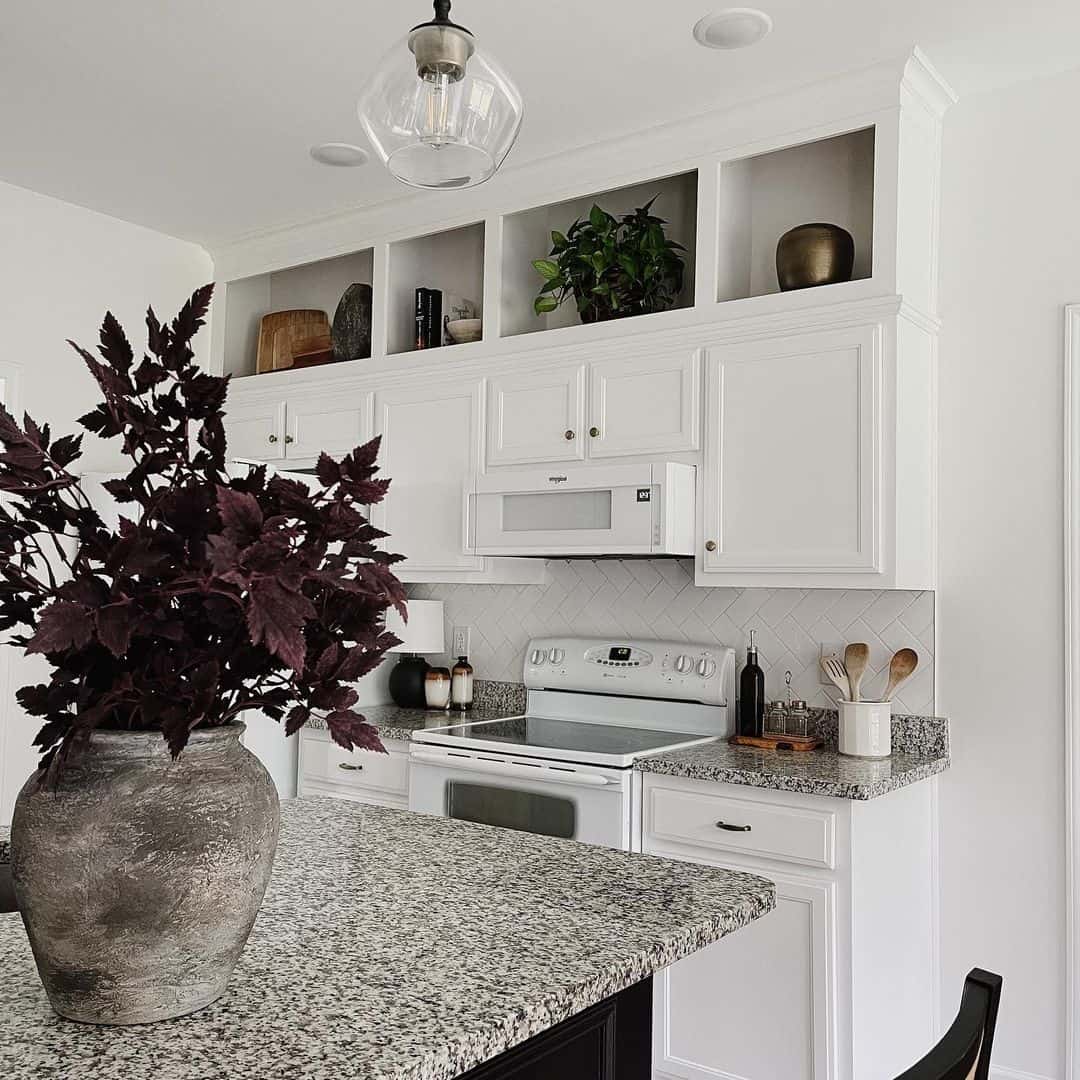 Credit: @shelleybateshome
Shop the Look
A Kitchen of Enduring Charm
Step into a kitchen that epitomizes timeless elegance, where the off-white cabinets shine with their brass hardware accents, harmonizing with the white and gray countertops. A captivating floral bouquet takes its place as the pièce de résistance, gracefully showcased in a blue glass vase, strategically positioned on the countertop alongside a vintage gold sink faucet. The scene comes alive as enchanting gold and white light fixtures cast a soft and alluring glow over the countertops.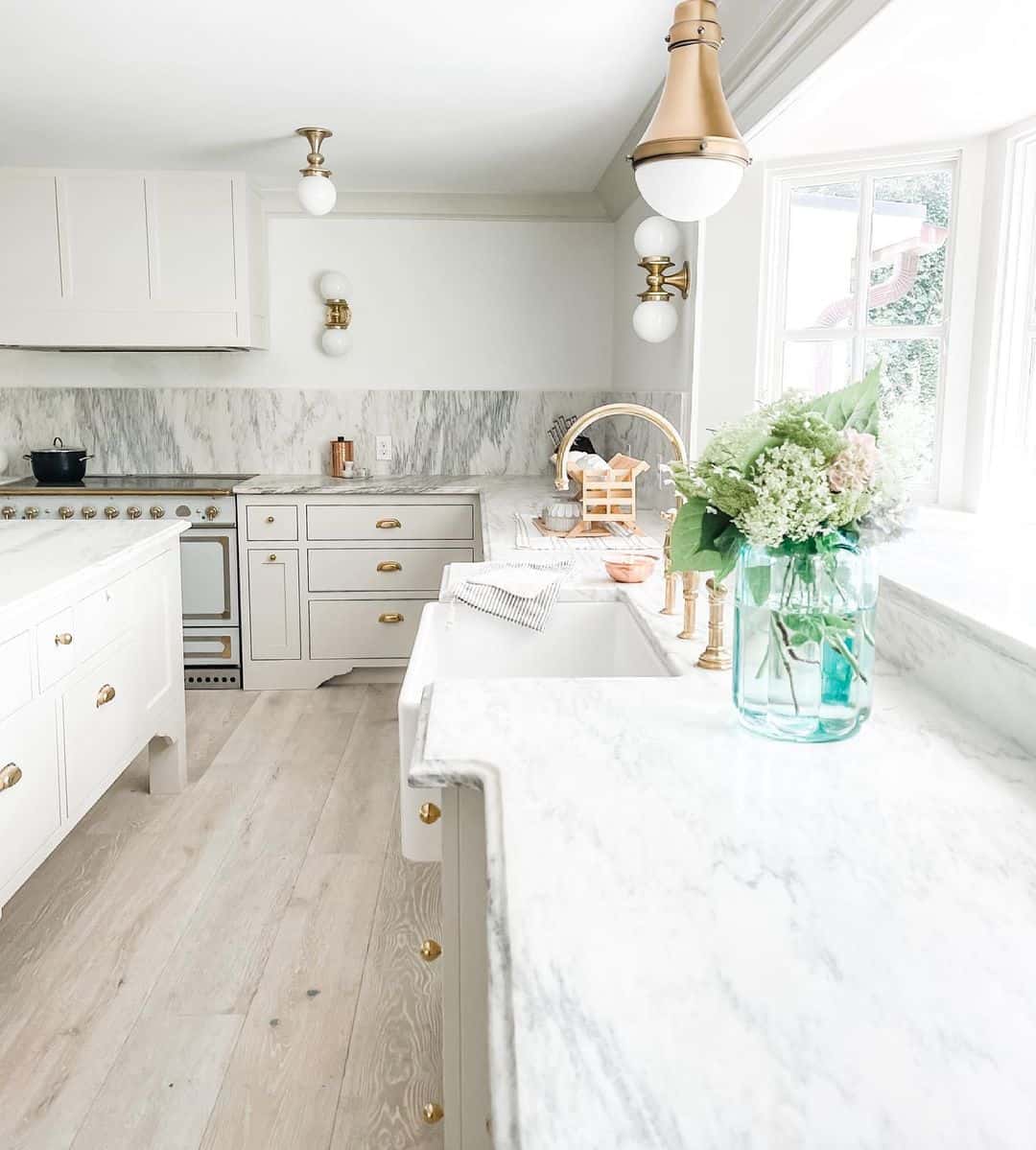 Credit: @thestonehouseroad
Shop the Look
Wrap-up
As we wrap up our exploration of these eye-catching farmhouse kitchen countertop decor ideas, it's clear that a touch of rustic charm can bring new life to your culinary space. The warmth, simplicity, and authenticity of farmhouse decor add a unique character to any kitchen, making it a place where functionality meets style.
So, whether you opt for mason jar accents, wooden elements, or vibrant greenery, each idea is a testament to the enduring appeal of the farmhouse aesthetic. Embrace the spirit of the countryside, and watch as your kitchen transforms into a welcoming haven for family and friends.