7+ Navy Island Ideas for a Farmhouse Kitchen Update
Affiliate Disclosure: As an Amazon Associate we earn from qualifying purchases. Hence, if you click through and make a purchase, we will get a commission at no extra cost to you. For more info, read our full disclosure.
Embark on a journey of farmhouse kitchen transformation with these seven inspiring navy island ideas. Elevate your culinary space, infusing it with timeless charm and modern flair. From subtle accents to bold statements, discover how the incorporation of a navy island can breathe new life into your kitchen, creating a space that effortlessly balances warmth and sophistication.
A Dark-Navy Island and Modern Gray Chairs
Embark on a journey through this contemporary kitchen, where sophistication meets style. The dark navy island, accompanied by modern gray chairs adorned with exquisite gold finishes, sets the tone. Atop the lightly-marbled white countertop sits an artful vase of flowers, bathed in the gentle glow of glass pendant lighting.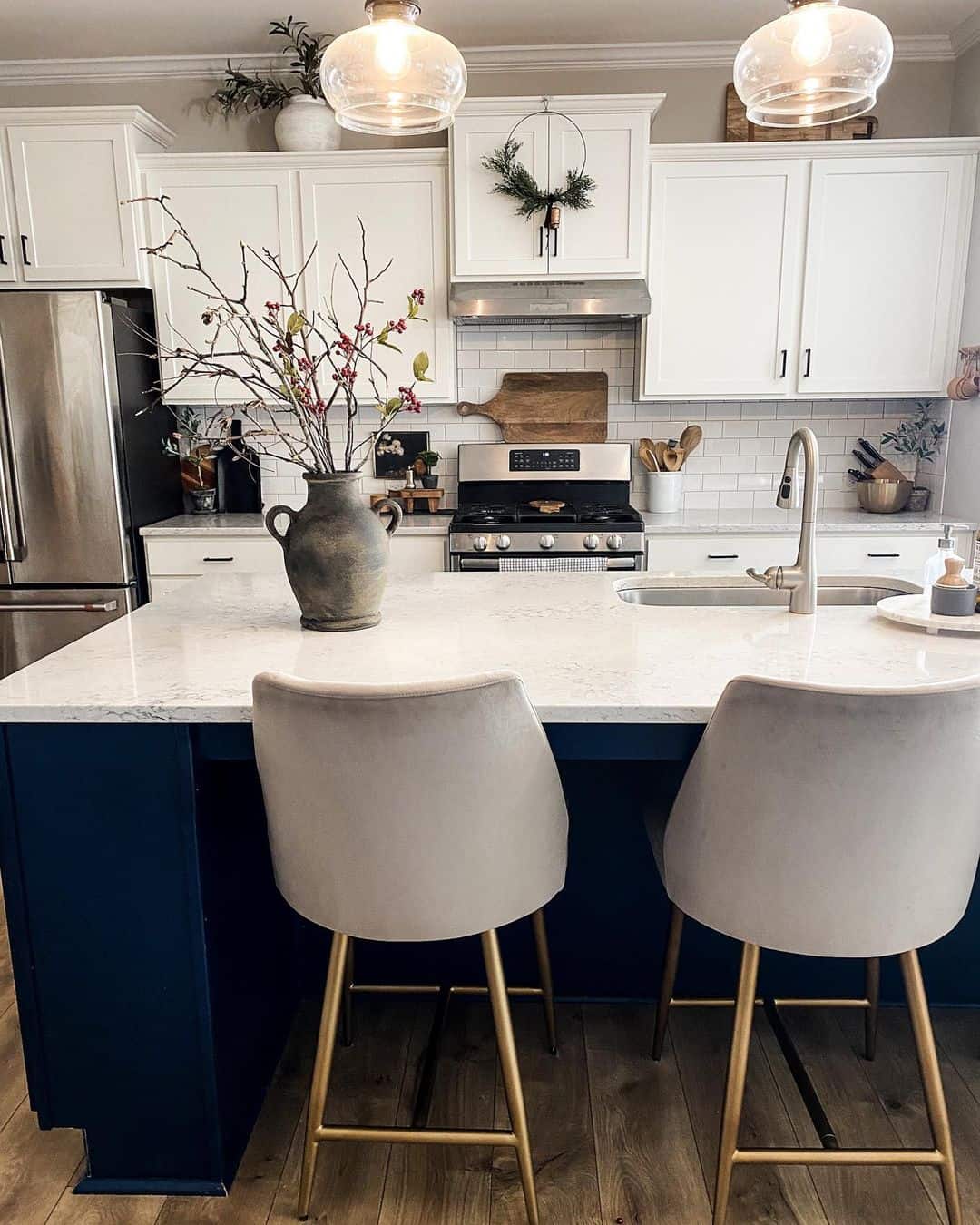 Credit: house_of_7feathers
Shop the Look
Navy Island with Farmhouse Flair
Immerse yourself in the allure of this kitchen, featuring a navy island paired seamlessly with white farmhouse-inspired chairs. The white countertop plays host to a woven basket of fresh fruits and plants, while white kitchen cabinets proudly display garden wreaths, infusing the space with a burst of color.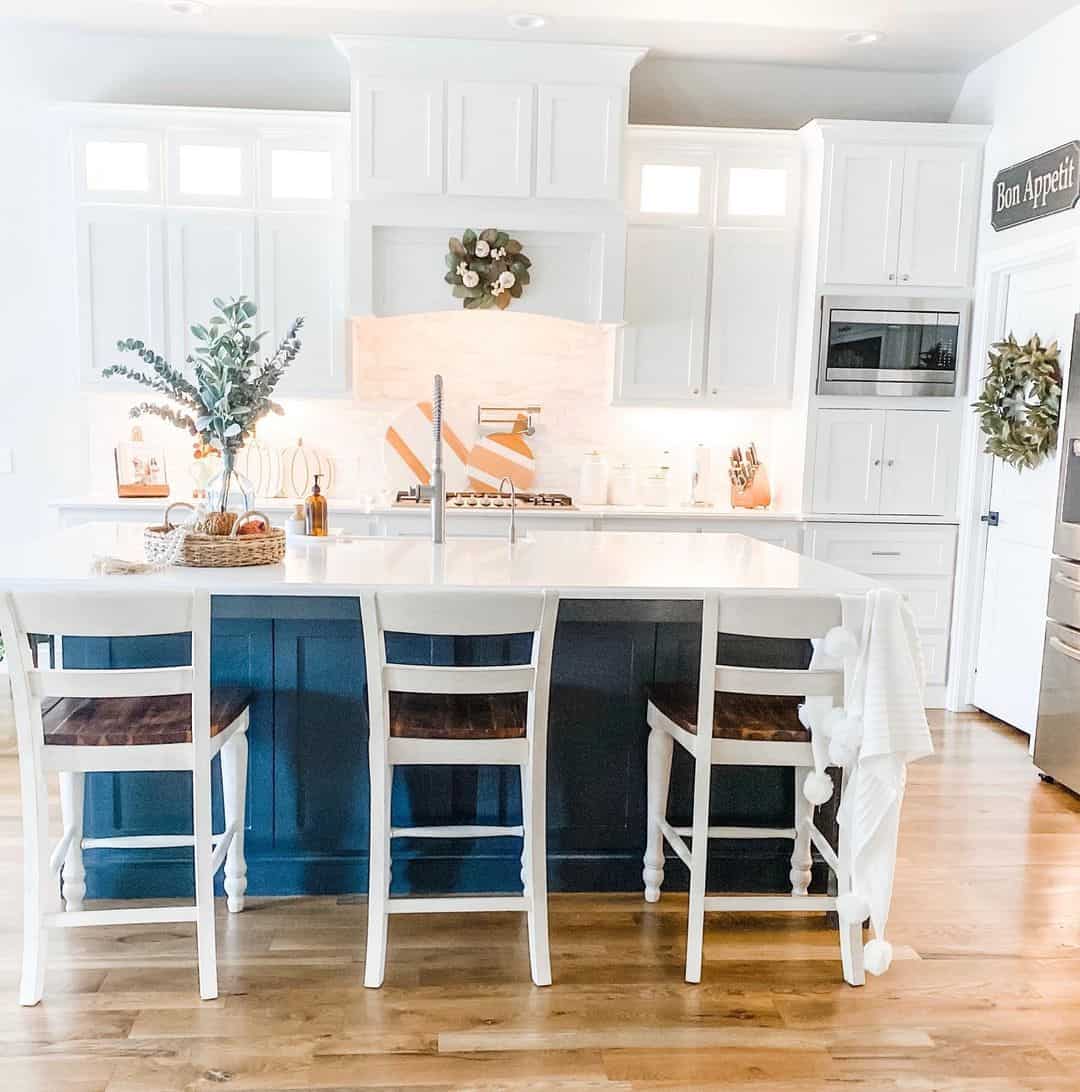 Credit: blessed.in.light
Shop the Look
White Kitchen, Blue Island
Step into a luminous white farmhouse kitchen adorned with a stormy blue island and bleached wood bar chairs. A grand stone floral vase takes center stage on the pristine white quartz counter, complemented by the soft glow of three bamboo pendant lights. The adjacent neutral living space boasts rustic elements, including a wood coffee table and a dusty blue pendant light.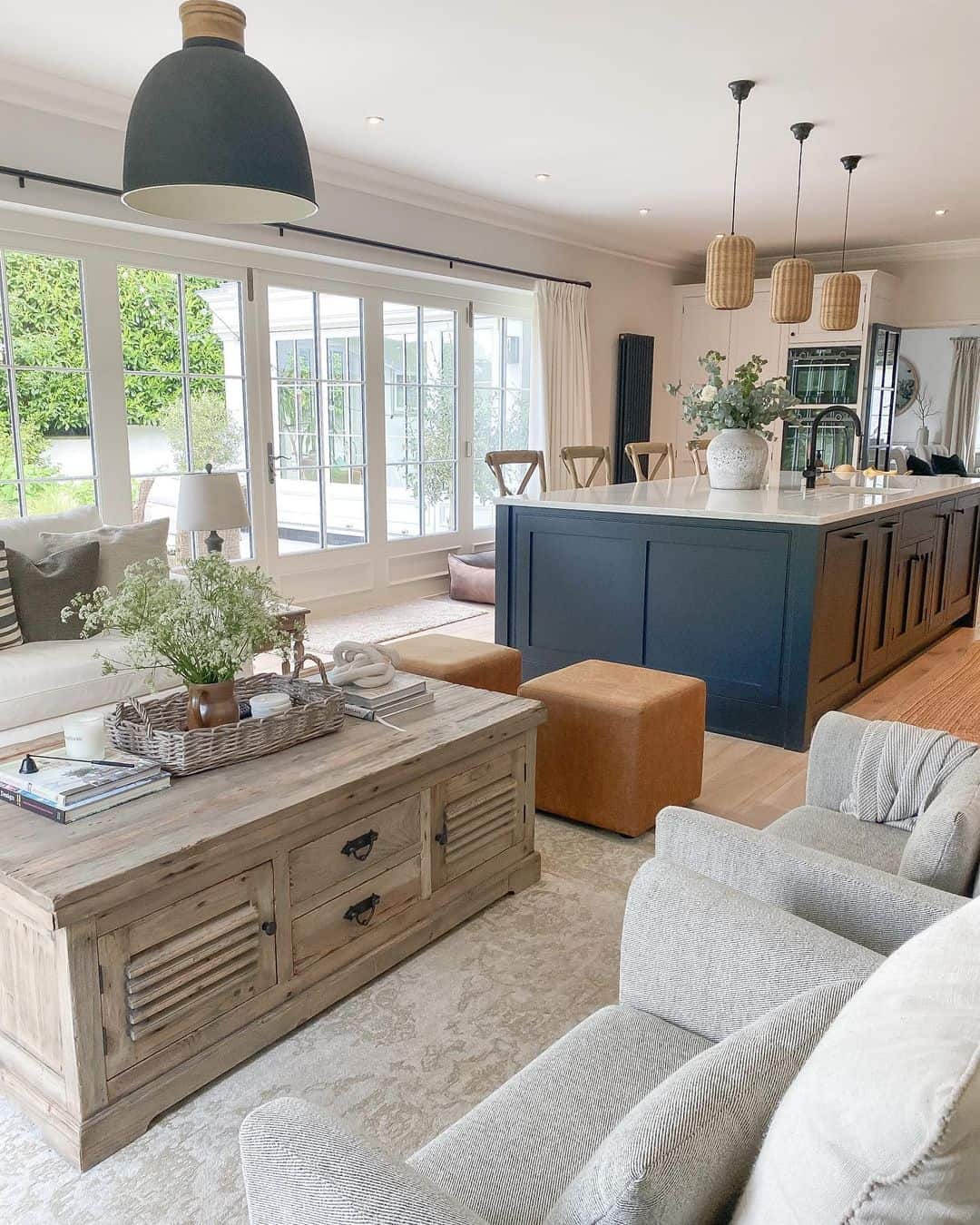 Credit: wellswoodhomes
Shop the Look
Navy Island and Herringbone Tile Flooring
Timeless vintage glass pendant lighting casts an elegant glow over this open kitchen, where the spotlight is claimed by a navy blue island with a pristine white countertop and accompanying wooden stools. The fluid transition of the kitchen seamlessly extends into a dining area, with both spaces harmonized by the enduring charm of a herringbone tile floor.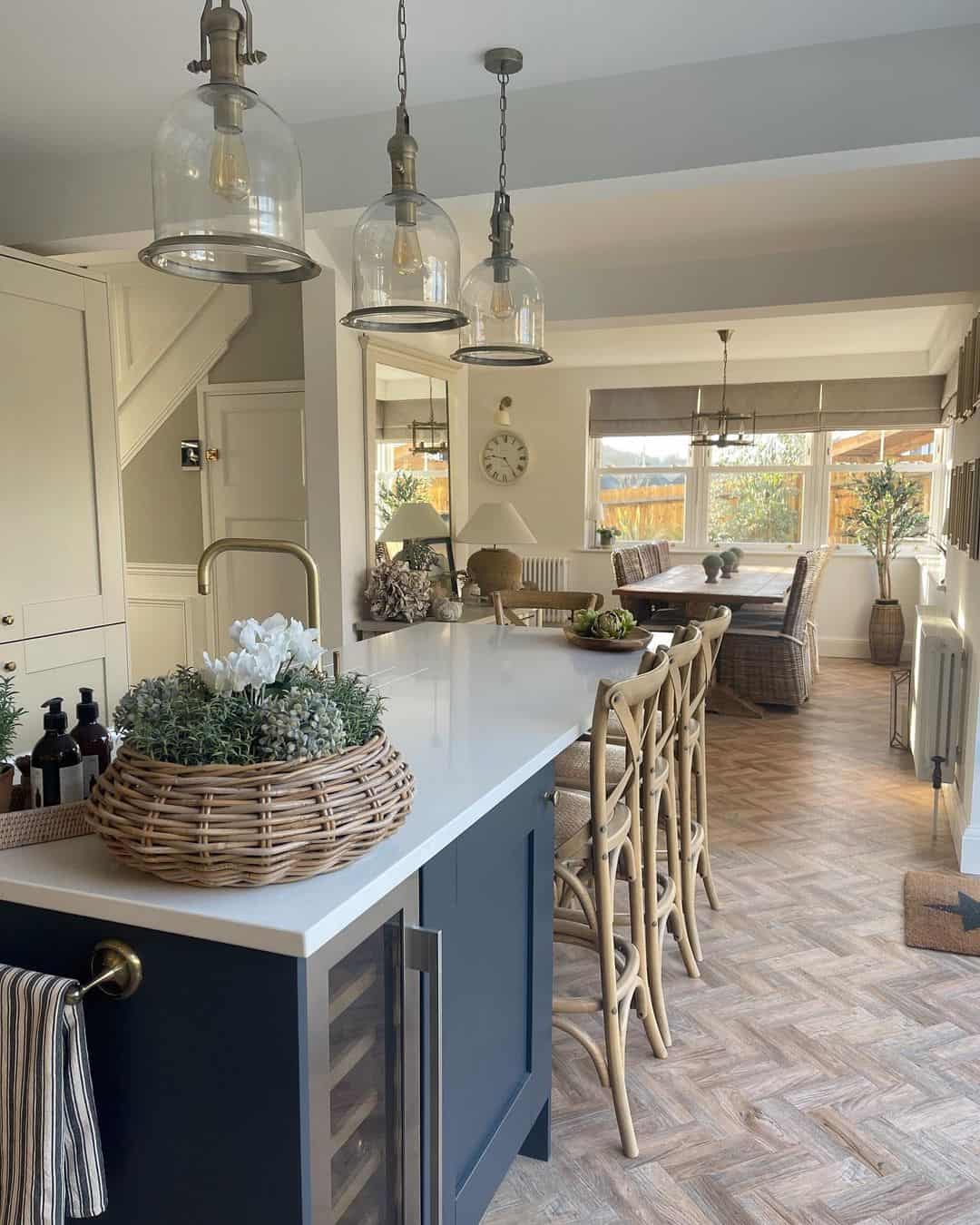 Credit: featheringournest
Shop the Look
Navy Island Centerpiece
Pendant lighting with silver accents envelops this kitchen in a welcoming glow, highlighting a navy island table adorned with a pristine white countertop and accompanied by wooden stools. Set against a subway tile backsplash, the white cabinets and kitchen hood establish a timeless backdrop, while lively garlands introduce playful pops of color.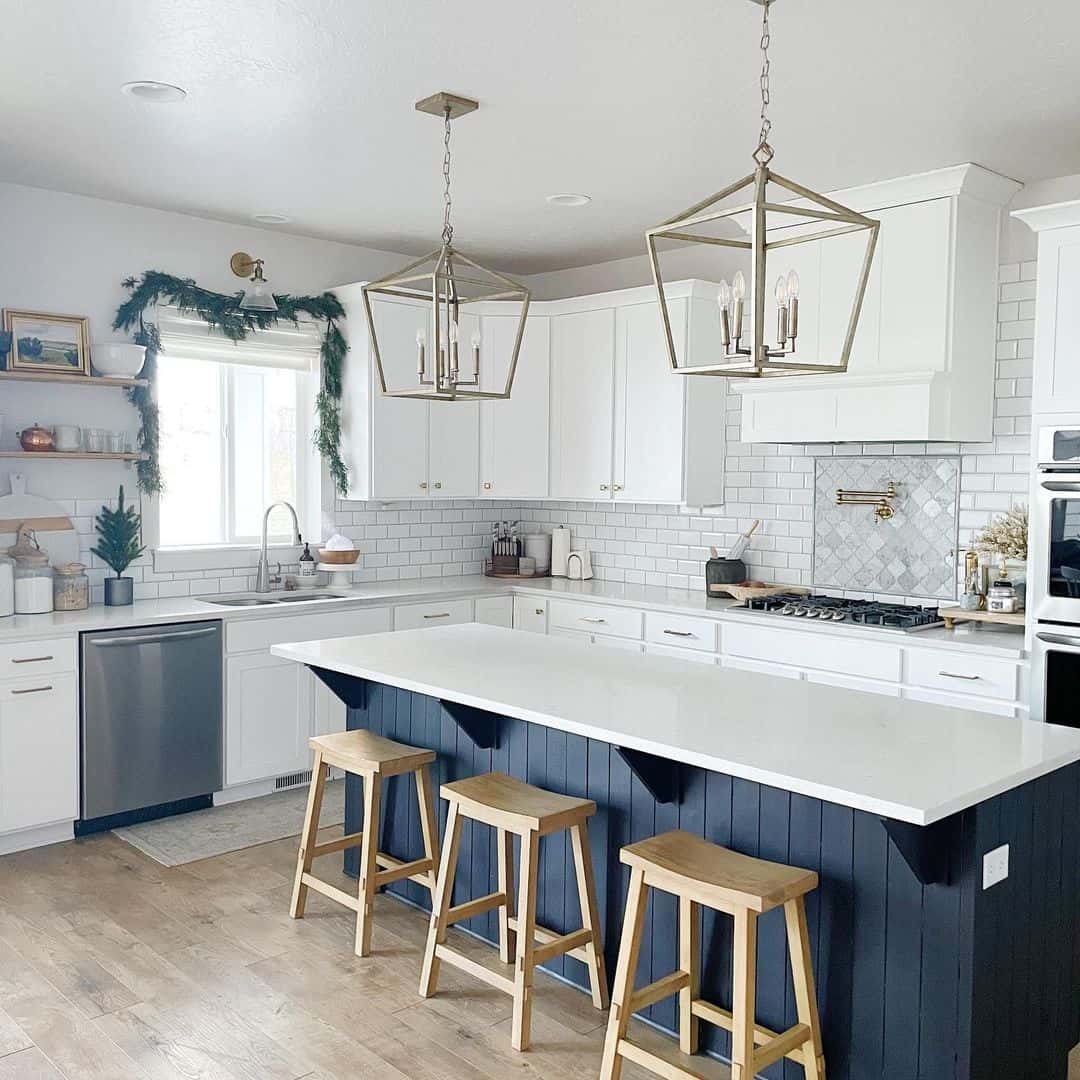 Credit: ourmountainsidehome1
Shop the Look
Open-concept Kitchen with Navy Island and Cozy Dining Area
Immerse yourself in the spaciousness of an open-concept kitchen adorned with a commanding navy island, chic bar stools, and pendant lighting. The connected dining area boasts a wooden dining table, complemented by black farmhouse-inspired chairs and elegant chandeliers, all grounded by a monochromatic checkered rug.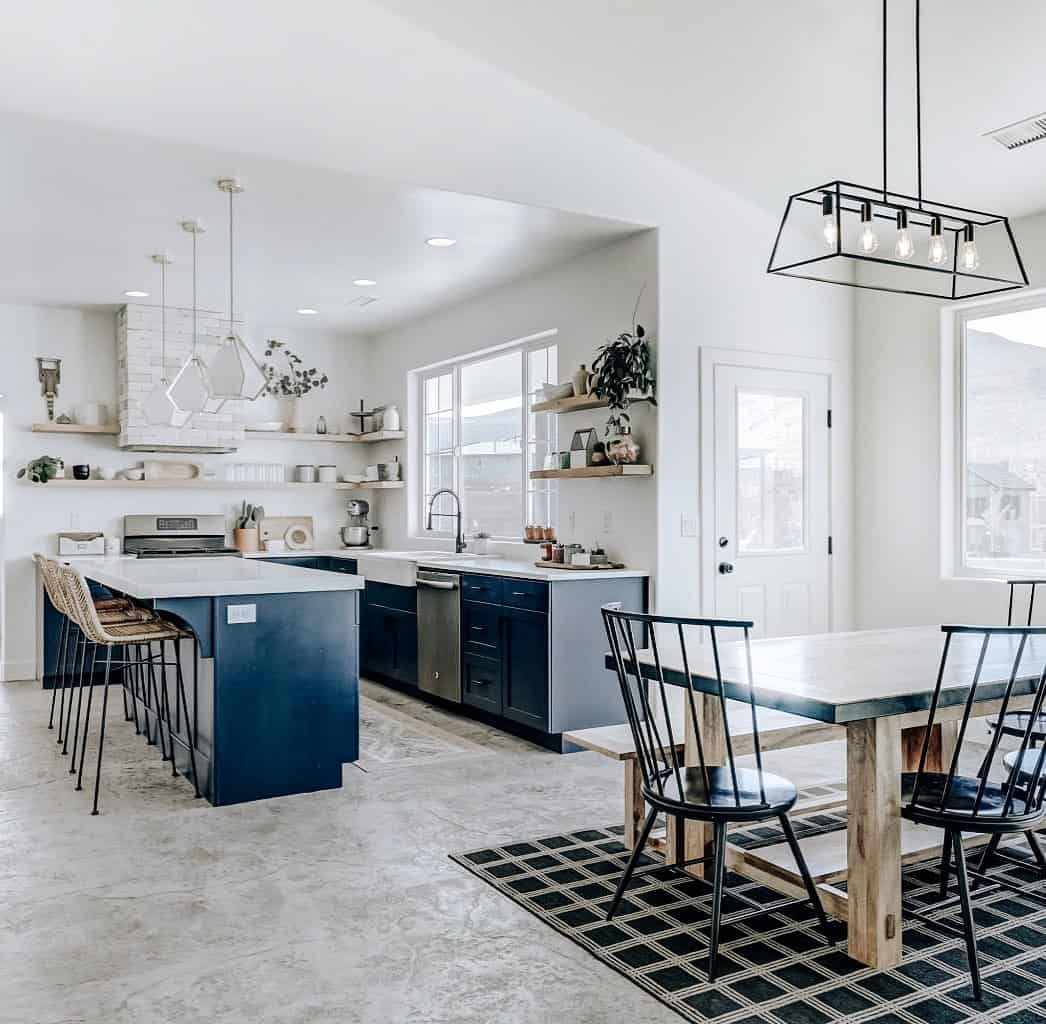 Credit: moderndesertliving
Shop the Look
Navy Island with White, Rattan, and Chic Accents
Step into a kitchen seamlessly fusing cutting-edge style, featuring a captivating navy island paired with a flawless white countertop. Complementing this stylish ensemble are basketweave bar stools that harmonize with delightful rattan pendant lighting. The infusion of clean-white and wooden details enhances the overall aesthetic appeal, creating a space that exudes modern sophistication.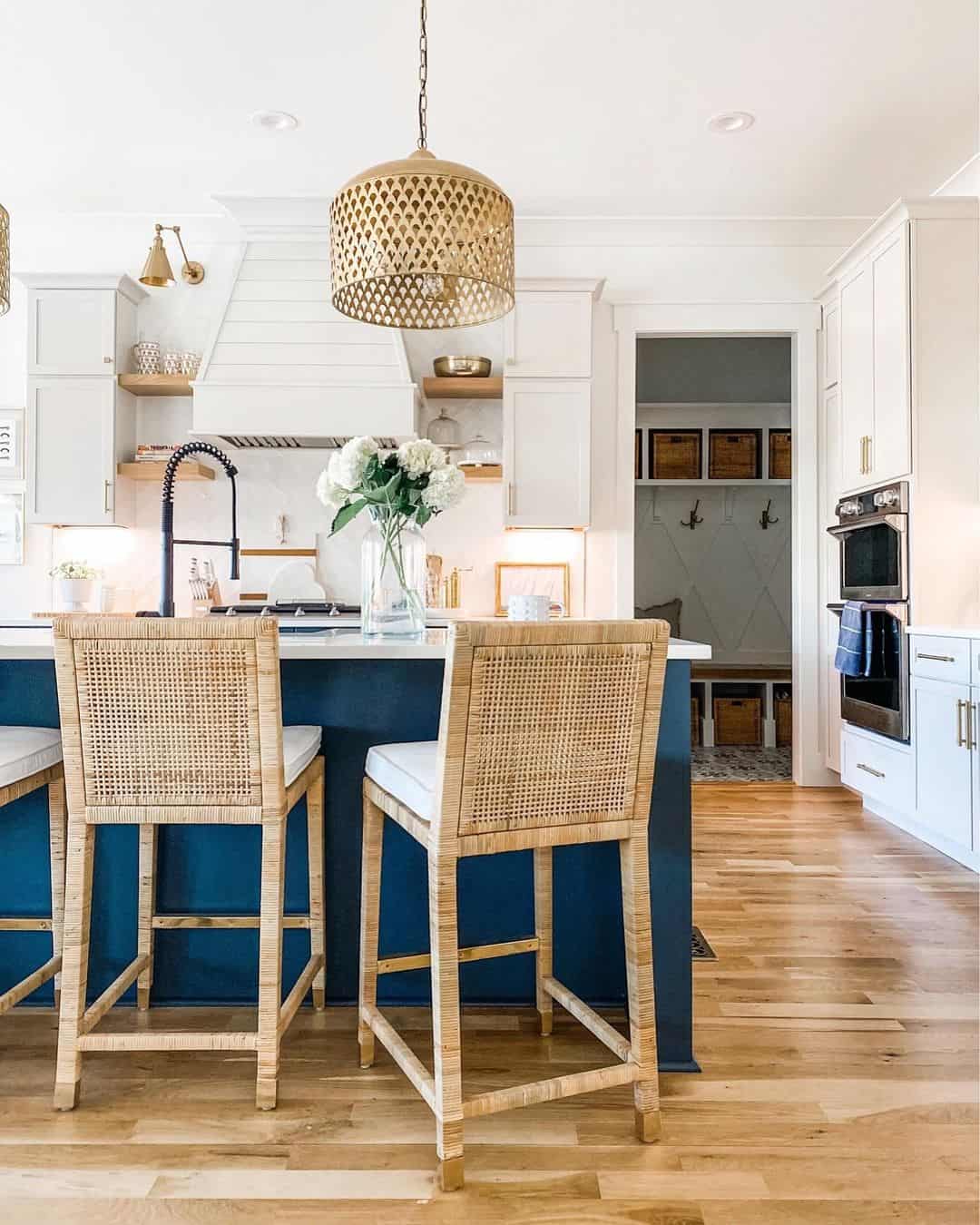 Credit: kasiaizabella
Shop the Look
Navy-Blue Island Delight
Indulge in the warmth of this fall-inspired kitchen, boasting a navy-blue island table adorned with a luxurious marbled countertop. Fall leaves, flickering candles, and lively pumpkins create a cozy ambiance, complemented by the rustic glow of pendant lighting. The seamless open concept gracefully connects the kitchen with the inviting dining room and living area.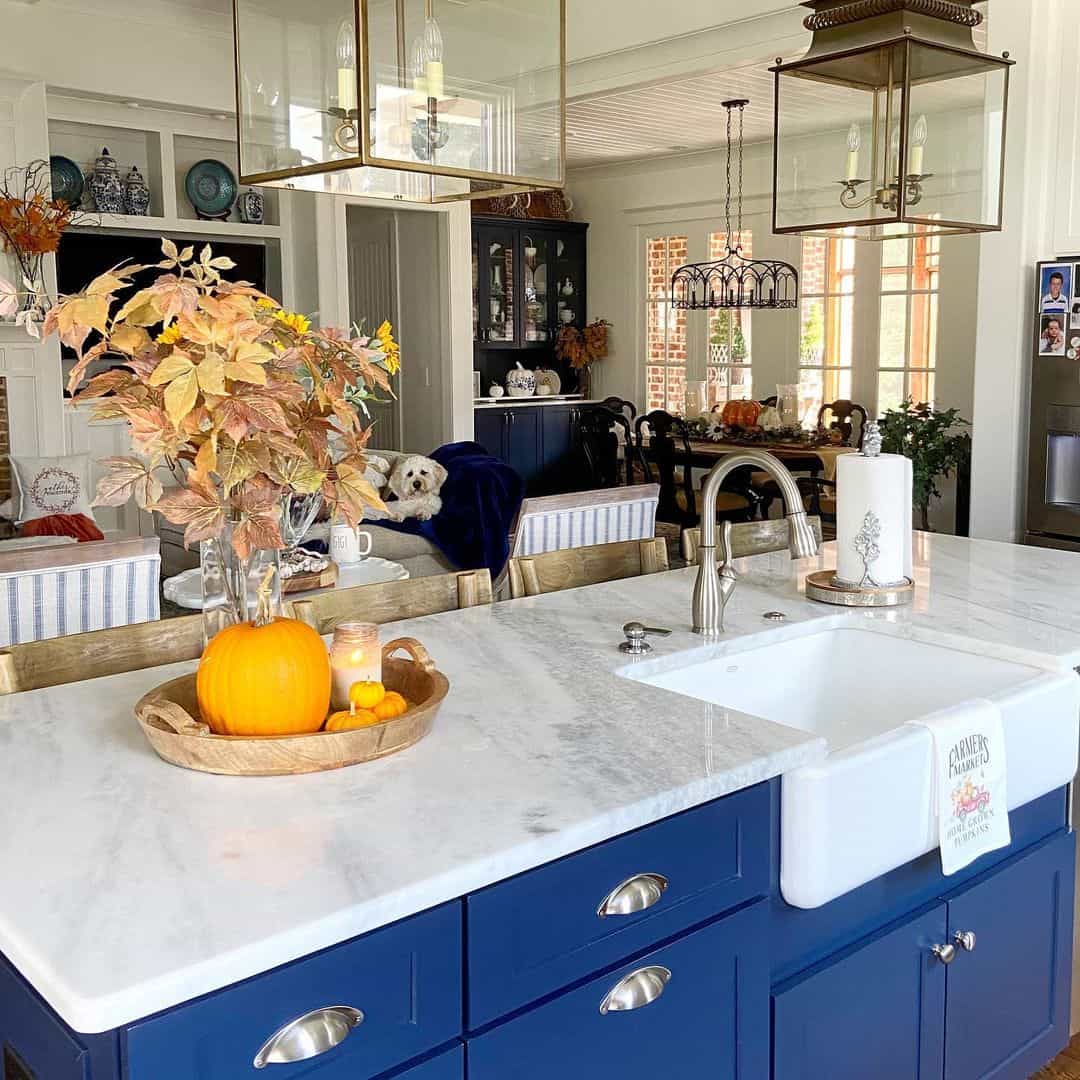 Credit: magnolialanecottage
Shop the Look
Wrap-up
As we wrap up this exploration of navy island ideas for a farmhouse kitchen update, we hope you've found inspiration to infuse your culinary haven with a touch of coastal elegance. From classic designs to contemporary twists, the versatility of navy islands offers endless possibilities. Now, armed with creative insights, embark on your farmhouse kitchen makeover and watch as your space transforms into a stylish and inviting hub for family and friends.