7+ Stunning Wooden Door Ideas to Welcome You into Your Farmhouse Home
Affiliate Disclosure: As an Amazon Associate we earn from qualifying purchases. Hence, if you click through and make a purchase, we will get a commission at no extra cost to you. For more info, read our full disclosure.
Discover the timeless allure of wooden doors that perfectly complement the rustic charm of your farmhouse retreat. Whether it's the inviting warmth they exude or the seamless blend of traditional aesthetics with modern design, these stunning wooden door ideas are here to redefine the entrance to your farmhouse haven.
Let's embark on a journey through 7+ captivating ways to welcome you into your farmhouse home with style and sophistication.
Welcoming Cottage Aesthetics: Wooden Door Charm
Exuding an atmosphere of coziness and hospitality, these double French doors encapsulate the essence of a cottage-inspired feel. The light-stained wooden panels hold a window adorned with vibrant wreaths. A touch of modernity is added with the metallic-accented door handles, beautifully contrasting the classic design. Once opened, these doors unveil a farmhouse-style entryway adorned with white shiplap walls and rustic embellishments.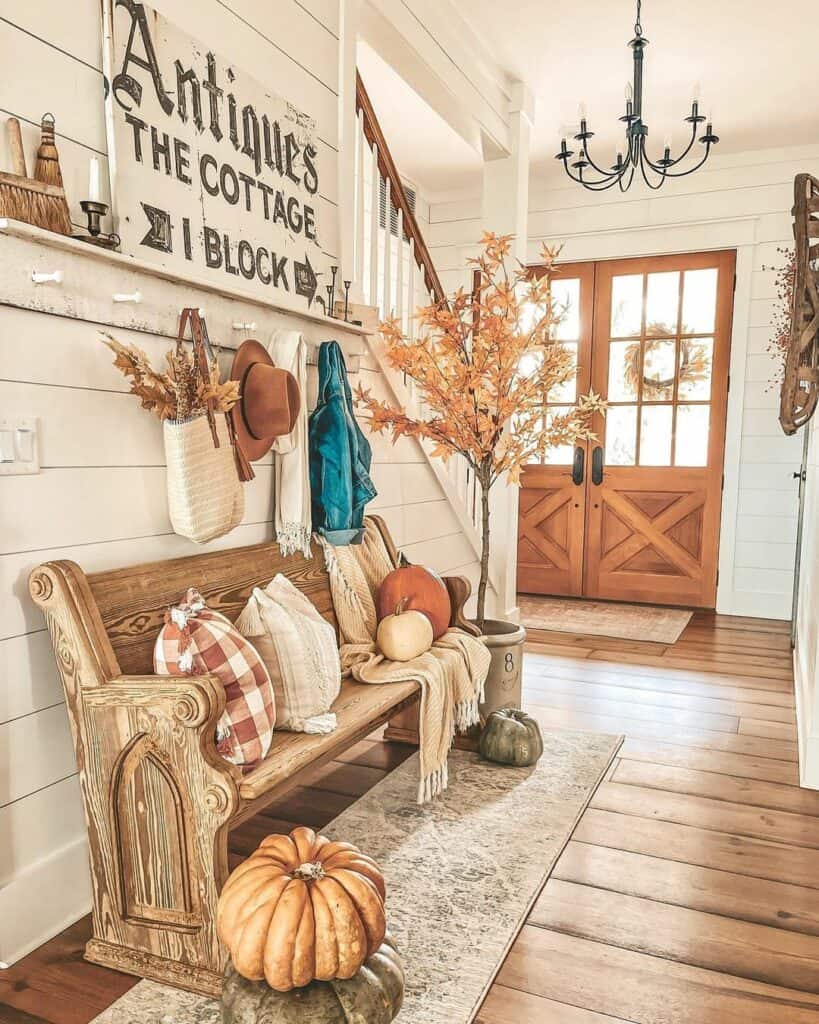 Credit: lakefrontfarmhouse
Shop the Style
Graceful Elements: Grapevine Wreath and Brass Doorknob
A wooden front door graced with a dignified brass doorknob is adorned by a gracefully arranged grapevine wreath. Positioned beside the door, a white wooden chair cradles a potted plant, while underneath a wooden table rests a pair of black rubber boots alongside a bucket brimming with pink and white flowers. Completing this picturesque scene, a brown doormat finds its place on a gray and white striped rug adorning the cement floor.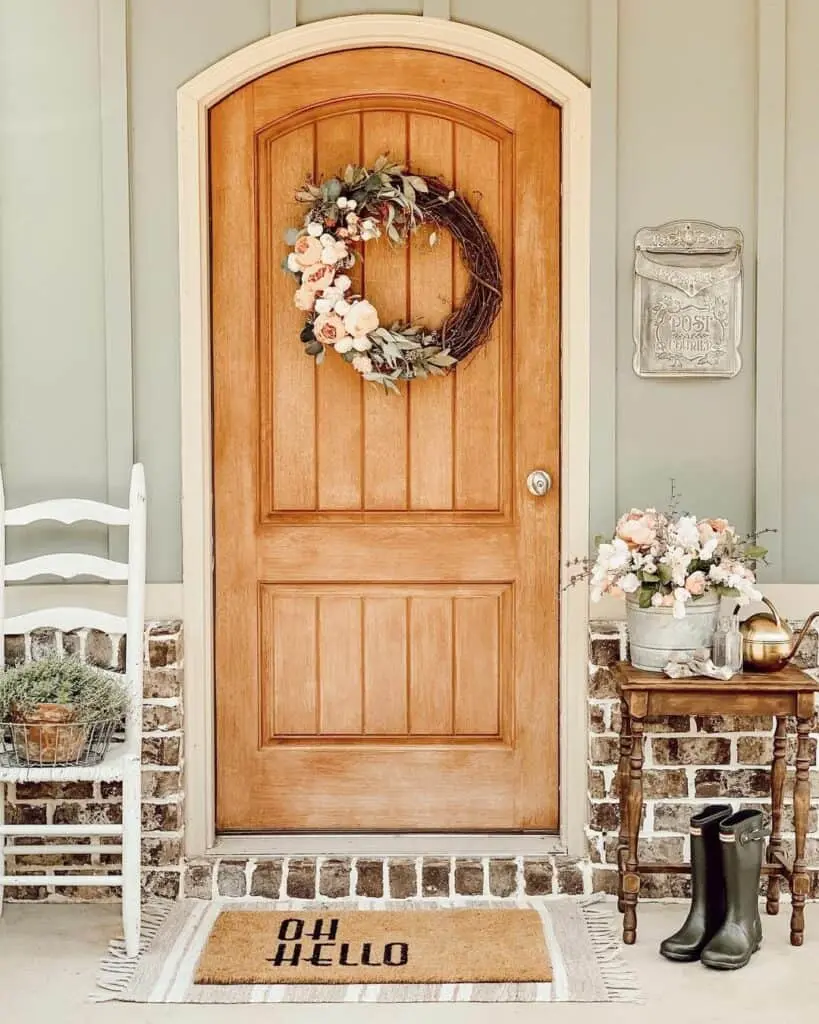 Credit: ourdevinehome
Shop the Style
Mid-century Fusion: Wooden Door Inspirations
In a seamless fusion with mid-century modern furniture, this light wood door achieves a sleek and stylish look that seamlessly blends retro aesthetics with contemporary design. The door's warm wood tones infuse the room with a sense of coziness and texture, harmonizing with the simplicity and elegance of the accompanying furniture.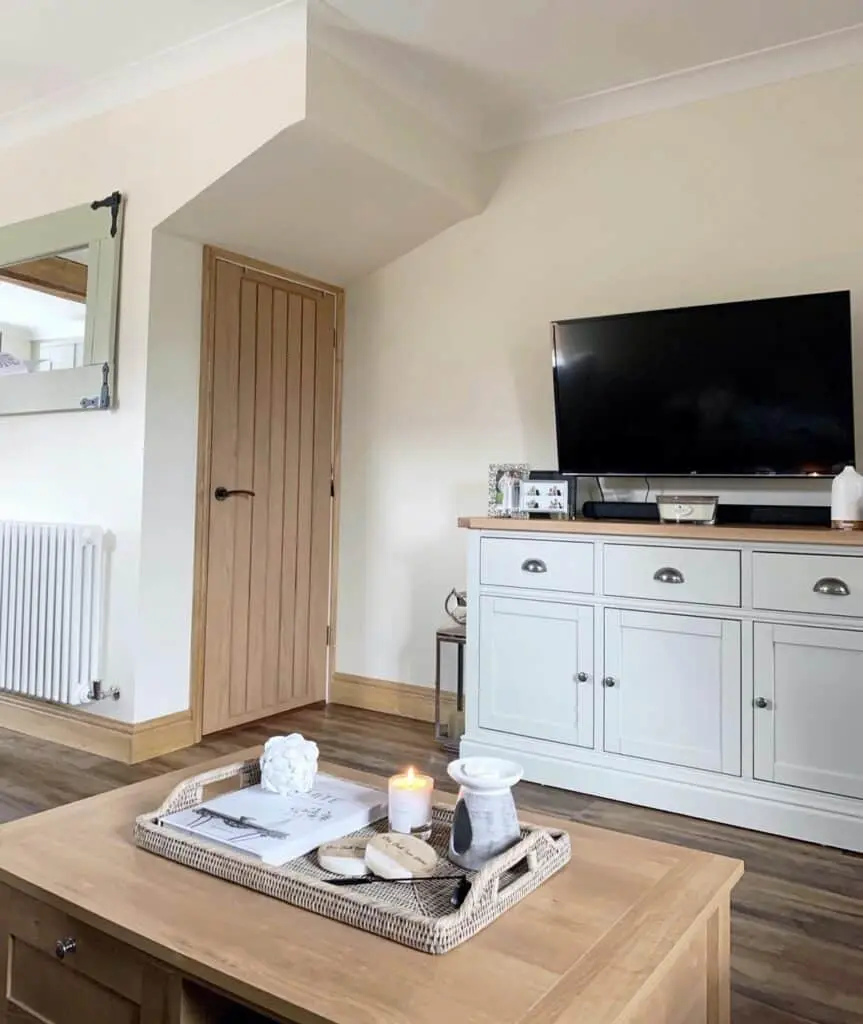 Credit: our_oaktree_home
Shop the Style
Autumn Elegance: Dual Brown Fall Wreaths on a Brick House
Gracing the wooden front doors of this brick house are two elegantly composed brown fall wreaths. The brick steps are adorned with a white pumpkin and a brown lantern, accompanied by a vibrant red mum and an assortment of colorful pumpkins, capturing the very essence of the autumn spirit.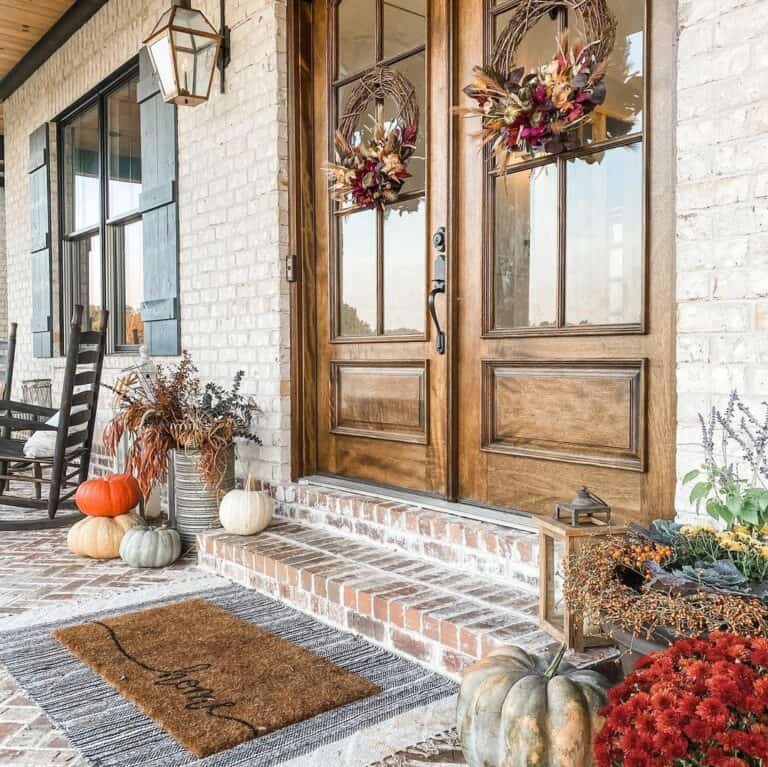 Credit: sweet_southern_homestead
Shop the Style
Rustic Simplicity: Farmhouse Door Allure
Taking cues from the clean and minimalistic aesthetics of farmhouse design, these wooden French front doors radiate simplicity in its purest form. The richly stained wood is perfectly complemented by sleek and discreet door hardware. Sunlight streams through the expansive windows, casting an ethereal and serene ambiance that pervades the entire house.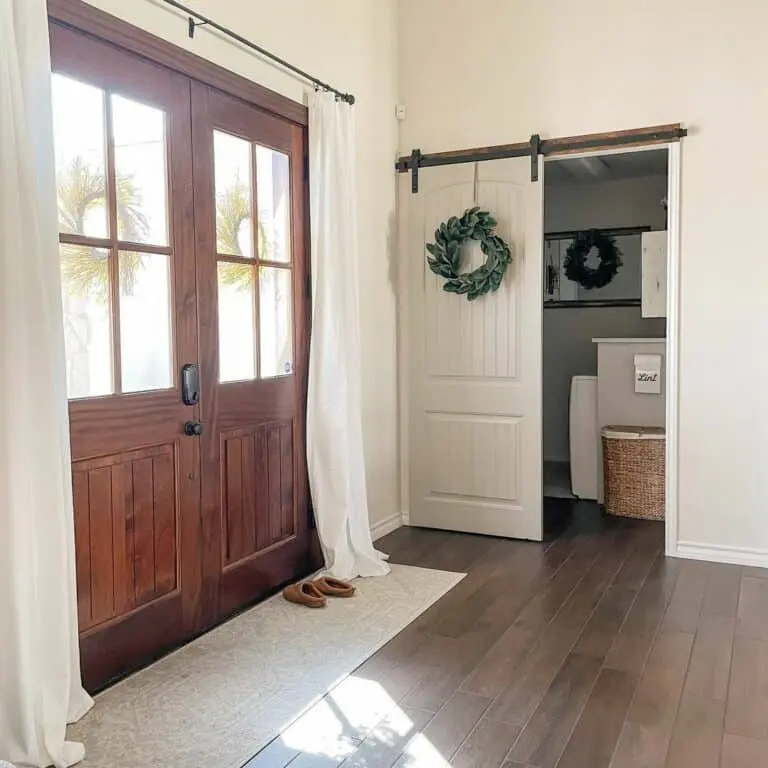 Credit: arlynmdesigns
Shop the Style
Vintage Charisma: Neutral Entryway with Classic Touches
Nestled within a timeless foyer, a wooden front door showcases intricate glass panels, softly aglow from modest brass lighting against a gentle ceiling. Vintage French chairs embrace a rich, dark red console table, while a textured neutral runner elegantly adorns the wooden flooring.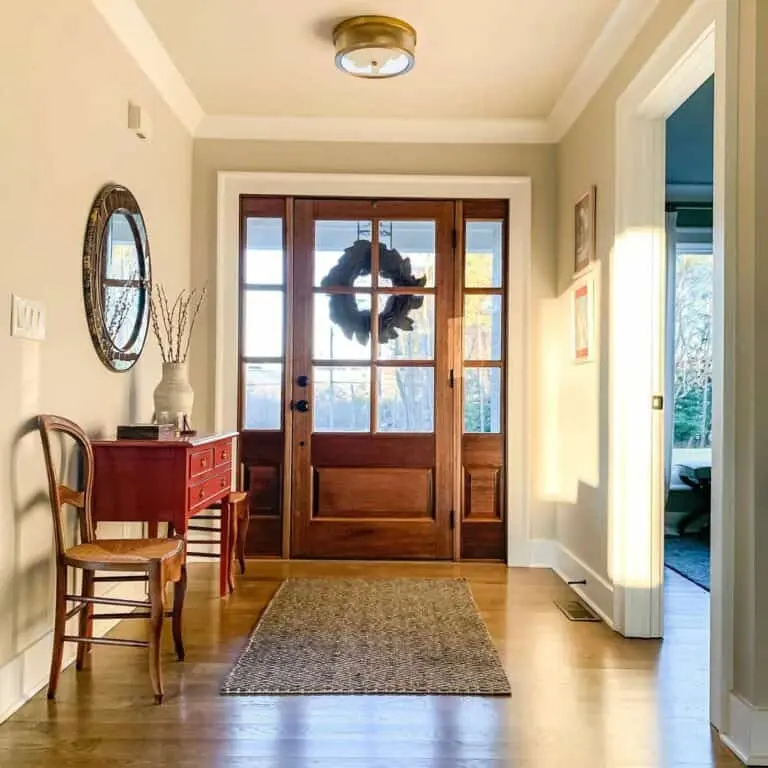 Credit: simplydecoratedhome
Shop the Style
Unveiling Elegance: Sliding Barn Door Reveals Staircase Beauty
The dining room showcases a wooden barn door that gracefully slides open, unveiling a staircase adorned with tastefully patterned carpet. In a cozy nook, a transparent chair and a small stool invite relaxation. The wood flooring hosts a white hutch embellished with shelves and vintage brass hardware.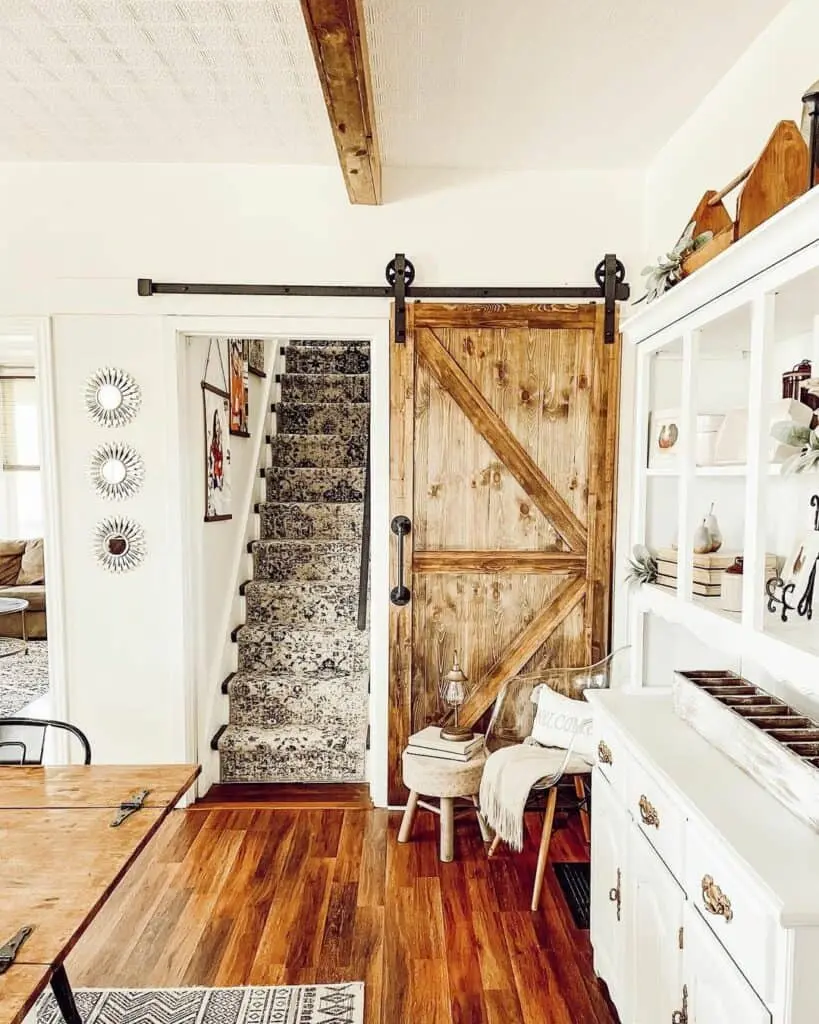 Shop the Style
Rustic Finesse: Farmhouse Greenery Wreath Wall Decor
An enchanting green leaf wreath adorns rustic white-painted wood wall decor, positioned beside a light wood sliding barn door. Enhancing the scene, an antique white end table offers a finishing touch, harmonizing with a white slipcovered armchair.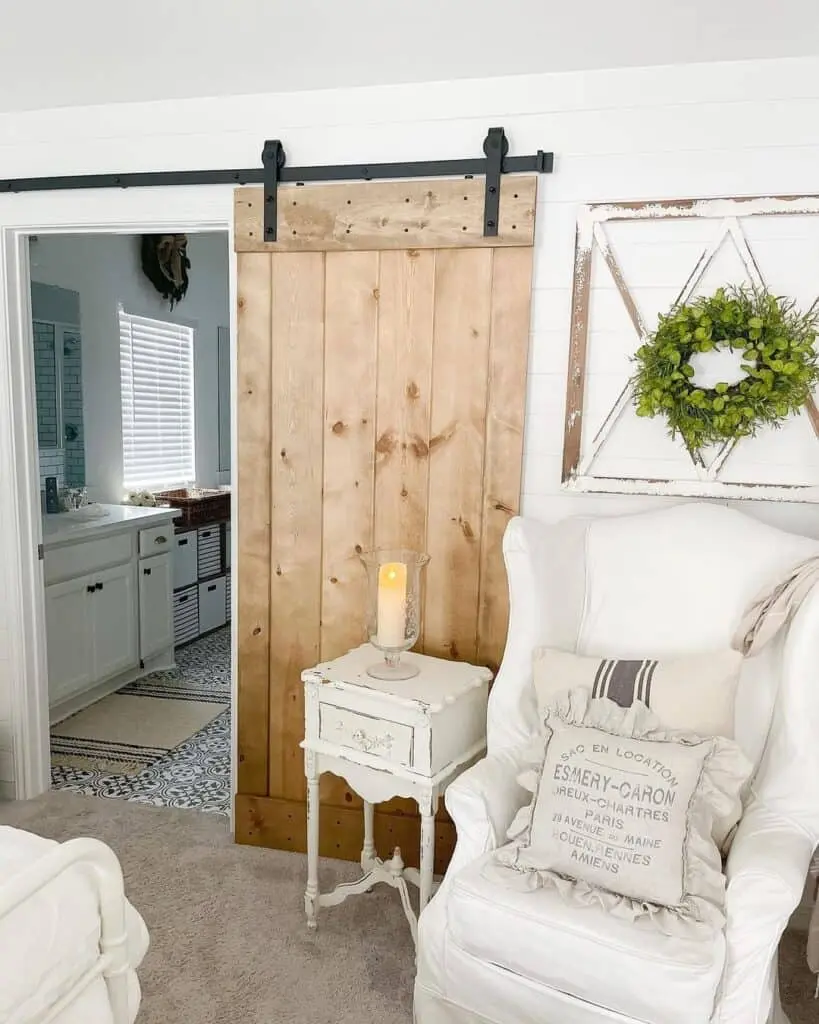 Credit: tarastexaslakehouse
Shop the Style
Wrap-up
Embrace the enchantment of farmhouse living with these handpicked wooden door inspirations that harmonize effortlessly with the tranquility of rural life. From the simplicity of rustic design to the fusion of classic and contemporary elements, each doorway encapsulates a story of charm and character.
As you consider these exceptional ideas, remember that your choice of door holds the power to set the tone for the entire farmhouse experience, inviting warmth, hospitality, and a touch of countryside elegance.