7 Rustic Orange Farmhouse Living Room Ideas That Squeeze Style
Affiliate Disclosure: As an Amazon Associate we earn from qualifying purchases. Hence, if you click through and make a purchase, we will get a commission at no extra cost to you. For more info, read our full disclosure.
The autumn season has a way of casting a magical spell over our homes with its warm and rustic hues. In particular, the color orange invokes a feeling of warmth, comfort, and the simplicity of country living. If you're looking to infuse some of this cozy charm into your living space, you've come to the right place. Welcome to our blog on orange farmhouse living room ideas. Here, we'll explore seven incredible designs that expertly blend rustic farmhouse aesthetics with vibrant orange accents. Let's dive into these inspiring styles!
Farmhouse Living Room with Orange Pumpkin Pillows
Well, Sarah of Sarah Joy Blog is going full Fall in her living room, and it looks absolutely fabulous! The transformation that the right throws can make is simply breathtaking, but the star of this autumnal setting has to be those Pumpkin Pillows. These pillows are not just unique but a brilliant way to usher in the Autumn season indoors. For more inspiration on adding a modern farmhouse twist to your home, be sure to drop by Sarah's page.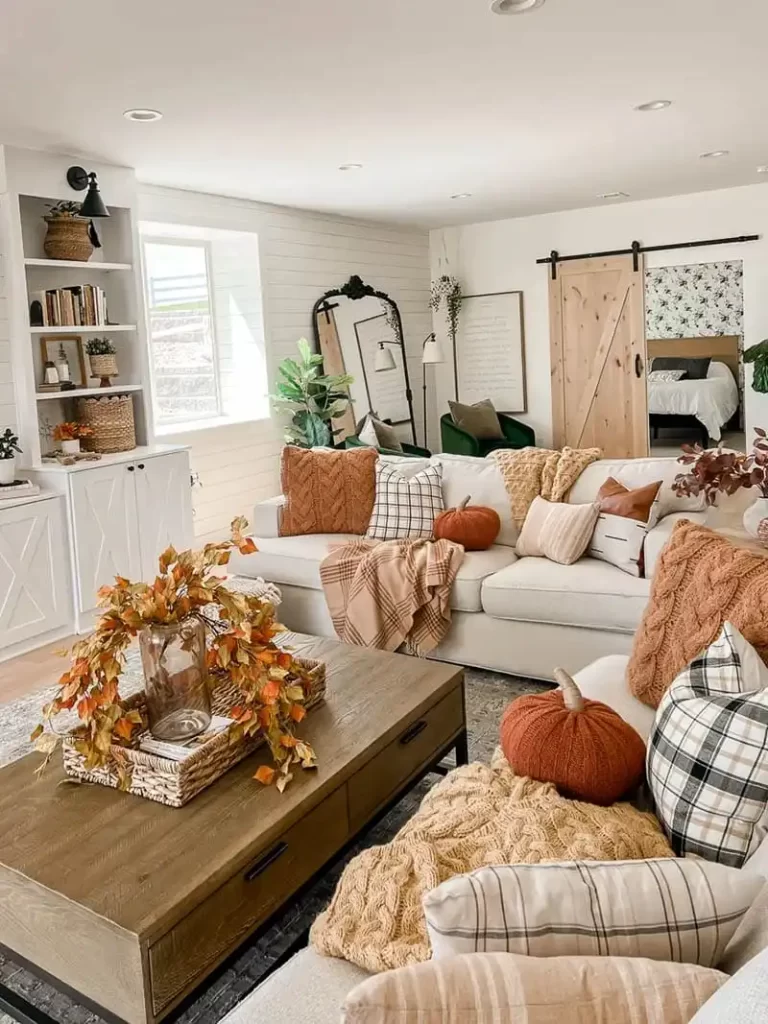 Credit: sarahjoyblog.com
Shop the Style
Orange Living Room with a Bohemian Twist
Imagine a brown leather couch adorned with orange and beige pillows with tassels, all set in a Bohemian ambiance. A sizable gray planter harboring a tree adds life to a corner, while a gallery wall featuring images, signs, and baskets of pink feathers embellishes the backdrop. The white rug with rainbow geometric prints brings everything together, providing a chic and artistic touch.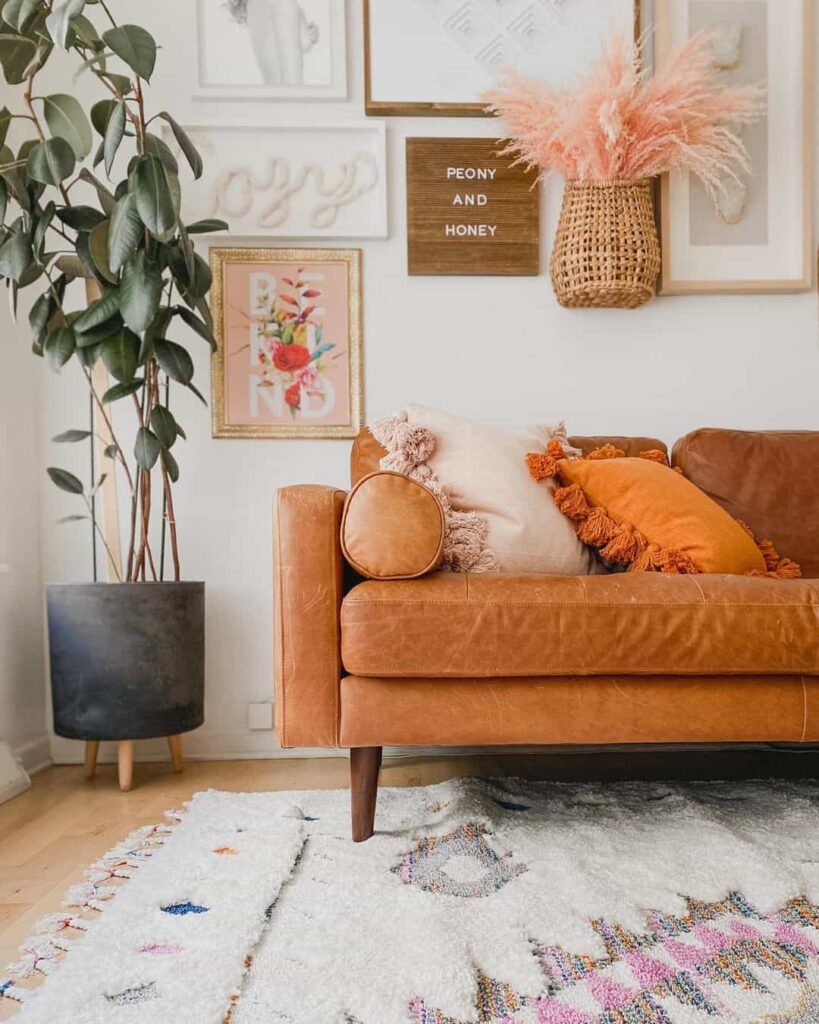 Credit: Instagram @peonyandhoney
Shop the Style
Cream-white Living Room Marries Orange Décor
In this living room, an elegant spread of orange elements seamlessly complements the cream-white interior. The orange-themed cushions and a plaid blanket create a visual centerpiece on the sofa, infusing vibrance and energy into the space.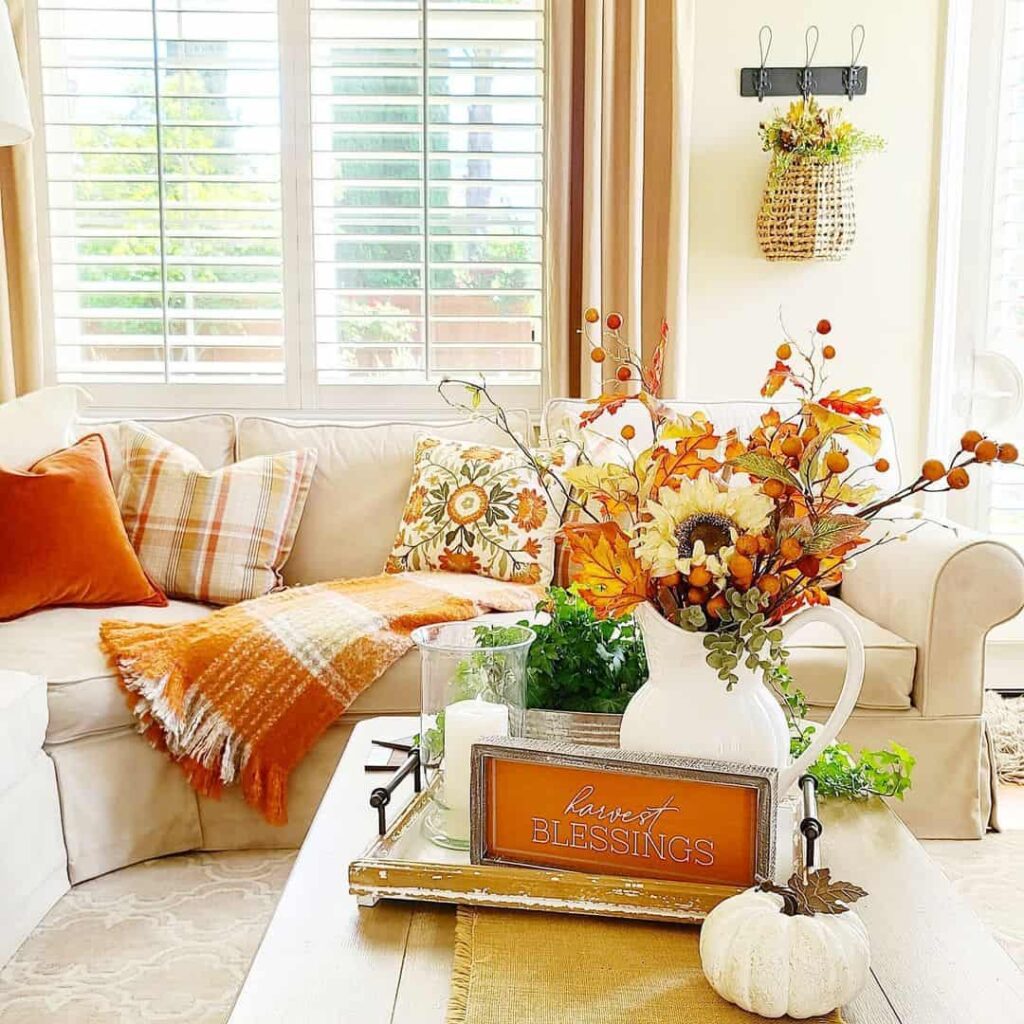 Credit: Instagram @simple.joy.at.home
Shop the Style
White & Orange Farmhouse Living Room
Farmhouse designs like this one exude cuteness and coziness with their well-chosen accessories. Decked in cushions, pillows, covers, and even some faux flowers, this pumpkin orange dream is a visual treat. A perfect design to bring in the Halloween or holiday season cheer!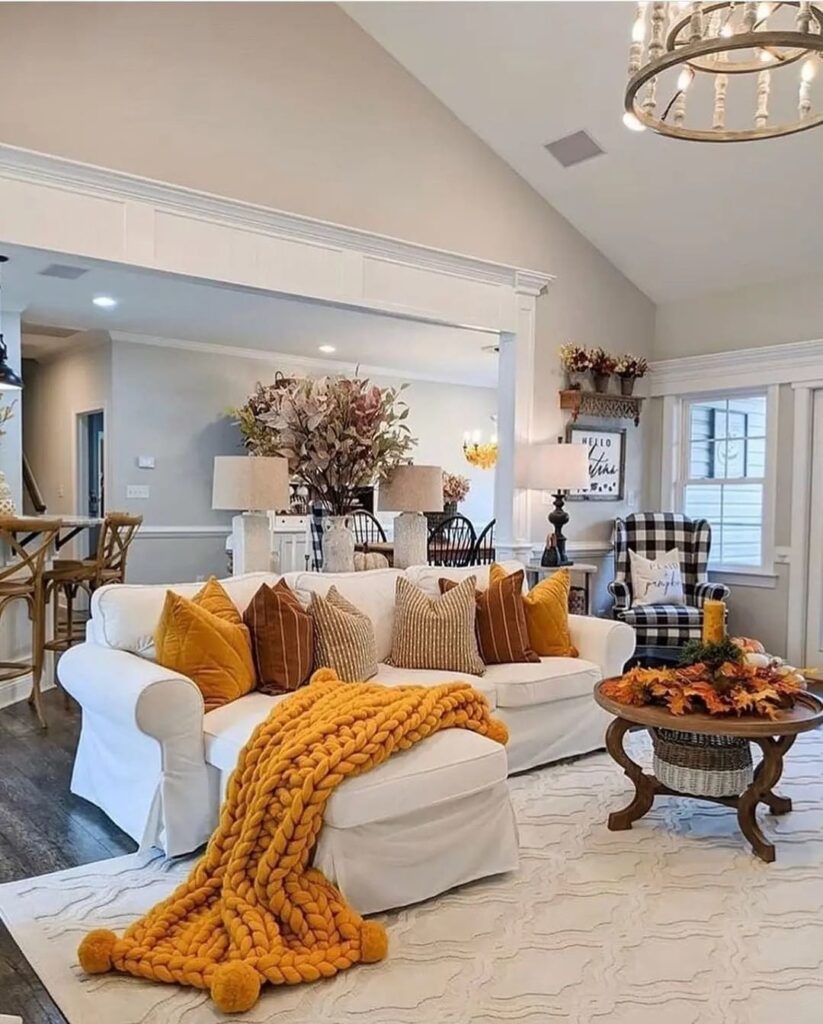 Credit: Instagram @farmhouseismystyle
Shop the Style
Farmhouse Living Room With Orange Cushions
Here's a farmhouse living room that perfectly showcases a blend of modern sophistication and cottage-like coziness. The white shiplap background and wooden wall décor form a perfect canvas for the scattered orange cushions and decorations that breathe color into the space.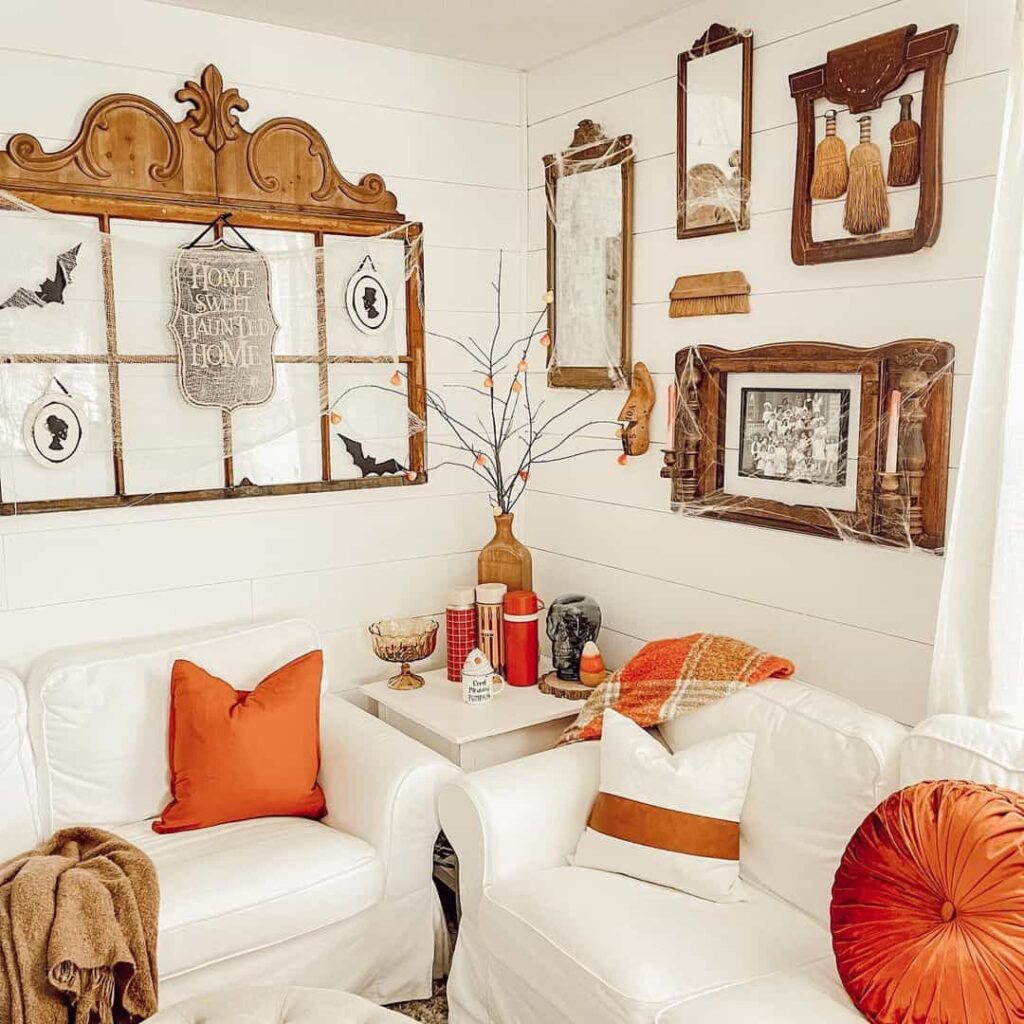 Credit: Instagram @thecuratedfarmhouse
Shop the Style
White & Gray Living Room with Orange Blanket
In this brightly lit living room, a patterned rug and dark gray sectional sofa draped with a white and orange blanket set the tone. Add to that an autumn-fall coffee table decor, light hardwood floors, and a white tufted armchair, and you have a picturesque setting perfect for a warm cup of coffee.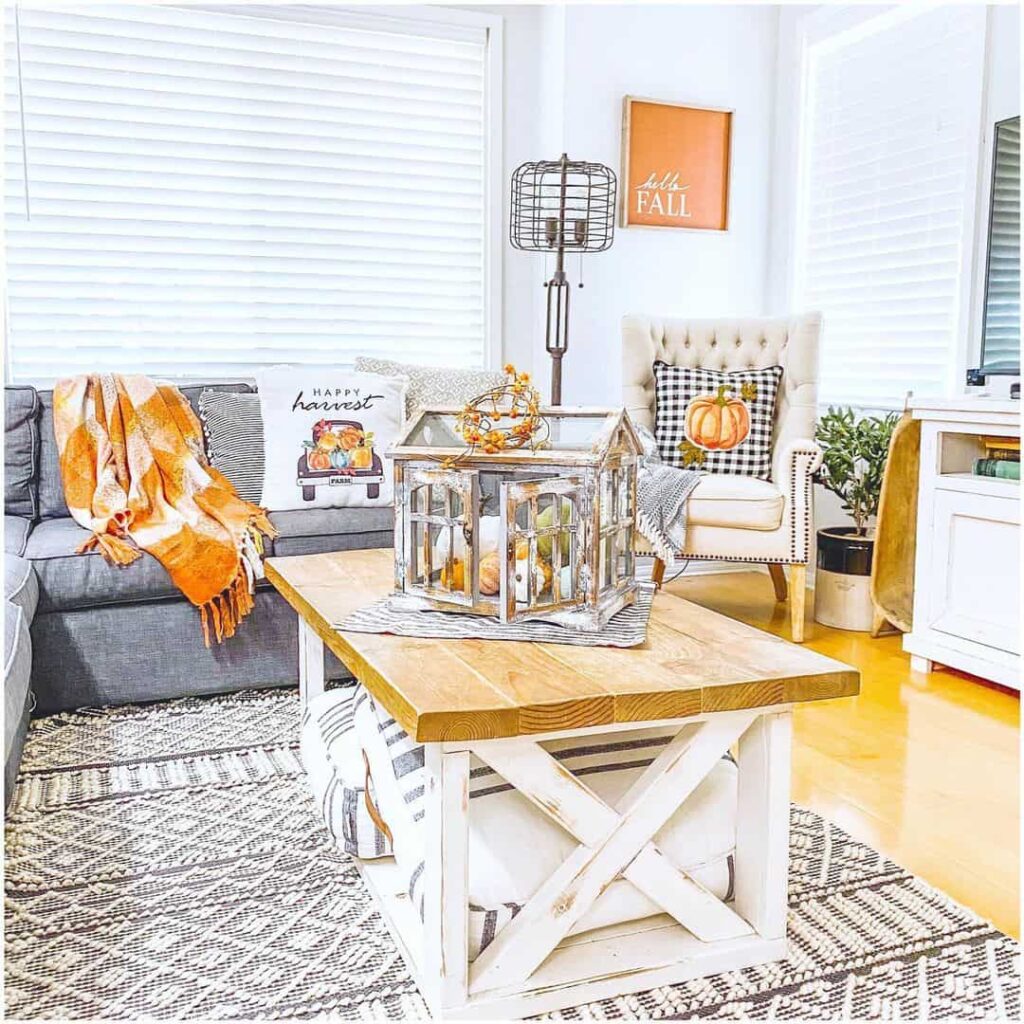 Credit: Instagram @rustichomemomma
Shop the Style
Farmhouse Living Room with Orange Fireplace Décor
This cozy living room design takes farmhouse interiors to a new level. Decorated with orange-toned items like flowers and a pumpkin centerpiece, the fireplace becomes a stunning focal point. The surrounding white elements provide the perfect contrast, complementing the splashes of orange that brighten the space.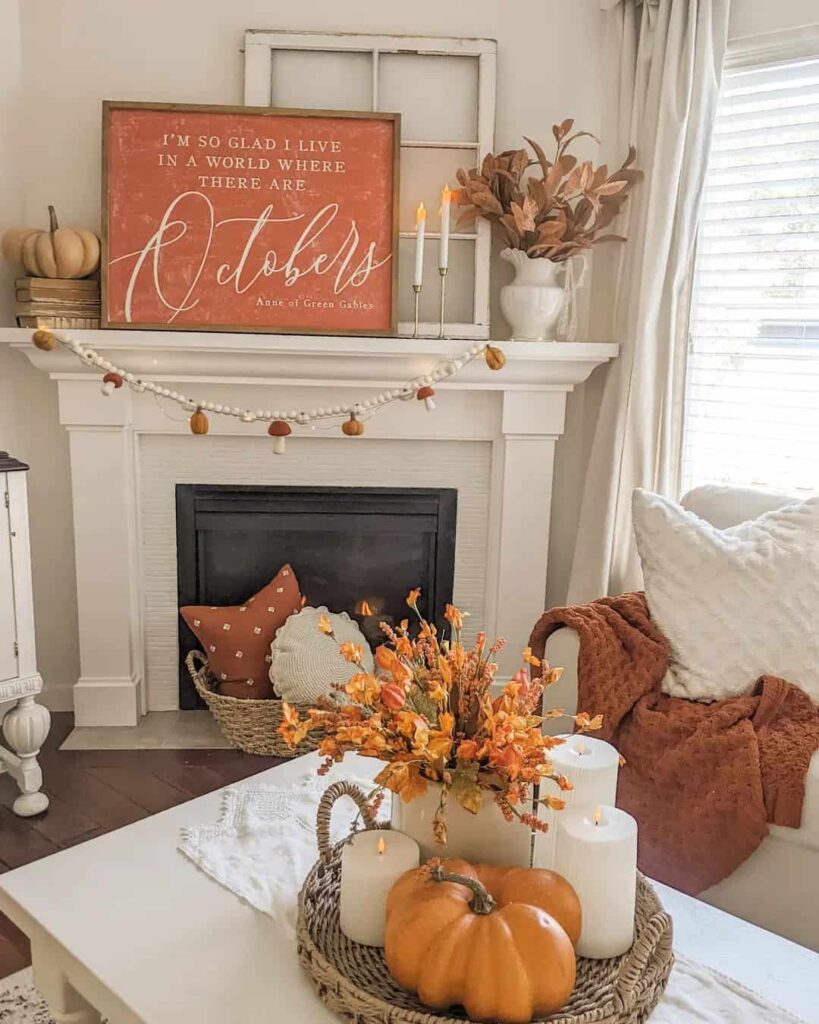 Credit: Instagram @the_martinmanor
Shop the Style
Wrap-up
And there you have it, seven rustic orange farmhouse living room ideas that squeeze more style into your home than a barista squeezes oranges for your morning juice! Whether you're pumpkin-spicing up your life or adding a tangy twist with tassels, these designs are sure to make your living room the zest place in the house. So go ahead, peel out of your comfort zone and give your living room a fresh squeeze of style!