7+ Eye-catching Wall Décor Ideas for Your Farmhouse Living Room
Affiliate Disclosure: As an Amazon Associate we earn from qualifying purchases. Hence, if you click through and make a purchase, we will get a commission at no extra cost to you. For more info, read our full disclosure.
Welcome to a world of farmhouse charm and creativity! Your living room is the heart of your home, and what better way to infuse it with character than through captivating wall décor? In this article, we're excited to present you with a curated collection of 7+ eye-catching wall décor ideas that will elevate your farmhouse living room to new levels of style and coziness.
From rustic accents to modern twists, these ideas are sure to inspire you to transform your space into a haven of aesthetic delight.
Enhancing Your Space with Cozy Farmhouse Wall Décor
Discover how to transform your foyer with charming farmhouse-inspired wall décor. From a dark armchair with a gingham cushion to white blankets against pale beige walls adorned with baskets, this style brings warmth. A dresser, wreath, and refurbished shutters complete the look.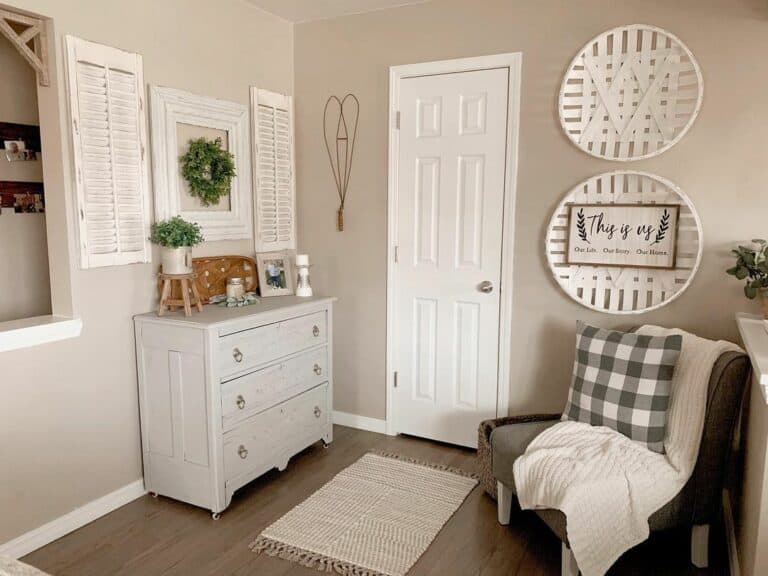 Credit: our.grace.filled.home
Shop the Style
Sage Walls and Wicker Plates: Embracing Bohemian Wall Décor
Unveil the beauty of bohemian wall décor by pairing soft gray couches with vibrant pillows against green vertical shiplap walls. Woven flat baskets create a stunning and unique display, adding a touch of nature to your space.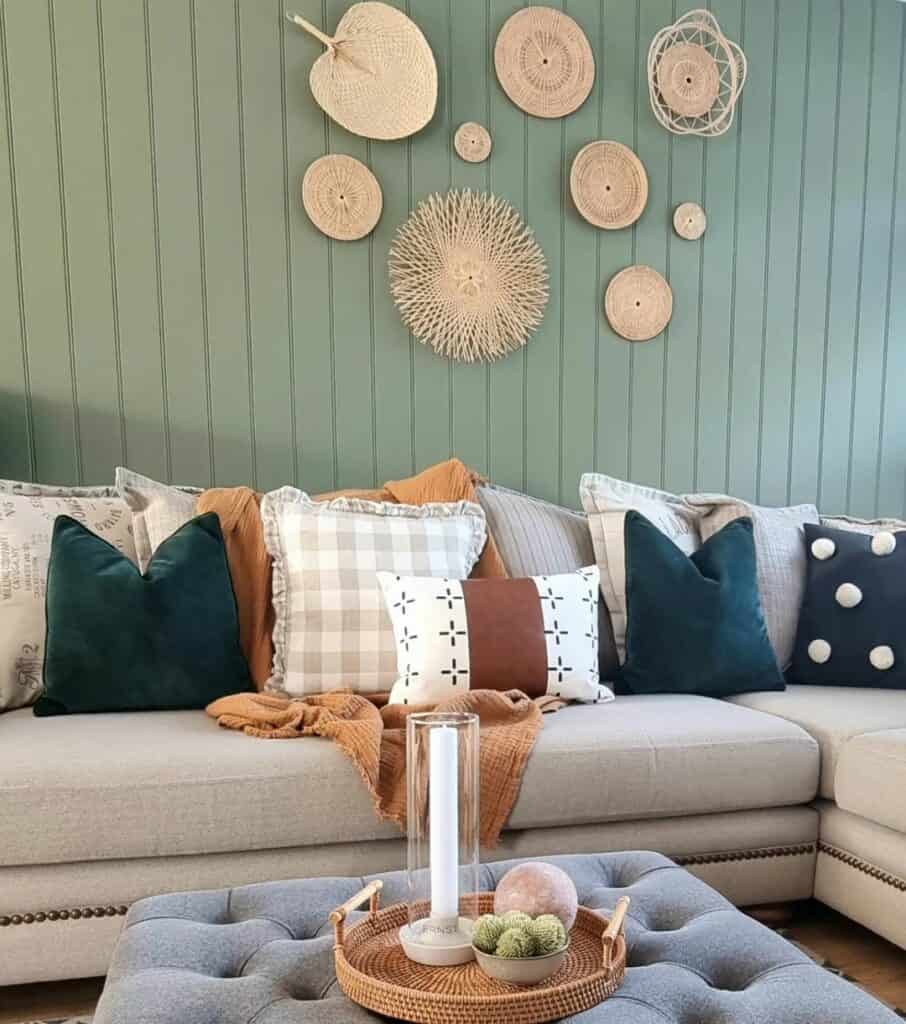 Credit: ourscottishhouseonthehill
Shop the Style
Simple Elegance: Wall Décor Ideas with Plants
Elevate simplicity with wall décor featuring soft gray couches adorned with white pillows. Enhance white walls using mounted round shelves displaying books and potted plants, creating an effortlessly elegant ambiance.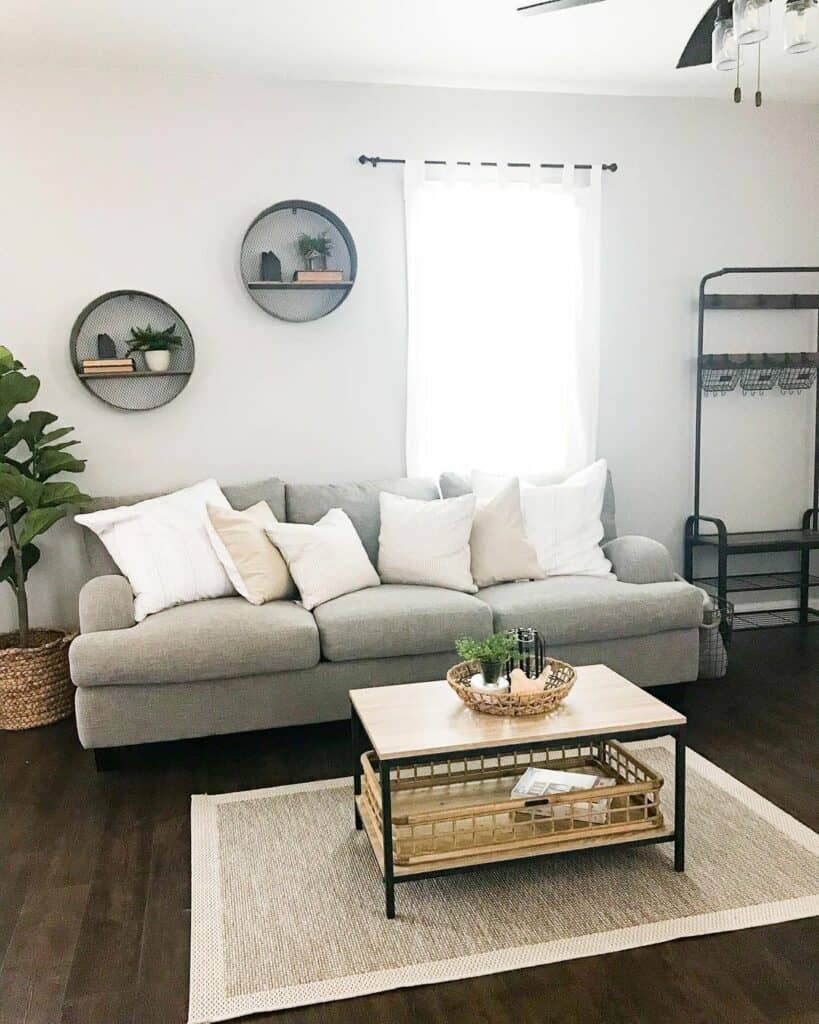 Credit: thewallshouse
Shop the Style
Antique Frames Revitalized: Wall Décor Inspiration
Step into a charming space where refurbished antique frames take center stage. Adorn your walls with these frames, some tastefully embellished with wreaths. A vintage clock, potted plants, and candlesticks complete this antique aesthetic.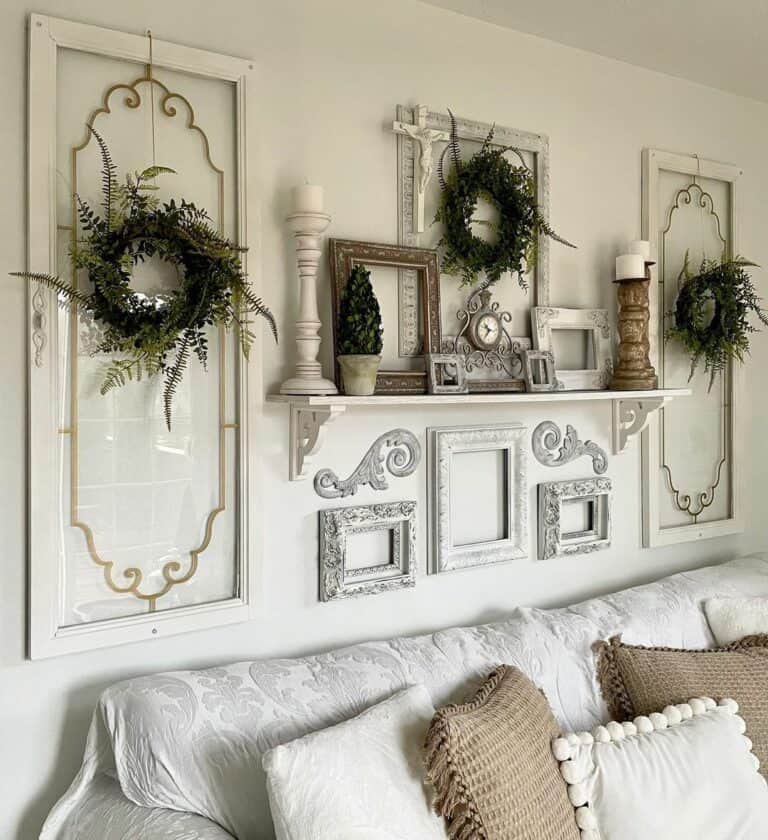 Credit: wheretwoaregathered
Shop the Style
Contemporary Monochrome: Exploring Black and White Wall Art
Infuse modernity into your living room with striking black and white art prints. Hang these prints against crisp white walls, creating a sophisticated contrast. A stylish vessel with foliage and candles adds the finishing touch.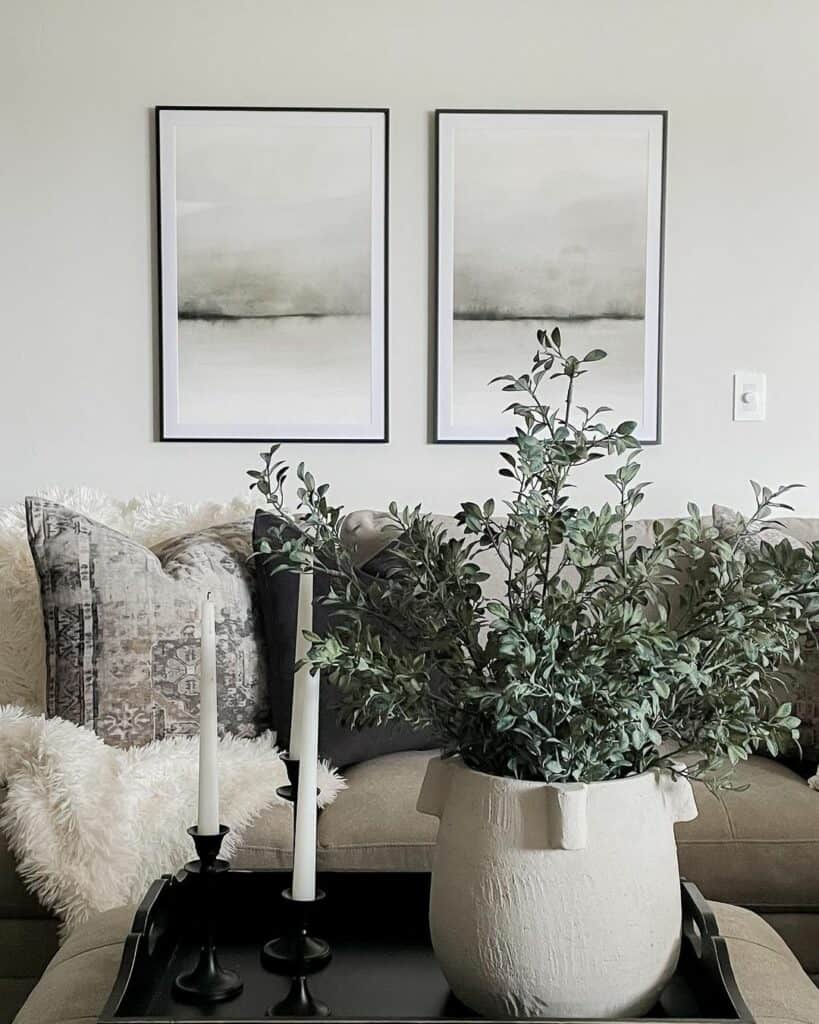 Credit: the.westnest
Shop the Style
Embracing Contemporary Flair: Modern Living Room Style
Indulge in the charm of modern living as a soft couch, adorned with white and black pillows, graces a black area rug with elegant white accents. The backdrop features a spacious white wall enhanced by matching contemporary round décor pieces. A corner focal point boasts a majestic fiddle-leaf fig tree and a window adorned with white and gray curtains.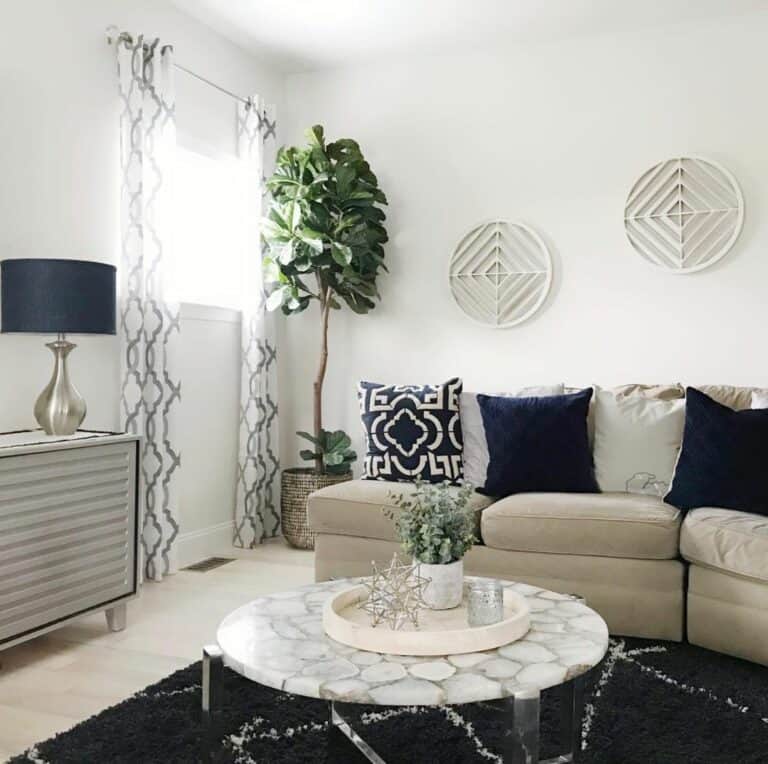 Credit: willbeagem
Shop the Style
Artful Display: Layered Basket Collection as Wall Art
Create a captivating wall display by arranging decorative baskets against a white backdrop. A rust pillow-topped black bench and potted plant complement the textured ensemble, showcasing an artful blend of colors and shapes.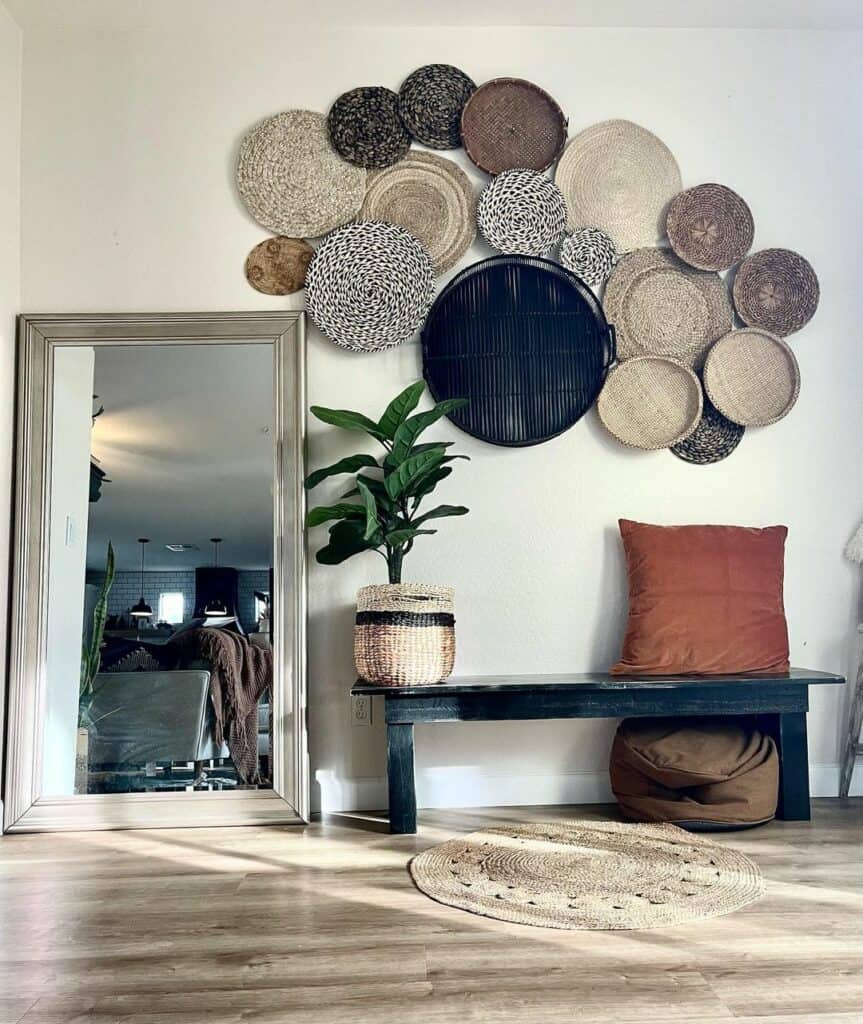 Credit: sunshineinmysoul
Shop the Style
Embrace Fall with Farmhouse Coffee Table Elegance
Discover the essence of farmhouse style this fall by incorporating vertical white tongue and groove wall decor. Let wood wall hangings, white lockers, and a mint green trunk coffee table adorned with seasonal elements inspire your cozy living room.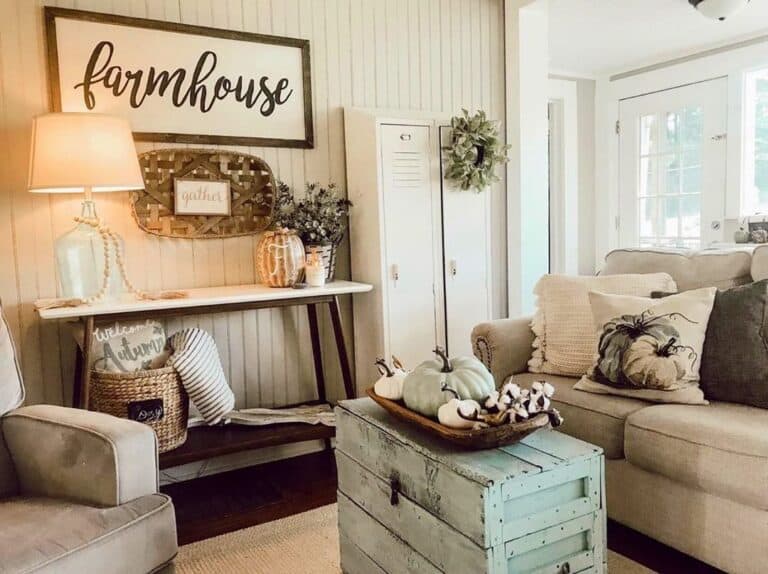 Credit: thefinleyfarmhouse
Shop the Style
Wrap-up
As you conclude your journey through these enchanting wall décor ideas, remember that your farmhouse living room is a canvas awaiting your artistic touch. Whether you're drawn to the warmth of antique frames, the allure of contemporary monochromes, or the earthy elegance of natural elements, these inspirations offer endless possibilities.
Embrace your creativity, mix and match, and let your walls tell your unique story. By implementing these eye-catching ideas, you'll transform your living room into a reflection of your personal style, welcoming both guests and family to a space that exudes charm and comfort.