7+ Rustic Farmhouse Stone Fireplace Ideas that Steal the Show
Affiliate Disclosure: As an Amazon Associate we earn from qualifying purchases. Hence, if you click through and make a purchase, we will get a commission at no extra cost to you. For more info, read our full disclosure.
Rustic farmhouse stone fireplaces exude a timeless charm that effortlessly becomes the heart of any space. With their rugged beauty and cozy warmth, these fireplaces have the power to transform a room into a haven of comfort and style.
Whether paired with wooden beams, adorned with intricate mantels, or standing proudly on their own, these stone fireplaces steal the show in any setting. In this article, we'll explore seven captivating rustic farmhouse stone fireplace ideas that are sure to inspire and captivate your design aspirations.
Embracing Cozy Charm: Gray Stone Fireplaces with Stained Wood Mantel
Step into a farmhouse-inspired living room where the interplay of rustic wood ceiling beams and gray stone tile fireplaces, accompanied by a striking black stone hearth, creates an inviting ambiance. Adding to the comfort, the stained wood fireplace mantel is adorned with a blend of white and wood decor.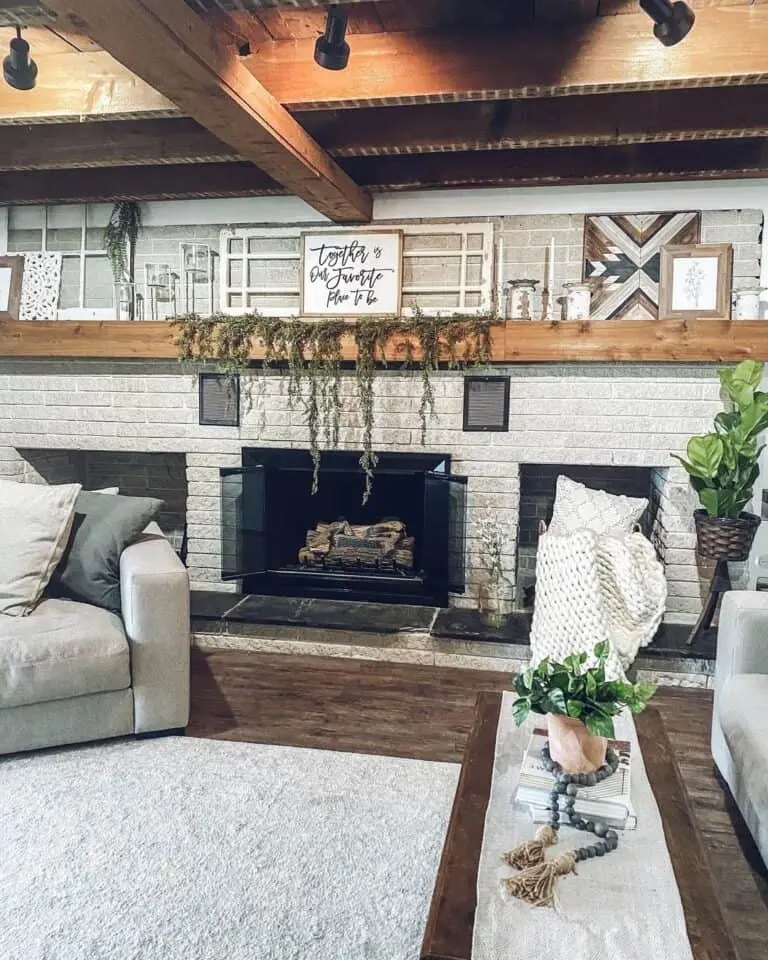 Credit: 1900stonefarmhouse
Shop the Style
A Fusion of Modernity and Warmth: Gray Painted Stone Wood Burning Stove Fireplace
Unveil a scene of modern elegance infused with warmth as a black wood-burning stove takes its place atop a canvas of gray-painted uneven stone. The harmony continues with a gray mantel, while a beige tufted bench featuring black turned wood legs stands beside the fireplace, contrasted by the rich backdrop of dark stained wood flooring.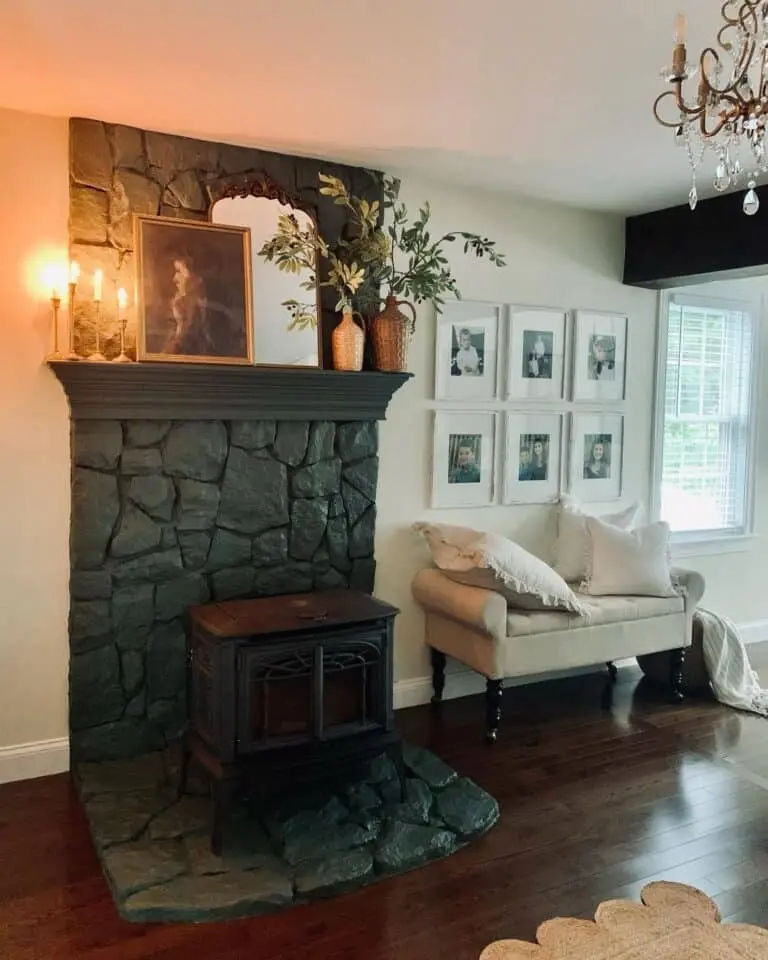 Credit: eleanorrosehome
Shop the Style
Timeless Beauty: Stained Wood Mantel for Stone Fireplaces
Experience the timeless allure of design where a stained wood mantel graces a stone fireplace. The composition is perfected by the adjacency of a black built-in media unit housing a flat-panel TV. As the fireplace gazes upon a blond wood coffee table, a beige leather sectional sofa paired with accent chairs creates an inviting seating arrangement.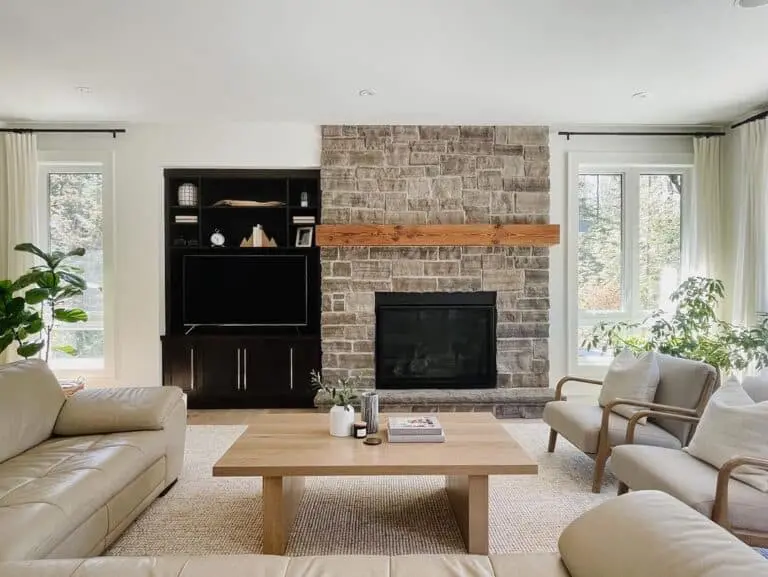 Credit: britthartel
Shop the Style
Elegance in Simplicity: Tan Dry Stacked Stone Fireplace with Wood Mantel
Embrace the simplicity of elegance in a design featuring a tan dry stacked stone fireplace that engages cream-white armchairs, forming a cozy and intimate seating area. The light wood mantel hosts a brass frame arched mirror, while the room's luminosity is elevated by white windows adorned with beige Roman shades.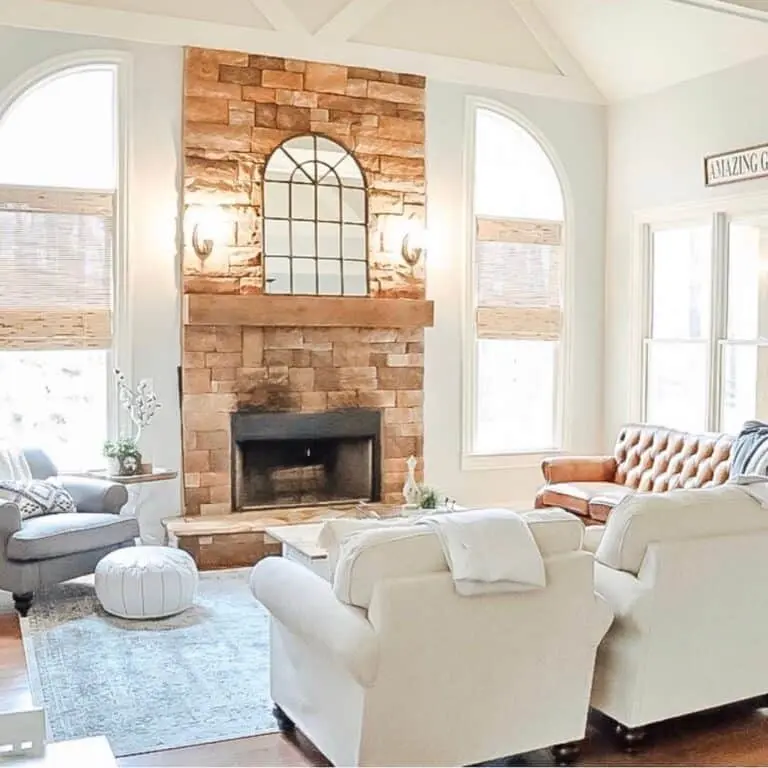 Credit: kristenmyersco
Shop the Style
Elevate Your Space with a White Stone Fireplace and Dark Brown Mantel
Discover sophistication in this living room design showcasing a white-painted stone fireplace crowned by a refined dark brown wood mantel against a tasteful gray wall. Enhancing the elegance are white windows dressed in plantation shutters and delicate ivory curtains.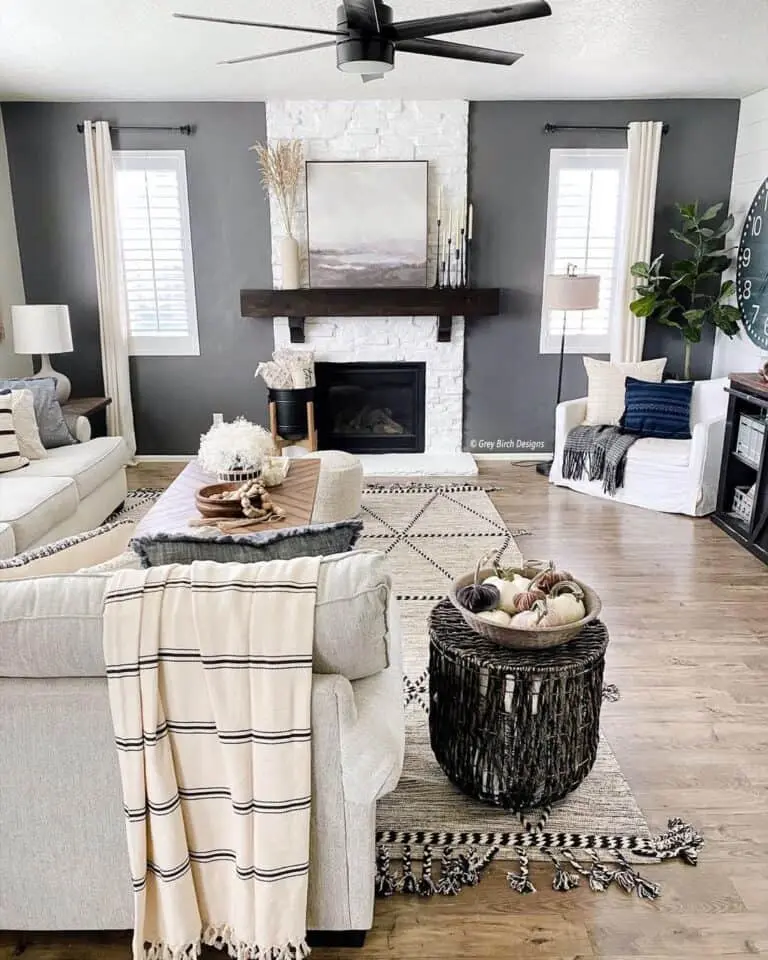 Credit: greybirchdesigns
Shop the Style
Autumn's Delight: Dry Stacked Stone Fireplace with Fall Garland
Celebrate the enchantment of autumn with a design that transforms a dry stacked stone fireplace into a seasonal canvas adorned with fall garland. Playful woven baskets suspend above the mantel, harmonizing with vibrant orange throw pillows on the brown hearth. An inviting black and white buffalo plaid armchair completes the cozy scene.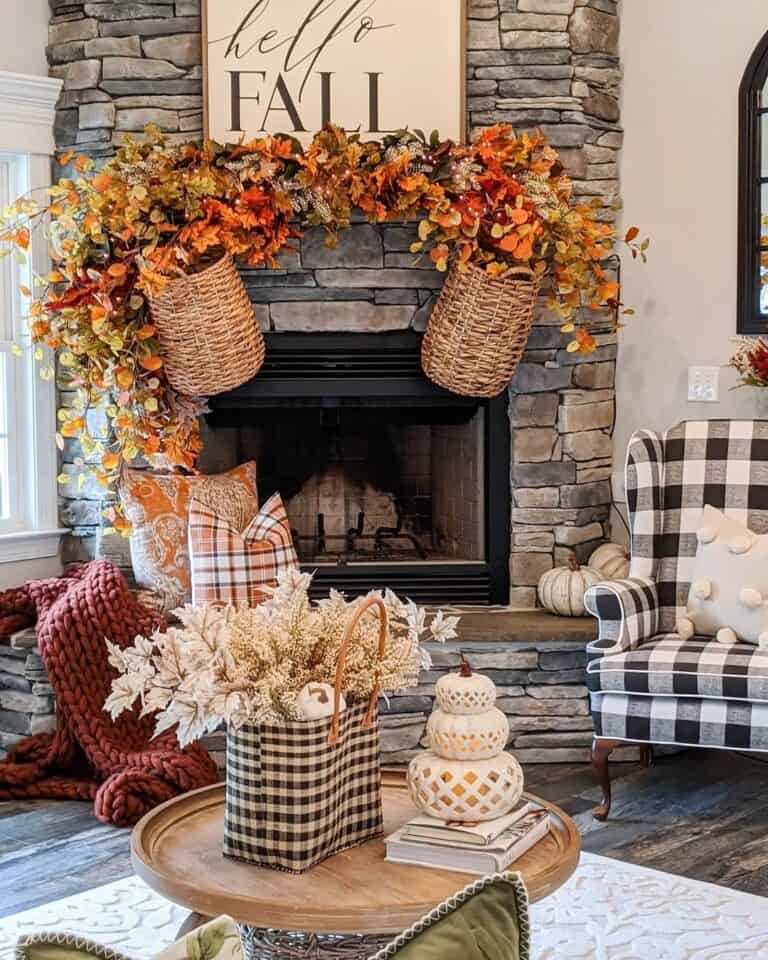 Credit: bridgewaydesigns
Shop the Style
Harmonizing Elements: Dry Stack Stone Fireplace with Beige Stone Hearth
Discover the symphony of harmonizing elements in a living room where a dry stack stone fireplace embraces a beige stone hearth. The composition continues with a dark brown mantel adorned with intricate corbels. In this ensemble, a stained wood and black metal coffee table presides over a white and gray area rug, creating a harmonious atmosphere.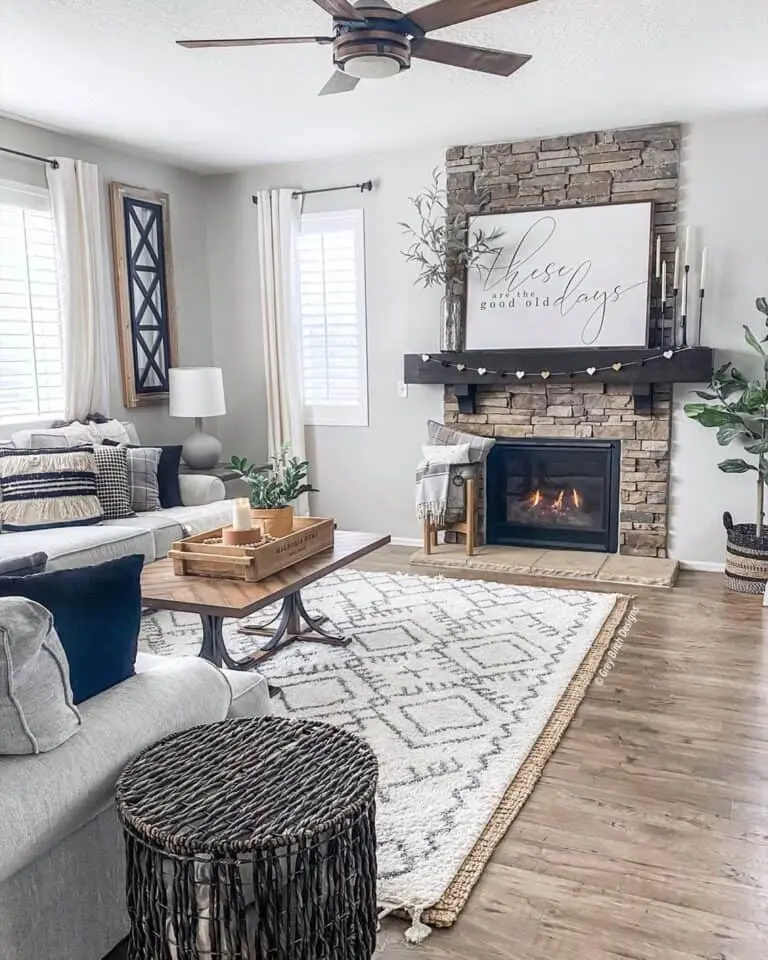 Credit: greybirchdesigns
Shop the Style
Sleek Sophistication: Living Room with Floor to Ceiling Stone Fireplace
Step into the realm of sleek sophistication as a blond wood mantel ascends to grace a floor-to-ceiling stone fireplace. Framed by tall black windows, the fireplace takes center stage, while a stained wood coffee table complements the presence of white and brown leather sofas, embodying refined comfort.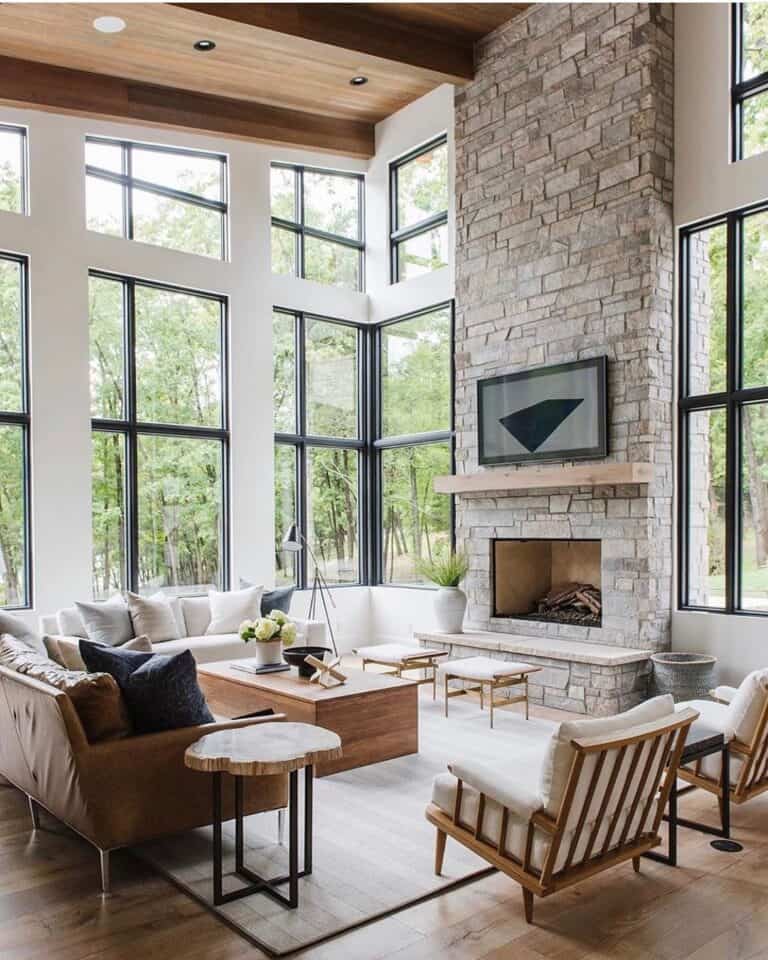 Credit: kelseyleighdesignco
Shop the Style
Wrap-up
Embracing the rustic allure of farmhouse aesthetics, these stone fireplaces bring a touch of heritage and warmth to modern living spaces. Each fireplace design presents a unique blend of texture, color, and character, contributing to the overall ambiance of the room.
From cozy evenings spent by the crackling fire to the visual impact they provide year-round, these fireplaces truly steal the show in every sense. By infusing a sense of history and comfort, rustic farmhouse stone fireplaces prove that even amidst contemporary trends, timeless charm never goes out of style.