7+ Homely Farmhouse Window Seat Ideas for Every Nook and Cranny
Affiliate Disclosure: As an Amazon Associate we earn from qualifying purchases. Hence, if you click through and make a purchase, we will get a commission at no extra cost to you. For more info, read our full disclosure.
Transforming overlooked spaces into cozy retreats has become a hallmark of modern interior design. Among these ingenious ideas, farmhouse window seats stand out as a perfect blend of comfort and aesthetics.
Whether nestled in a forgotten nook or gracing a sunlit cranny, these window seats exude homely charm while providing a serene escape. In this blog, we explore seven delightful farmhouse window seat concepts that breathe life into every corner of your home.
Creative Layout Idea for a Modern Window Seat
A built-in white window seat forms the backdrop for comfort, adorned with a beige upholstered bench cushion. Two farmhouse-inspired neutral accent pillows add a touch of understated charm. Drawing attention, a large paneled window dressed in bamboo blinds frames the serene expanse of green outdoors. In harmony with this setting, a modern gray sofa set finds its place adjacent to the inviting window seat.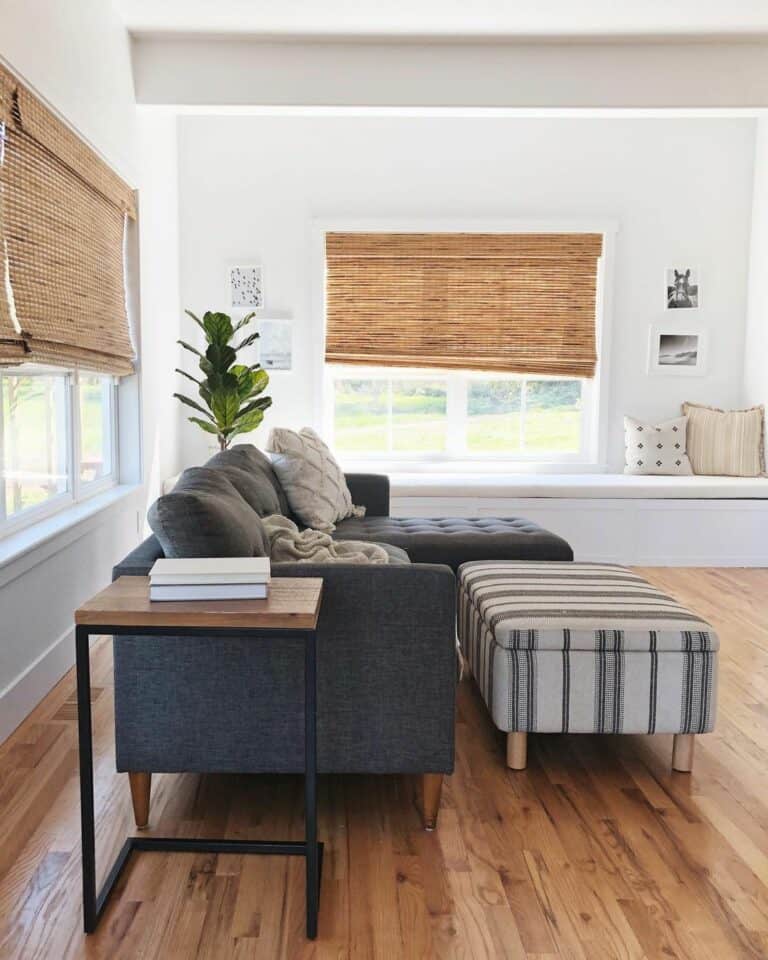 Credit: kenningtoncorner
Shop the Style
Incorporating Built-in Bookshelves into Window Seating
Nestled within a serene office environment, rich navy blue bookshelves stand as built-in marvels against a backdrop of soothing white walls and inviting warm wood floors. The expanse between the shelves is bridged by a cozy window bench, flanked by a paneled window that invites natural light. Adorned with a soft white cushion, the bench finds an extra touch of allure with farmhouse-striped accent pillows.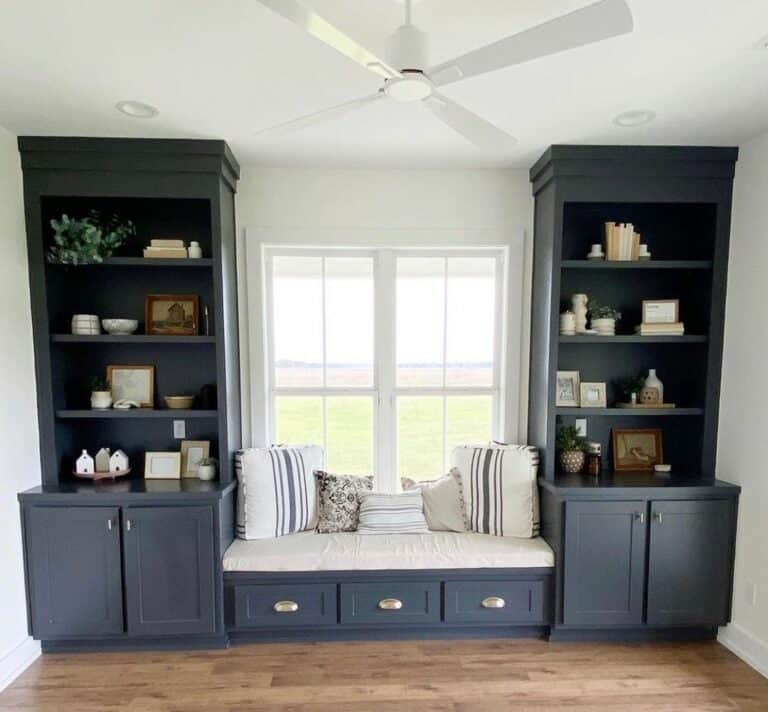 .Credit: farmcasadecastro
Shop the Style
Cozy and Chic: Modern White Window Seat With Built-in Shelves
A luminous white window seat boasting integrated bookshelves elegantly encircles a paneled window, its white trim harmoniously aligning. A gray bench cushion forms the canvas for a collection of textured accent pillows and charming striped farmhouse cushions. This arrangement cultivates a refined yet modern aesthetic, characterized by a serene palette of whites and grays.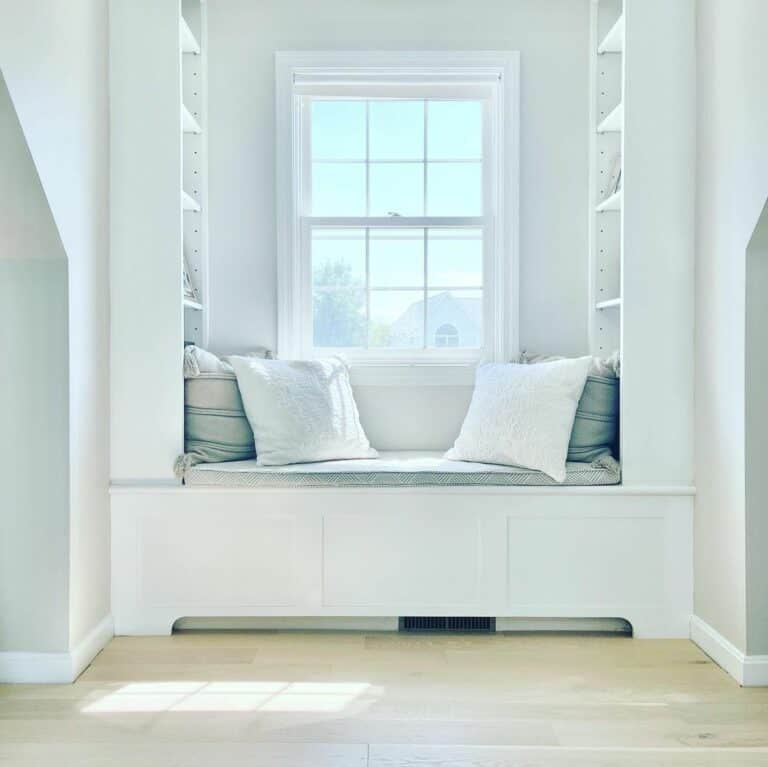 Credit: thesewildflowerwalls
Shop the Style
Adding Bohemian Flair to Farmhouse Window Seat Décor
Infusing a boho vibe, the tassel throws and accent pillows in warm yellow earthy tones define the atmosphere of this farmhouse bedroom. Nestled between flowing white drapes that gracefully adorn a taupe wall, a charming white wood window bench exudes a sense of quaint elegance. Complementing the scene, black sconce lights cast their gentle glow, completing the inviting ambiance.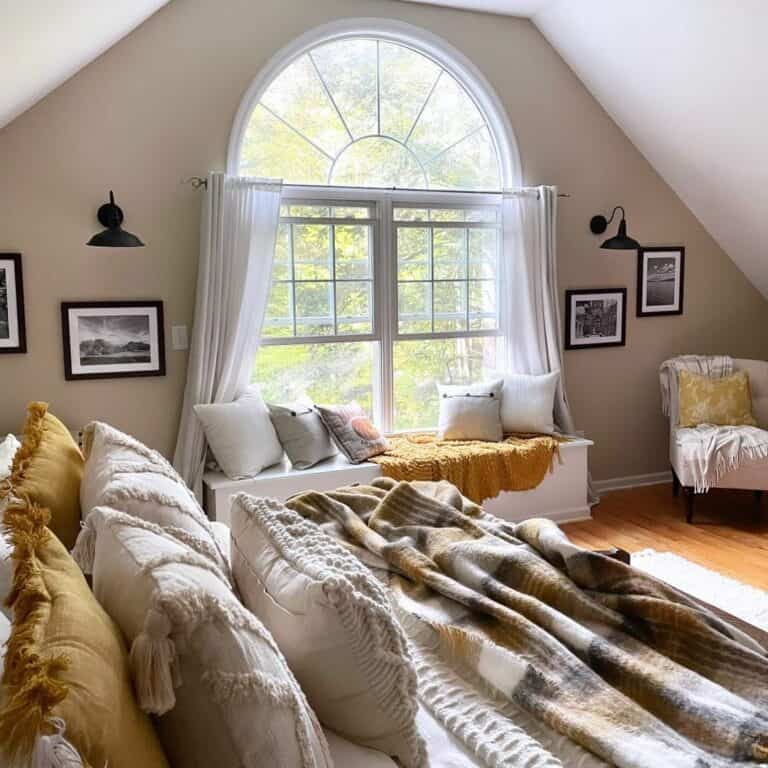 Credit: prettyandprintedshop
Shop the Style
Modern Farmhouse Elegance: Gray and White Window Seating
Above a bay window boasting a generous expanse, a sizable vintage wall clock in classic black commands attention. The inviting scene continues with a bright white wood bench adorned with snug gray upholstered seat cushions, accentuated by throw pillows showcasing farmhouse-inspired patterns. Adding to the aesthetic allure, a marble kitchen island graced with stylish gray upholstered stools stands as an elegant counterpart on the opposite end of the room.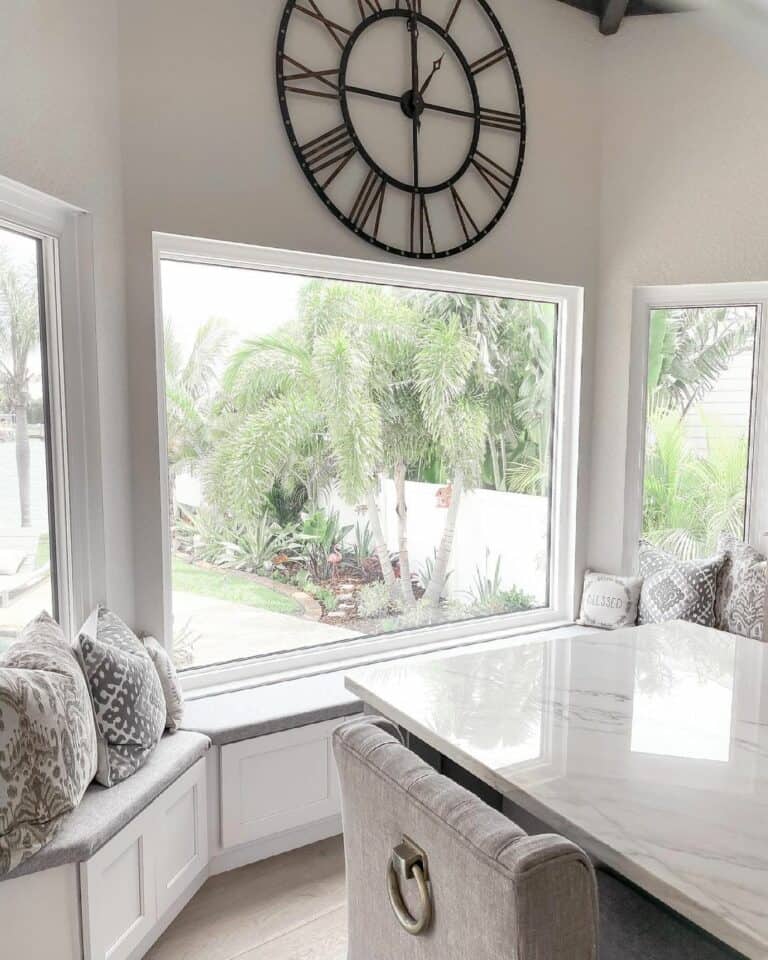 Credit: designsanddecors
Shop the Style
Contrasting Tones: Modern White Window Seat With Black Accents
Within this contemporary bay window, a pristine white backdrop sets the stage. A plush black upholstered cushion invites comfort, complemented by an array of neutral accent pillows. Amidst this ensemble, a touch of femininity emerges in the form of a pink velvet pillow. The window gains a touch of rustic charm from the burlap drapes that gracefully cascade, lending an organic touch to the ambiance. Completing the scene, farmhouse-style sconce lights grace the side walls, providing a gentle glow that enhances the space.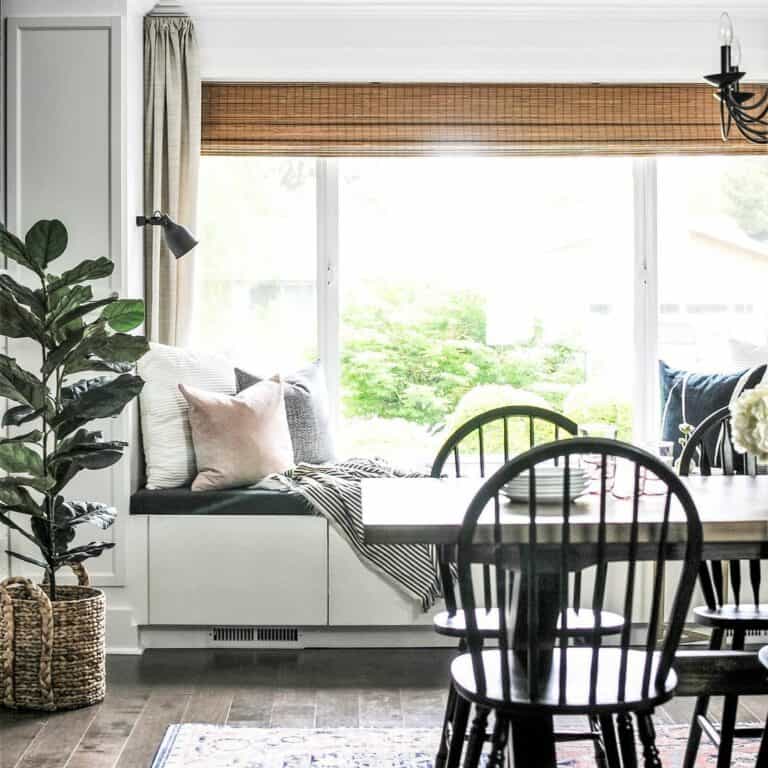 Credit: joyfulderivatives
Shop the Style
Rustic Charm: Bay Window Bench Seating Area With Shiplap Accents
Positioned above a pristine white bay window bench, two sleek black sconce lights cast their illuminating charm. Enhancing the visual allure, black plaid accent pillows and a leather pillow infuse character into the scene. A touch of comfort is added through a snug sherpa throw elegantly draped over the white wood bench. Framed by shiplap paneling, the space exudes a rustic yet modern ambiance, supported by a simple and monochromatic decor palette.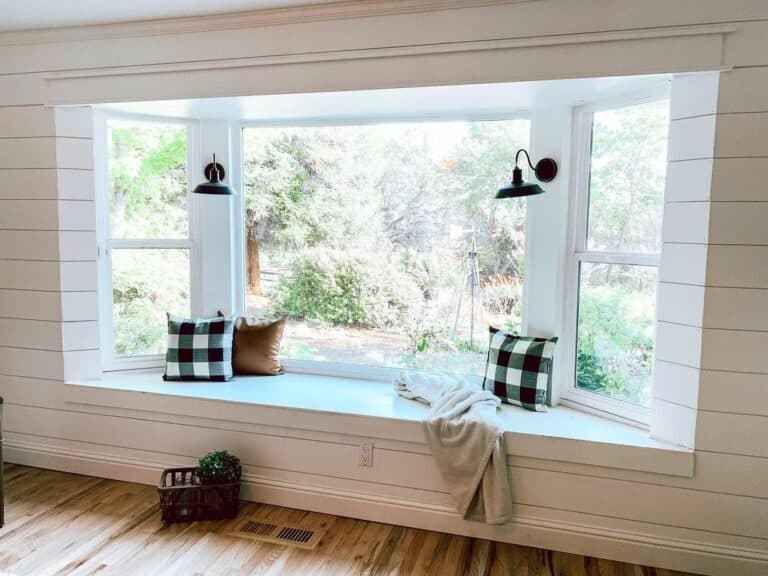 Credit: myfirst_farmhouse
Shop the Style
Creating a Relaxing Nook: Window Seat Ideas for a Neutral Bedroom
Utilizing a window nook to its fullest, a serene neutral bedroom transforms it into a haven of relaxation. A taupe seat cushion gracefully spans the space, inviting you to settle in. Farmhouse-inspired accent pillows add a touch of coziness, perfect for creating an inviting reading corner. Positioned at either end of the nook, two farmhouse sconce lights stand ready to offer a soft evening glow, ensuring ample illumination for your evening pursuits.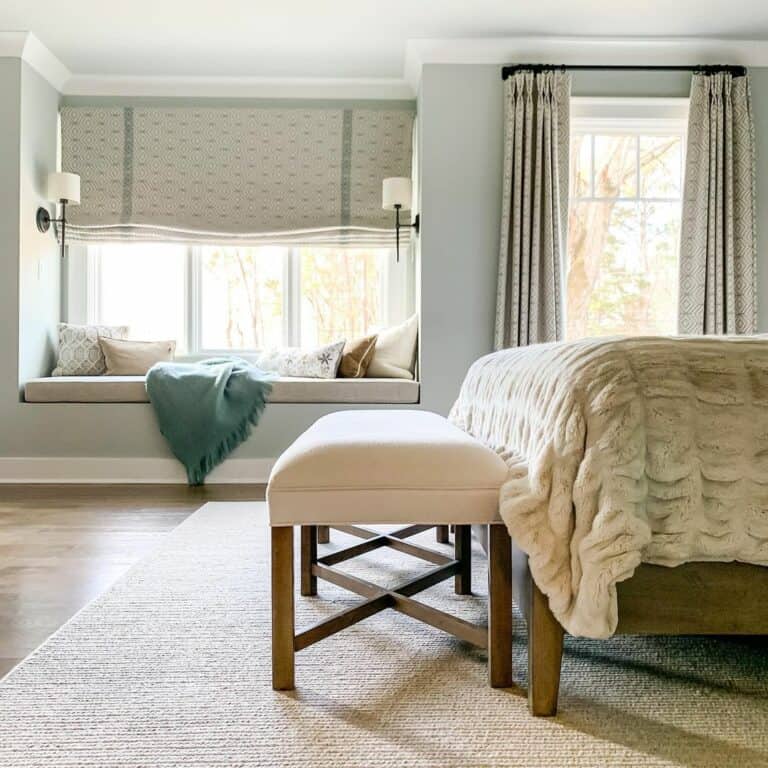 Credit: simplydecoratedhome
Shop the Style
Wrap-up
From quaint corners to tucked-away niches, the allure of farmhouse window seats knows no bounds. Each idea we've uncovered brings a unique touch of warmth and character to spaces often overlooked.
By reimagining these nooks and crannies, we've unlocked the potential for creating inviting havens that blend seamlessly with the essence of farmhouse aesthetics. Embrace the rustic coziness and nostalgic charm these window seat ideas offer and transform your home into a sanctuary of comfort and style.