7+ Practical Indoor Firewood Holder Ideas for a Cozy Farmhouse Living Room
Affiliate Disclosure: As an Amazon Associate we earn from qualifying purchases. Hence, if you click through and make a purchase, we will get a commission at no extra cost to you. For more info, read our full disclosure.
When it comes to creating a cozy farmhouse living room, there's nothing quite like the warm ambiance of a crackling fire. Whether you have a traditional fireplace or a wood-burning stove, having a practical indoor firewood holder is essential for both functionality and aesthetics.
Not only does it keep your firewood organized and easily accessible, but it also adds a rustic charm to your home decor.
In this blog post, we'll explore seven practical indoor firewood holder ideas that will not only keep your firewood neatly stored but also enhance the cozy farmhouse vibe of your living room.
Elevate Your Living Room Fireplace with Potted Plants
Enhance your modern farmhouse living room with an industrial touch. Place a small black iron firewood storage basket atop the stone hearth. Create a cozy reading nook with a white farmhouse chair and a tall black floor lamp beside the fireplace. Enhance the room's ambiance by adding two trailing potted plants on each end of the fireplace mantel.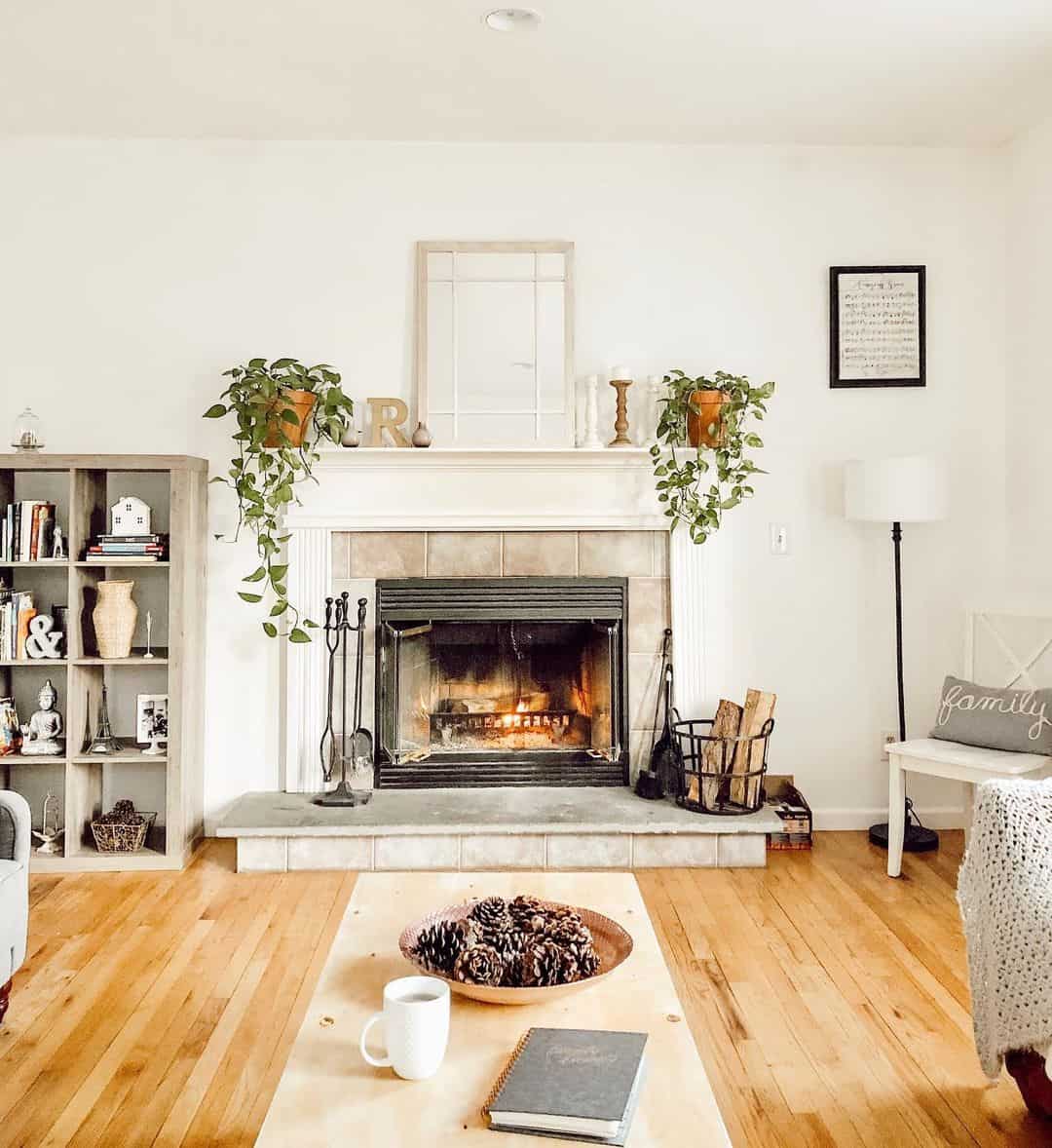 Credit: ramirezsgocountry
Shop the Look
Stylish Indoor Firewood Storage with a Black Iron Shelf
Maximize both style and function with a black iron shelf against a backdrop of white brick and shiplap. Use it for storing firewood and adorn the wall above with an antique mirror for a simple yet elegant touch. Complement the arrangement with a taupe and white plaid rug and bleached brown woven outdoor furniture.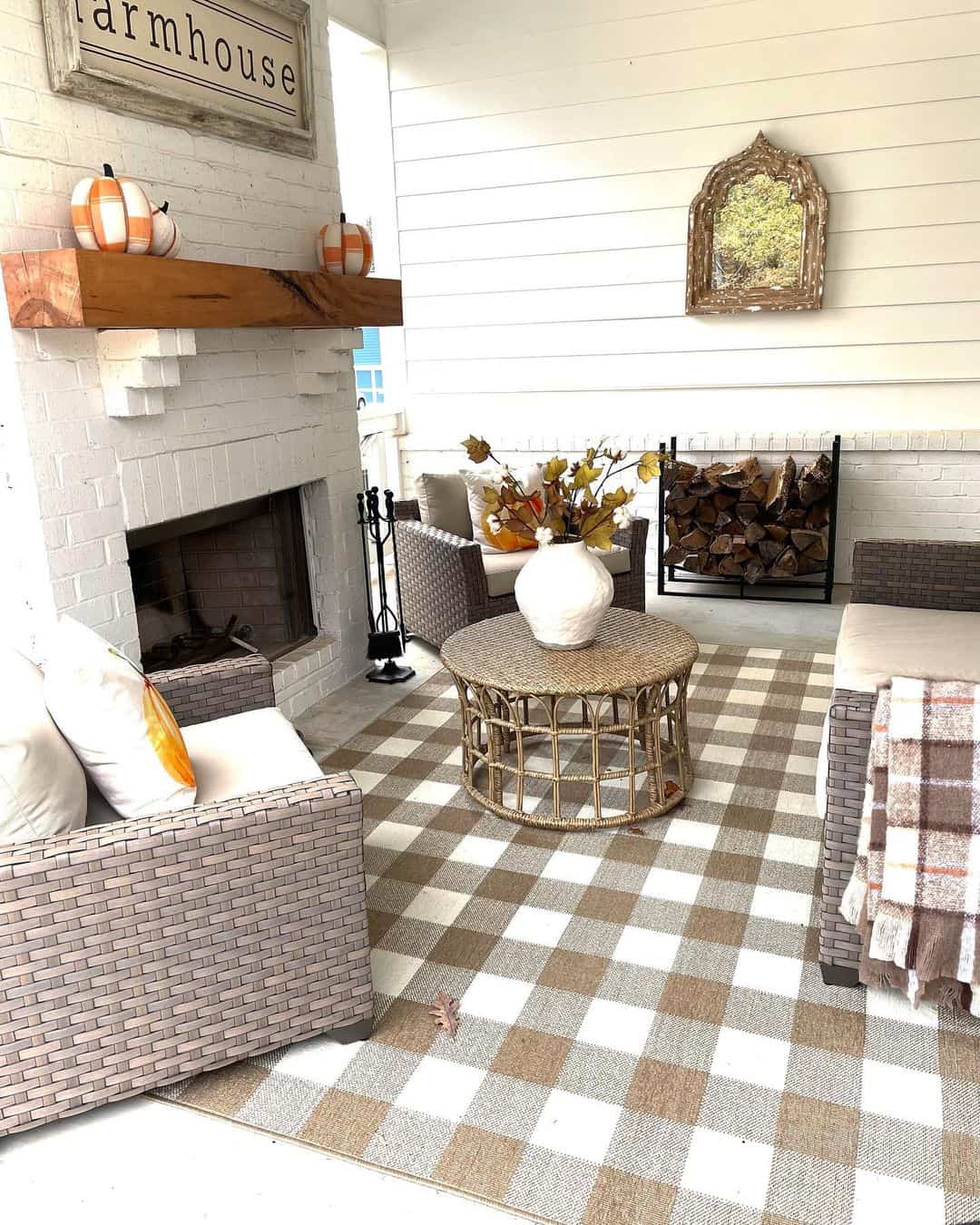 Credit: white.cottage.life
Shop the Look
Modernize Your Space with a Round Iron Wood Log Storage Tray
Achieve a modern farmhouse aesthetic by using a sleek black iron round firewood tray to stack logs near your wood-burning fireplace. Utilize the white tile hearth for additional log storage and introduce a woven basket of linens. Complete the look with a draping pine garland, a gilded mirror, and white candles in black metal holders.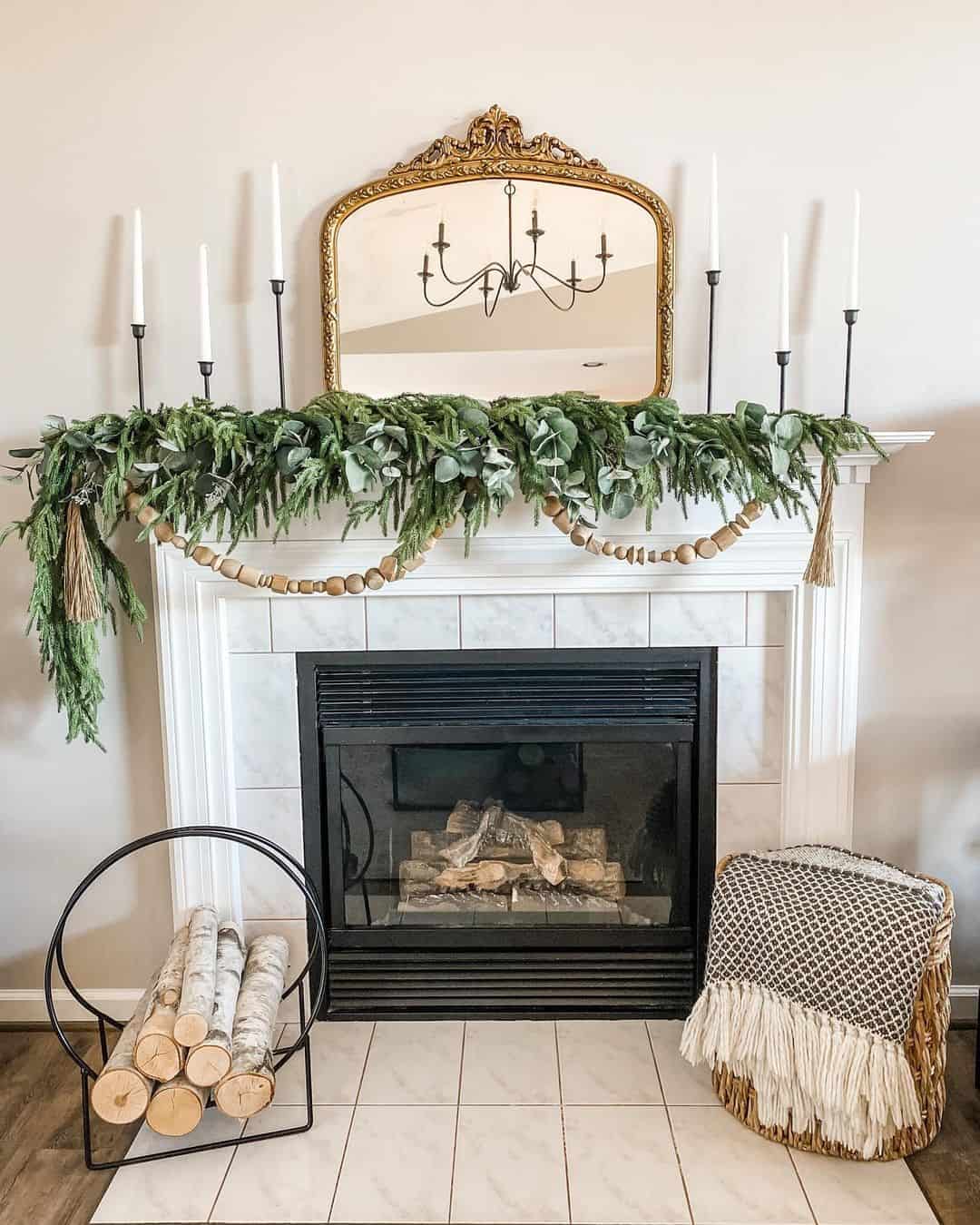 Credit: oursanguinehome
Shop the Look
Elevate Your Fireplace Decor with a Vintage Wire Basket
Add a touch of sophistication to your white fireplace with a vintage wire basket proudly displaying upright white birch logs. Elevate the mantel's charm by embellishing it with a festive fir garland, delicate wood bead garland, and small potted fir trees, creating a harmonious and neutral holiday mantel ensemble. Complete the cozy ambiance with two welcoming armchairs flanking the fireplace.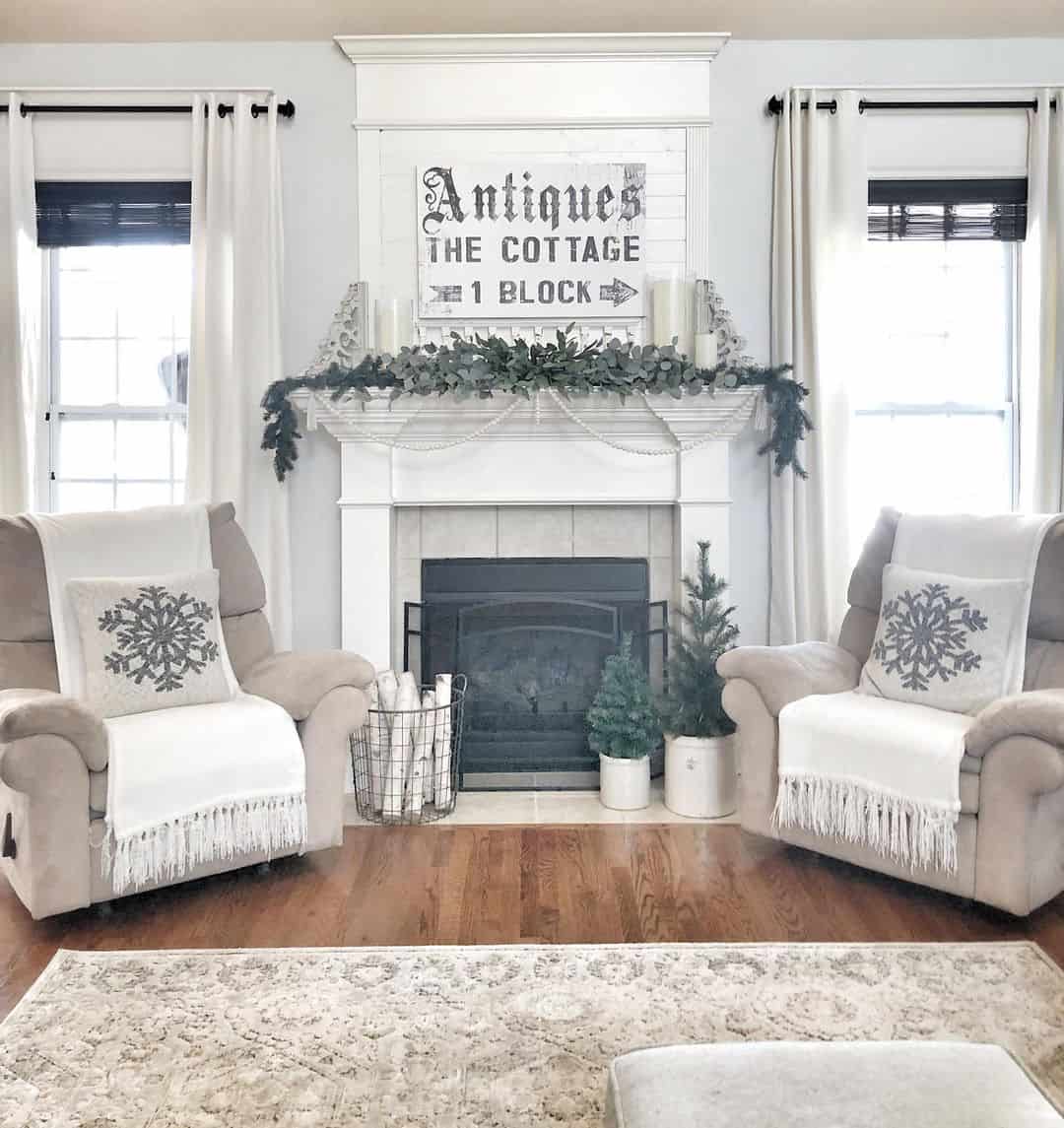 Credit: therusticredfox
Shop the Look
Cozy Up Your Farmhouse Living Area with Wicker Firewood Bins
Transform your modern farmhouse living room with a tan wicker basket for firewood storage. Place it near the wood-burning stove, complemented by a woven jute rug and a natural wood coffee table, creating a warm and inviting seating area.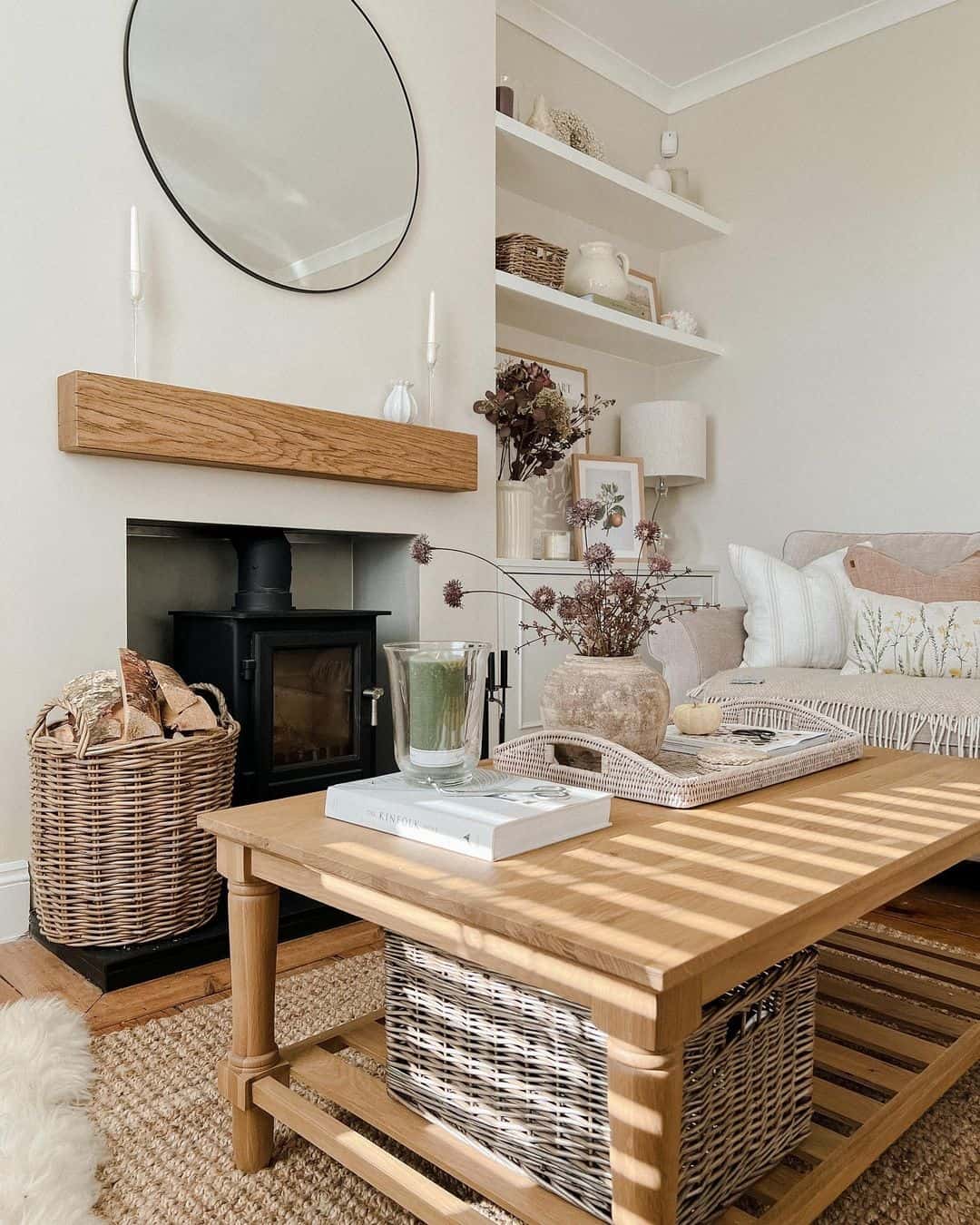 Credit: samanthajoyhome
Shop the Look
Aesthetic Animal Mantel Decor for Your White Brick Fireplace
Add character to your space with a two-way fireplace and a black firewood rack featuring a modern rounded design. This delightful contrast complements the white brick fireplace and pairs beautifully with the wood floating mantel. For a modernized farmhouse look, adorn the mantel with adorable animal portraits.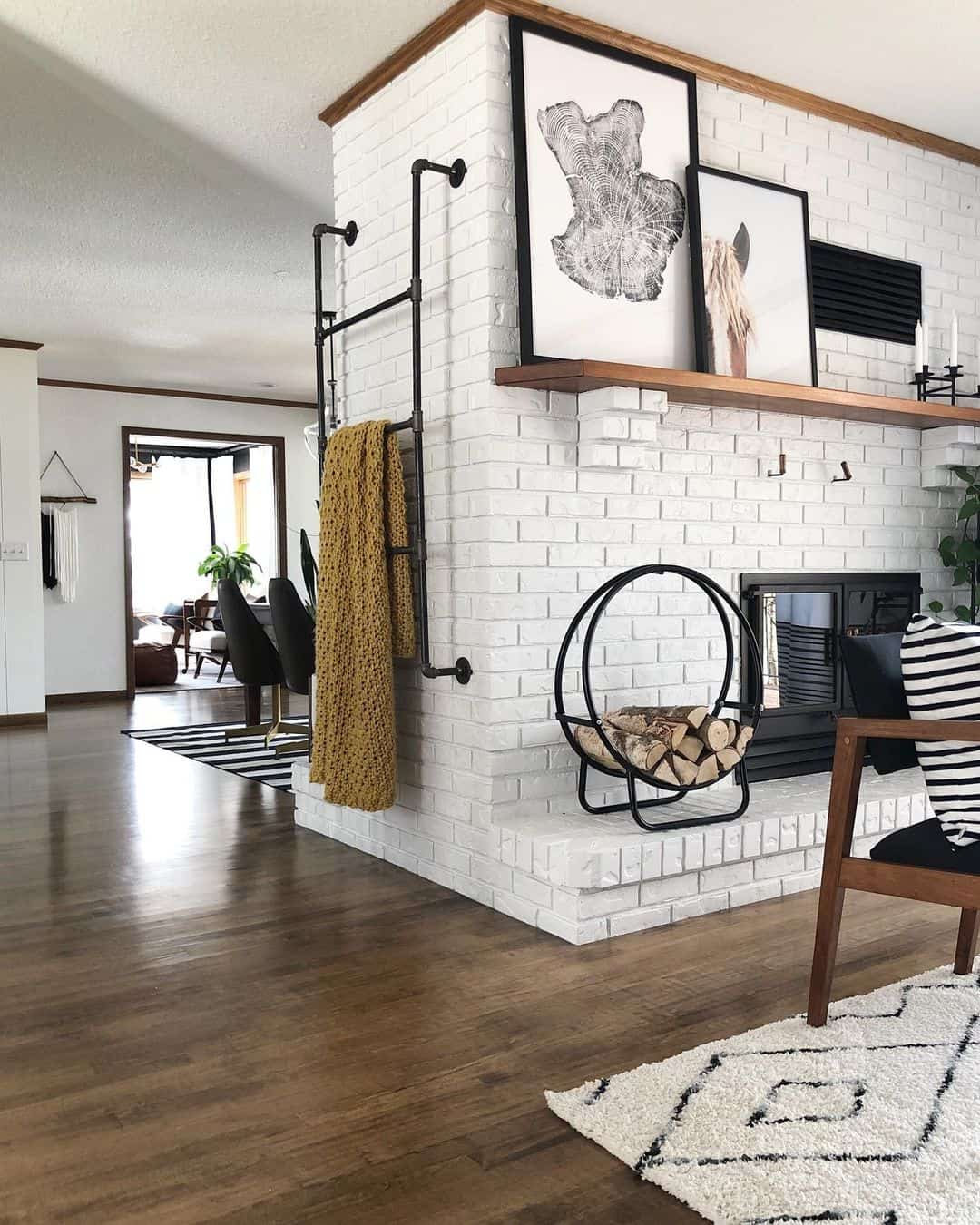 Credit: katechipinski
Shop the Look
Sophisticated Black Marble Fireplace and Vintage Steel Firewood Basket
Elevate the sophistication of your living area with a black marble fireplace boasting an extended hearth. Decorate it with a vintage steel basket to stylishly display spare wood log rounds in a convenient location. Complete the modern look with tall black candlesticks, a gold round mirror, and earth-toned vases along the mantel.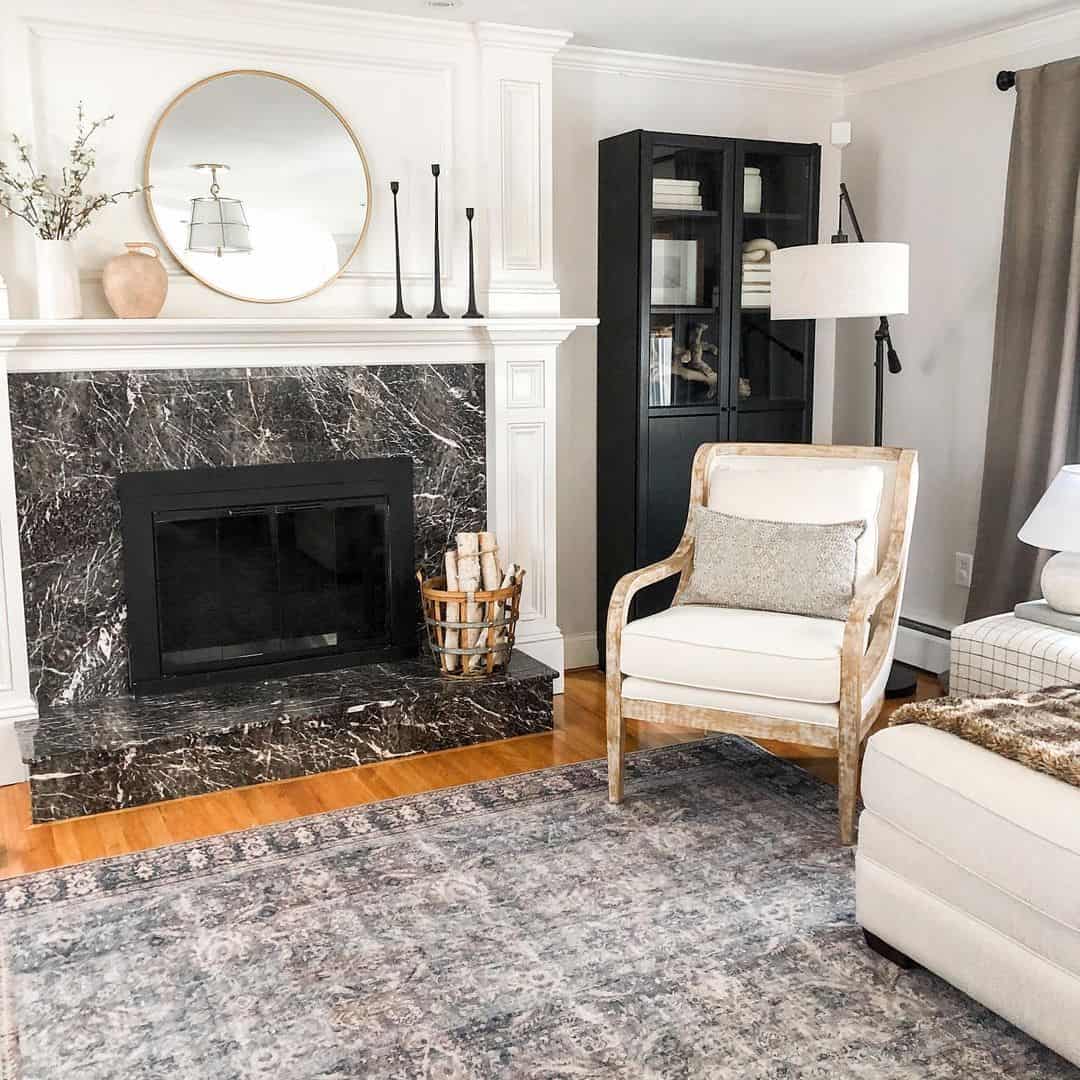 Credit: livingwithamanda
Shop the Look
Modernize Your White Fireplace with a Black Iron Firewood Holder
Infuse your modern farmhouse living room with charm by featuring a white shiplap fireplace with a distressed wood floating mantel adorned with warm red foliage and candlesticks. Enhance the functionality and aesthetics with a modern black iron firewood tray, offering convenient access and organic decor.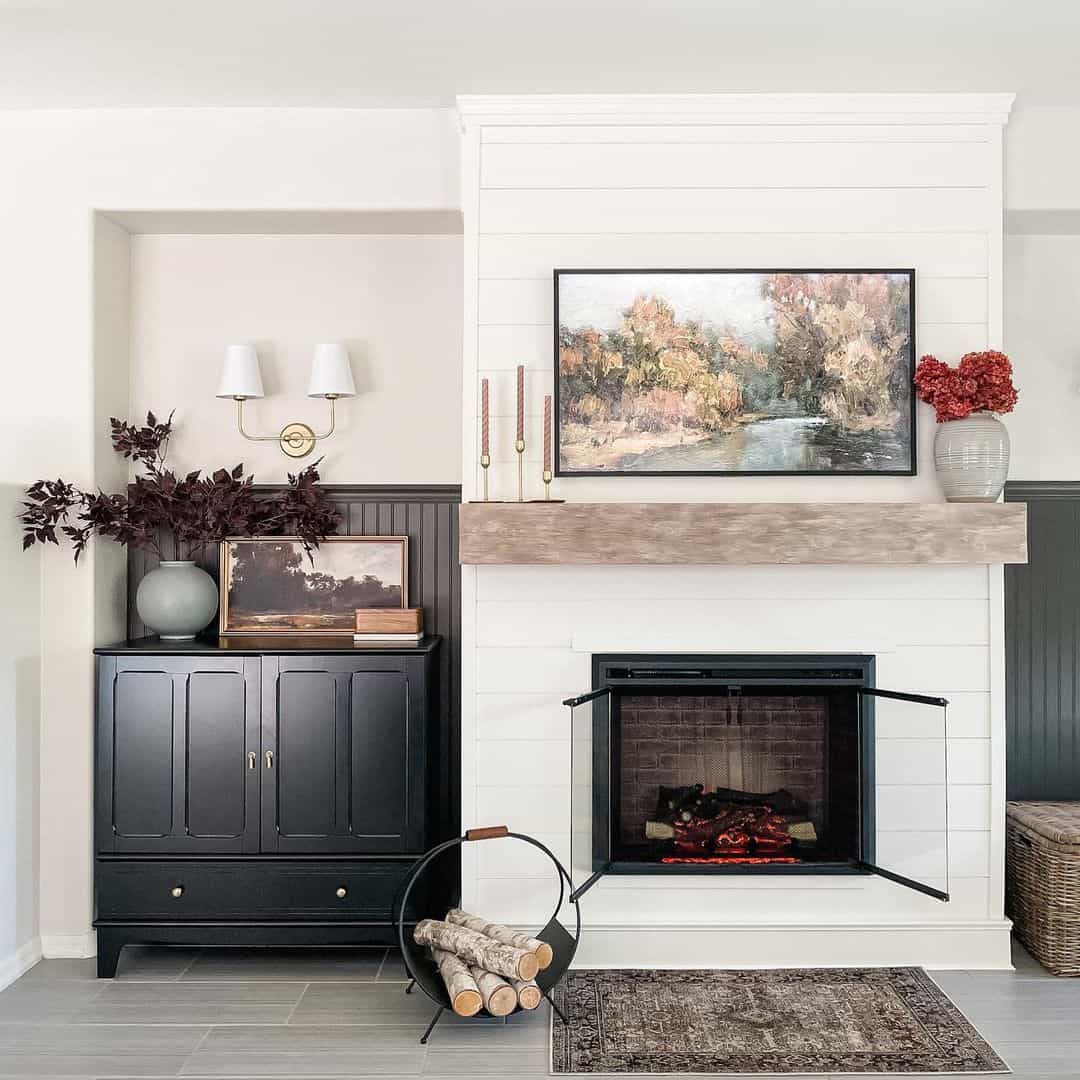 Credit: ouracaciagrovehome
Shop the Look
Wrap-up
Incorporating a firewood holder into your farmhouse living room decor not only serves a practical purpose but also contributes to the overall cozy atmosphere. These seven ideas range from simple and traditional to creative and stylish, allowing you to find the perfect fit for your home.
Whether you opt for a vintage crate, a decorative log rack, or a sleek wall-mounted design, your firewood holder can be a statement piece that adds both functionality and charm to your living space.
With these ideas, you can enjoy the warmth of a roaring fire while enhancing the rustic beauty of your farmhouse living room.