7+ Alluring Farmhouse Living Room Themes to Match Any Décor
Affiliate Disclosure: As an Amazon Associate we earn from qualifying purchases. Hence, if you click through and make a purchase, we will get a commission at no extra cost to you. For more info, read our full disclosure.
Welcome to a world of rustic charm and timeless elegance as we explore seven captivating farmhouse living room themes that seamlessly blend with any décor style. Whether you're drawn to the cozy warmth of a shabby chic space, the clean lines of a modern farmhouse, or the classic appeal of a traditional design, this blog will inspire you to transform your living room into a haven of farmhouse-inspired beauty.
Elegant Family Room with Wall-Mounted Television
In many family rooms, the addition of a television is a common sight. This farmhouse-themed family room takes a unique approach with a touch of elegance. A striking wagon wheel chandelier hangs above two contrasting leather couches, creating a captivating focal point.
The upper portion of the fireplace is adorned with shiplap, contrasting beautifully with the brick surround. To achieve a sleek, wall-mounted television, the addition of an electrical outlet on the chimney is essential to conceal unsightly cords and wires, as expertly demonstrated in this design.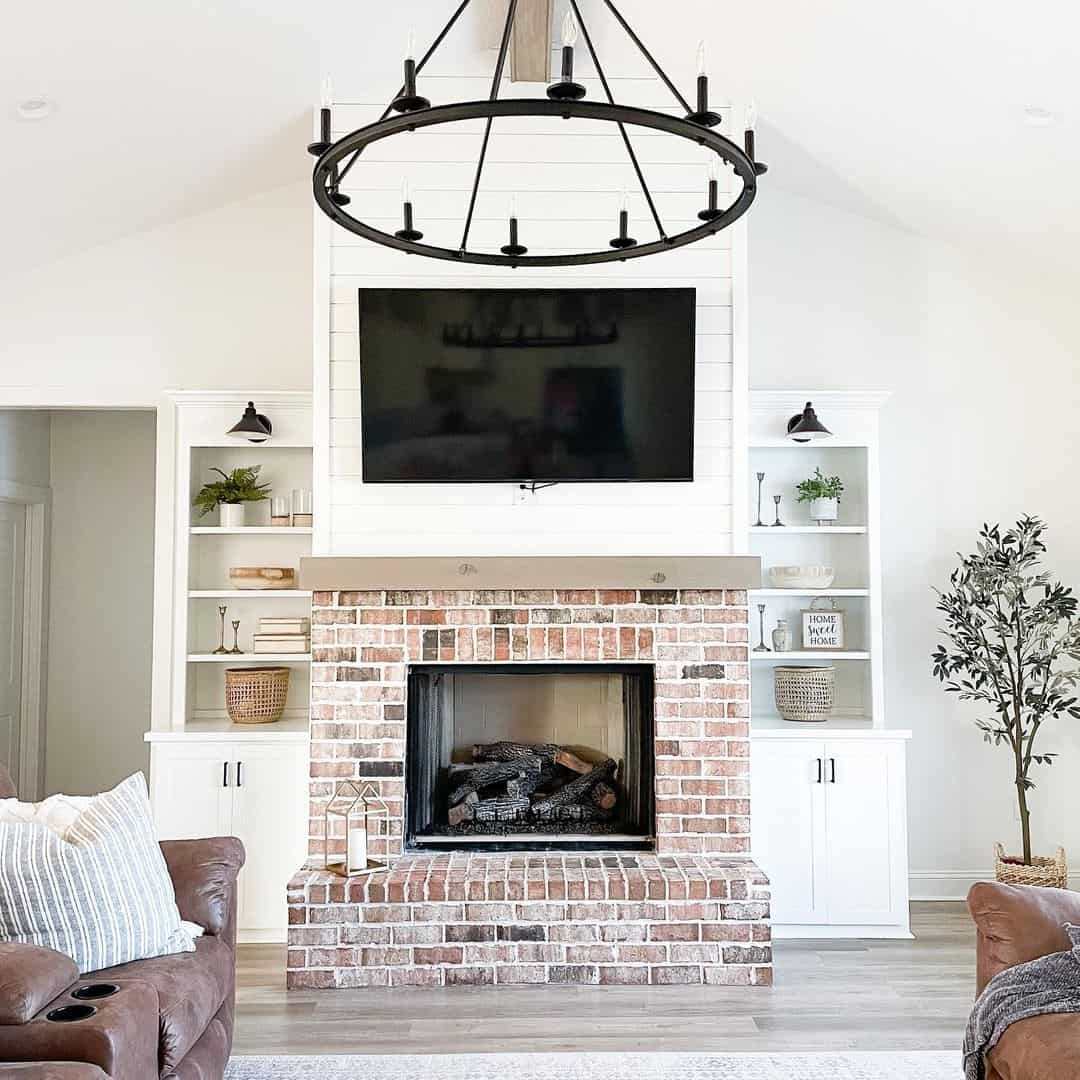 Credit: styled_by_jadeleah
Shop the Look
Embrace Autumn with Hygge Living Room Décor
Welcome the cozy charm of autumn into your living space with this inviting cottage living room. Off-white pillows and throws create an atmosphere of comfort and relaxation. Hints of salmon and orange subtly infuse the room with the spirit of autumn, showcased through potted Fall mums and an October-themed sign.
To replicate this inviting atmosphere, consider incorporating quilted and knit throws alongside a white sofa and coffee table. The fireplace mantel's glassless window panes complete the warm and snug aesthetic.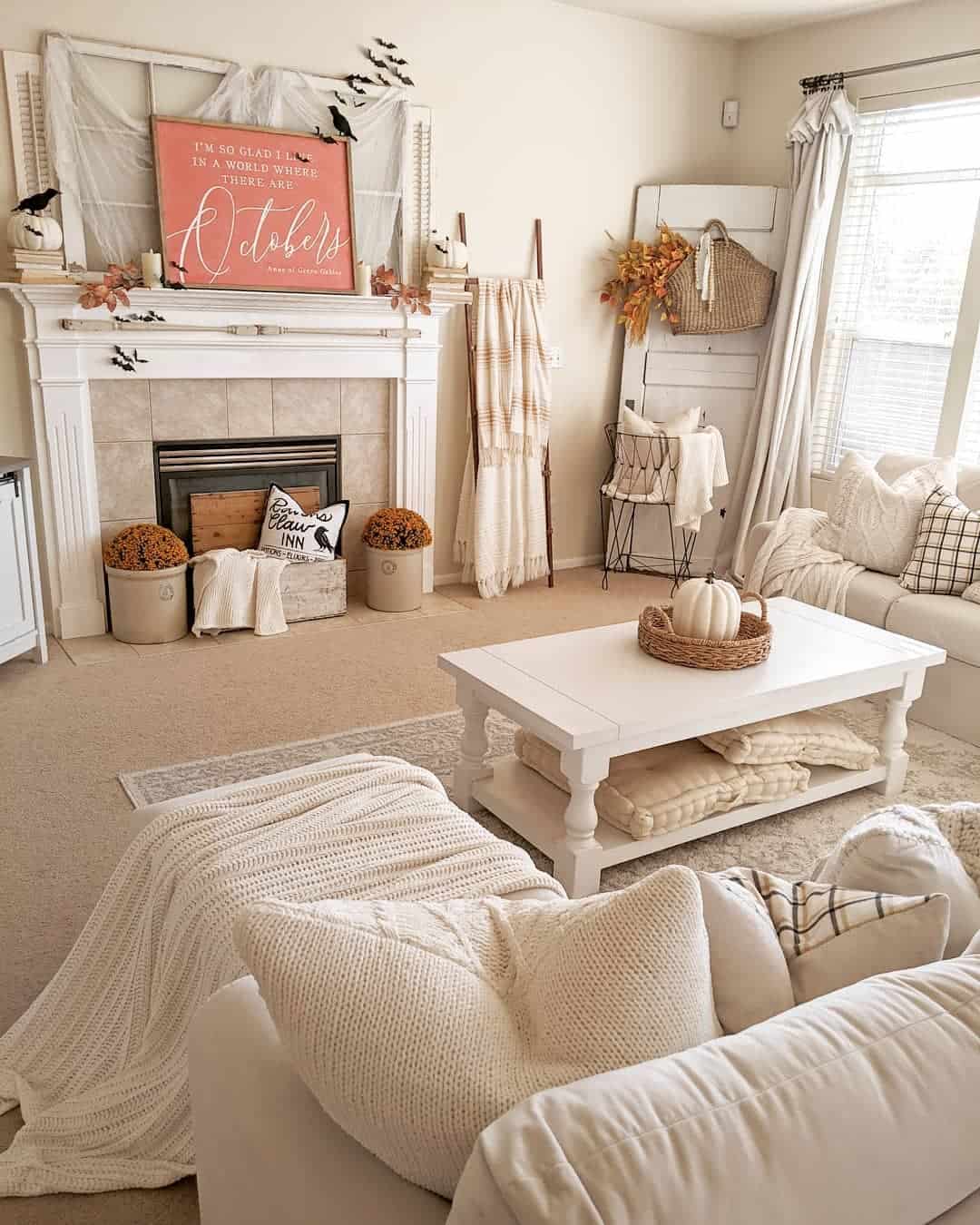 Credit: the_martinmanor
Shop the Look
Cozy and Inviting Living Room Retreat
Step into a world of coziness with this inviting living room. A warm beige sofa and a white wooden table rest upon an intricately-patterned rug, creating a welcoming ambiance. The gray walls are adorned with farmhouse-inspired wall décor, arched mirrors, framed quotes, and ambient lighting, adding to the room's charm and appeal.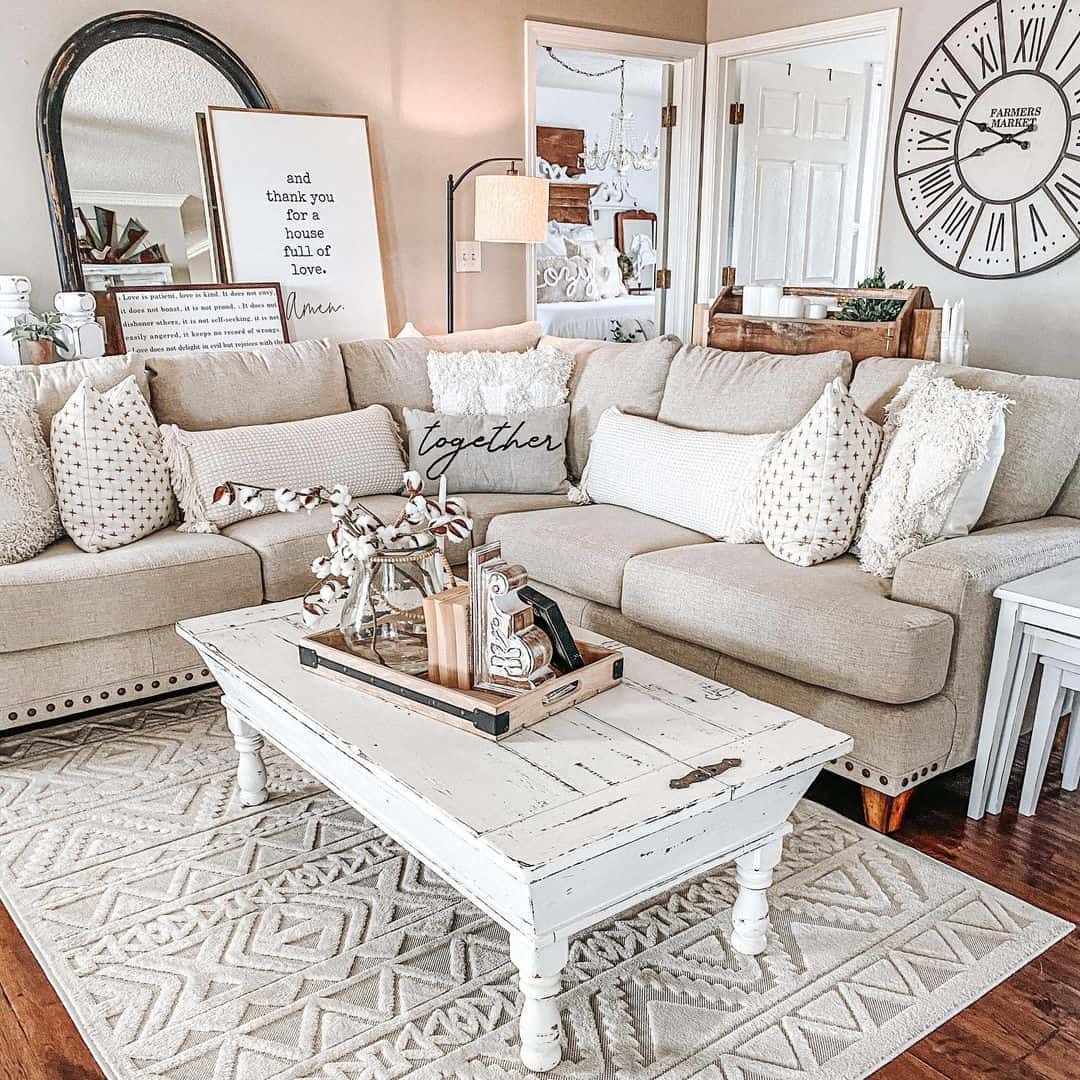 Credit: the_penton_farmhouse
Shop the Look
Charming White Farmhouse Living Room with Brick Fireplace
This living room captivates with its focal point: a rustic brick fireplace with a substantial floating mantel. The mantel is adorned with an antique arched mirror, a vase of twigs, and two sculpted heads, adding character to the room.
If you desire to brighten up your furniture to match the room's light and airy aesthetic, consider using white sofa covers as a practical alternative to replacing your furniture entirely.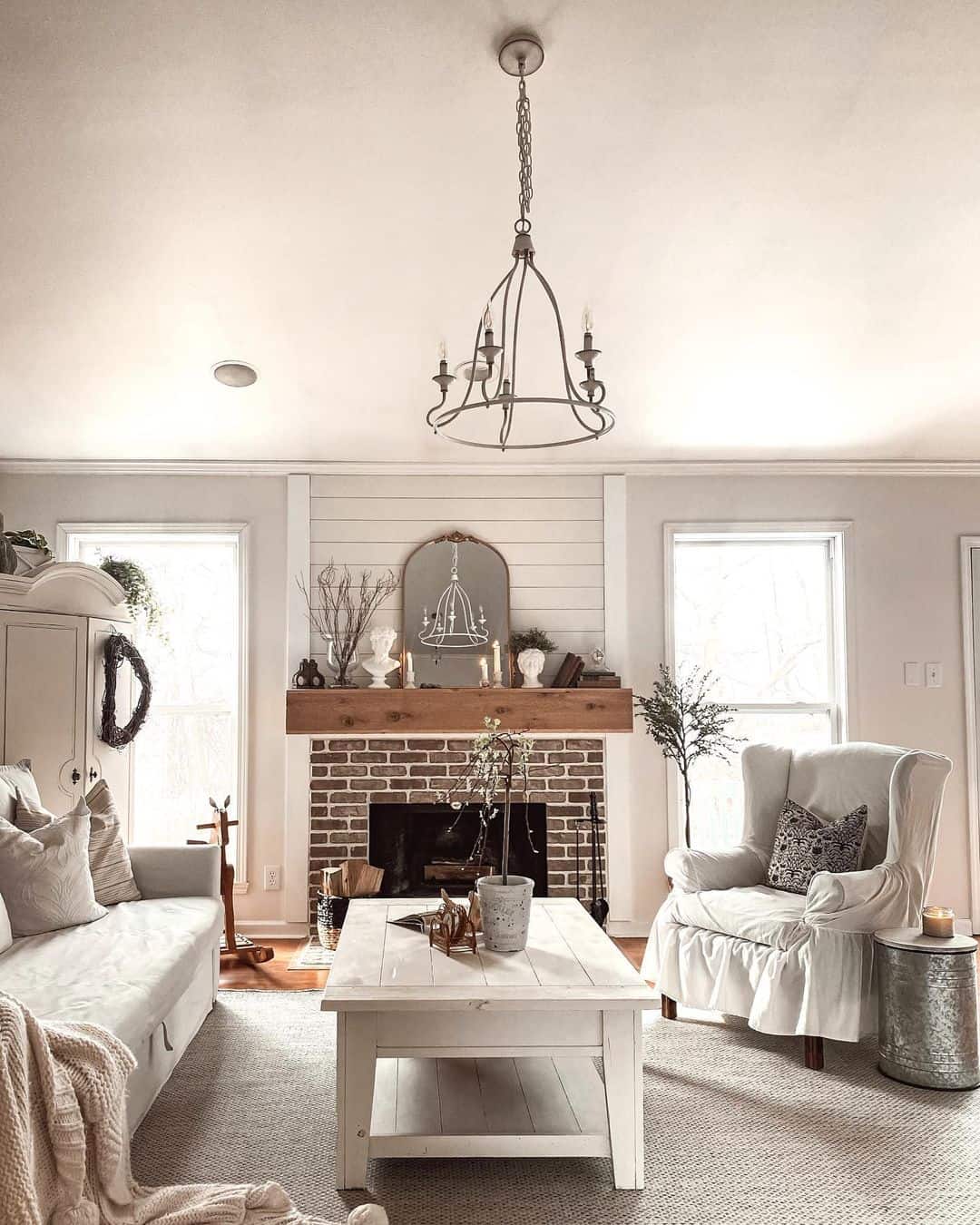 Credit: thethriftedcottage
Shop the Look
Tranquil Lake House Seating Area
Nestled in the corner of this room is a tranquil seating area featuring a shiplap and stone-framed fireplace flanked by two white cabinets. Floating shelves adorn the walls, displaying modern Fall-inspired trinkets, books, and vibrant plants. In a home celebrated for its breathtaking views, two lounge chairs next to a coffee table provide the perfect spot for soaking in the morning sun.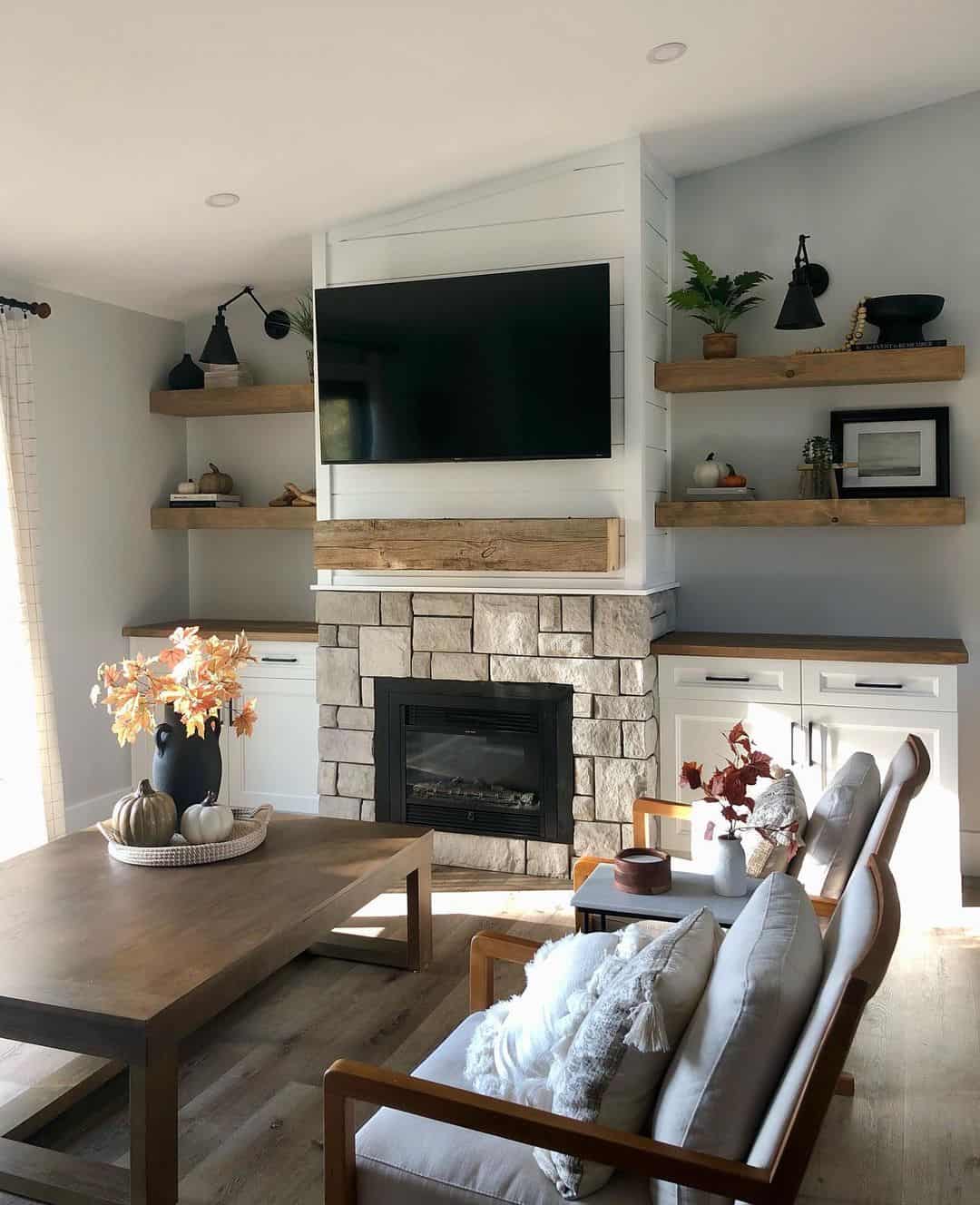 Credit: thelakesidefarmhouseproject
Shop the Look
Chic Sunroom with Striking Fireplace Surround
A defining feature of this home is the striking fireplace standing proudly on the covered back porch. The exterior is framed with siding, while the front showcases white-washed brick behind a captivating reclaimed wood mantel.
Oversized vase-like structures frame a distressed farmhouse mirror at the center, offering a clever design strategy to add depth and enhance the scale in this spacious area.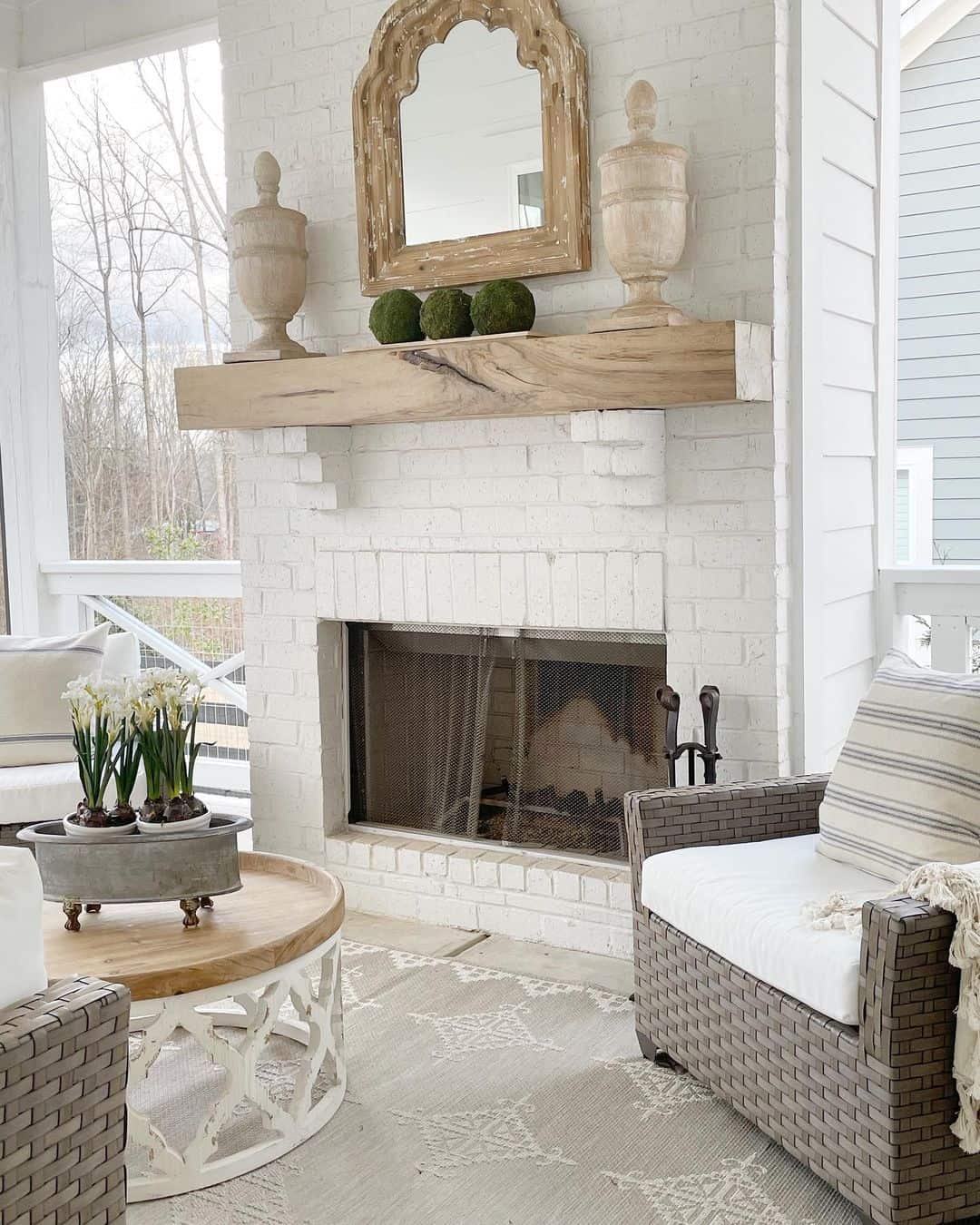 Credit: white.cottage.life
Shop the Look
Mid-century Modern Revival
Mid-century designs are making a comeback in our living spaces. In this design, a low-back white lounge chair is juxtaposed with an exposed brick fireplace, showcasing the enduring appeal of mid-century aesthetics.
The incorporation of a floating mantel adorned with distressed farmhouse décor and a tan sectional sofa further solidifies the room's modern yet timeless vibe. The addition of a gold fireplace surround adds a trendy touch to this stylish space.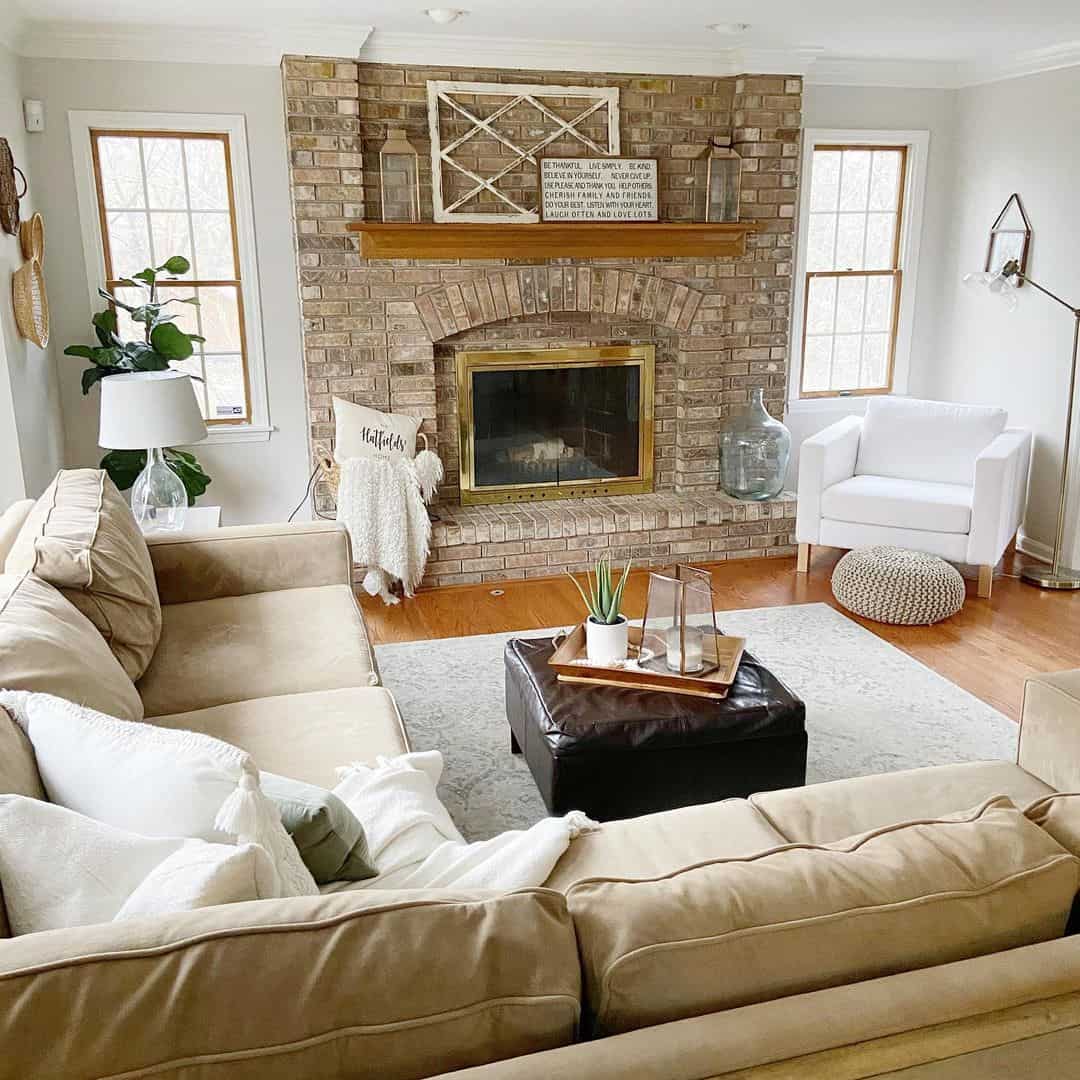 Credit: randrathome
Shop the Look
Shabby Chic Living Room Inspiration
For lovers of shabby chic décor, this living room is a dream come true. Bright white textured throws and pillows complement the room's scruffy yet charming details. A unique feature is the personal-library-inspired book surround, creatively crafted for a home with a retired fireplace.
Pages of antique books have been meticulously removed to create a captivating wallpaper backdrop lining the inside of the vintage mantel.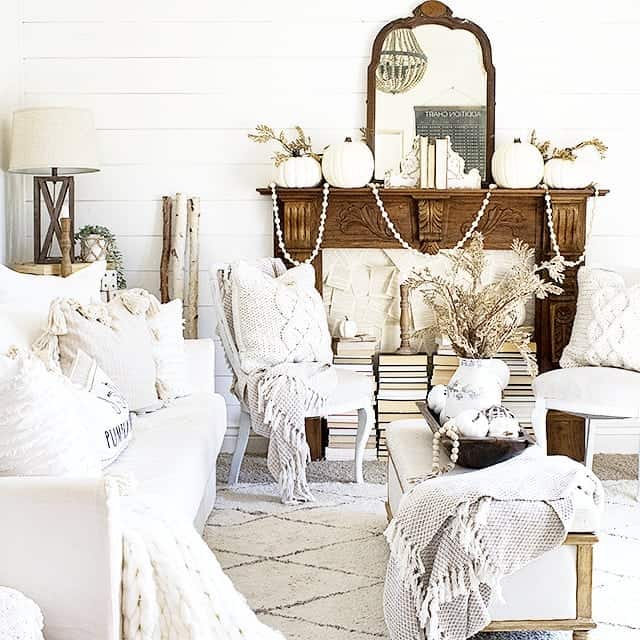 Credit: thriftyandchicdecor
Shop the Look
Wrap-up
Incorporating farmhouse elements into your living space offers a wealth of possibilities to create a welcoming and inviting atmosphere. From rustic textures to vintage accents, these seven farmhouse living room themes provide a versatile canvas for expressing your unique style.
So, embrace the allure of farmhouse décor and let your imagination run wild as you design a living room that's not only charming but also a reflection of your personality.