7+ Sleek Modern White Farmhouse Living Room Ideas
Affiliate Disclosure: As an Amazon Associate we earn from qualifying purchases. Hence, if you click through and make a purchase, we will get a commission at no extra cost to you. For more info, read our full disclosure.
Are you ready to infuse a touch of modern elegance into your farmhouse living room? If you're seeking fresh and sleek ideas to revitalize your space, you've come to the right place. In this blog, we'll explore seven innovative ways to achieve a harmonious blend of modern style and rustic charm in your white-themed farmhouse living room. Get ready to transform your space into a haven of contemporary comfort and timeless appeal.
A Farmhouse-Inspired Living Room Awash in White
Step into a living room that exudes farmhouse charm, draped entirely in a soothing white palette. From the inviting sofa to the captivating fireplace and storage cabinets, every element embraces the purity of white.
A wooden coffee table and the judicious use of rattan accents introduce a delightful interplay of textures, while a whimsical chandelier adds a touch of rustic elegance to the space.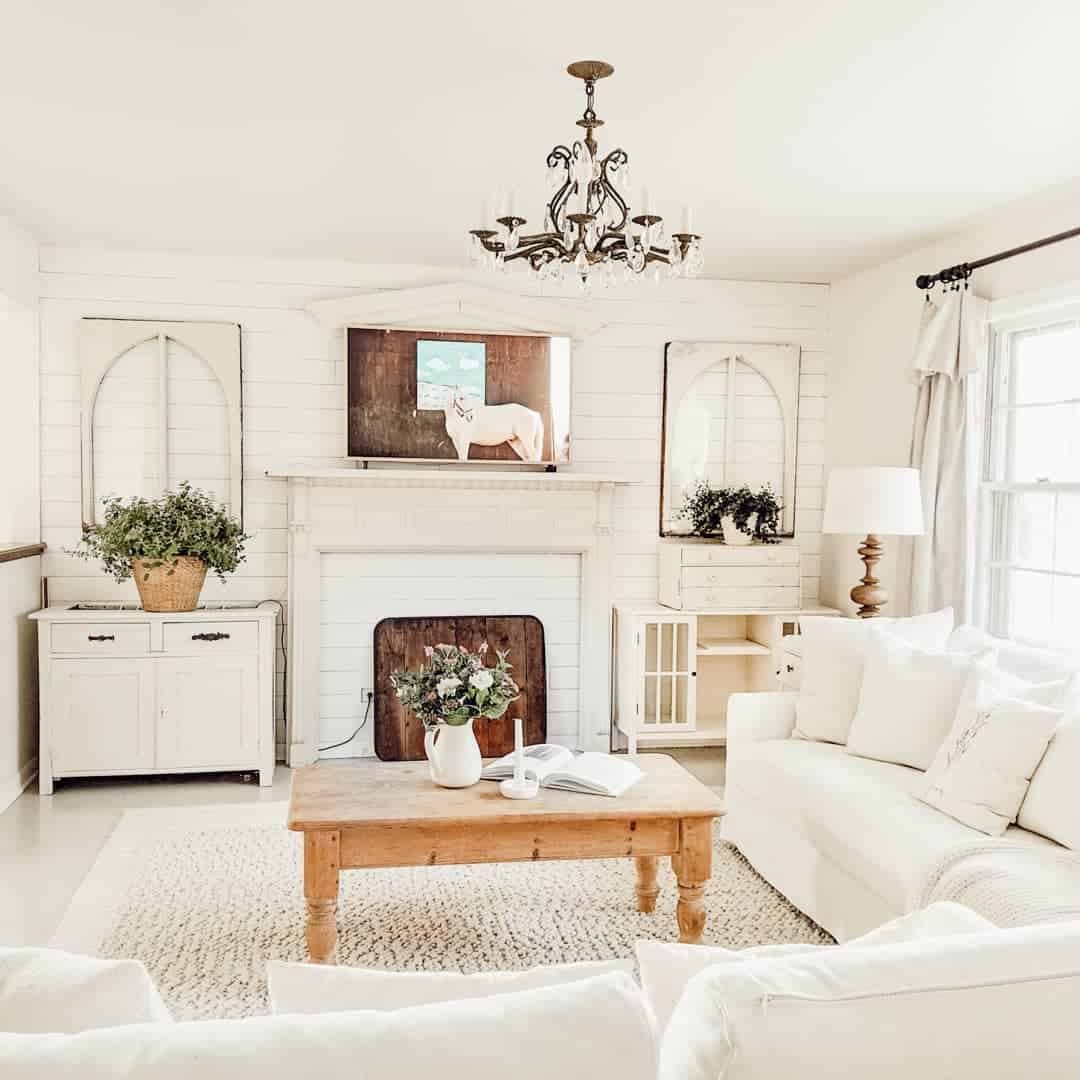 Credit: vintageandgraceliving
Shop the Look
A DIY Modern Farmhouse Revival
This white-clad living room stands as a testament to the transformative power of design. Plain walls are brought to life with the addition of white board and batten molding against a serene gray backdrop. The heart of the room is a revitalized white fireplace, now framed by shiplap and ready to steal the spotlight.
The mantel serves as a showcase for farmhouse-themed decor, featuring coordinated lamps, an artfully arched window frame, and a rustic metal scale.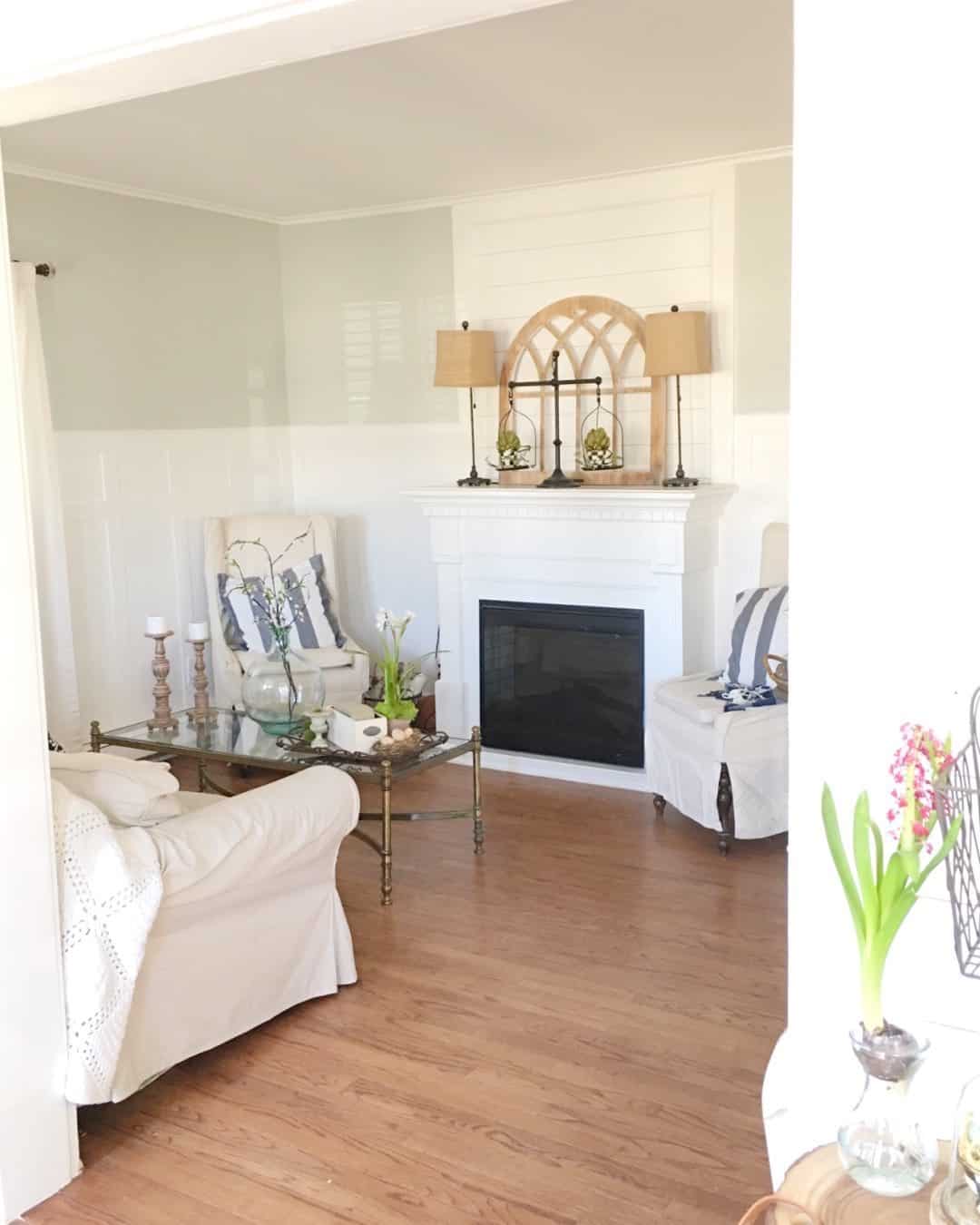 Credit: thelittlecottagethatcould
Shop the Look
Modern Elegance: White Living Room with French Doors
Embrace modern elegance in this living room, where white French doors beckon, revealing a sophisticated seating area bathed in natural light. Framed by double windows dressed in flowing white curtains on sleek black rods, the view is a work of art.
In the center of it all, a linen-blend beige sofa takes its place of honor, accompanied by an oversized ottoman that promises cozy evenings at home.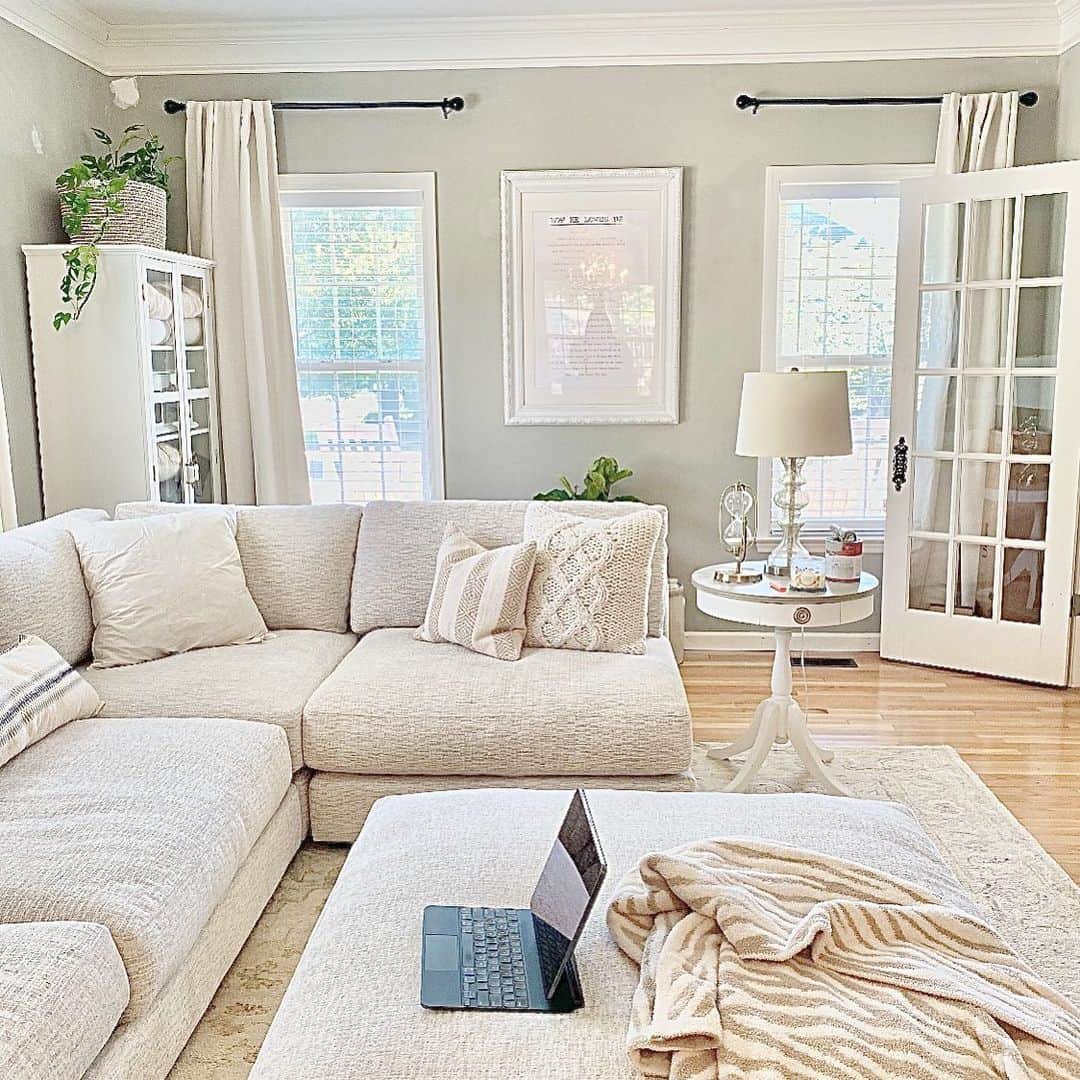 Credit: the_melton_homestead
Shop the Look
Eclectic Charms of a White Living Room
Step into a sitting room where the past and present coexist harmoniously, weaving an eclectic tapestry of design. Unique wooden elements and candelabra sconces frame the fireplace, while a stately bronze antique mirror graces the mantel. These vintage touches blend seamlessly with contemporary coffee and end tables, infusing the all-white canvas with a rich textural narrative.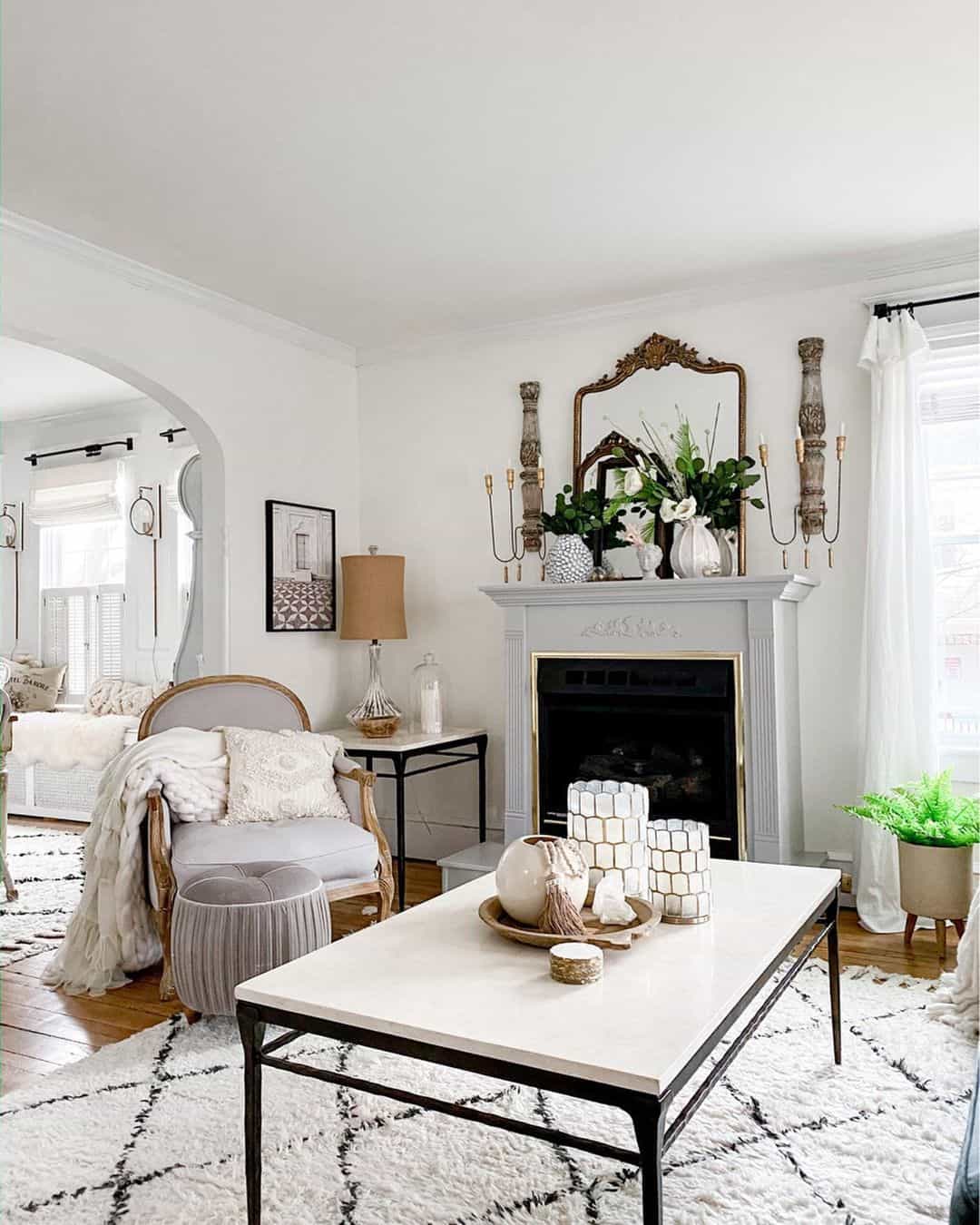 Credit: thecultivatedhome
Shop the Look
Making a Statement: White Mantel against Sandy Tan Walls
Amidst the warm embrace of sandy tan walls, a striking white shiplap fireplace with intricate mantel molding commands attention in this farmhouse-inspired living room. Flanked by two benches adorned with built-in shelves, the room finds balance with a sumptuous sofa and ottomans clad in creamy tan leather.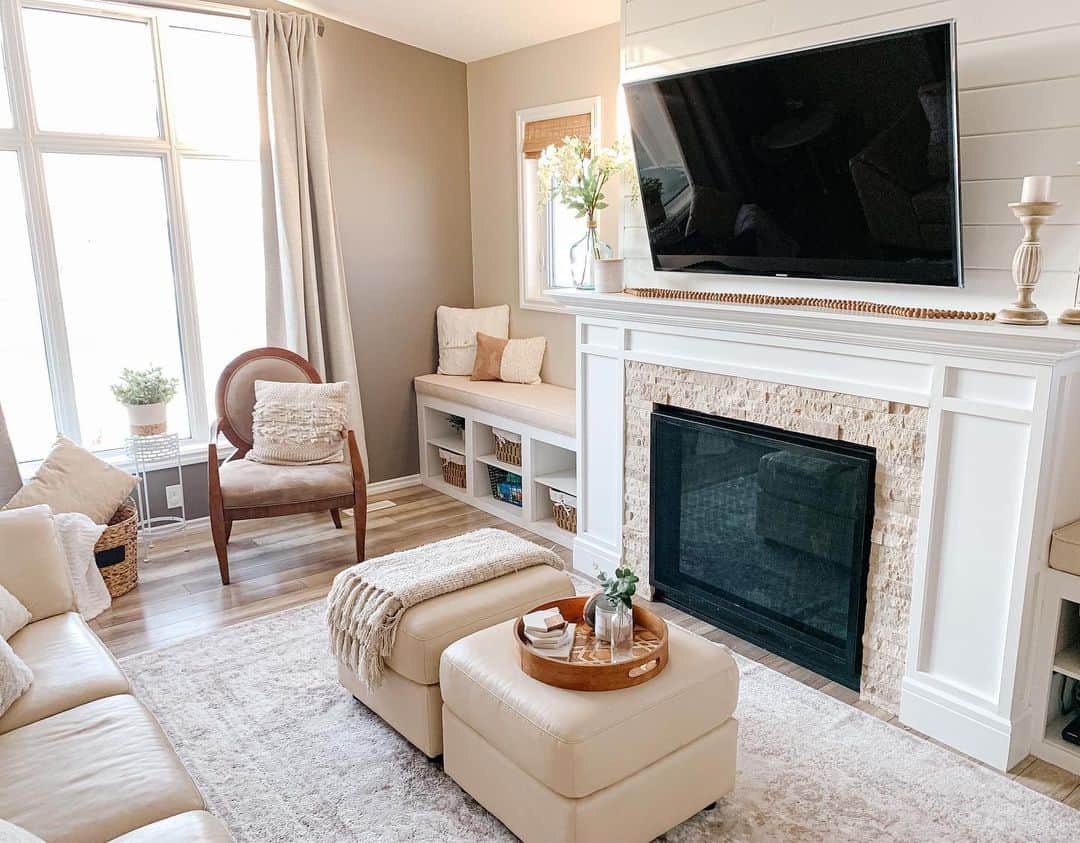 Credit: tayaspaige
Shop the Look
Crafting Modern Elegance: DIY Built-in Fireplace Shelving
Witness the transformation of a 1980s living room into a space that exudes contemporary sophistication. Without resorting to major demolition, the designer skillfully creates the illusion of built-in cabinets around the central fireplace.
This ingenious feat is achieved by incorporating two individual floor cupboards and surrounding the hearth with white floating shelves. The room is further elevated by the contrast of white sofa covers against a deep brown couch, accompanied by the graceful presence of two cane chairs.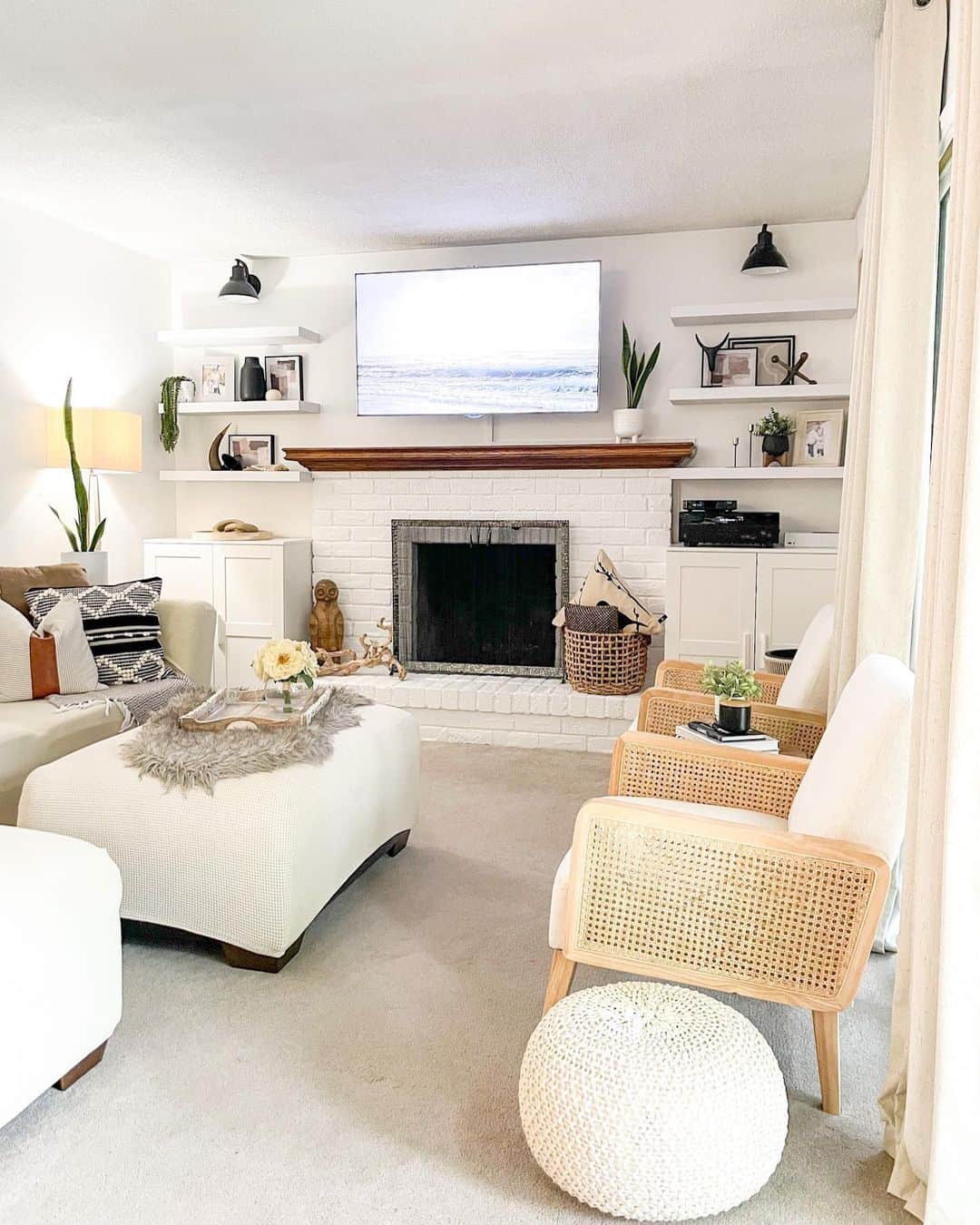 Credit: tarynfalconerdesignstudio
Shop the Look
Contemporary Comfort: White Living Room with Gray Couches
This inviting sitting room epitomizes contemporary comfort, featuring a framed TV perched above an all-white mantel. Gilded lamp sconces elegantly flank the television, while a generously sized dusty blue ottoman introduces a subtle hint of color to the luminous living space. Surrounding the room are plush gray couches, and small textured accents grace every surface.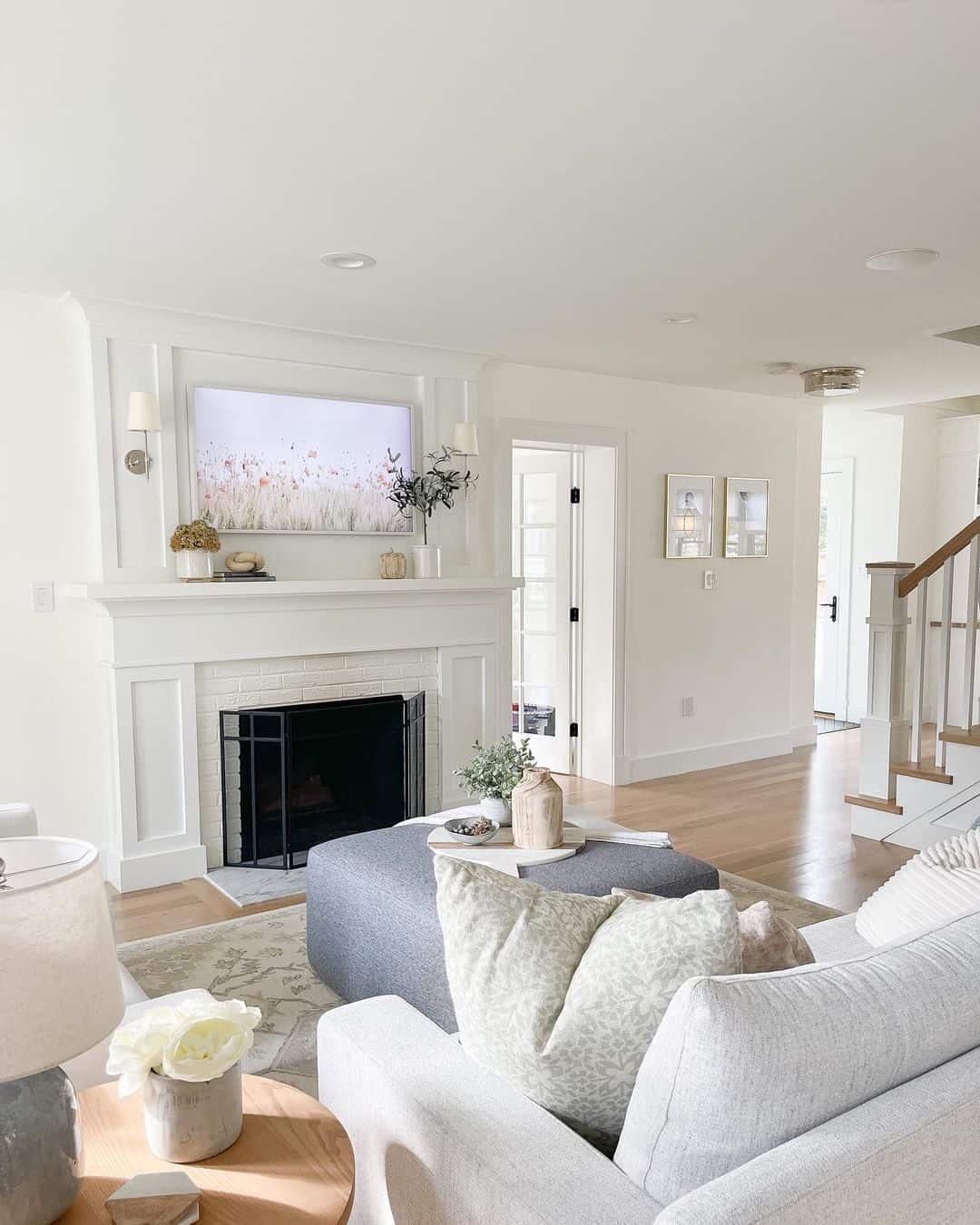 Credit: the_drews_design
Shop the Look
Playful Accents: Polka-Dot Pillows and Oversized Wall Decor
Embrace playful accents in a living room that deftly combines style and whimsy. Polka-dot throw pillows inject a lively dose of character into the neutral-toned couch cushions, infusing the space with energy.
Eclectic lamps in the form of Ionic columns stand as artistic statements on either side of the couches, while a unique decorative banner adds a dash of personality. The crowning touch is a wooden analog clock that takes center stage above the couch.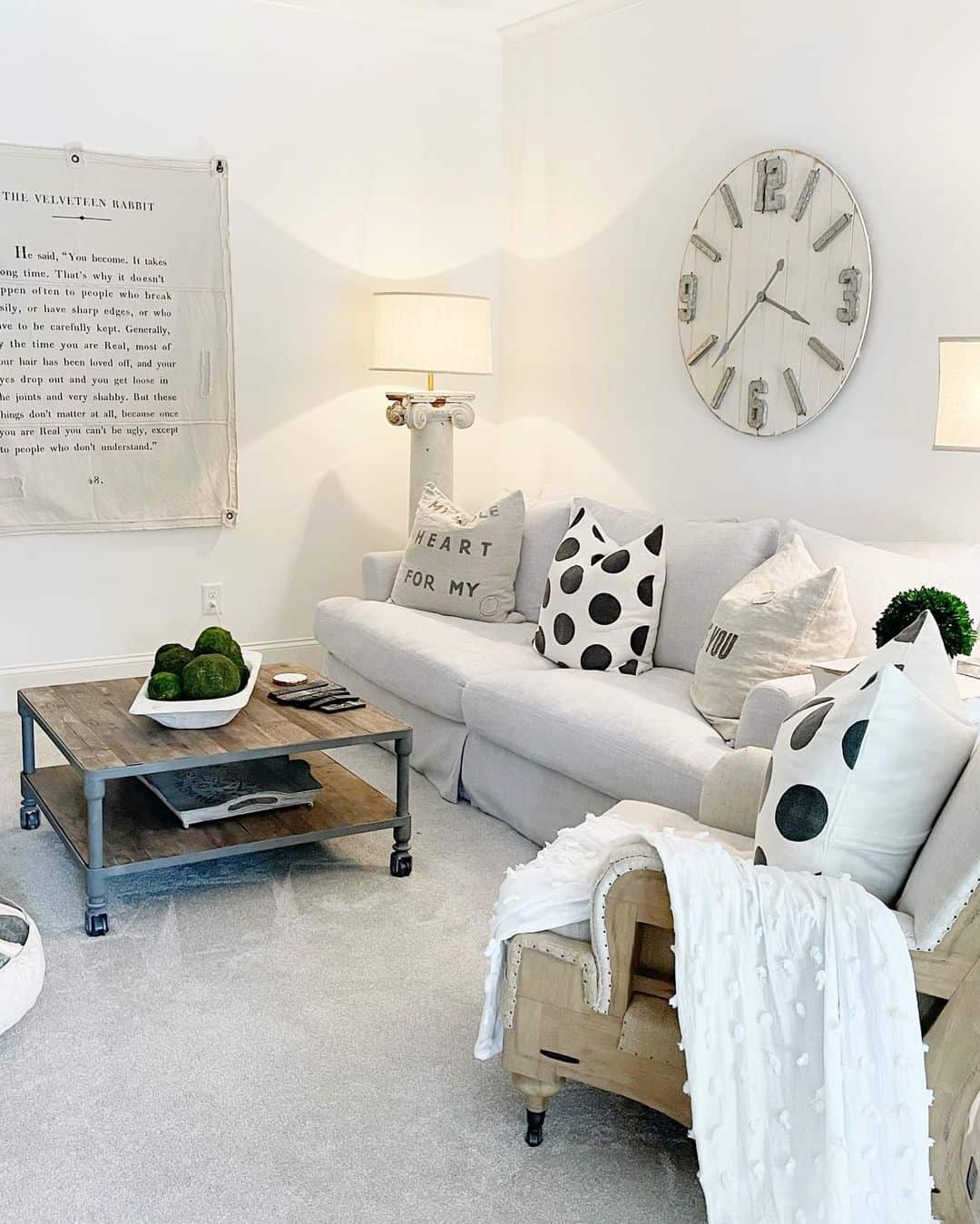 Credit: white.cottage.life
Shop the Look
Wrap-up
Incorporating modern elements into your farmhouse living room doesn't mean sacrificing the cozy and inviting atmosphere that defines this style. With the seven sleek ideas we've explored, you can breathe new life into your space while preserving its farmhouse essence.
Whether it's through minimalistic decor, strategic use of color, or clever furniture choices, your farmhouse living room can be a refreshing and stylish retreat that perfectly balances modernity and tradition.